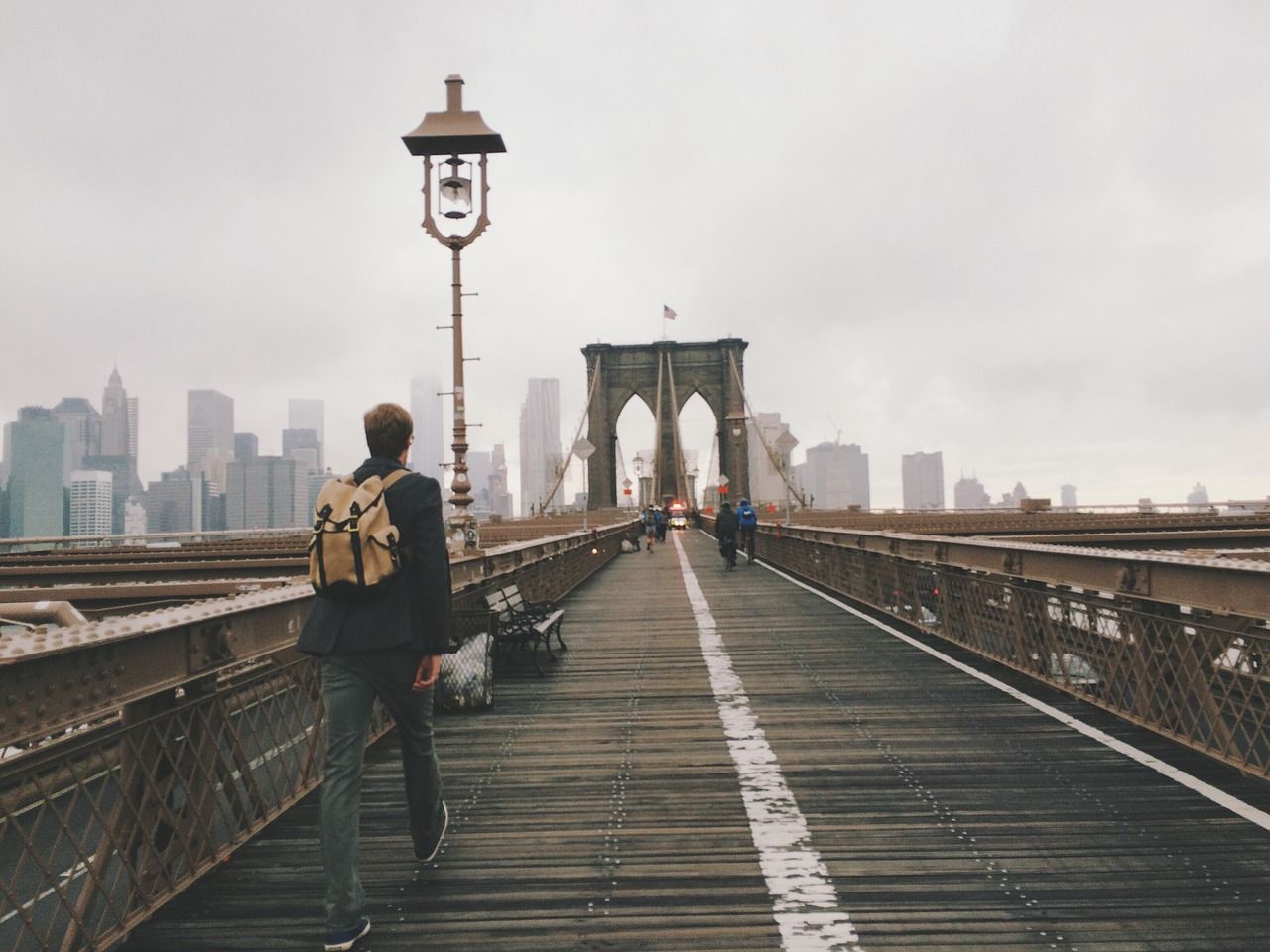 Looking for the best spots to step up your photo game? Check out our comprehensive guide around our favorite instagrammable places in NYC.
New York City is filled with great photo opportunities that are scattered all over the city. Our list consists of 30 of our favorite picks. These are both well-known landmarks, as well as the not-so-famous spots in The Big Apple.

Best Instagrammable Places in NYC- Manhattan
Manhattan is home to the vast majority of Instagrammable places in the Big Apple. Take a look at some of our favorite picks!
The Guggenheim Museum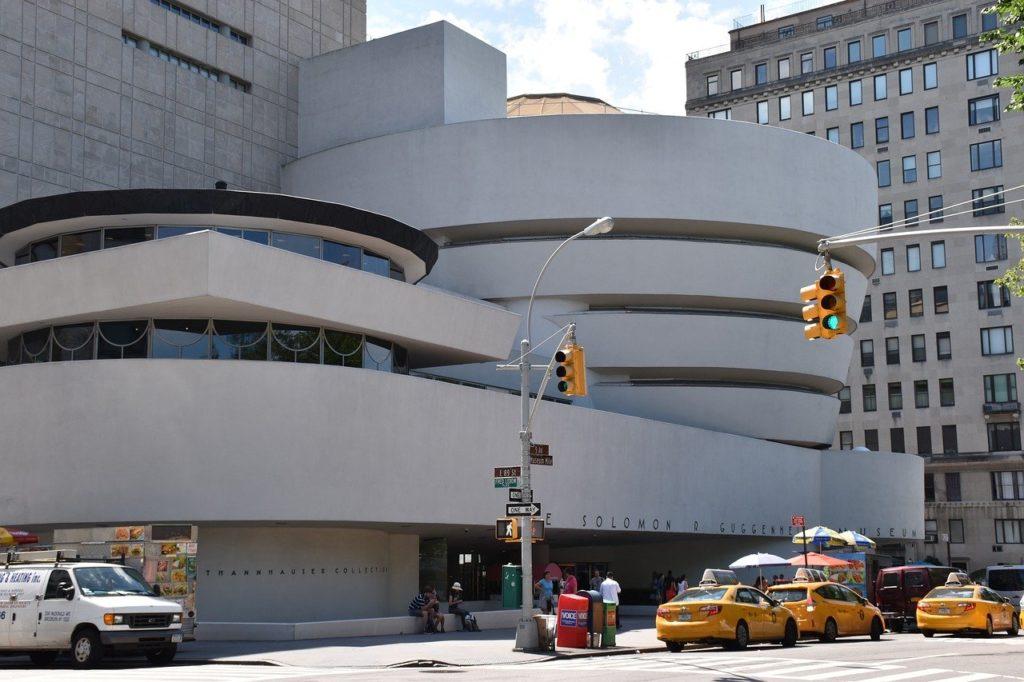 Address: 1071 5th Ave, New York, NY 10128, United States
Hours: 11AM to 6PM Thursday-Monday
You cannot miss the iconic Guggenheim Museum! It is hard to find a museum that gets better than this. Travelers are in for a double-treat, as the building itself is just as spectacular as the art inside.
The stunning state-of-the-art architecture draws in thousands of visitors every day. The unique building, designed by Frank Lloyd Wright, is beloved among both tourists and locals alike.
It is no surprise that the Solomon R. Guggenheim Museum in New York City is a UNESCO World Heritage Site.
Central Park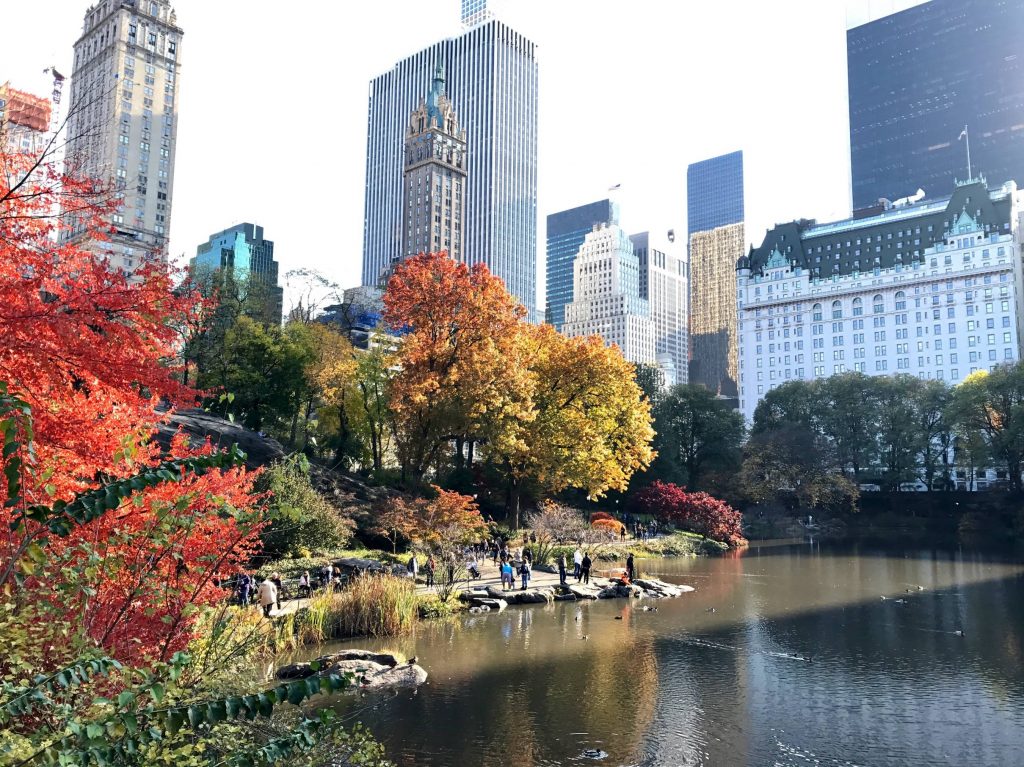 Address: Heart of Manhattan. You can enter the park at 59th Street, for instance
Opening hours: 6AM-10PM, 365 days a year
Central Park is perhaps the most recognizable park in the entire world. We have all seen it, either in blockbuster movies or on social media. Now is the perfect chance to see Central Park in real life.
There are so many places to see within the park that it would require an entire blog post to cover them all. Wherever you go in Central Park, you're bound to see amazing photo opportunities to step up your Instagram game.
Why not drop by the Sheep Meadow for a picnic while you're at it, too?
Radio City Music Hall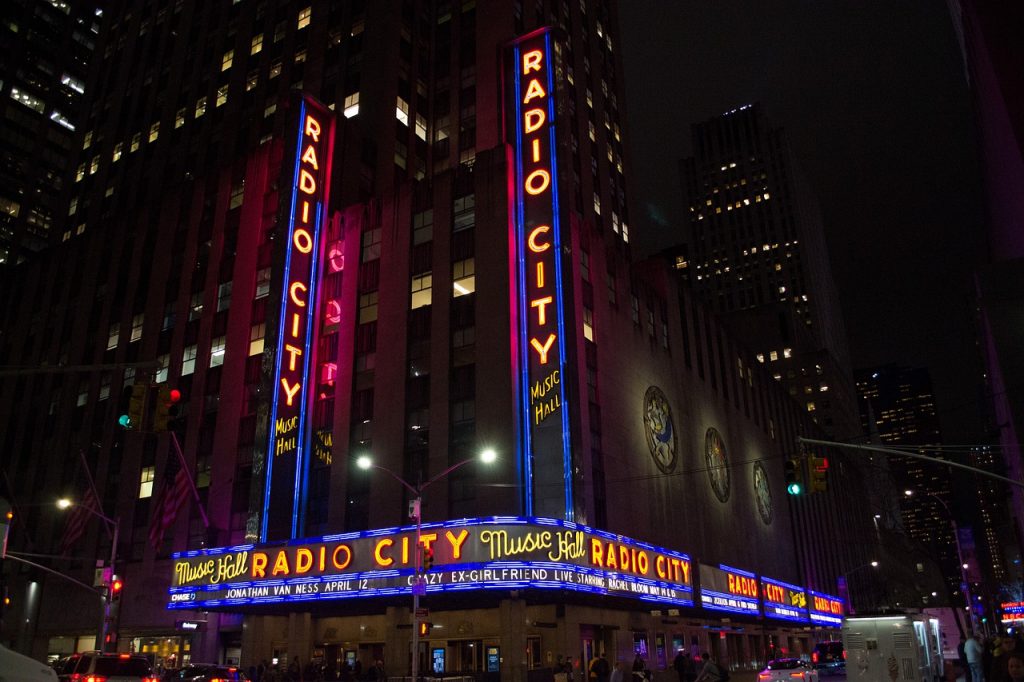 Address: 1260 6th Ave, New York, NY 10020
Hours: Temporarily closed due to the pandemic. Best admired from across the street after sunset.
Once you're in front of the iconic Radio City Music Hall, you'll feel as if you've traveled back in time. The exterior of this building is nothing short of spectacular. What's more, you can always book tickets and step inside to catch a live gig.
The fascia of the Music Hall is best admired after dusk falls, as the neon lights create a spectacular backdrop for your photos.
Top of The Rock- Rockefeller Center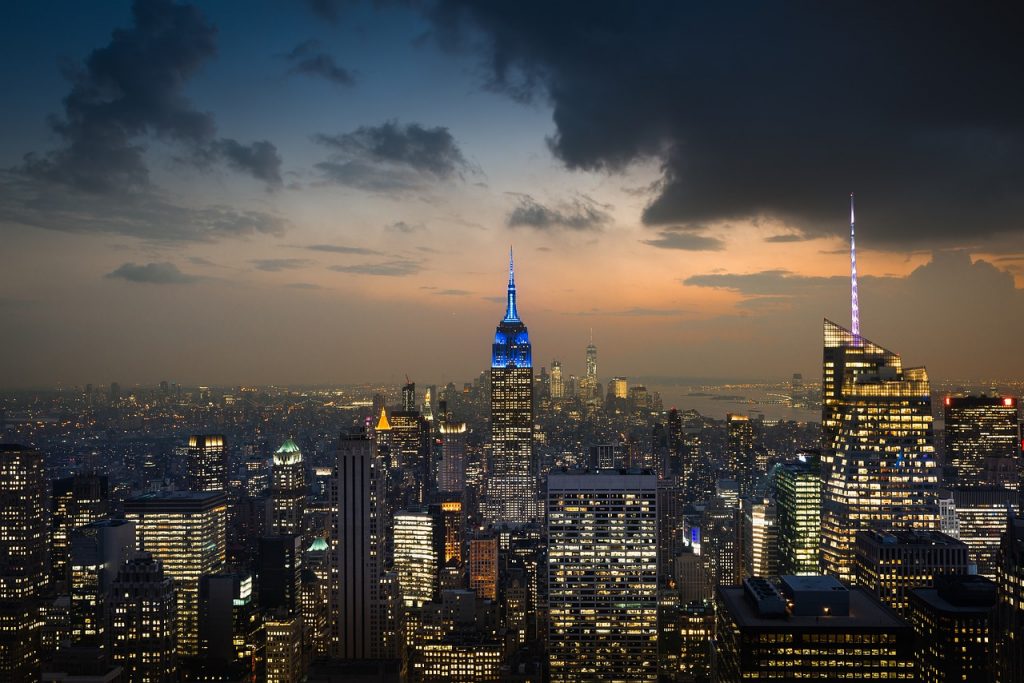 Address: 30 Rockefeller Plaza, New York, NY 10112
Opening hours (Top of the Rock): Sunday-Saturday 11AM-7PM
Remember the Christmas Tree scene from Home Alone 2? The enormous tree can be admired every year at the Rockefeller Center, yet another Instagrammable landmark in NYC.
The seasonal Christmas tree display is far from the only reason to visit the Rockefeller Center. The Top Of The Rock offers unforgettable views of the city's legendary skyline. Not to be missed when in New York City!
Out of all the viewpoints in NYC, this could very well be our favorite one. Afterall, when you're at the Top Of The Rock you can still admire the Empire State Building, as well as the One World Trade Center.
Times Square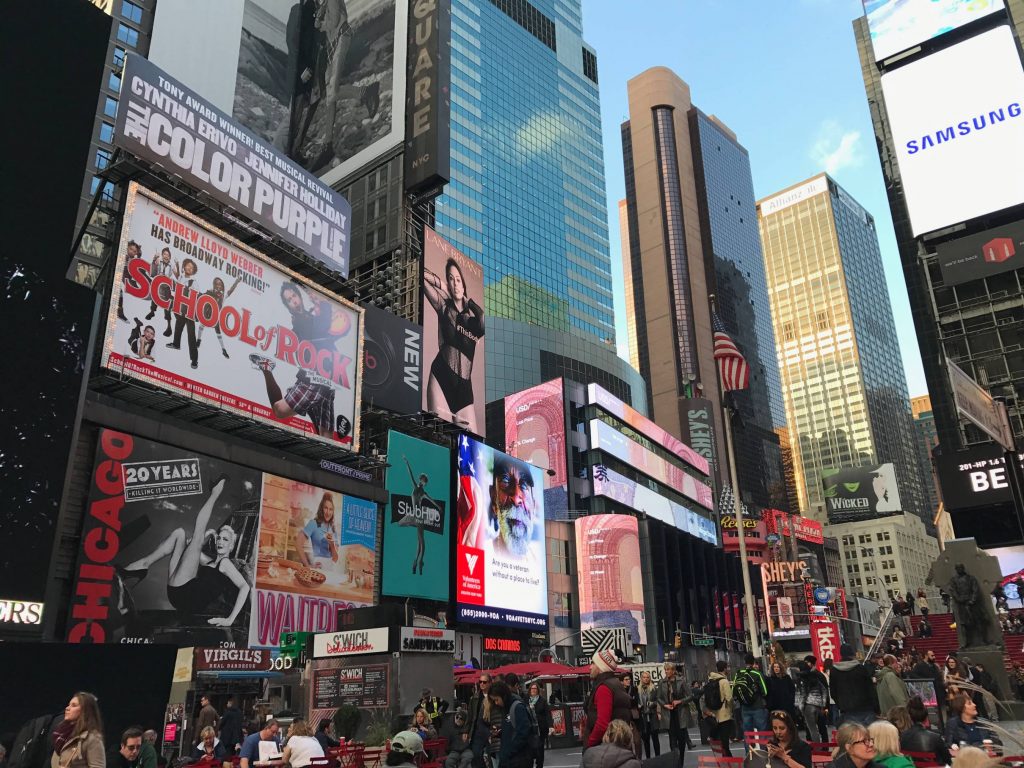 Address: Manhattan, NY 10036
Best time to visit: After sunset
Times Square needs no introduction. It makes for one of the instantly-recognizable landmarks of NYC, along with the Statue of Liberty and perhaps Central Park, too.
If you post a photo taken here, there will be no doubt that you are indeed in The City That Never Sleeps.
Expect tons of tourists from all corners of the planet squeezing through this iconic intersection, all while being entertained by street performers. Love it or hate it, you have got to visit Times Square at least once during your NYC trip.
Grand Central Terminal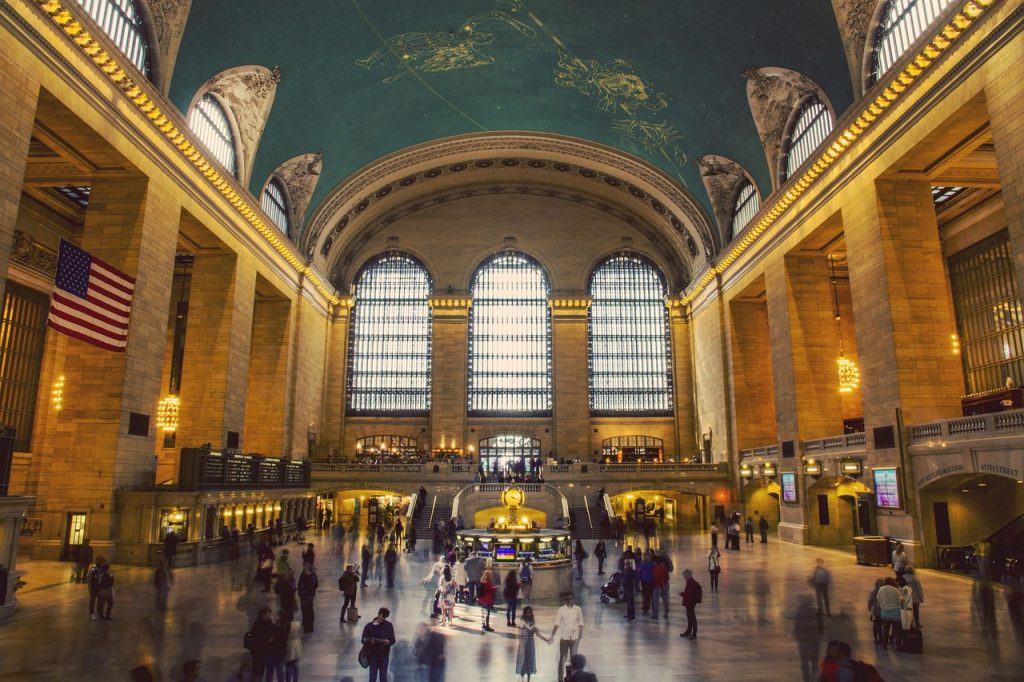 Address: 89 E 42nd St, New York, NY 10017
Best time to visit: Midday for the crowds or late at night to avoid them.
The Grand Central Terminal is as iconic as a train station can possibly get. The history of it dates back to 1913 when Grand Central Terminal first opened its doors to the public.
Step inside the station's Main Concourse, which you've definitely seen in at least one movie before. The station's jaw-dropping interior makes for a perfect backdrop for portrait photography. Filmmakers can set up a timelapse capturing the as the crowds go by during the afternoon.
The Vessel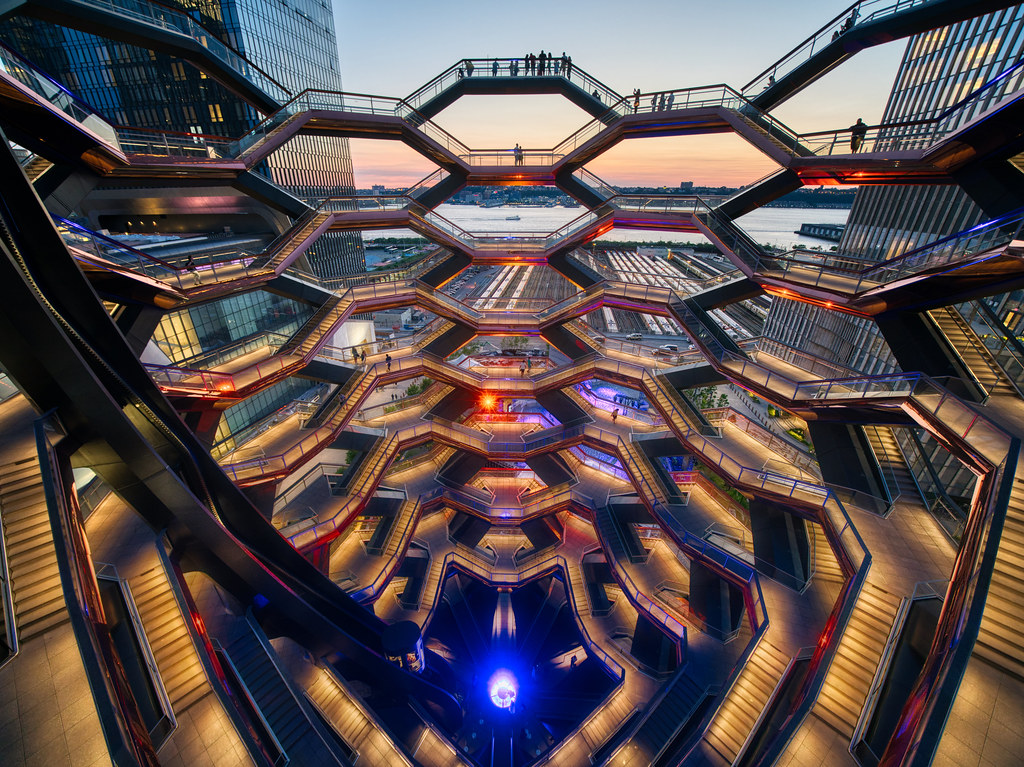 Address: 20 Hudson Yards, New York, NY 10001
Want to feel as if you are in a science-fiction movie? Be sure to drop by the Vessel at Hudson Yards, one of the most famous instagrammable places in NYC.
Some of your followers may even think that this futuristic structure is photoshopped.
Travelers can climb the stairs to the top of the tower and enjoy a whole different perspective of the Vessel. What's best, free entry tickets are offered on a first-come, first-serve basis. Get there early to make the most out of this spectacular location!
Empire State Building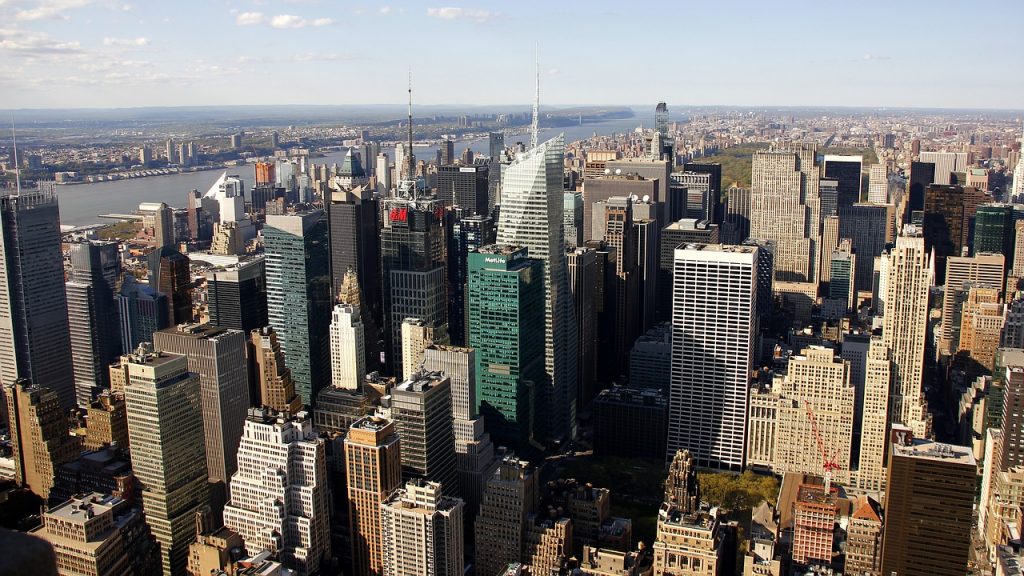 Address: 20 W 34th St, New York, NY 10001
Opening hours: 12-9PM daily
Visiting the observation deck at the top of the Empire State Building is a must-do when in NYC, no doubt. From a photographer's point of view, however, there are better spots to see the city.
The largest issue when you're at the top of the Empire State Building is that the majestic tower is not a part of the skyline anymore.
While it's worth visiting the top strictly for the bragging rights, you may want to head to the Top of The Rock for a better photo.
The High Line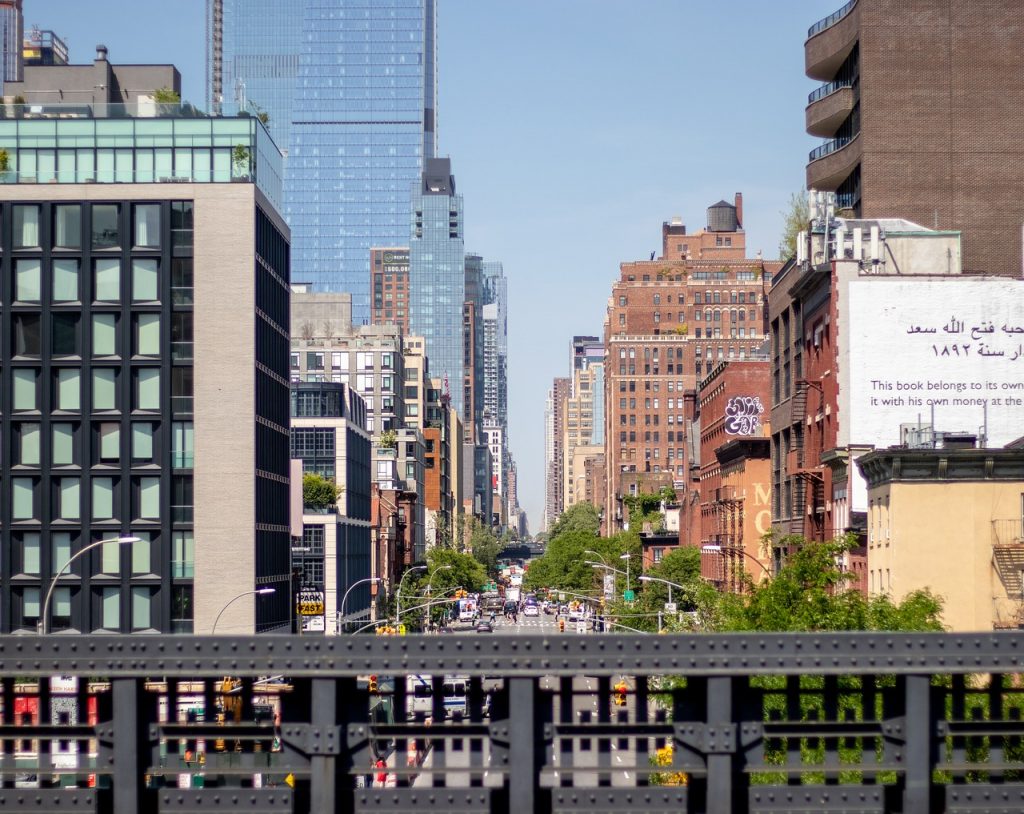 Address: enter at Gansevoort Street, 23rd Street, or 30th Street
Opening hours: 7AM-7PM on weekdays, 10AM-6PM on weekends. Reservations are required to enter on the weekend.
Apart from being one of the best Instagrammable places in NYC, the High Line is also one of the best free attractions in town!
The High Line connects the Meatpacking District to Hudson Yards. Once a busy train line, the High Line hosts art exhibits and colorful plants today. Expect some of the best views of NYC stretched across this 1.45-mile long attraction.
The Flatiron Building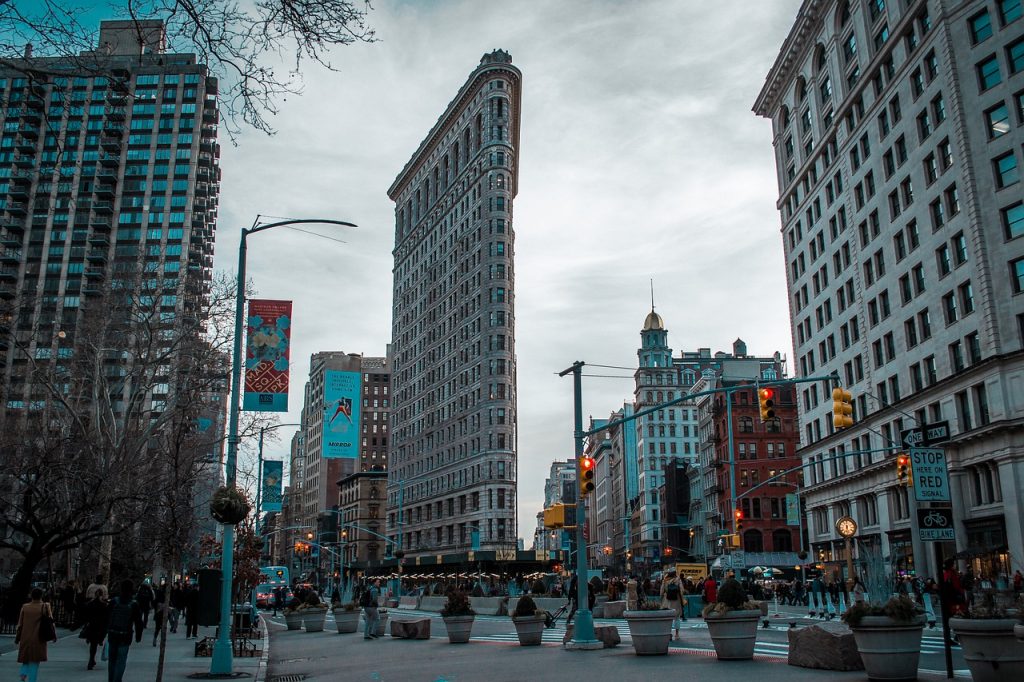 Address: 175 5th Ave, New York, NY 10010
The Flatiron Building is yet another iconic landmark in The Big Apple. Once again, if you post a photo of this building on your Instagram feed, your followers will instantly recognize that you are indeed in New York City.
Step across the street from the Flatiron Building, or grab a shot as you're crossing the junction directly in front of it. Beware of oncoming traffic!
Greenwich Village
Greenwich Village is a quiet part of the Big Apple that sits north of Lower Manhattan. It is quite a contrast from the hustle and bustle of its neighboring districts, to say the least.
This cute part of the city is home to beautiful residential buildings made from iconic red brick. You've definitely seen Greenwich Village in some of your favorite films, perhaps without knowing where it was. Now's the perfect chance to see them in person!
You can continue strolling over to West Village, which is arguably just as scenic yet nowhere near as popular among travelers. Treat it as somewhat of a hidden gem, if you will.
The next spot sits in the heart of Greenwich Village!
Washington Square Park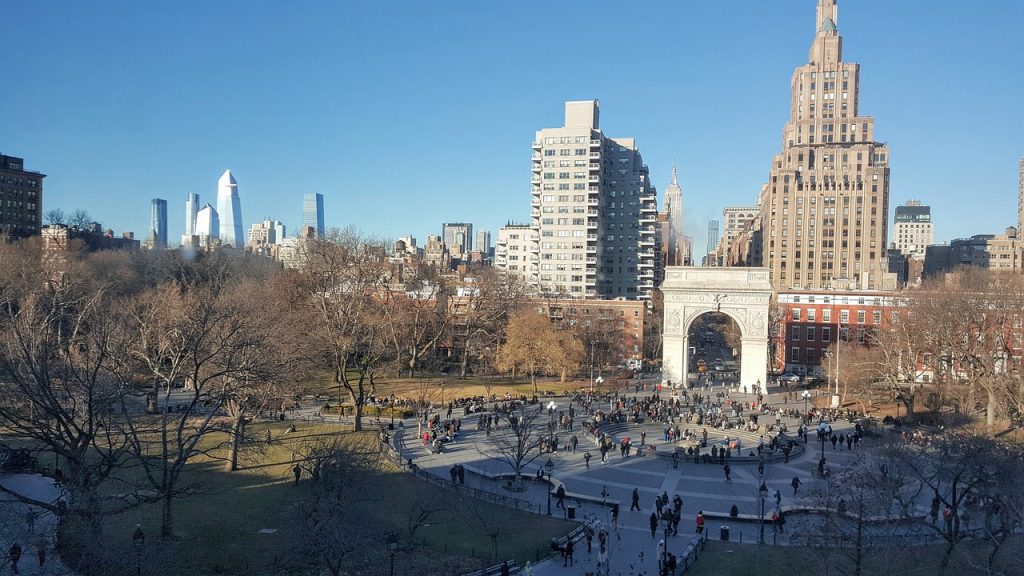 Address: Washington Square, New York, NY 10012
Opening hours: 6AM-12AM
This is the spot to go if you want to fool your friends and followers that you're in Paris. The Washington Square Arch overlooks Washington Square Park, right in the heart of Greenwich Village.
On a sunny day, you can get an awesome shot of the Empire State Building seen through the arch. Give it a try! Don't forget to post your photos online using #Rentalmoose.
Great photos aside, this park is the ideal place to watch the daily life of New York City. If people-watching is your thing, you'll love hanging out here.
Renwick Triangle
Address: 100-138 E 10th St, New York, NY 10003
If you're looking for a photo opportunity that's a lot less common than the landmarks such as the Empire State Building or the Flatiron, the Renwick Triangle may be the ideal spot for you.
This cute Instagrammable spot in NYC lays on the corner of Stuyvesant & East 10th streets. The townhouse situated between the trees makes for a year-round backdrop, ideal for your photos.
L'Appartement Sézane
Address: 254 Elizabeth St, New York, NY 10012
L'Appartement Sézane is a cute store located just a few blocks away from Greenwich Village. The facade of this shop has become a favorite among photographers and influencers from across the globe.
You can always pop inside and pick out some new clothes, too.
Oh, the fun Museum of Ice Cream is just a stone's throw away! It is quite literally the Instagram haven of NYC.
Pietro Nolita
Address: 174 ELIZABETH STREET NEW YORK, NY 10012
Opening hours: Thursday-Saturday 12pm–11pm Sunday 12PM–close
NoMo Soho
Address: 9 Crosby St, New York, NY 10013
Opening hours: until 9PM on weekdays, 10PM on weekends
Similar to Pietro Nolita, this is yet another trendy eatery that doubles as a famous Instagrammable place in NYC. NoMo Kitchen is a spectacular restaurant located within the NoMo Soho hotel.
The restaurant features vivid greenery that serves as a perfect photo backdrop. Guests can dine both inside and outdoors, though even the indoor area feels like a forest.
Don't miss NoMo on your tour of New York City, especially if you enjoy taking photos in a beautiful setting.
The Crown Rooftop Bar
Address: 50 Bowery, New York, NY 10013
Opening hours: Wednesday-Sunday 4-11PM
There are tons of different rooftop bars in NYC that offer jaw-dropping views, though only a handful are as spectacular as The Crown. After all, what could be as Instagrammable as the skyline of New York City?
Enjoy an upscale night out with your friends, all while admiring the bustle of Manhattan from above. Indoor dining is available too, with an equally unbeatable view of the city.
Doyers Street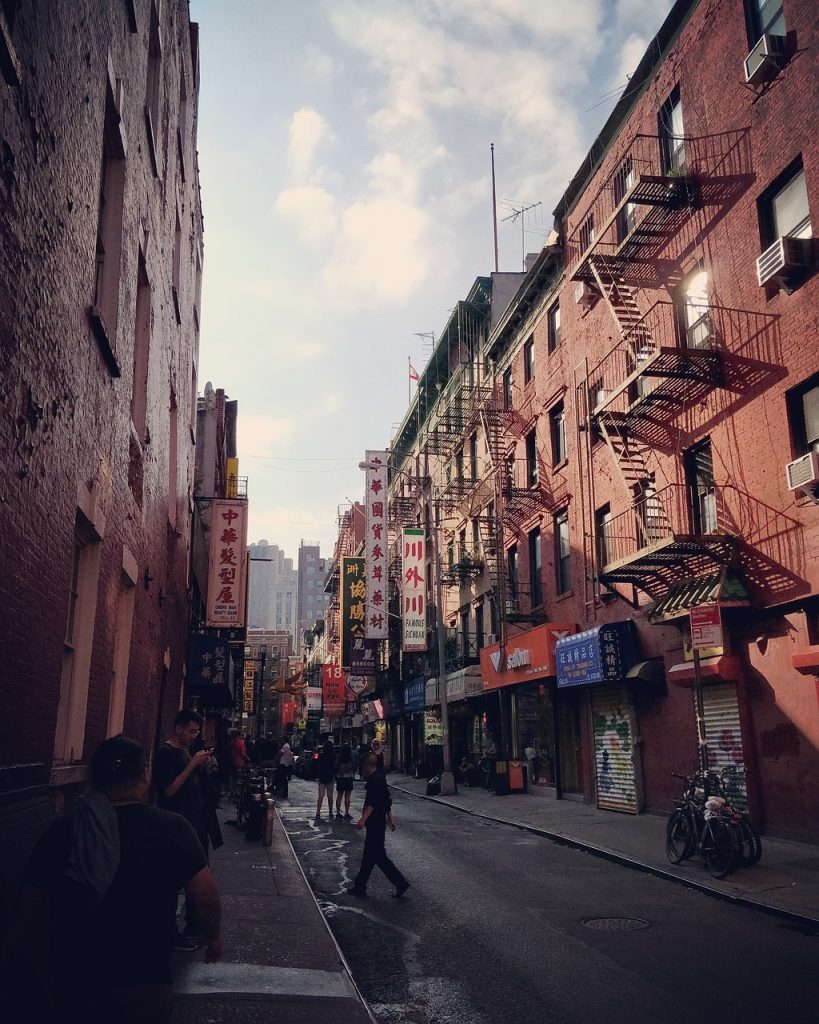 While Chinatown is home to many underrated Instagrammable places in NYC, Doyers Street remains the most iconic spot in this part of Manhattan.
Don't let the photos fool you- Doyers Street is merely 200 feet (60 meters) long!
While the street is favored among photographers and influencers alike today, it certainly wasn't the case in the early 20th century. Back then, Doyers Street was actually infamous as the "Bloody Angle" where countless killings among the Tong Gangs took place.
Despite a spooky past, there is no need to worry about the safety of Doyers Street in the 21st century. It's just a stone's throw away from The Crown over at Bowery.
Staple Street Skybridge
Address: 9 Jay St, New York, NY 10013
This is a real gem for photographers, which is surprisingly easy to miss when walking around the Tribeca. You have to know what you're looking for, otherwise, you could end up missing this marvelous photo opportunity!
The charming cast-iron bridge connects two buildings over Staple Street. Back in the day, the bridge would connect two different buildings that made up the New York Hospital back at the beginning of the 20th century.
Today, the hospital is gone, yet the cute bridge remains. In fact, it was once listed for sale for a whopping $35 million around two years ago. Fancy a new place to stay in the heart of NYC?
One World Observatory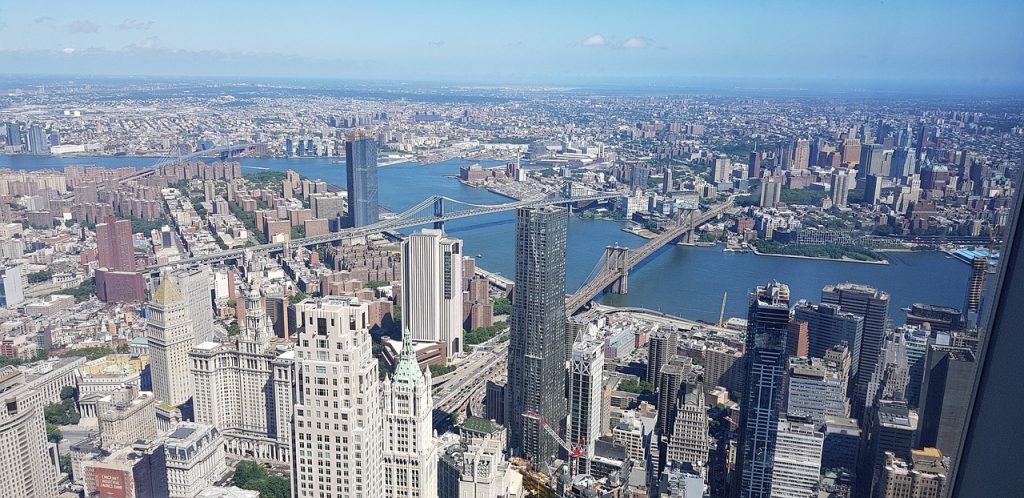 Address: One World Trade Center 117 West Street New York, New York 10007
Opening hours: check the official website
This is the creme de la creme of all observation points in New York City. One World Observatory is in fact the highest of them all. Note that there is no outdoor deck here, though.
Just like the top of the Empire State Building, however, the biggest downside of the One World Observatory is that the iconic structure will not be in your photos taken here. If you want to capture NYC above the heart of it all, this is the place to go.
The Oculus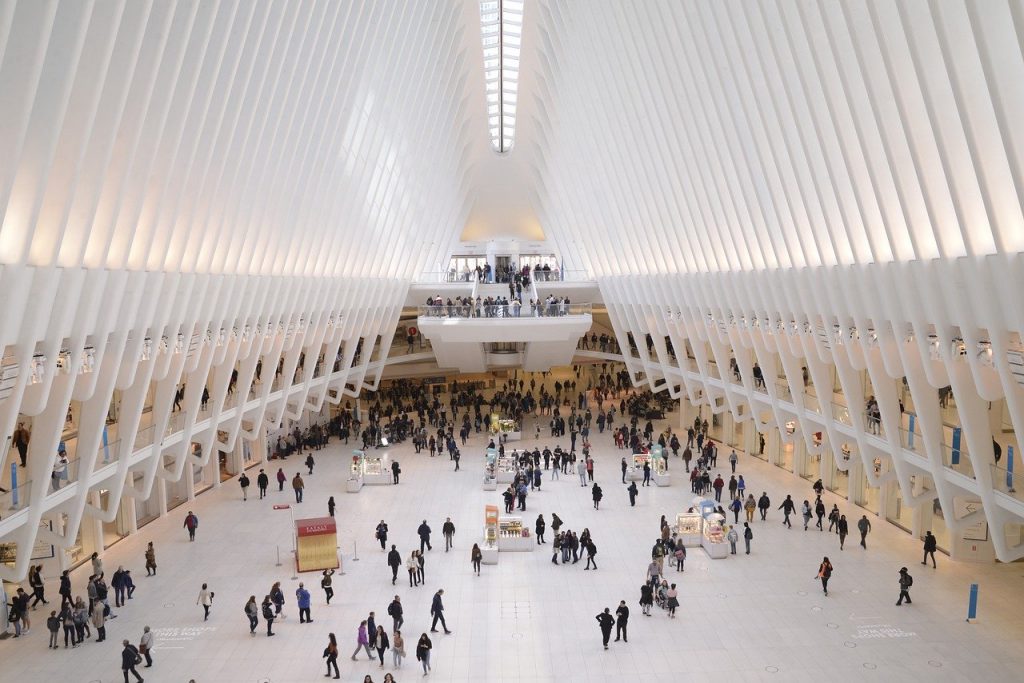 Address: 4-minute walk from the 9/11 Memorial. New York, NY 10007
If you're already at the One World Observatory, don't miss the Oculus. Much like the Grand Central Terminal, the Oculus is a busy transit hub. Its unique architecture makes the Oculus one of the best Instagrammable places in NYC.
The spectacular structure was designed by Spanish architect Santiago Calatrava, and it is supposed to resemble a dove leaving a child's hands.
The impressive train station cost $4 billion dollars to build, making it the most expensive one in the whole world. Yet another reason to pay it a visit!
Best Instagrammable Places in NYC- Brooklyn
After making the most out of the best photo opportunities in Manhattan, it's time to cross the Brooklyn Bridge over to Brooklyn! Check out our favorite photo spots in Brooklyn below.
Brooklyn Bridge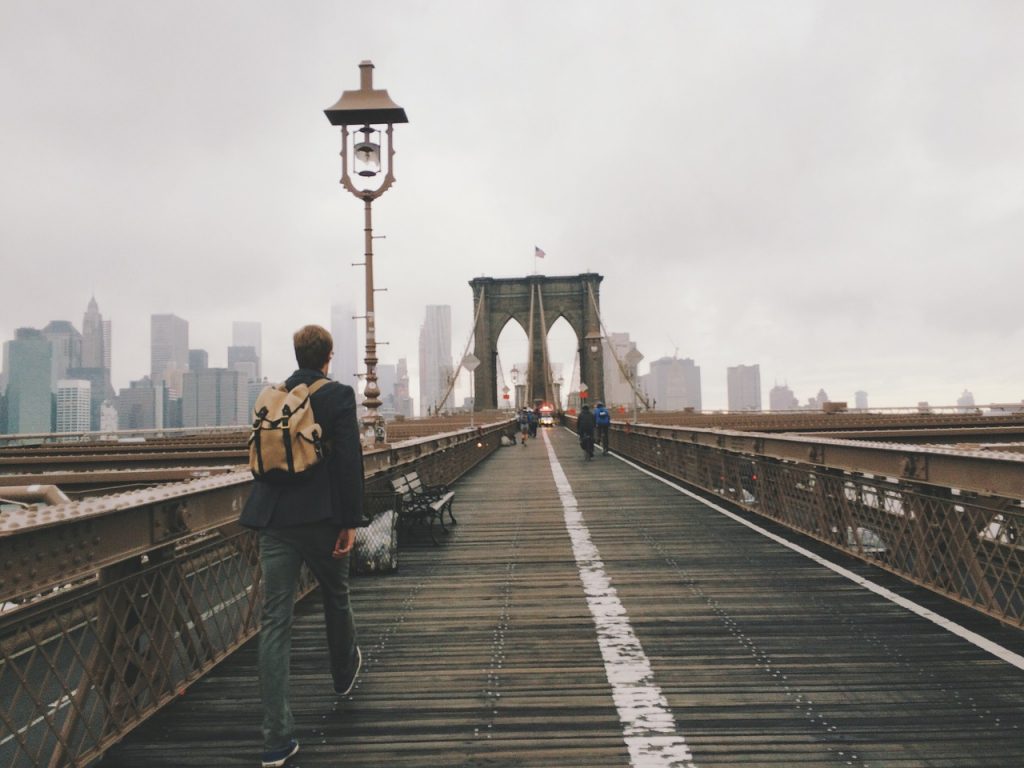 Address: Brooklyn Bridge, New York, NY 10038
Virtually anybody who has been to New York City will have posted a photo of the famous Brooklyn Bridge. Afterall, this piece of architecture is easily just as much of a landmark as the Statue of Liberty. The bridge connects Manhattan and Brooklyn, and crossing it on foot is one of the must-do things in NYC.
Once you're on the Brooklyn Bridge, you may seem overwhelmed with incredible photo opportunities to step up your Instagram game. Portraits of you and the bridge in the background, capturing the Manhattan skyline from the bridge, or grabbing shots of the Statue of Liberty. The possibilities here are simply endless, so get creative!
As this is one of the most famous places to visit in NYC, expect tons of like-minded tourists to be there too. Getting a shot with virtually no other people, like the photo above, is a difficult task. Especially when traveling during the peak season.
Jane's Carousel
Address: DUMBO section of the Brooklyn Bridge Park
Jane's Carousel is yet another spectacular Instagrammable place in Brooklyn, just a short walk away from the Brooklyn Bridge.
This vintage carousel dates back to 1922 when it was first opened, and its waterfront setting makes for a scenic backdrop for your pictures.
Make sure to stroll around the surrounding area to find even more photo opportunities! One of the most iconic spots, Dumbo, is just a short stroll away.
Dumbo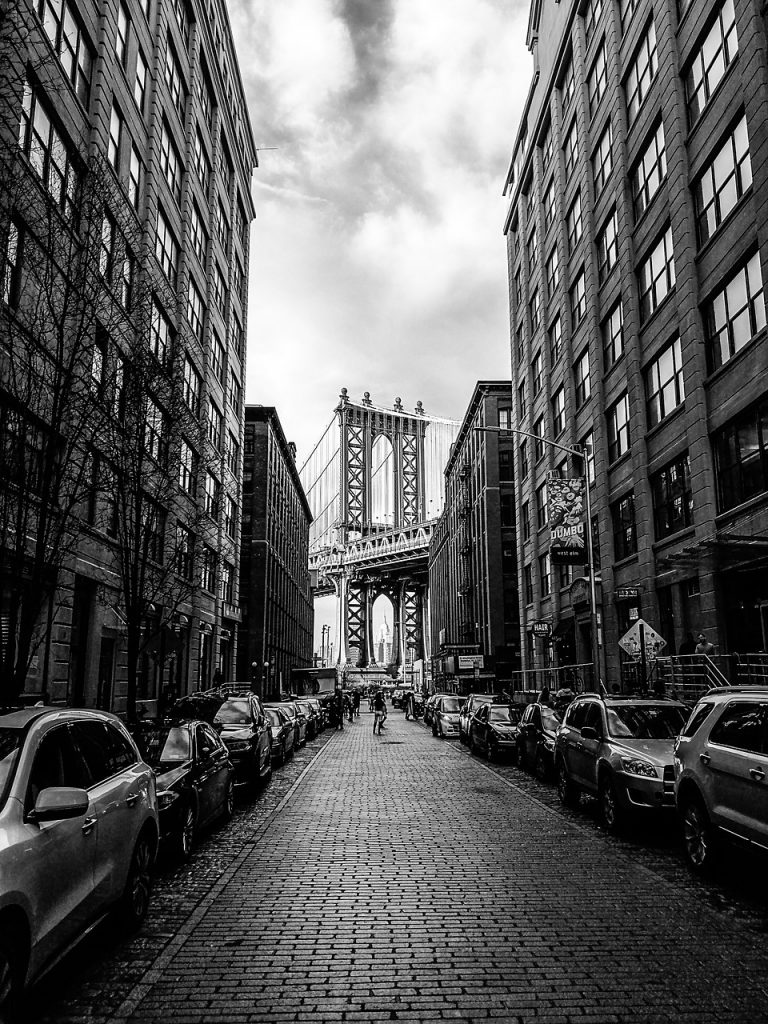 Address: 39-21 Washington St, Brooklyn, NY 11201
Looking at the number of people who take pictures at Dumbo, you may think that it is a legal requirement to post a photo taken here. If there was an Instagram rulebook for New York City, a stop at Dumbo would likely land in its first section.
It is easy to see why so many aspiring Instagrammers choose this location. The symmetrical shot you can capture here is nothing short of legendary, even if it is slightly overdone by now. Nonetheless, Dumbo is another must-visit in Brooklyn.
Where is that iconic Manhattan Bridge photo spot?
All of these photos are taken on Washington Street. Here, the Manhattan Bridge is perfectly framed by NYC's iconic red brick buildings.
If you're an early bird and want to avoid the crowds while getting that sweet golden hour look, consider coming to Dumbo during sunrise.
Brooklyn Bridge Park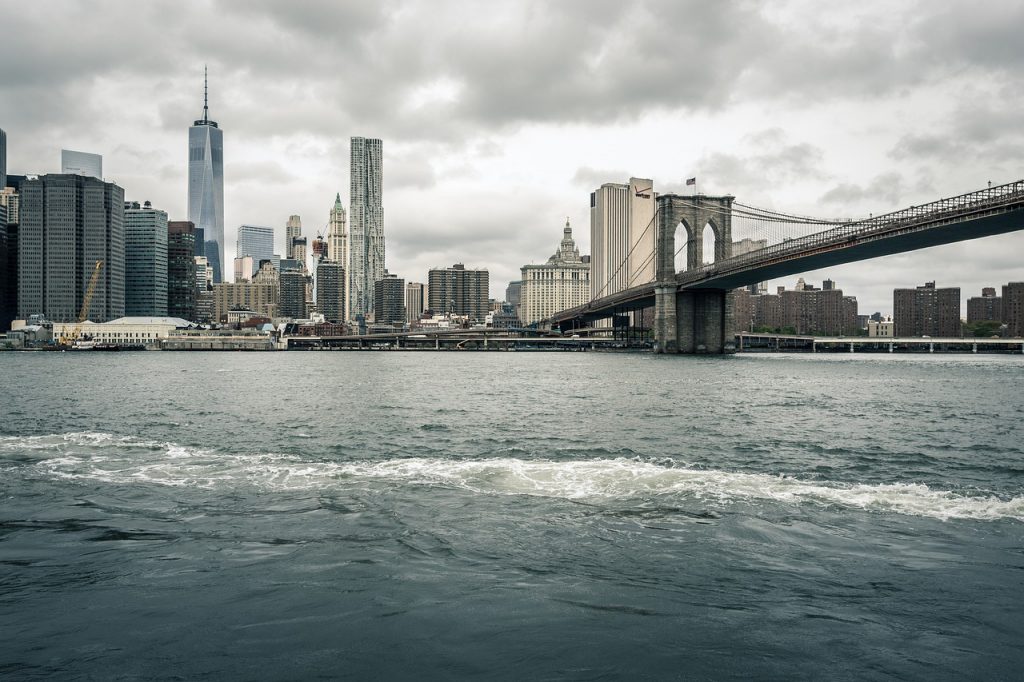 Address: 334 Furman St, Brooklyn, NY 11201
Opening hours: 6AM-1AM, 365 days per year
After a visit to Jane's Carousel and Dumbo, why not head to the waterfront Brooklyn Bridge Park? This location is full of wonderful photo opportunities, where you can capture the Manhattan skyline with the East River in the foreground.
Consider coming here after the sun sets, as the lights from Manhattan's skyscrapers will illuminate the water. It's truly magical!
1 Hotel Brooklyn Bridge
Address: 60 Furman St, Brooklyn, NY 11201
Opening hours (Harriet's Rooftop): Tuesday-Friday 5PM-2AM, Saturdays 12PM-2AM, Sundays 12PM-12AM
If you're looking for a hotel in New York City that offers some of the best views in town, 1 Hotel Brooklyn Bridge may be the perfect pick for you. This trendy property features rooms with tremendous views of the Manhattan Skyline. You can also head up to the rooftop pool to get your one-of-a-kind photo of Lower Manhattan.
Don't want to splash out on a room here? Well, you can always head up to Harriet's Rooftop that's located within the hotel. This bar is known for its outdoor seating area that opens up to spectacular views of Manhattan. Indoor seating is available, too.
Domino Park
Address: 300 Kent Ave, Brooklyn, NY 11249
Opening hours: 6AM-1AM all week long
Domino Park is one of those up-and-coming Instagrammable places in NYC. It is nowhere near as popular as the park near Brooklyn Bridge, hence it is also not as crowded.
Domino Park is the place to go for photos of the Manhattan skyline from a slightly different perspective. If you crave a lesser-known location, this is it!
The waterfront greenery is perfect for a picnic.
Westlight
Address: 111 N 12th St 22nd floor, Brooklyn, NY 11249
Opening hours: 5-11PM weekdays, 1-11PM weekends
Westlight is a trendy rooftop bar in Brooklyn that is known for beautiful views of the Manhattan skyline.
This is the perfect spot to get your sunset photos of NYC, as the bar features 360-degree views from 22 floors above ground level.
A wide selection of refreshing drinks only makes the experience more worthwhile. Indoor seating is available, too.
Luna Park in Coney Island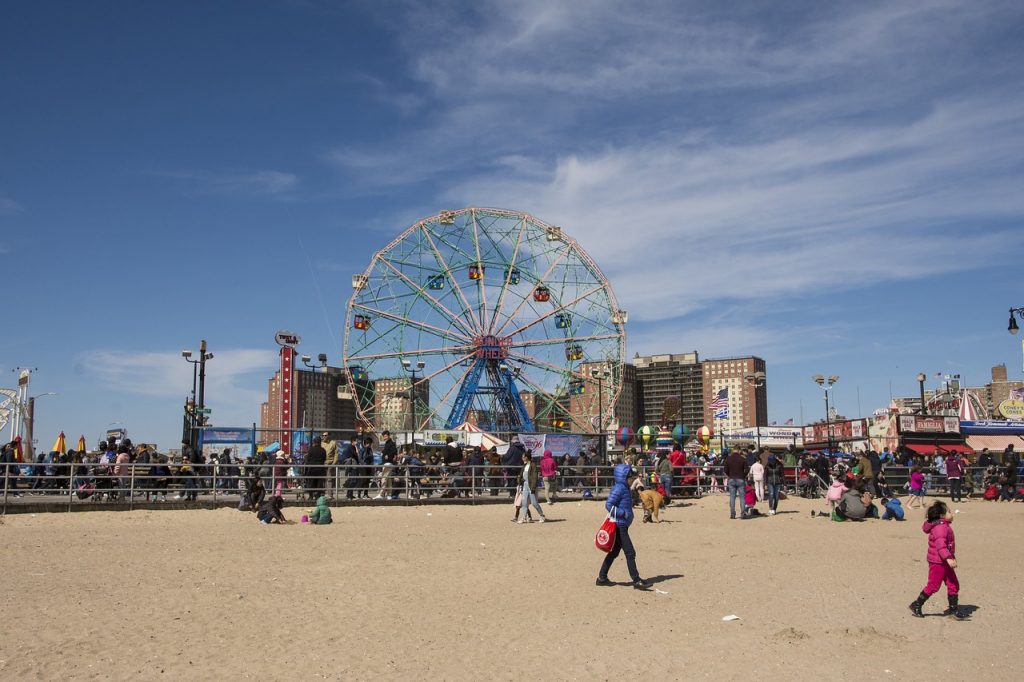 Address: 1000 Surf Ave, Brooklyn, NY 11224
Opening hours: Vary depending on the weather. Check the official website for details
Coney Island offers many unique photo opportunities, hence it lands on our list as one of the best Instagrammable places in NYC. The Luna Park here is simply iconic.
The 100-year-old Wonder Wheel makes for a great backdrop, especially when taking pictures from the sandy beach.
After you're done taking in the atmosphere, feel free to step inside Luna Park and enjoy some of the thrilling rides! Don't miss the legendary wooden coaster, one of the oldest in the country!
TWA Hotel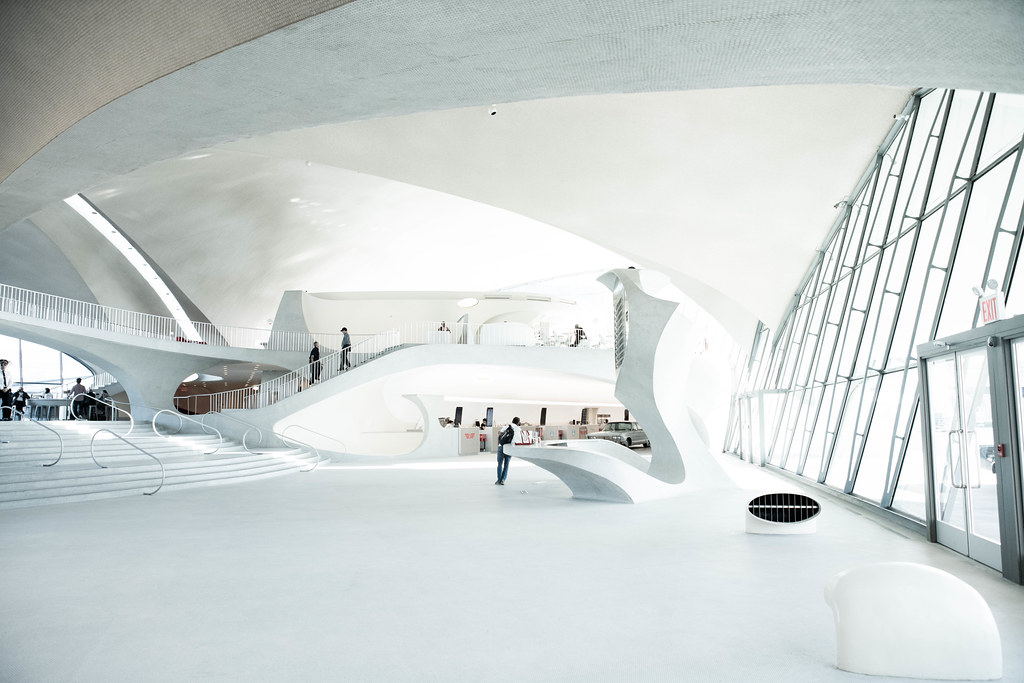 Address: John F. Kennedy International Airport, JFK Access Road, One Idlewild Drive, 11430
The TWA Hotel is the only on-airport hotel at the NYC JFK Airport. However, it is far from your regular airport hotel!
Once you step inside, you'll be transported back to the 1960s. The interior design is one-of-a-kind, featuring a display of classic art exhibits, vintage cars, and more. You're bound to be mesmerized by this incredible property. There's even a restored TWA jet here!
You can book your room at the TWA Hotel and enjoy the best of what this unique property has to offer, including a rooftop pool or the airplane-turned-cocktail lounge.
Don't skip this place, as it's truly one of the most amazing Instagrammable places in NYC.
Best Instagrammable Place In Queens- Bonus
While many of the best Instagrammable places in NYC are scattered around Manhattan and Brooklyn, there are quite a few of them in Queens as well. We've picked Flushing Meadows as our go-to spot in this part of town.
Flushing Meadows Corona Park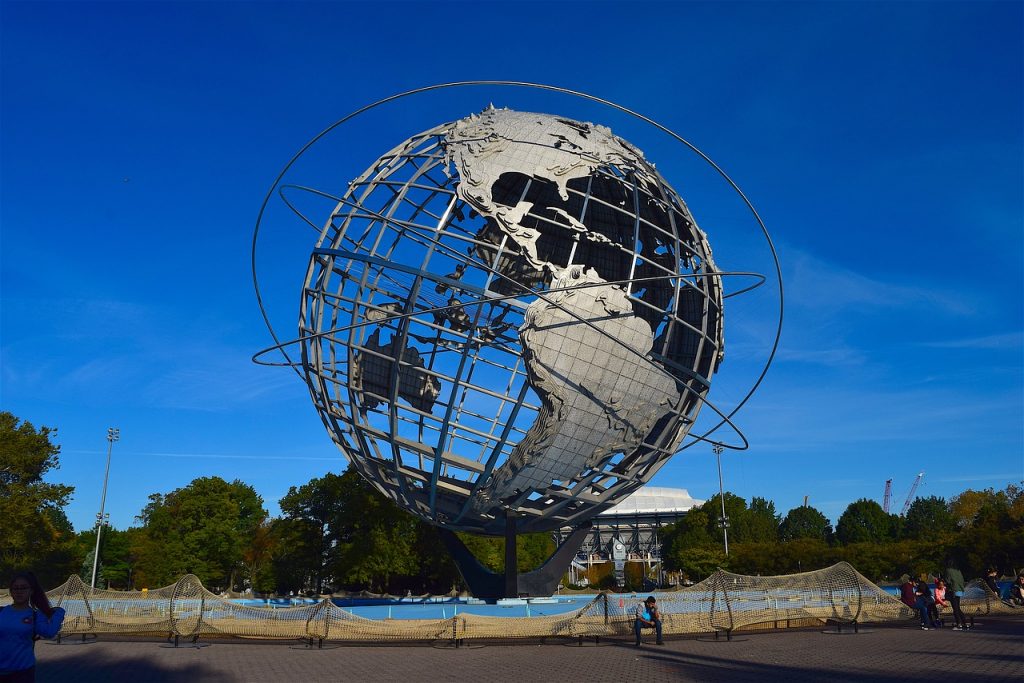 Address (unisphere): Avenue of the Americas, Flushing, NY 11354
Opening hours: 6AM-9PM all week long
Though this park is far from the most famous in NYC, you've probably seen its highlight at least once in an American movie. The Unisphere is a 140-foot high globe that is a perfect photo oppportunity, and one of our favorites in this part of the city.
The spacious park is full of other, lesser-known Instagrammable places as well. Don't miss them!
There you have it, these are the 30 best Instagrammable places in NYC! Are you going to see them all on your next trip to The Big Apple?
Don't forget to tag your New York City photos on Instagram using #Rentalmoose. Some of our favorites may even make it on our list!
Check out other curated travel guides around the US.