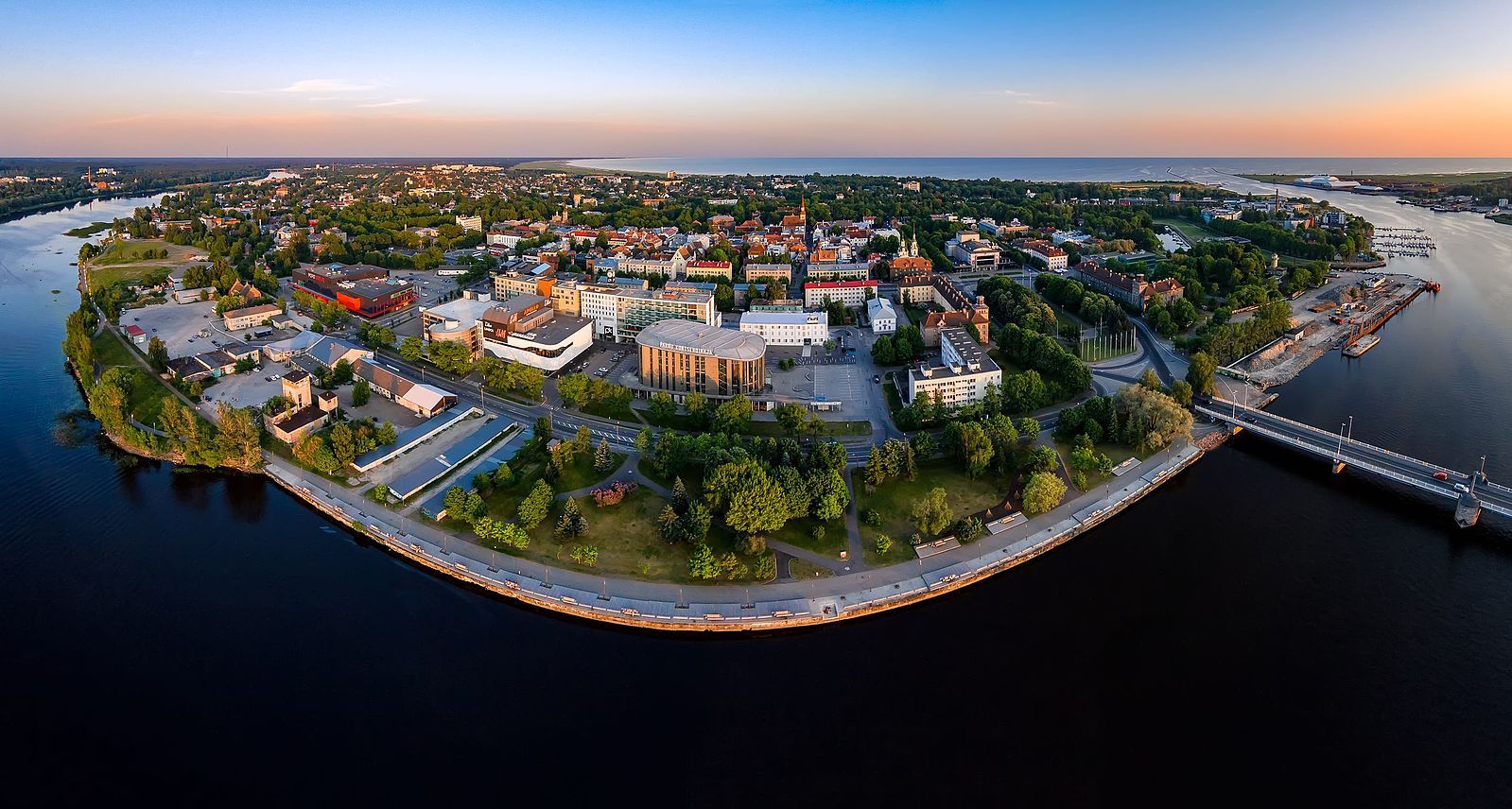 The best Baltic road trip for the summer
Whenever you think of a summer getaway in Europe, you probably think of Italy, Cote D'Azur, or the Turkish Riviera. This summer, spice things up and go on a road trip around the underrated Baltics! This travel guide will help you plan your ultimate road trip around Estonia, Latvia, and Lithuania.
Click here for detailed directions
Summary (Click the red pins for directions):
Tallinn to Haapsalu- 100 kilometers (60 miles) 📍
Haapsalu to Parnu- 110 kilometers (65 miles) 📍
Parnu to Riga- 180 kilometers (110 miles) 📍
Riga to Jurmala- 40 kilometers (25 miles) 📍
Jurmala to Klaipeda- 255 kilometers (160 miles) 📍
Klaipeda to Kaunas- 215 kilometers (135 miles) 📍
Kaunas to Vilnius- 100 kilometers (60 miles) 📍
1000 kilometers (600 miles) in total
How long does it take to complete this road trip?
The overall length of this road trip is a little over 1000 kilometers. Rentalmoose recommends dedicating at least 6 days (5 overnight stops) for this adventure at the very least.
To truly experience the best of what each destination has to offer, spend at least 10 days on the road.
What is the best time to visit the Baltics?
The best time to visit Estonia, Latvia and Lithuania is definitely during the Summer (June-August) or late Spring (from May).
The tourist season peaks during the Summer break, which is from late June till the end of August. Expect some spots to get crowded, and hotel prices to be higher than off-season.
You can pick up your rental car directly as you arrive in Tallinn, and drop it off in Vilnius before leaving.
Browse through car rental options that support airport pick-up and drop-off at another location via Rentalmoose. Add excess coverage, just in case.
When picking up your rental car, use the Rentalmoose app to take check-in photos of the condition of the vehicle.
If you take check-in photos of the car, you can qualify for a 50% rebate from the excess coverage fee.
Trip Extensions
Explore the Baltics even further with these two road trip extensions, curated by Rentalmoose.
The Manors of Estonia
Did you know that Estonia has over 400 beautiful manors and castles? Many of them have been turned into unique hotels, restaurants, or museums.
Drive across Estonia and visit the best manors around the country. Click here for the guide.
Poland
Once you're in Vilnius, Poland is just a few hours away. Scenic natural beauty, sandy beaches and vibrant cities await.
Plan your Polish getaway with this Rentalmoose travel guide to Poland.
Can tourists drive in the Baltics?
Definitely! Keep in mind that the road regulations may slightly vary depending on the country you're in.
Estonia
Estonia – the country where Rentalmoose, Skype, and TransferWise all come from – accepts most of the driving licenses in the world. International Driving Permits (click to learn all about them) are not mandatory when driving in Estonia.

Latvia
Tourists from most countries, including EU-citizens and Americans, can use their domestic license to drive in Latvia. If you're unsure, contact your local government office, or get an IDP.
Lithuania
You can use your domestic driving license in Lithuania as long as it has a photo. If not, you need to have a photo ID along with the driver's license. International Driving Permits are not mandatory.
All three nations have right-hand side traffic.
Now that you're all set, let's dive into your Baltic road trip!
Tallinn
Tallinn's old town photographed by Erkko Vuorensola.
Welcome to Tallinn, the capital of Estonia and the birthplace of Rentalmoose! For maximum convenience, pick up your rental car directly from the airport and explore this vibrant city.
What are the best places to see in Tallinn?
The Old Town
While you're in town, be sure to visit Tallinn's famous old town. It's one of the best-preserved medieval cities in this part of Europe, hence it's a highlight for practically all tourists visiting this city. Here are some of the best attractions in the old town.
Raekoja Plats
The heart of the old town, the Town Hall Square, is certainly worth a stroll. Step inside one of the numerous cafes and enjoy the medieval architecture. Visiting in winter? Be sure to attend the magical Christmas market!
Kohtuotsa Viewing Point
Take in the best view of the city from the Kohtuotsa Viewing Platform. Walk up the hill and enjoy the panoramic views. The city's skyline makes for a perfect backdrop for photos.
Remember to post your best photos online using #Rentalmoose for a chance to win a free rental car!
Admission to the viewing platform is free of charge.
If you have the extra time, visit the Town Hall Pharmacy and St Olav's Church.
Balti Jaam Market
Satisfy your shopping needs at the Balti Jaam Market, Tallinn's go-to market. You can find nearly everything there, ranging from clothing to fresh produce and delicious street food.
The market is open Monday to Saturday from 9 AM to 7 PM and from 9 AM to 5 PM on Sundays.
Noa Chef's Hall
Getting hungry? Book a table at Noa Chef's Hall, Tallinn's exquisite fine-dining restaurant. Enjoy a selection of delicious dishes from their wine-tasting menu paired with aromatic wine all while looking at the Bay of Tallinn.
As this top-rated restaurant can get crowded, be sure to book ahead of your visit. Tables can be booked via Noa Chef's Hall's website.
Restaurant Moon
Traveling on a tighter budget?
Give Restaurant Moon a shot, it's one of the best places in town where you can find modern Russian cuisine. As this is one of the top picks in town, be sure to book a table in advance.
Open from noon to 11 PM Monday to Saturday, and between 1 and 9 PM on Sundays.
Looking for more attractions in Tallinn? Check out our travel guide through Estonia's castles and manors to find more fun things to do in town!
What are the best hotels in Tallinn?
Hotels in the Old Town
Sophisticated travelers can choose from a variety of high-end hotels in Tallinn. Some of the Rentalmoose favorites include The 3 Sisters Boutique Hotel, Schlössle, or Hotel Telegraaf.
Hotels in the City Center
If you'd rather stay in the city center, consider booking a room at the Swissotel or Hilton. Both of them are conveniently located in the heart of Tallinn!
Radisson Blu Tallinn, one of our favorite properties in town, is currently closed. The hotel is expected to re-open in Q1 2022.
Next on your Baltic road trip: Haapsalu, 1 hour 20 minutes
Haapsalu
View from the top of the castle in Haapsalu photographed by Tiia Monto.
Is Haapsalu worth visiting?
For sure! This charming town was once the go-to vacation getaway for the Russian aristocracy. Today, the town is known for its beautiful promenade, traditional streets, great restaurants and a picturesque railway station.
Haapsalu Promenade
Stroll down the waterfront promenade in Haapsalu. Step inside the Old Haapsalu Town Hall where you can learn more about the region's history. Tickets cost 4 Euros per person, open until 5 PM between Wednesday and Sunday.
After a visit to the museum, enjoy delicious lunch at Wiigi Kohvik. This restaurant, located along the promenade, offers tasty desserts, colorful drinks, and affordable meals, enjoy them with a panoramic view of the sea.
Haapsalu Castle
Later, head inland and wander around the narrow streets of the cute town of Haapsalu. Be sure to visit the Haapsalu Castle. Guests can climb the top of the castle to get the best views of this town! Open daily between 10 AM and 6 PM.
Next on your Baltic road trip: Pärnu, 1 hour 20 minutes
Pärnu
Aerial view of Pärnu, shot by Kristian Pikner
What can you do in Parnu?
Parnu Beach
Be sure to visit the sandy Parnu Beach, a true highlight of this Estonian town. Located just 15 minutes away from the city center, the large sandy beach offers everything a beachgoer needs: calm sea, white sand, surfing equipment rentals, and stalls that sell snacks and refreshments.
Tervise Paradiis Spa & Water Park
Traveling with kids? Visit the Tervise Paradiis Hotel, an action-packed property in Parnu. Thrill-seekers can spend their day at the water park (admission starts at 18 Euros per adult). Alternatively, you can relax a the spa or go for lunch in the hotel restaurant.
What are the best places to eat in Parnu?
Superlsaksad
Once you get hungry, consider heading to Supelsaksad. Although the restaurant serves great regional food, they are famous for their freshly-prepared cakes and desserts. Open until 10 PM on weekdays and 11 PM on weekends.
Rentalmoose order tip: Their lamb salad is to die for!
If you'd rather go to a different place, consider booking a table at Villa Ammende, Villa Wesset, or Mon Ami.
Which hotel should you book in Parnu?
Luxurious hotels
Sophisticated guests will find themselves at home at the classy Villa Ammende. Would you rather stay at a beachfront hotel? Take a look at the Hedon Spa. if you haven't fallen in love with these two hotels, book a room at Rosenplanter.
Budget-friendly hotels
Would you rather stay at a more affordable hotel? Consider checking into the beachfront Rannahotell, Strand Spa & Conference Hotel, or the Estonia Medical Spa.
Next on your Baltic road trip: Riga, 4 hours 30 minutes
Riga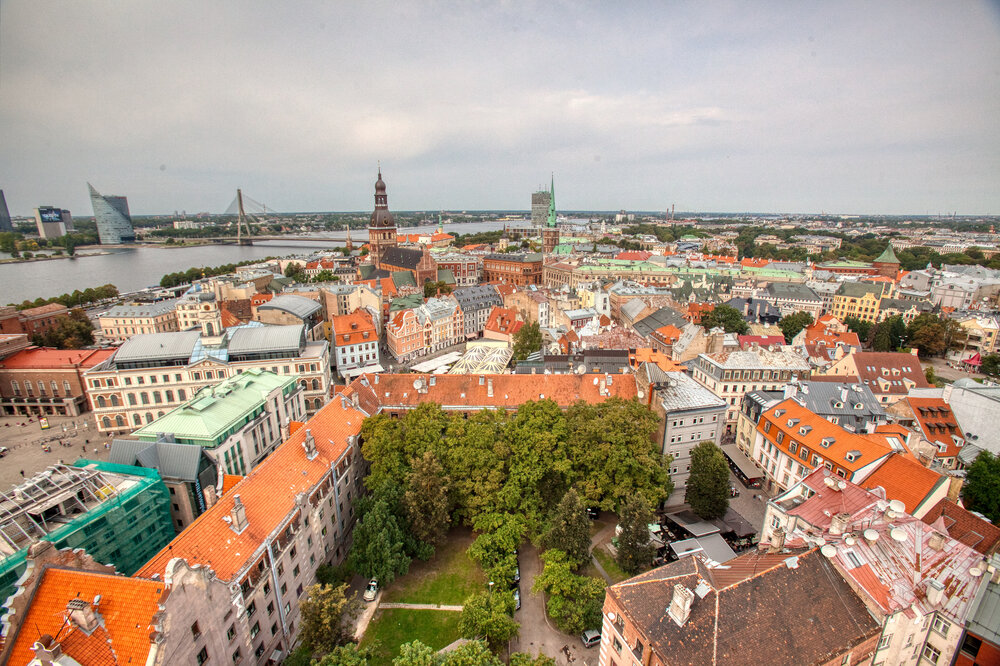 The heart of Riga photographed by the talented Ecksplorer.
After a four and a half hour drive from Parnu, you will arrive in the capital city of Latvia. Welcome to Riga!
What to see in Riga?
Old Town
When in Riga, make sure to visit the picturesque old town. A quick look around will be enough to realize why people often call Riga "Paris of the North". Soak in the vibe from one of the vibrant cafes or wander around and admire the architecture.
House of The Black Heads
Step inside the House of The Black Heads, a famous museum and venue for countless exhibitions and events. Look at the building's facade or step inside and follow the trails of history along the decorative rooms and chambers. Open daily from 10 AM to 6 PM.
St. Peter's Church
You can't miss the monumental St. Peter's Church in the heart of Riga's old town. There are regular concerts at the church, be sure to check the official website for the schedule!
Open daily until 7 PM.
Riga Central Market
Rentalmoose loves heading to local markets in cities around the world. Riga is no different, the Central Market is actually Europe's biggest market!
Riga Central Market is so iconic that it has earned itself a spot as a UNESCO World Heritage Site. It is one of the most important places in all of Latvia, and a must-see for tourists.
Stroll around the bazaar and check out the vendors who sell all kinds of goods and souvenirs. Open all week between 7 AM and 6 PM.
Portofino
Take a break from regional cuisine and head for lunch to Portofino, the best Italian restaurant in Riga. Choose from a variety of Italian dishes, including fresh oysters, aromatic pizza, or vegan alternatives.
Rentalmoose insider tip: As this is one of the most popular eateries in Riga, booking in advance is recommended.
Open 7 days a week from noon until 11 PM.
What is the best hotel in Riga?
Pullman Riga Old Town
If you're looking for the most exquisite and luxurious stay in Riga, check-in at the Pullman. This prestigious 5-star property features spacious rooms and suites, delicious cuisine at the restaurant, and lots of amenities.
Tallink hotel
Traveling on a tighter budget doesn't necessarily mean having to stay at bad hotels. In fact, Tallink Hotel is one of the best-rated hotels in Riga, yet the room prices are beyond reasonable.
Art freaks take note: The Latvian National Museum of Art is a short 15-minute walk from the hotel!
Next on your Baltic road trip: Jurmala, 40 minutes
Jurmala
Sunset at Jurmala Beach photographed by Egor-220.
Jurmala is a scenic resort town just half an hour away from Riga. Head here on your way to Klaipeda, or on a separate day trip from Riga. Either way, Jurmala is worth a visit!
Why should you visit Jurmala?
Jurmala Beach
Jurmala is best known for its long, vibrant Jurmala Beach. You definitely have to visit it during your road trip!
Sunbathe on the golden sand, go for a dip in the Baltic Sea, or come in the evening and attend one of the legendary parties. Speaking of parties, check out this next location.
Legend Restaurant & Beach Club
If you're a fan of luxurious beach clubs, be sure to visit Legend when in Jurmala. Once you're inside, you might feel like you've entered Nikki Beach or a vivid beach club in Miami.
Legend features a top-rated restaurant with seafront dining, a heated outdoor pool, and a selection of drinks as well as shisha.
Enjoying the vibe at Legend does come at a high price, though. Sunbeds start at 30 euros, while poolside beds cost 120 euros.
Faces
When you're hungry, head into the city and go for lunch or dinner at Faces. This trendy eatery is one of the best spots in town to enjoy fresh seafood. Great service and an unforgettable experience are guaranteed!
Open all week until 11 PM.
Next on your Baltic road trip: Klaipeda, 3 hours 20 minutes
Klaipeda
Photography by Drakonas
After you leave Jurmala, it's time to enter the next country on this road trip. Say hello to Lithuania! Your first stop here is the town of Klaipeda.
What are the top attractions in Klaipeda?
Lithuanian Sea Museum
Admire and learn about all kinds of marine life when you visit the Lithuanian Sea Museum. The museum consists of different aquariums, exhibitions, and a dolphinarium. You can even book your own individual session with the dolphins!
Admission tickets start at 7 euros per adult and 3.5 euros per child. Purchase your tickets online to save time.
Curonian Spit
Spend a day out in nature when you visit the Curonian Spit National Park. The impressive sandy peninsula is almost 100 kilometers long in total, and it has been listed as a UNESCO World Heritage Site due to its natural beauty.
Ferry
The easiest way to get to the park is via a ferry from Klaipeda to Smiltyne. The ride only takes a few minutes, click here for the ferry schedule.
Note that there are two different ferry terminals in Klaipeda. The old terminal, located in the city center, is just for travelers on foot and bicycles. The new ferry terminal, located further from the city center, is for cars as well as travelers on foot, bicycles, trucks, and buses.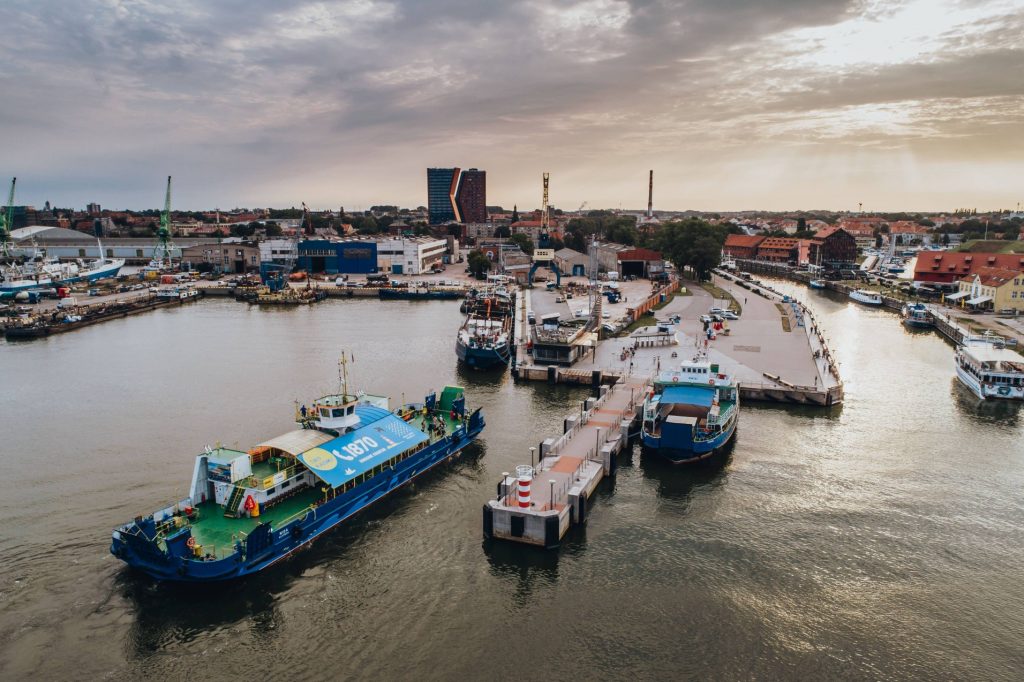 Once on the Spit, drive down the road (there is only one road that can be accessed by car, bicycle, or on foot) and observe as the sand dunes and forests roll by. You can even cross into Russia, as long as you are not on foot.
Keep in mind that there is an ecological charge of 20 euros when entering the park.
Klaipeda Castle
Return back to city life and visit the monumental Klaipeda Castle. This Teutonic castle's history dates back all the way to the 1200s, making it a true gem for history fans. Step inside the chambers and enjoy a trip back in time as you wander around the museum.
Admission costs below 2 euros per adult, guided tours are available at an extra cost.
What are the best hotels in Klaipeda?
Michaelson Boutique Hotel
If you're looking for a hotel right opposite the Klaipeda Castle, look no further than the Michaelson Boutique Hotel. The elegant property offers spacious, stylish rooms, as well as an onsite restaurant with delicious food. The perfect location within the old town and right opposite the castle is the main highlight, of course.
Amberton Hotel Klaipeda
A bit of luxury doesn't always have to come at a high price. In Klaipeda, budget travelers can treat themselves and stay at the 4-star Amberton Hotel Klaipeda. The hotel features modern rooms, an outdoor pool, a spa, and a fitness center!
Next on your Baltic road trip: Kaunas, 2 hours 10 minutes
Kaunas
Photography by Makalu.
What can't you miss in Kaunas?
Laisves Avenue
When in Kaunas, you absolutely can't miss strolling down Laisves Avenue. The walking street runs through the heart of the city, connecting the old and new districts together.
The total length is a little over 1.5 kilometers long, and there are countless cafes and restaurants you can stop at to recharge your batteries.
Devil's Museum
Devil's Museum is exactly as fascinating as the name suggests. The museum consists of a collection of sculptures portraying devils around the world. See how different cultures picture the eerie devil, be sure to photograph the artifacts.
Open 7 days a week from 11 AM. Admission is below 4 euros per person.
Numan
For lunch, consider heading to Numan, one of the trendiest places to eat in Kaunas. The delicious beautifully-presented meals are served in a classy, yet casual setting.
Rentalmoose order tip: After lunch, be sure to try one of the sweet desserts to complete the experience. Then, it's time to hit the road one more time.
Vilnius
Vilnius' skyline photographed by Peggy und Marco Lachmann-Anke
This road trip (if you don't choose to extend it) finishes here, in the capital of Lithuania. Welcome to stunning Vilnius!
Is Vilnius worth visiting?
Of course! Vilnius is one of the most history-packed cities in this part of Europe, and it is most certainly worth spending at least a day here.
Old Town
When walking through the Old Town in Vilnius, you will soon realize that it is hard to define one architectural style of this well-preserved district. You'll pass by Gothic churches, baroque houses and of course, the neoclassical Town Hall and the medieval castle.
Gediminas Castle Tower
For the best views of the area, climb up the Gediminas Castle Tower. Panoramic views offer a great photo opportunity, remember to post your best photos online using #Rentalmoose for a chance to win a free rental car!
Admission to the tower costs 5 euros per adult, there are also museums you can visit directly below the tower.
Museum of Illusions
Challenge your brain when you visit the Museum of Illusions. All sorts of fascinating illusions, inventions, and gadgets are scattered around the 400 sqm museum, making it perfect for a trip with kids.
Entry tickets cost 11 euros per adult and 9 euros per child. Children below 7 enter free of charge!
Amandus
Head to Amandus for the ultimate gourmet experience in Vilnius. The tasting menu will take you on a journey across a variety of flavors, and can be paired with aromatic wine. Keep in mind that the tasting dinner has to be booked in advance, check out their website for more details.
Amandus is open Tuesday to Saturday between 7 PM and 10 PM for dinner service.
What is the best place to stay in Vilnius?
Grand Hotel Kempinski
Sophisticated travelers don't have to leave the old town when picking their hotel. Spend the night at the Grand Hotel Kempinski, a luxurious 5-star hotel right in the very heart of Vilnius. Relax at the swimming pool or spend your evening at the onsite bar. As expected, it isn't the cheapest hotel in Vilnius.
Esperanza Resort
Stay in a retreat just out of Vilnius when you check-in at the Esperanza Resort. The 5-star property features a stunning lakeside location with a private beach, stylish decor, a pool, a spa and wellness center, and more. Vilnius and its old town are just 40 kilometers away.
Drop-off
When you're ready to head back home, simply drop your rental car off directly at Vilnius International Airport. Browse through rental car options that support airport drop-off via Rentalmoose.
Win a free rental car
Whether you're chilling at the beach club in Jurmala or wandering the streets of the old town in Vilnius, be sure to take lots of photos during your Baltic road trip.
Post the best photos from your Baltic road trip online using #Rentalmoose for a chance to win a Rentalmoose discount or even a rental car free of charge!