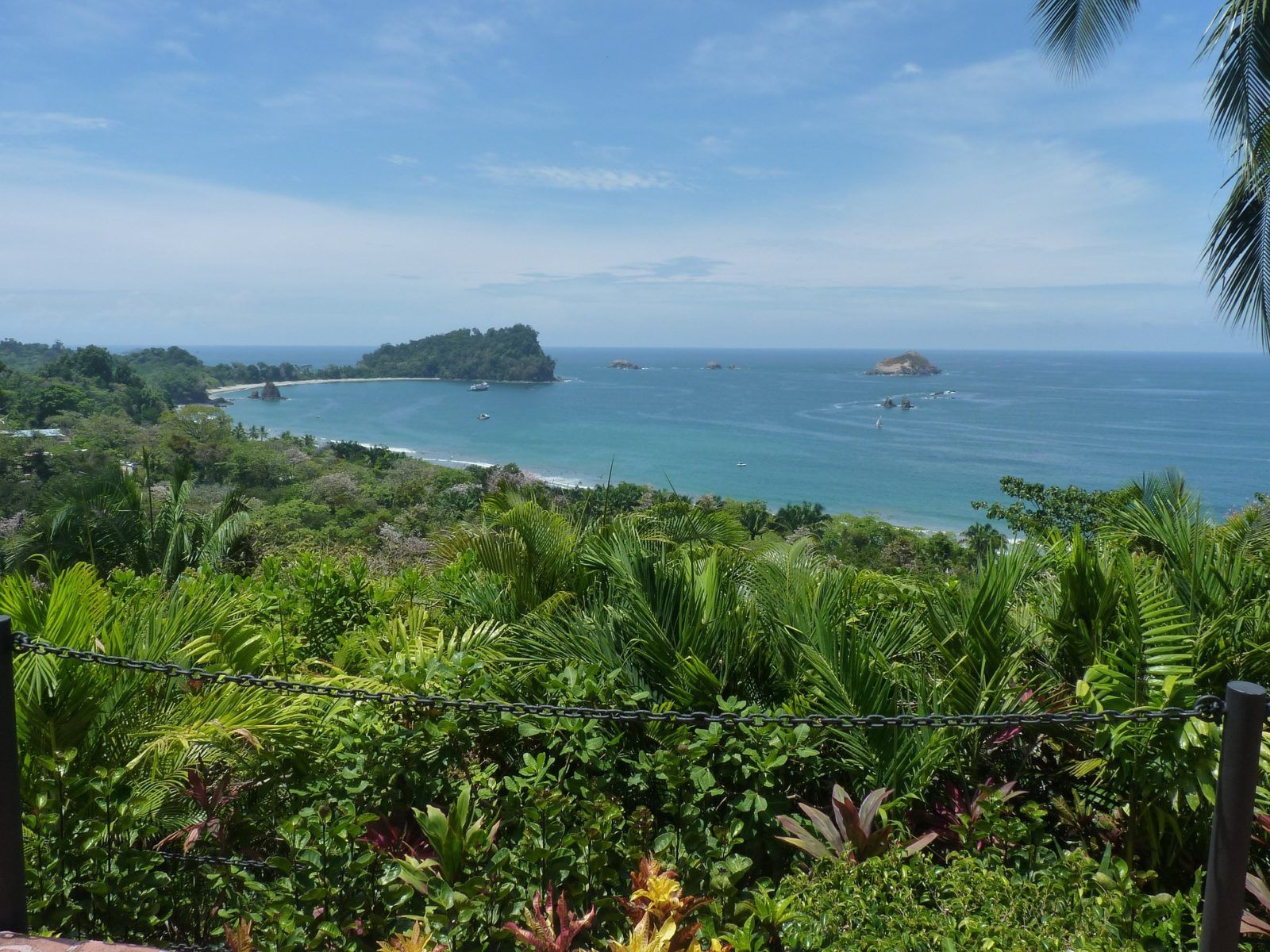 Pura Vida – the magical word combination that all of us are searching for in this life. Simply translated Pura Vida means "pure life" or "simple life". This is the motto of the people in Costa Rica. Not just a motto but actually a way of living. Discover your Pura Vida with our curated Costa Rica itinerary.
Shouldn't it be the same for all of us? That's why I decided to fly to Costa Rica and travel around the country by car – to find this magical Pura Vida for myself during an unforgettable Costa Rica road trip.
Click here for detailed directions
Summary (click the red pins for directions) :
San Jose to Arenal Volcano- 135 kilometers (85 miles)📍
Arenal Volcano to Papagayo Peninsula- 170 kilometers (105 miles)📍
Papagayo Peninsula to Jaco- 230 kilometers (140 miles)📍
Jaco to Manuel Antonio- 70 kilometers (45 miles)📍
Manuel Antonio to Pacuare Lodge- 265 kilometers (165 miles)📍
Pacuare Lodge to Limon- 70 kilometers (45 miles)📍
Limon to Puerto Viejo de Talamanca- 60 kilometers (40 miles)📍
1000 kilometers (600 miles) in total
Planning- Before You Leave
Before setting off to explore Costa Rica with our detailed itinerary, take a look at some essential information listed below.
Why should you visit Costa Rica?
Costa Rica has it all – the rainforests, the volcano, powerful waterfalls, the tropical jungles and beautiful Caribbean beaches (both white sand and black sand). There really is everything in this small country – from relaxation to hard parties. Let's start to explore!
Rentalmoose tip: Get yourself a four-wheel-drive car to explore Costa Rica as some of the roads can get bumpy. And some places might not have roads at all. Find a suitable car for your Costa Rica road trip using Rentalmoose.
Can tourists drive in Costa Rica?
Absolutely! All you need to drive in Costa Rica is a driving license issued in your home country. International Driving Permits are not mandatory.
Although the general traffic rules are similar to those in other countries, the enforcement of traffic laws leaves a somewhat gray area. With that in mind, it is advised to follow all of the regulations.
Traffic in Costa Rica is one the right side of the road.
Now that you're all set, let's dive into your Costa Rica itinerary!

San José
San Jose photographed by Jose Conejo Saenz.
My flight took me to the capital of Costa Rica – San José – the biggest city in the country. I decided to stay here for a few nights to discover the city as well. San Jose is an absolute must on any Costa Rica itinerary by car.
My suggestion would be to stay 1 day or 1 night as Costa Rica countryside has so much more to offer than this big and noisy city.
It's good to know that San José is the least violent city in the Latin American region! Some people even say that Costa Rica is the Switzerland of America.
The architecture in San José is mostly not very beautiful with some exceptions. The pretty buildings can be found around the Paseo Colon.
What can't you miss in San Jose?
Teatro Nacional is a stunning Neoclassical building that is home to Costa Rica's national opera and ballet companies.
If you have decided to spend a night in the city then go see a show – this is the best way to see the beautiful architecture of this building and of course to enjoy the lovely performance.
It's also possible just to buy a tour in the building if you have no time for the show.
Rentalmoose insider tip: There are often art exhibitions or different performances on the square in front of the Theatre! These are free for the public, so keep your eyes open!
If you are interested in the history of the country then there is the National Museum of Costa Rica in San José. It'll keep you occupied for a while.
Another lovely building close-by is San José's Metropolitan Cathedral. It's famous for its stained glass windows but there's a lot to see on the inside as well – like delicate tile work and sculptures.
Where to stay in San Jose?
There are some hotels with lovely Colonial-style architecture – for example, Hotel Grano de Oro (which was chosen as a top hotel in Central America and Caribbean region by Condé Nast in 2018!) which has beautiful wooden decor in its rooms.
The hotel also has a fabulous gourmet restaurant with the same name, which is one of the top restaurants in San José! Grano de Oro's famous restaurant serves a fusion of Costa Rican and European cuisine and is open for breakfast, lunch and dinner.
Rentalmoose tip: When booking a hotel or a restaurant in San Jose, be careful – there is a city with the exact same name in the US as well! Make sure you make your reservations to the right city! Learn from other people's mistakes (read – mine haha!).
Next on your Costa Rica itinerary: Arenal Volcano, 3 hours
Arenal Volcano
Arenal Volcano in the clouds
After wining and dining in San José it's time to start the engine and set off on your Costa Rica road trip! The first stop is the Costa Rican volcano – Arenal.
Arenal is one of seven historically active Costa Rican volcanoes along with Poás, Irazú, Miravalles, Orosí, Rincón de la Vieja complex, and Turrialba.
There are 2 roads that can take you to Arenal, but we chose the longer one because there is a beautiful waterfall on the way and, well – who doesn't love chasing waterfalls?
La Paz Waterfall
My chosen road goes through Alajuela and I made a stop at the La Paz waterfall. It's in the middle of the tropical forest – such a lovely view and refreshing air! By the way, it's a popular wedding ceremony destination so you might get to witness one as well!
Poas Volcano
Very close to La Paz waterfall is another volcano called Poas volcano. It's an active 2,708-metre stratovolcano. A stratovolcano is a conical volcano built up by many layers of hardened lava, tephra, pumice, and ash.
There is an open viewing point from where you can actually see inside the crater of the volcano! A very cool experience indeed!
Arenal Volcano
After experiencing the La Paz and Poas, it's time to continue the drive to your final destination of the day which is Arenal Volcano National Park. The perfectly symmetrical Arenal was Costa Rica's most active volcano until 2010. And it's in the top 10 of World's most active volcanoes.
Thanks to the volcanoes, the area has another thing it's famous for – its hot springs.
The whole area together with its hotels is basically a large spa, perfect after traveling the whole day!
These springs originate in a geothermally heated underground river. Local hotels tap into this source and bring the water to the surface, creating mineral-rich hot springs for their guests to enjoy.
Need any more reasons to stay? I didn't think so!
Where to stay near the Arenal Volcano?
There are several hotels to choose from, my recommendations would be Tabacon Thermal Resort, The Springs Resort, or The Royal Corin Resort. Now relax and enjoy your time!
Next on the Costa Rica itinerary: Papagayo Peninsula, 3 hours
Papagayo Peninsula
You are probably totally soaked and relaxed and it's time to live the wellness area behind because another resort is waiting for you – welcome to Papagayo Peninsula. The place with pretty beaches and tropical forests.
The peninsula has been formed this way by the volcanic activity and weather.
There are 31 separate beaches on the 15mi / 24km of the peninsula. Not too many private wild beaches left in the world but this is your chance to find one!
You now have 2 options – whether you prefer to stay in the peninsula to discover more of it or go hunt other beaches on the coast.
Where to stay in the Papagayo Peninsula?
If you'd like to stay in the peninsula for longer and indulge yourself in the tropic but at the same time in luxury then the Four Seasons hotel is a place for you. A luxury in the jungle!
Andaz Costa Rica Resort will also be just as good of an option for treating yourself. Find your inner explorer as the place has many experiences to offer, choose from hiking, surfing, paddleboarding, animal spotting, snorkeling, diving, and many more outdoor activities.
What are the best beaches near Papagayo?
If you don't plan to stay in the peninsula then hit the road again and start driving to the South. There will be many beautiful beaches along your way – Playa Flamingo, Playa Grande and Tamarindo to name a few. If you have plenty of time to discover Costa Rica – go and see all these different beaches and villages next to those.
If you are on a strict time limit, then choose one of the following beaches:
Playa Flamingo
Playa Flamingo is one of Costa Rica's most popular beaches because it has the finest white sand, clear blue water, and lagoons. The prettiest and probably most crowded due to that.
Playa Grande
Playa Grande is, as its name suggests, a long beach. It is an important part of the national park because it's a nesting place for leatherback turtles. It is still open to the public but it's very protected. So take only pictures and leave only footprints!
Tamarindo
Tamarindo is a surfers' paradise, you can really feel the hippie lifestyle vibes here. There are plenty of restaurants, shops, and nightlife in addition to beach life here.
Rentalmoose tip: If you want to discover even more of the peninsula, you can also visit these beaches: Santa Teresa, Montezuma, Samara (this one is quiet with nice sand and trendy cafes), Ostional (home of turtles!) and Nosara beach.
Next on your Costa Rica itinerary: Jaco, 3 and a half hours
Jaco
Jaco – the Costa Rican nightlife capital. Photography by Juliette Giannesini
This will also be an optional visit along the route as Jaco is not just a town – but a beautiful and energetic beach spot. I put Jaco in the Costa Rica itinerary because it's the surfing and partying capital of the country. So if you would like to do some dancing during your trip then this is the place for that!
What is the best beach in Jaco?
Hermosa Beach
If you love surfing then head to the Hermosa beach to catch the big waves. By the way, the International Quicksilver Championship is held at this beach. If you happen to travel at the same time, you can enjoy the show while comfortably sunbathing on the beach. There are also smaller surfing competitions going on every Saturday!
Hermosa is also a great place for beginners so why not surprise yourself and take some surfing lessons or even participate in a surf camp?
2-hour surf lessons cost about 50.- US dollars per person and there are many cool surfing schools, like School of the World, Tortuga, and Jaco Surf School.
Playa Jaco
Playa Jaco is a very nice and clean beach and popular with tourists. Be aware that there are very strong tides here, so if traveling with kids, keep an eye on them at all times!
Jaco is okay to travel with kids as its not party all over, there are plenty of other things to do and see here as well – like horseback riding, deep-sea fishing, ATV tours, kayaking, boat rides, rafting, canopy zip line, waterfall tour, a catamaran tour along the coast or a walking tour on the hanging bridges at the Rainmaker Park. I mean there is a lot to do for adventure seekers!
Rentalmoose tip: A good idea would also be a day trip to Tortuga Island. This will get you a real Caribbean feeling with its white sand and clear blue waters!
Herradura Beach
The best beach for kids would probably be Herradura beach – a more tranquil beach, which is also perfect if you need a break from the pulsing energy of more heavily-populated areas.
The nightlife
And now back to the party talk. After surfing this is the next reason people come to Jaco. There are many beer bars where the surfers go but also some fancier options to choose from.
Popular clubs in Jaco are Le Loft, ManCave and Orange Pub. There are also two good beach clubs to check out – Black Marlin and Jaco Blu.
After surfing and partying like there is no tomorrow, it's time to escape from Jaco and head to a quieter place.
Next on the Costa Rica itinerary: Manuel Antonio, 1 hour
Manuel Antonio
The wonderful nature and beaches of Manuel Antonio photographed by Gloriana Anchetta.
You have arrived at your next destination – Manuel Antonio National Park – the jewel of Costa Rica. Manuel Antonio is the most popular national park in all of Costa Rica. It's not the biggest but it is so beautiful and has a diversity of wildlife.
Manuel Antonio National Park has several beautiful beaches, especially if you're into snorkeling! You'll instantly fall in love with the place.
What is the best beach in Manuel Antonio National Park?
If you love white sand beaches then Playa Manuel Antonio is the place to be for you! By the way – Playa Manuel Antonio was voted as number 1 beach in the world by travelers in Tripadvisor's "Traveller's Choice Award 2019".
Or maybe you'll prefer a little hidden beach? Head 20 mi / 32 km south from the Manuel Antonio National Park and you'll get to the Playa Linda. This will be a complete escape from the highly visited typical tourist attractions.
Next to Playa Linda, there is another hidden gem- Playa Matapalo.
Local Farmers' Market
Another great experience near Manuel Antonio National Park is a local farmers market called Quepos Feria. Local feria in Quepos starts late afternoon on Friday and is open until 12 pm on Saturday.
You can find everything you need for your perfect vacation from the Feria – local seasonal fruits and vegetables, artisanal fresh cheeses, fresh fish/chicken/meats, homemade desserts, jams, herbs and spices, flowers, fresh pipa water right out of the shell (coconut water) and even locally made jewelry and clothing.
After the exciting time at the feria with the locals, go to Nahomi Park to enjoy the end of the day with tranquil sunset views.
Whether you are traveling with a family, couple or friends, eco-tourists, seeking exciting adventures, or just to relax, you have come to the right place.
Next on the Costa Rica itinerary: Pacuare, 5 hours
Pacuare Lodge
Now it's time to discover a real natural rain forest. Unfortunately, Costa Rica doesn't shine with its roadways so you have to take the same road back which you used to come to Manuel Antonio.
Drive through Jaco and head towards San Jose. After passing the capital city and Irazu volcano you are about to arrive.
Pacuare Lodge is a hotel that lies in the midst of the rainforest. It's not possible to reach it by car, you have to leave your car at some parking place and the hotel transfer minivan will come to pick you up from there.
Getting to the Pacuare Lodge
Take only a small bag with you because the journey to the hotel is something you have probably never experienced before – your bag will be put into a bigger waterproof bag and you will have to go rafting to the hotel through a Pacuare river!
Rentalmoose tip: Keep in mind that the tides can be strong and the road to the hotel can be jumpy so it's not the best idea when traveling with small kids.
Once you arrive at the hotel you'll be soaking wet, so keep that in mind when choosing the clothes for your rafting trip.
The property
The hotel and its area are absolutely amazing. You are lucky if the weather is sunny but otherwise remember that you are in the rainforest so it can rain. A lot. Like, 48 hours straight.
The rain won't stop this place to be nothing but amazing. Your room is like a little wooden house – it doesn't have windows or doors, just the insect net – which comes in handy as you can imagine what kind of life goes on in the rainforest! You will have an outdoor shower as well. Instead of slippers, you will have complimentary rain boots and umbrellas in your room.
The hotel provides many excursions in the forest which are good to participate in. The restaurant is amazing – great cuisine and an excellent wine list!
For more romantic dining, they have a table built on the tree. That is something very different, so I definitely recommend giving it a try!
I think 2-3 days it the rainforest will be enough. After that the journey back will be (yeah, you guessed it) through the river rafting again!
Next on the Costa Rica itinerary: Limon, 1 hour 30 minutes
Limon
Royal palm trees are a frequent sight in Limon. Photo by Falco/pixabay.com
After getting constantly wet on the rainforest there is no better plan than to go to the Caribbean side of Costa Rica, to warm yourself up at the beach! The road trip heads to Limon, the second-largest city in Costa Rica with a population of about 55 000 people. Arriving here can make you feel a bit confused – I sure felt like I had arrived in Jamaica instead.
Limon is the home of the Afro Costa-Rican community. A part of the community traces its roots to Italian, Jamaican and Chinese laborers who worked on a late nineteenth-century railroad project that connected San José to Puerto Limón.
Puerto Limon is not a very touristic place. Although big cruise ships dock here, most of the tourists still head to the West coast of the country. The port mostly is for exporting fruits. It can be a good thing to see a side of Costa Rica that is untouched by the Western world (with its port as an exception).
Is Limon worth a visit?
Limon is a big port city, so it is good to visit it just for a day and head to a calmer place to spend the night. Unless you happen to visit it during mid-October when the 12-days annual Carnival takes place.
What are the best places to eat in Limon?
Treat yourself to a true Caribbean style meal in either of these restaurants: Soda El Patty, Mirador Da Domenico Red Snapper, or Caribbean Kalisi Coffee Shop.
Next on the Costa Rica itinerary: Puerto Viejo de Talamanca, 1 hour
Puerto Viejo de Talamanca
Exotic black sand beach – Playa Negra
After a day well spent in the Puerto Limon, it is time to head even more south – almost to the border of Panama – to Puerto Viejo de Talamanca. It's a more quiet seaside resort where it's good to have your final rest before heading back to the airport.
The best beaches around Puerta Viejo
Although it's on the Caribbean side and you'd probably expect some white sand beaches, this place is actually known for its black sand beach – Playa Negra. For a white sandy beach experience try one of these – Playa Cocles, Playa Chiquita, Playa Blanca.
Surfing in Puerta Viejo
Puerto Viejo is already known for the surfers, it is actually becoming a hot spot for them. They come here to ride the famous Salsa Brava waves which have made the place one of the top-rated surfing paradises in the world. Be warned of the waters here, they have a strong rip current. So, swimming is not advised. This beach is for surfing experts only.
Don't worry, there are many other tropical beaches just within walking distance where it is safe to relax and swim.
If you are not the one who has the patience to just chill on the beach, the place has many activities as well – horseback tours of the area, snorkeling, diving, mountain biking, kayaking, or boogie boarding.
You can take a chocolate tour. Yes – chocolate is an important crop in this area of Costa Rica and you can take a tour to learn how they grow cacao trees, process the cocoa bean, and make chocolate.
Nightlife
Puerto Viejo also has a lively nightlife – there are many bars, clubs, and restaurants in the area. It's also great to know that the prices are not too high here (probably another reason after surfing why the place is popular amongst the hip youngsters).
I must add that the roads here are in very poor condition. Except for the main highway, all the other roads are dirt paved. But it's actually kind of cool to have a rustic place that hasn't been changed by human hand so much.
As I have already mentioned that Costa Rica doesn't shine with the amount of highways, you have to take the same road back to San Jose to reach the airport and drop off your rental car just nearby it. Browse through available rental cars for your road trip to Costa Rica via Rentalmoose.
Costa Rica is not about glamour. It's about letting yourself be part of nature. Forget your daily worries that don't have any meaning in the long terms of life. Be part of Mother Earth, appreciate it and all the living creatures on our planet. Take care of it. Enjoy what it has to offer and try not to change it. This is the meaning of living Pura Vida that I discovered for myself during this trip.
Don't forget to book your rental car via Rentalmoose for your next adventure. On our platform, you can find the top rental companies at the best price, along with tens of curated travel guides around the globe. Get your car from Rentalmoose!
We plant a tree for every booking made with our platform.
Post your pictures from your next road trip online using #Rentalmoose! Our favorite ones will be featured in the upcoming blog posts.