This travel guide takes you on a road trip across Spain's Andalucia region, starting in Malaga before continuing up north to Granada and Ronda, then heading back down to Costa del Sol, Marbella and to the tip of Europe: Gibraltar. Explore the best of Andalucia with our Spain road trip guide!
The route then winds back up to Malaga. The recommended duration for this trip is at least 3 days, with the first night in Malaga and an overnight stop in Granada and Marbella.

Click here for detailed directions

Summary (click the red pins for directions) :

Malaga to Nerja– 60km (40 miles) 📍
Nerja to Granada– 95km (60 miles) 📍
Granada to Antequera– 100km (60 miles) 📍
Antequera to Ronda– 90km (60 miles) 📍
Ronda to Marbella– 65km (40 miles) 📍
Marbella to Gibraltar– 80km (50 miles)📍 (9.55 EUR Highway Toll)
Gibraltar to Malaga– 140km (90 miles) 📍 (9.55 EUR Highway Toll)

630km (390 miles) total

Tags: Travel guide, Spain, Costa del Sol, Southern Europe, Beach, Summer, Short Trip
Planning- Before You Leave
Before you set off on your Spanish road trip to Andalucia, take a look at some of the essential information listed below.
Why should you visit Southern Spain?
Andalucia is an exciting part of Spain in Southern Europe. The region is known for its beautiful beaches on Costa del Sol (Coast of The Sun), rich multicultural history, beautiful landscapes and mouth-watering food. This trip is perfect for travelers who enjoy beaches, sightseeing and Mediterranean delicacies.
Simply put, it's the perfect destination for your summertime road trips.

When is the best time to visit Spain?
Costa del Sol has an average of 300 sunny days every year. The water in the Mediterranean is the hottest during the summer, however, it is also warm enough for swimming in late Spring and early Autumn. The water temperature gets colder in the west of Costa del Sol, as the Mediterranean mixes with the Atlantic.

The perfect time for a road trip to Spain, while avoiding the summertime crowds, would be between April to early June, as well as late August to October.

Why to get a rental car in Spain?
The points of interest along this road trip are located within driving distance of each other. It's best to travel by car during this trip to Spain.
Although most milestones on this journey could be accessed by public transport, it is nowhere near as convenient as traveling by rental car. That's what makes Andalucia the perfect destination for a road trip in Spain.


Scenic routes along the coast and mountain pass roads make this road trip one of the best driving tours in this part of Europe.

For extra peace of mind during your trip, Rentalmoose recommends adding excess coverage when booking your rental car. What's more, you can qualify for a 50% discount from the excess cover fee if you take check-in photos when picking up your rental car.

Road Trip Extension to Basque Country
Your road trip in Spain doesn't have to end in Andalucia.
Drive north for around 8 hours until you reach Bilbao, a fascinating city known for its delicious cuisine and rich history. Then, make your way across the Basque region before finishing in Bordeaux.
Click here for the Rentalmoose travel guide to Basque country and plan the ultimate Spanish road trip.
Can tourists drive in Spain?
Spain is a member of the European Union, therefore most foreign driving licenses are accepted as long as the driver is 18 years old and above. International Driving Permits are recognized, but not mandatory.

Check out this blog post to learn more about International Driving Permits.

Make sure to follow the speed limits carefully when driving around Spain. There are lots of speed cameras set up all over major roads, some of them are nearly impossible to spot.

International tourists are required to pay their fines on the spot, or online via the DGT website. Keep in mind that if you decide to pay online, the price will be two times higher. Speeding tickets range from 50 to 250 Euros, depending on the excess speed and the road type.

Excessive speeding can land you in jail. If you are caught going over 201km/h on the motorway or over 111km/h in an urban zone, you will either receive an enormous fine based on your salary, or will be sent to prison for up to 6 months.

Traffic in Spain is on the right-hand side.
Now that you're all set, let's dive into your Spain road trip itinerary!

Málaga
Your road trip in Spain begins in the second biggest city in Costa Del Sol, Málaga. This exciting city has transformed from being a gateway to Andalusia into a vibrant hotspot packed with cultural experiences, local cuisine and vivid nightlife all waiting to be discovered.

Once you arrive, pick up your rental car directly at the airport for maximum convenience and head down into the city.

What to do in Málaga?
Mercado Central
Rentalmoose loves local food markets. We think they're one of the greatest ways to take in the hustle and bustle of any city or town. No matter whether you're in Athens, Cameron Highlands, or Tallinn, the local market is the vibrant heart of the local life.
Indulge yourself in local culture at Málaga's famous central market, Mercado Central. This authentic Andalusian market has a rich history, it has once been a storage warehouse, weapon's arsenal, and military warehouse, before becoming a local market once again in the 1800s.

Mercado Central is perfect to satisfy your local shopping needs, here you can find anything from fresh olives or fruit through to souvenirs and jewelry.

Mercado Central is a great place for lunch, head into one of the food stalls for local seafood or North African pastries. You can leave your car opposite the market at this multi-story carpark for 15 euros per day.

Museo Picasso
Find out first-hand why Pablo Picasso fell in love with this part of Spain. Head towards the heart of the city and admire pieces from Spain's most famous painter in Museo Picasso.

The venue itself is breath-taking, as the museum is situated in a renovated 16th-century mansion. Inside, there are over 120 works made by Picasso alongside various temporary exhibitions. The museum is open daily from 10 AM, admission tickets cost 9 Euros and can be purchased here.
I recommend going in the afternoon, no sooner than 3 PM, as there are a lot more visitors in the morning.

Playa Pedregalejo
Take a break from the busy city and relax on one of the city's sandy beaches. Visit Playa Pedregalejo, a long sandy beach in the eastern part of Málaga.

Take a dip in the sea or sunbathe. Costa del Sol gets an average of 300 sunny days per year, so you can be sure it won't rain.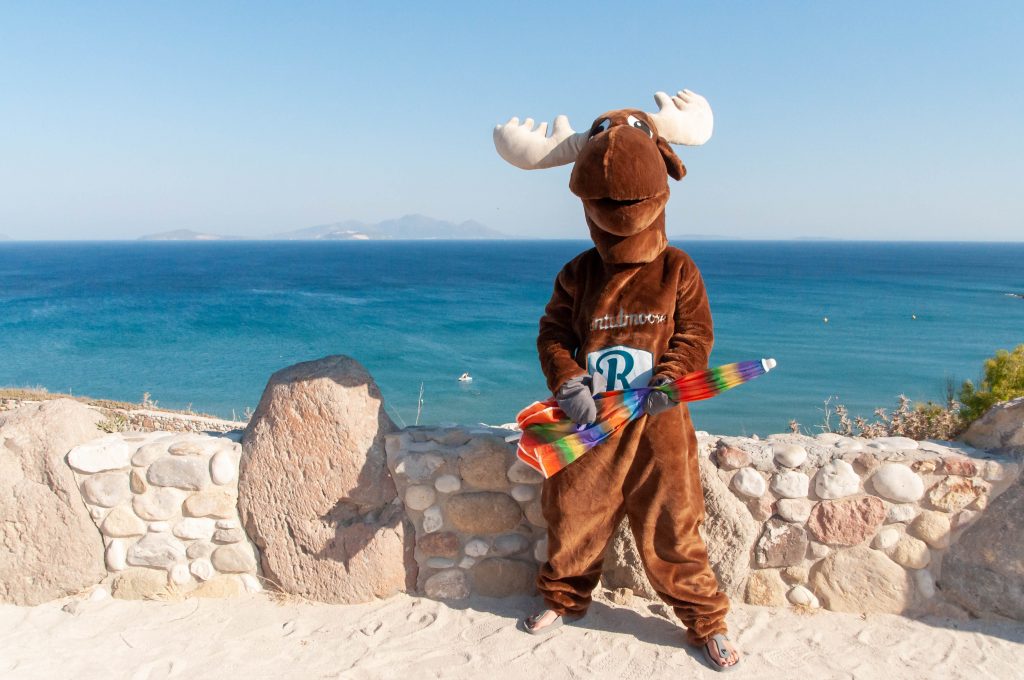 For a post-beach day meal stroll over to El Balneario, where you can enjoy fresh seafood right by the shore. Click here for the menu.
What are the best hotels in Málaga?
As Málaga is filled with attractions, I recommend spending at least one night in town before continuing on. Travelers who want to enjoy the comforts of a 4-star hotel with a pool, fitness center and a perfect location near the Centro district will feel at home at Barcelo Málaga. Prices start at 96 Euros per room.

Gran Hotel Miramar
Sophisticated travelers looking for the most top-of-the-line experience available in Malaga can stay at Gran Hotel Miramar.
This luxurious 5-star hotel offers anything a guest can look for in the perfect hotel: spacious and chic rooms, a spa and wellness center, a restaurant serving delicious food, a bar, and great service. This high standard does come with a hefty price tag, rooms start at 250 euros per night.
When you've spent enough time in Malaga, it's time to head out and begin your road trip in Spain!

Next on your Spain road trip: Nerja, 45 minutes

Nerja
The first leg of the journey is a scenic coastal drive along the Mediterranean to Nerja. The city of Nerja is one of the most popular hotspots in Costa del Sol, and it is easy to see why.

It is Spain's paradise for beachgoers with a variety of beaches, from secluded coves to wide, vivid beaches in the heart of town. Nerja, however, offers a lot more than sandy beaches, as you are about to discover.
What is the best beach in Nerja?
Burriana Beach
The most frequently visited beach in Nerja is Burriana Beach. Located east of the town, this sandy beach is filled with seashore restaurants, bars, and shops as well as watersport activities.
You can try to park your car along the streets for free, though on-street parking is usually full during peak season. There is a public car park available right by the beach entrance, average cost is around 2 euros per hour.

Playa del Pino
Crystal-clear waters make the Playa del Pino a perfect spot for snorkel and diving fans. This quiet beach is more secluded, with zero seashore restaurants or frankly any other facilities. Clothing is optional, bear this mind if you do not wish to see nudists.
Frigiliana
After a calming stay at the beach, drive up to the village of Frigiliana, just a few kilometers away from Nerja (click for directions). Beautiful, whitewashed houses and picturesque streets make up Frigiliana, renowned as the most beautiful village in all of Costa del Sol.

Stroll around the streets and feel as if you've been taken back in time by this authentic town. Your rental car can be dropped off at the public car park right across the street.
Nerja Caves
Beaches are certainly not all Nerja has to offer, and the Nerja Caves (Cueva de Nerja) and Frigiliana village are the prime examples.

This massive, 4-kilometer long cave system is a must-see in Costa del Sol. Admission tickets cost 11 Euros and are definitely worth every cent. You can purchase tickets right here.

Next on your Spain road trip: Granada, 1 hour 20 minutes

Granada
Drive east out of Nerja and then north along the A-44 until you reach the city of Granada, a historical city at the foot of Sierra Nevada. It's a must-visit during any proper road trip in Spain.
What to see in Granada?
The Alhambra
Begin your tour of Granada by visiting the most popular monument in the entire country: The Alhambra. This monumental palace is a true Spanish treasure.

It used to be a fortress, and it served as the residence of Nasrid sultans between the 13th and 15th centuries. As this palace is very popular among tourists from across the globe, I recommend visiting near closing times.

Admission tickets cost 14 Euros and can be purchased here. The Alhambra is open daily from 8:30 AM to 8 PM (6 PM in winter, between October and March).

Generalife
Next, head over to the Generalife. These colorful gardens are especially lively in spring, but visiting during any other season will be just as breath-taking.

Within the gardens, you will find lots of monumental fountains and pools as well as the Generalife Palace. If you are planning to visit the Generalife as well as the Alhambra, you can purchase combined tickets for a reduced price. Generalife Gardens tickets cost 7 Euros per person and can be bought here.

Flamenco shows- a must
Flamenco is essentially the heartbeat of Granada. The city is packed with beautiful Flamenco Shows that are often accompanied by delicious local dinner.

There are lots of venues to choose from, one of the best in town being the Zambra Maria la Canastera, located in the traditional Sacromonte neighborhood that is another attraction in itself.

The 1-hour show takes place in a traditional whitewashed cave and is performed daily. Tickets cost 24 Euros per person and can be bought via flamencotickets.com.

Where to stay in Granada?
The absolute best place to stay in Granada would be the Parador de Granada. Located in a 14th-century palace, the venue itself is astonishing and rich in history. Its excellent location is directly within the Alhambra. It does not get better than this. The rooms start at 230 euros per night.


Gar Anat Boutique Hotel is a more economical choice for travelers on a tighter budget. This cozy hotel is in a perfect location within the city's central district. The building itself is a restored 16th-century hotel. The Granada Cathedral (another tourist attraction worth visiting) is just minutes away. The rooms start at below 100 euros per night.

Next on your Spain road trip: Antequera, 1 hour 20 minutes

Antequera
Head west out of Granada and follow the A-92 for about a hundred kilometers. After roughly an hour and a half, you will reach "el corazón de Andalucía" (the Heart of Andalucia), the city of Antequera.

What are the best places to visit in Antequera?
Antequera is a city often referred to as the heart of Andalusia, and it is perfect for travelers who are keen on history, natural beauty and, of course, delicious cuisine.

Alcazaba of Antequera
Begin by visiting the Alcazaba of Antequera (pictured above), a historical fortress near the center of the city. It was built in the 14th century to counter the Christian Army, which was advancing towards Antequera from the north.

This monumental fortress remains a historical gem. Guests can step inside the interior and explore the fortress by themselves or get a guided tour. Admission costs 6 Euros per person and can be purchased upon entrance. There is a 50% discount for kids between 7 and 16 years of age, and children below 6 years old can enter for free.
Parking (public) is available right outside the walls of Alcazaba.

Torcal de Antequera
An absolute must-see during your visit is Torcal de Antequera. This national park west of the city features unbelievable, natural rock formations that can be experienced on different hiking trails.

The trail network includes many hikes that can be walked through for free, there are also guided tours that can be booked via the official website. The national park is home to the Iberian Ibex, which can be seen across the area. Free parking is available beside the entrance.

Where to dine in Antequera?
Foodies certainly won't be disappointed in Antequera, as there are lots of local restaurants to choose from. Whether you're craving a delicious Paella, Gambas Pil Pil or a slice of Jamon Serrano, the city has got you covered!

Head over to Restaurante Plaza de Toros for a tasty local meal. This magical restaurant is located in a bullring, dining here is a once in a lifetime experience. Delicious Mediterrreneanen food and an out of this world atmosphere guaranteed!

Next on your Spain road trip: Ronda, 1 hour 20 minutes

Ronda
Ronda has got to be one of the most beautiful towns in all of Spain. Located on two monumental rocks, there are historical bridges that connect the two districts.

The best views of Ronda
There is a quiet spot where you can get the best ground-level views of Ronda, I recommend going there before heading into the city.

Drive up to the viewing point. Take caution, as the drive there can be tricky: it's a rather tight dirt road with steep slopes.

Once you get to the viewing point, park your car and enjoy the scenic views of the bridges, the rocks, and vineyards in the surrounding area in this picturesque spot.

Next, head up into town. You can leave your car at one of the public car parks in the historic part of Ronda, the rates are around 2 euros per hour. Continue strolling on foot and walk over to the Mirador de Ronda viewpoint, this time to get a view of the region from above.

After getting the best panoramic views at Mirador de Ronda, take a walk to the Bullring.

Which bullring is the oldest in Spain?
Plaza de Toros
Ronda's bullring called Plaza de Toros was the first one ever built in Spain, back in 1785. The controversial show now takes place just once every year, there are multiple guided tours every day that tour the historical arena.

If you are interested in learning about the history of bullfighting, visit the Bullring Museum. Admission costs 8 euros.

De Locos Tapas
After strolling around the magical town, go for a taste of delicious local food in De Locos Tapas, one of the best tapas bars in Ronda. This restaurant serves some of the best delicacies in town, therefore it can get quite crowded. I recommend booking in advance right here.

Ascari Race Track
Visting the Ascari Racetrack is a must for every car enthusiast in the area. The resort includes a private racetrack, often rated as one of the best in Europe, as well as a country house.
There are multiple racing experiences you can book. Each one includes at least 80km of track driving, a professional instructor, a mechanical team and equipment, a garage tour, and food and beverages.

Next on your Spain road trip: Marbella, 1 hour 10 minutes

Marbella
Head south from Ronda, along a scenic mountain pass down to the coastal city of Marbella.

What can you do in Marbella?
Marbella is Costa del Sol's hotspot for luxury, featuring ports filled with enormous yachts, luxury clothing stores, golf courses, fine dining restaurants and expensive villas overlooking the city.

Puerto Banus
Begin with a visit to Puerto Banús, the city's vibrant modern center. Stroll through the marina and admire massive luxurious yachts, or go shopping in one of the marina's countless high-end boutiques.

Puerto Banús is the hotspot for nightlife, if you are visiting in the evening you can head into one of the local clubs or bars.
La Sala By the Sea is a great beach club minutes away from the marina, where you can enjoy exceptional drinks and food on the beach. Sunbed pricing starts at 15 Euros per person and can be booked via the official website.
Golfing in Marbella

Golf is extremely popular for both locals and tourists in Marbella, there are over 30 golf courses in the city to choose from and La Quinta Golf and Country Club is one of the most popular ones.

This 27-hole course is one of the most attractive courses in the region and is suitable for both beginners and advanced players.

Pricing starts at 100 euros, though there are various sales and discounts throughout the year. This country club also features a Best Western hotel. Prices start at 150 euros per night.

Where is the best party in Marbella?
Playa Padre
When you are looking for a nightlife, then the hidden gem for that is Playa Padre. It's a small and stylish place where mostly locals go or the people who know it. Some well known DJ's have performed here, such as Solomun and Black Coffee.

It's hard to find for tourists, which makes it even more exclusive. If you are into house music then this is a paradise. Best parties on Sunday evenings, check out the Playa Padre website and social media accounts for upcoming events.

Where to stay in Marbella?
As Marbella is the top luxury destination in Spain, incredible hotels are a common sight. Travelers looking for the best 5-star hotels have plenty of options to choose from, I recommend the Villa Padierna Palace. This lavish resort includes 130 rooms, suites and villas surrounded by 3 golf courses, pools, and a spa center. Rates start at 250 euros per night.

A more budget-friendly alternative would be The Urban Villa, 10 minutes away from the city. This hillside villa offers 5 suites with incredible views, as well as a semi-secluded location, authentic food, and a pool. The rooms start at 70 euros per night.

Next on your Spain road trip: Gibraltar, 1 hour 10 minutes

Gibraltar
Drive down the AP7 from Marbella to Gibraltar. The tolls along this route add up to 4.3 euros and can be paid directly as you are driving through.

A toll-free alternative (around 20 minutes longer) would be the coastal A7. Although the drive is longer, practically the entire route runs along the coast, so panoramic views are guaranteed.

As Gibraltar is a British territory, there is a passport control upon entry and exit, and you might find yourself stuck in a long queue during the weekends. You can leave your car at La Linea Car Park in Spain and walk over to Gibraltar on foot, too.

What are the attractions in Gibraltar?
Rock of Gibraltar
The most famous attraction in Gibraltar is the gigantic Rock of Gibraltar. You can drive up atop the famous rock by car, although this drive is recommended for experienced drivers.

The way up is an exciting tight road filled with alpine-style hairpins and steep slopes. At the top, you can enjoy panoramic views of Gibraltar, Spain and Africa.

You can also take the Gibraltar Cable Car. The ride up takes 6 minutes and costs 16 pounds per adult and 7 per child.

The Main Street
After visiting the Rock of Gibraltar, head down to the Main Street in the heart of town. The vivid streets are lined with all sorts of restaurants, pubs and shops.

Some duty-free products, such as perfume, are available at lower prices than in Spain. After shopping, head over to Cafe Rojo for a British lunch, open from 10 to midnight Tuesday to Saturday. Your rental car can be parked here.

Next on your Spain road trip: Malaga, 2 hours

Return to Málaga via the AP7.
On the way back to Malaga, you can stop for an unforgettable lunch or a dinner in Los Marinos Jose Restaurant, which is located after Fuengirola. It is one of the best seafood restaurants in Spain.
Drop-off
Enjoy a few more days in the sunny city or return home. Your rental car can be dropped off at Malaga Airport for maximum convenience. Browse through car rental options via Rentalmoose.
Don't have a car you can take on a road trip in Spain? No problem!
Don't forget to book your rental car via Rentalmoose for your next Spain road trip. On our platform, you can find the top rental companies at the best price, along with tens of curated travel guides around the globe. Get your car from Rentalmoose!
We plant a tree for every booking made with our platform.
Post your pictures from your next road trip in Spain online using #Rentalmoose! Our favorite ones will be featured in the upcoming blog posts.