Santorini is the definition of an ideal Greek island. It's full of picturesque villages, scenic natural beauty, tasty cuisine, and fascinating archeological sites. Explore the best of Santorini with this comprehensive road trip itinerary!
Click here for detailed directions
Summary (click the red pins for directions) :
Fira to Oia- 12 kilometers (7.5 miles)📍
Oia to Ancient Thera- 23 kilometers (14.3 miles)📍
Ancient Thera to Pyrgos- 7 kilometers (4.4 miles)📍
Pyrgos to Akrotiri- 8 kilometers (5 miles)📍
50 kilometers (31 miles) in total
Tags: Travel guide, road trip, Greece, Beach, foodie
What is the best time of the year to visit Santorini?
The best time of the year to visit Santorini is in May and September. That's when the weather is still pleasant and there aren't too many tourists around the island.
The weather is the hottest during July and August, it's best to go during these months if you plan to spend lots of time on the beaches. Keep in mind that it is also the peak of the tourist season, and Santorini tends to get very crowded during the summer.
Why should you rent a car in Santorini?
Santorini, despite being a rather small island, is definitely best explored using a rental car. The comfort of altering your itinerary on the go, freely extending the road trip, or finishing it early can only be achieved when traveling by car.
Public transport around Greece tends to be rather hectic for international tourists. Most ticketing booths and schedules are available in Greek only, and buses irregularly travel between destinations. Not to mention the crowds and the fact that bus tickets can only be purchased in cash at the booths, right before leaving.
Road trip Extensions
Mainland Greece
Your Greek getaway doesn't have to end here! Before leaving Greece, fly to Athens and drive all the way to Thessaloniki, exploring the best attractions in mainland Greece along the way. Click here for the travel guide and plan your ideal road trip through mainland Greece.
Rhodes
Rhodes is the definition of Greece as most tourists know it. Here, you can find some of Europe's most pristine beaches, spectacular natural beauty, and fascinating towns with ancient historical sites. Click here for the guide.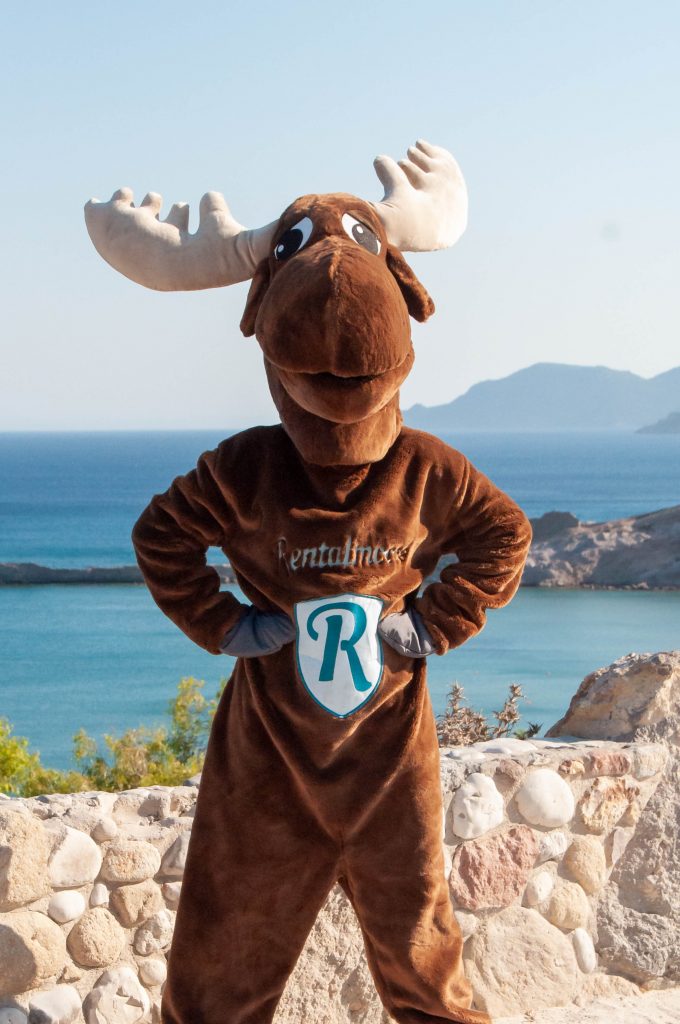 Can tourists drive in Greece?
Yes! As Greece is a member of the European Union, tourists can use their domestic driving licenses issued in other EU member states. Travelers who do not have a driving license issued in an EU country should obtain an International Driving Permit (click here to learn all about them).

Driving in Greece for first-timers might be overwhelming at first. Locals tend to drive aggressively without much regard for others, be extra cautious when driving a rental car around Santorini, and make sure to get excess coverage provided by Rentalmoose when booking your vehicle.
Don't forget to take check-in photos when picking up your rental car, that way you are eligible for a 50% rebate from the excess coverage fee.
Once you're all set, let's dive into this exciting Santorini itinerary!
Fira
Photography by EzPzPics.
Welcome to the sunny island of Santorini! For maximum convenience, Rentalmoose recommends picking up your rental car directly when you arrive at the airport. Browse through car rental options that support airport pick-up via Rentalmoose.
Santorini is often regarded as the most beautiful island in Greece, it surely is one of the most unique ones. It provides a perfect mix of historical sites, delicious cuisine, scenic natural beauty, and vibrant nightlife. Santorini is a volcanic island, the caldera is what remained after an eruption that happened centuries ago, and resulted in shaping Santorini's unique landscape.
Is Fira worth visiting?
Most certainly! Fira is the main town on the island, and it has plenty of attractions and spots worth visiting. You can find plenty of scenic points, restaurants, hangouts and nightlife spots all around this small town. Here are some of our favorite spots and the best things to do in Fira.
Karavolades Stairs & The Old Port
Enjoy a fair bit of exercise as you walk down the Karavolades Stairs, often referred to as the 587 steps. Tourists traveling with children will surely love seeing many donkeys traveling up and down what was once the main donkey trail that connected the town to the port.
The exhausting stroll will take you down to the harbor, where you can hire a boat or go on a fishing tour.
You can either walk back up the same way or take the cable car and regain energy. The cable car to Fira costs just 6 EUR per person. Note that passengers are required to wear masks.
Rentalmoose insider tip: Try to visit the old port outside of the peak hours, otherwise you might find yourself stuck in a long queue for the cable cars.
Three Bells of Fira
After your cable or ride (or hike, if you can handle it), walk along the cliffside road until you reach the Virgin Mary Orthodox Church. The church is a famous attraction due to its whitewashed facade, blue dome, and the Three Bells of Fira overlooking the sea. It is hands-down one of the best photo opportunities in Santorini.
Remember to post your pictures from this trip online using #Rentalmoose for a chance to win a free rental car!
Three Bells of Fira photographed by Judith Scharnowski
Obelix
When in Santorini, you can't miss out on the delicious cuisine! Make your way across the narrow streets until you reach Obelix, the best place in Fira to try real Gyros. As it's one of the favorites among both tourists and locals, prepare to wait a bit for your food. It is well worth it, though!
Open all week from noon until 9:30 PM.
Rentalmoose order tip: Don't skip out on their famous Gyros or Souvlaki.
PK Cocktail Bar
PK Cocktail Bar is one of the go-to nightlife spots in all of Santorini. It's always vibrant, crowded, and well-known among locals. It has been welcoming guests for over 40 years and remains one of the top picks on the island. Sip on a delicious cocktail as you watch the sunset from the outdoor terrace, order a cup of aromatic coffee, or smoke a tasty cigar.
PK Cocktail Bar is open all week until midnight.
Parking in Fira
You can drop off your rental car at one of the small public car parks located along the main road. The majority of public car parks in Santorini are usually free, the few paid ones cost under 2 EUR per hour.
On-street parking is permitted unless there are signs that state otherwise. Generally, if there are other cars parked along the street, you should be fine as well.
Where to stay in Santorini?
As the total driving distance for this road trip doesn't surpass 100 kilometers, Rentalmoose recommends staying at one of these hotels during your trip to Santorini.
Iconic Santorini
Iconic Santorini is an impressive boutique cave hotel located in Imerovigli, at the highest point of the caldera. This idyllic spot is centrally located from the hustle and bustle of the cruise shopping port of Fira. Oia's famous sunsets are only a short drive away.
The 5-star property features a stunning infinity pool overlooking the sea, magnificent suites, an upscale restaurant, and a wellness facility. It is the perfect choice for sophisticated travelers visiting Santorini.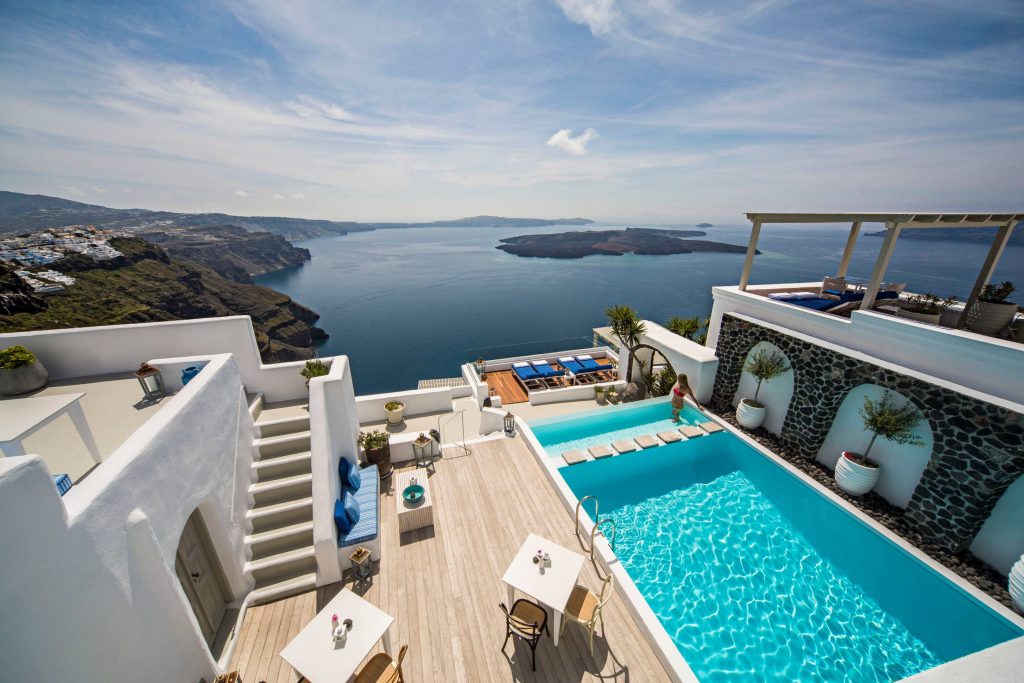 Grand View Hotel
Don't want to splash out hundreds of Euros per night on an ultra-luxurious hotel in Santorini? Consider checking-in at the 3-star Grand View Hotel instead. This property, located in Megalochori, features a stunning outdoor terrace and swimming pool overlooking the sea at a fraction of its 5-star competitors.
Add modern decor, a charming restaurant, complimentary parking, and Grand View Hotel becomes a very attractive budget-friendly stay in Santorini.
Next on your Santorini itinerary: Oia, 20 minutes
Oia
Photography by Michelle Maria.
Depart Fira and continue towards the northern tip of the island. After roughly 20 minutes, you will reach Oia, the second-largest town in Santorini, and one of the most picturesque spots you can find. It is also quieter than Fira, especially once dusk falls.
What can you do in Oia?
Ammoudi Bay
Cool down from the scorching heat and go for a dip in the Aegean Sea at Ammoudi Bay. Adrenaline junkies can find opportunities for cliff-jumping, foodies can drop by one of the waterfront fish taverns and dive into local seafood.
Alternatively, you can go on a boat tour directly from the bay to see picturesque bays, other islands, and the famous volcano.
Ammoudi Fish Tavern
Once you get hungry, head to the Ammoudi Fish Tavern located in Ammoudi Bay. Apart from fresh fish and tasty seafood, the eatery offers a beautiful waterfront dining experience with panoramic views of the sea and the nearby island. The restaurant is popular, you might want to book ahead during the peak season to ensure you get the best table.
The tavern is open daily from 11 AM to 11 PM.
Byzantine Castle Ruins
Santorini's magical sunsets are famous around the world. For the best view of the sunset, head to the point right next to the Byzantine Castle Ruins. Spectacular sunsets with panoramic views of the iconic whitewashed buildings, traditional windmills, and deep blue water, attract hordes of tourists every evening. Make sure to find your spot long before the sunset itself to get an unobstructed view!
Church of Panagia
The Church of Panagia is a lovely whitewashed Orthodox church in the heart of Oia. Its pristine facade makes for a perfect backdrop for photography. Alternatively, visitors can step inside and admire the decorative interior. Remember to dress appropriately when visiting places of worship.
Hike to Fira
If walking down the 587 steps to the old port in Fira wasn't enough exercise for the day, you can wander down the scenic trail all the way to Fira. The hike is around 10 kilometers long one-way, spectacular views along the way are guaranteed, as you'll be walking practically on the edge of the caldera. Click here for more info on the hike between Fira and Oia.
Next on your Santorini itinerary: Ancient Thera, 35 minutes
Ancient Thera
Photography by Norbert Nagel
After exploring Oia and Fira, it's time to head out and see what the southern part of the island has to offer. Be sure to drop by the Ancient Thera archeological site. The winding road leading to the site, filled with tight hairpins and chicanes, is a super fun drive.
What is Ancient Thera?
Ancient Thera is a large archeological site of an ancient town of Thera, its history dates as far as the 8th century BC. The remains of the settlement are located on top of the Mesa Vuono Mountain, providing spectacular panoramic views of the surrounding areas.
You can follow the chicane-filled road and park your rental car near the entrance to the site, or leave your car in Perissa and reach the top of the mountain on foot. Wear comfy shoes as there is lots of ground to cover, and the hiking conditions can be challenging for the inexperienced.
The archeological site is open between 8 AM and 3 PM and remains closed on Mondays.
Kamari Beach
Hiking around the archeological site for a few hours might wear you out. In that case, reward yourself with a relaxing evening at Kamari Beach just a short car ride down the mountain from Ancient Thera.
Catch a glimpse of the setting sun, go for a swim, or feel the mix of volcanic sand and pebbles as you stroll down the shore. You can also walk around Kamari and step inside one of the local restaurants or shops.
Next on your Santorini itinerary: Pyrgos, 15 minutes
Pyrgos
Photography by DanaTentis
Is Pyrgos worth visiting?
Definitely! Pyrgos is a scenic whitewashed village around 15 minutes away from Ancient Thera that remains frequently overlooked by tourists, hence it is usually calm and peaceful. Once the capital of Santorini, Pyrgos is one of the best-preserved, authentic villages on the island. Its natural setting between vineyards makes it even more charming.
Admire the panoramic view of the village first from this viewing point. Then, make your way into the town, park your rental car, and stroll around Pyrgos on foot. The best way to see the beauty of this cute village is by simply walking around and exploring its narrow streets.
Art Space Santorini
As Pyrgos is surrounded by vineyards, it would only make sense to see a winery and learn about the local wine culture. The perfect space to do so is Art Space Santorini. The venue features a wine-oriented museum located in an old winery.
Art enthusiasts will enjoy the exhibition of wine-related art pieces. Guests can also tour an active winery and the nearby vineyard.
You can taste and purchase locally-made wine, too. Remember that driving under the influence is strictly forbidden.
Art Space Santorini is open all week between 11 AM and 7 PM.
Santorini of the Past
Learn all about Santorini's regional history at Santorini of The Past, a wonderful museum focused on depicting the everyday life of Santorini. The museum features a collection of historic items and fascinating artifacts on display. Of course, scenic surroundings and panoramic views are guaranteed.
Metaxi Mas
Try what could very well be the best restaurant in all of Santorini. Metaxi Mas serves Greek dishes with a slight Cretan twist. The cozy taverna hosts guests in an indoor area or their stunning terrace with panoramic views of the island. Each dish can be paired with local wine, of course.
Metaxi Mas is open from noon until midnight, 7 days a week. It can get busy during the weekend, book ahead to reserve a spot in the outdoor seating area.
Next on your Santorini itinerary: Akrotiri, 15 minutes
Akrotiri
The Red Beach photographed by Pat Scrap.
Having explored the village of Pyrgos, it's time to head towards the southeastern tip of Santorini. This part of the island has even more natural beauty, as well as some of Santorini's best beaches.
What can you do in Akrotiri?
Akrotiri Archeological Site
Akrotiri Archeological Site is dubbed "the Greek Pompeii" and is regarded as one of the most remarkable sites in the country. Its history dates back to the Bronze Age!
The excavation site has been covered by a roof, it doesn't look too appealing from the outside, but the treasures it holds are worth seeing. You can check out the artifacts on display, too.
Akrotiri Archeological Site is open from 8 AM to 3:30 PM on Wednesdays and from 8 AM to 8 PM for the rest of the week. Admission tickets cost 12 EUR per person.
Akrotiri Lighthouse
Head to the easternmost point of Santorini, where you will find the picturesque Akrotiri Lighthouse set on a cliff above the shore. It's one of the oldest lighthouses in Greece, dating back to the late 1800s. The whitewashed walls of the lighthouse make it another ideal backdrop for photos.
If you want to experience another otherworldly sunset, hang around the lighthouse. This spot provides similarly spectacular views as the sun sets, yet it's less popular among tourists. It's easier to get an unobstructed view here than in Oia. Not convinced? Just look at the photo below.
Akrotiri Lighthouse during sunset photographed by Skeeze.
What are the best beaches in Santorini?
The area around Akrotiri is home to some of the best beaches in Santorini. Keep in mind that Santorini is a volcanic island, you won't find any picture-perfect beaches with palm trees and white sand.
Mesa Pigadia Beach
Mesa Pigadia Beach is the perfect getaway from Santorini's crowds. This tranquil pebble beach is perfect for sunbathing or swimming in its crystal-clear water. When you get hungry, pop inside the Mesa Pigadia restaurant for a snack right by the sea.
Red Beach
Red Beach is one of the most photographed beaches in Santorini, mainly because of its iconic red volcanic sand and the red cliffs surrounding the beach. Apart from sunbathing and swimming, Red Beach is perfect for snorkeling.
Vlychada Beach
The beach in Vlychada, much like Red Beach, offers a spectacular natural setting, as the volcanic shore is surrounded by dramatic cliffs. The otherwordly landscape makes Vlychada Beach stand out among any other beaches on Santorini.
Sunbeds are available for just a couple of Euros. There are also beachside bars and cafes where guests can pop by for a drink.
What's more, there is a vibrant marina just a few minutes away from the beach, where visitors can admire some of the docked yachts or enjoy fresh seafood.
Perissa Beach
Perissa Beach has got to be the busiest beach on all of Santorini. It is also, however, the one with the most hotels, restaurants, and nightlife opportunities. Sunbeds are available as far as the eye can see.
Tired of sunbathing all day? Spend some time at one of the beach clubs, or walk around the nearby town of Perissa. There is always something to do near Perissa Beach.
Drop-off
For maximum convenience, you can drop your rental car off at Santorini Airport directly before leaving. Browse through car rental options that support airport drop-off using Rentalmoose.
Don't forget to book your rental car via Rentalmoose for your next road trip in Greece. On our platform, you can find the top rental companies at the best price, along with tens of curated travel guides around the globe. Get your car from Rentalmoose!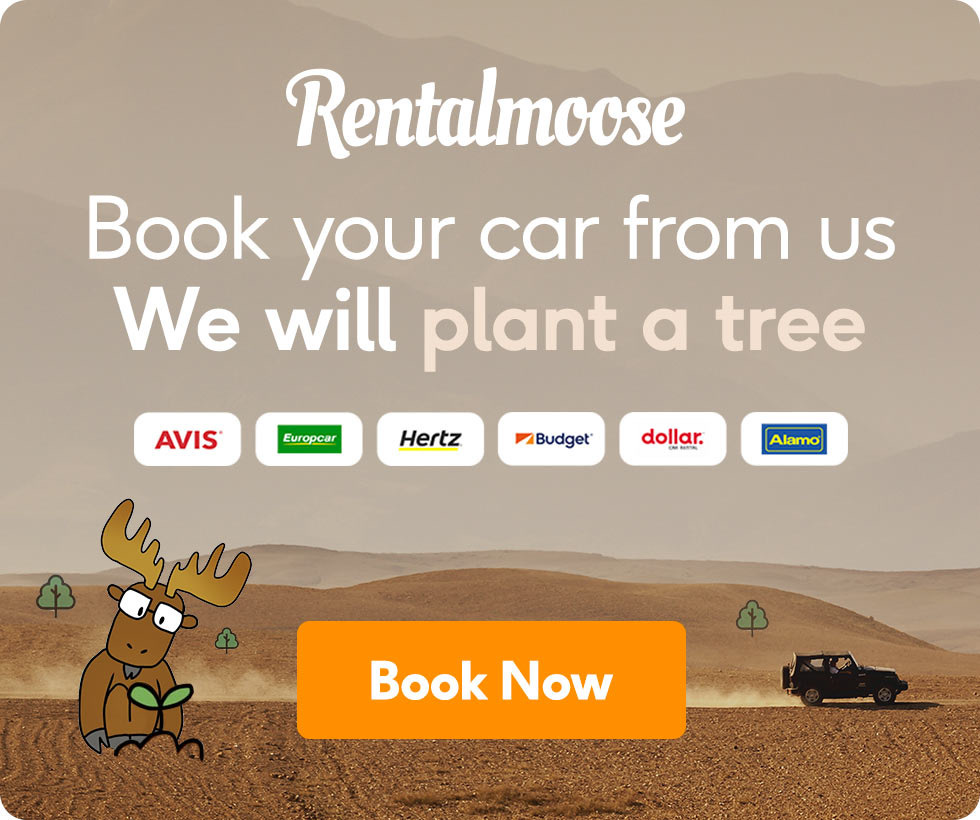 We plant a tree for every booking made with our platform.
Post your pictures from your next road trip in Greece online using #Rentalmoose! Our favorite ones will be featured in the upcoming blog posts.