Greece is one of the hottest travel destinations in Europe, what better way to explore than with a week-long road trip? See the best archeological sites, dreamy beaches, and natural beauty with this comprehensive travel guide.
Click here for detailed directions
Summary (click the red pins for directions) :
Athens to Delphi- 185 kilometers (115 miles)📍 7.15 EUR Highway toll
Delphi to Volos- 210 kilometers (130 miles)📍 7.2 EUR Toll
Volos to Meteora- 145 kilometers (90 miles)📍 11.8 EUR Toll
Meteora to Mount Olympus- 155 kilometers (95 miles)📍 5.7 EUR Toll
Mount Olympus to Vergina- 75 kilometers (45 miles)📍
Vergina to Thessaloniki- 70 kilometers (45 miles)📍 1.2 EUR Toll
850 kilometers (530 miles) in total
Tags: Travel guide, road trip, drop-off at another location, Greece, Beach
This travel guide takes you on an exciting Greece road trip starting in Athens, the capital of Greece. Then, you'll go inland towards Delphi, before spending a night in the coastal city of Volos.
Next, you'll get to see the otherwordly hanging monasteries of Meteora, before stopping overnight in Litochoro at the foot of Mt. Olympus.
Finish off with a stop at The Royal Tombs of Aigai and an unforgettable night in Thessaloniki.
How long does it take to complete this road trip?
The total driving distance is around 850 kilometers. With that in mind, Rentalmoose recommends dedicating at least 5 days for this road trip. To fully explore the best of what each location has to offer, spend at least 10 days on the road.
What is the best time of the year to visit Greece?
The best time of the year to go on a road trip in Greece is during the sunny months, typically between May and September. The weather is the hottest during July and August, but it is also the peak of the tourist season.
You can avoid hordes of tourists while still catching a glimpse of the perfect weather when you visit during June and early September.
Road trip extensions
Greek Islands
Your Greece road trip doesn't have to end here! Extend your road trip and visit some of the country's most picturesque islands. Rentalmoose recommends going to Rhodes or Santorini.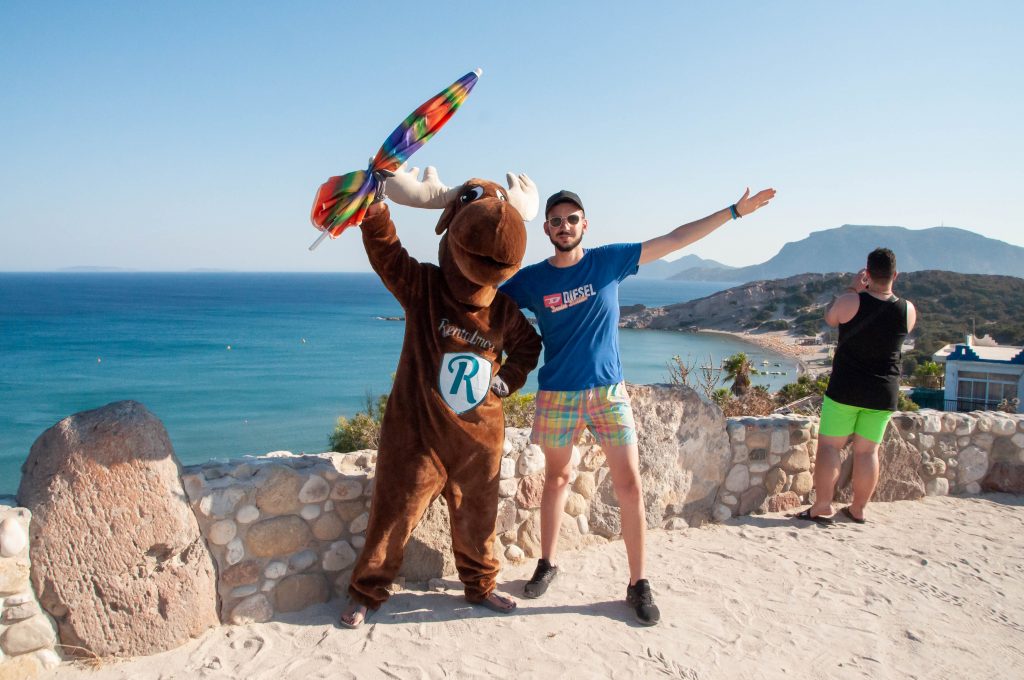 Turkish Riviera
Forget South East Asia, the Turkish Riviera is dubbed one of the world's best summer getaways. Party your heart out in Bodrum, swim in the Blue Lagoon, and enjoy the world-famous Turkish breakfast in Antalya. Click here for the guide.
Why should you rent a car in Greece?
Mainland Greece is ideal to be explored by rental car. The roads are, for the most part, well-maintained, and there are some magnificent scenic drives around Meteora, Delphi, and Mount Olympus. A road trip in Greece is a great way to see the country.
Outside of Athens, public transport tends to be rather hectic for international tourists. Most ticketing booths and schedules are available in Greek only, and buses travel between cities quite irregularly.
A rental car is definitely the best way of getting around mainland Greece.
Don't forget to take check-in photos when picking up your rental car to qualify for a 50% rebate from the excess coverage fee!

Are there toll roads in Greece?
There is a fair amount of toll highways and paid roads around Greece. Fees can be settled when passing toll booths, mostly in cash though some booths will accept credit cards depending on the highway operator. Take cash to pay the highway tolls, just in case.
You can use this toll calculator to precisely calculate fees between Greek cities.
Can tourists drive in Greece?
Yes! As Greece is a member of the European Union, tourists can use their domestic driving licenses issued in other EU-member states.
Travelers who do not have a driving license issued in an EU-country should obtain an International Driving Permit (click here to learn all about them).
Driving around Athens may become chaotic if you're not familiar with the unsaid rules that everyone seems to follow. Rentalmoose recommends picking up your rental car when leaving Athens and using public transport to get around the capital.
Now that you're all set, let's dive into this Greece road trip itinerary!
Athens
The Acropolis photographed by Leonhard Niederwimmer
This road trip kicks off in what could very well be the most fascinating city in this part of Europe. Welcome to Athens!
For maximum convenience, Rentalmoose recommends picking up your rental car at Athens International Airport. Browse through car rental options that support drop-off at another location via Rentalmoose.
Don't forget to take check-in photos of the car to qualify for a 50% rebate from the excess coverage fee.
Rentalmoose insider tip: Athens is infamous for its notorious traffic jams. Get around the city using public transport and rent your car once you're ready to leave town.
What can't you miss in Athens?
Parthenon- the Acropolis
The Parthenon is an absolute must-see in Athens, no matter whether you are into history or not. The elevated rocky hill in the heart of Athens is home to the Parthenon as well as other ancient monuments that make up the famous Acropolis.
Wear comfortable shoes: the Acropolis is on a hilltop and the only way to reach it is by hiking! The walk up to the ruins takes around 15 minutes.
As the Acropolis is undoubtedly the main highlight for tourists in Athens, be sure to book your tickets in advance. Check the official website for details.
Tickets for the Acropolis cost 20 EUR per person. During the winter (November to the end of March) ticket prices are reduced to 10 EUR.
If you're planning to visit other ancient sites, consider purchasing a combined ticket that grants you entrance to the Acropolis, as well as the Ancient Agora, the Roman Agora, Kerameikos, and more. A combined ticket costs 30 EUR and can be purchased online. Keep in mind that you have to visit all of the sites within 5 days, otherwise the ticket expires.
Rentalmoose tip: The Acropolis can get extremely crowded, especially on weekends. Visit the monuments during the week, or near the closing time, to avoid hordes of tourists.
Acropolis Museum
Once you've seen the famous Acropolis, make your way to the museum practically across the street.
Inside, you will find loads of precious artifacts dating back to prehistoric times. The Acropolis Museum features a collection of ancient art and items housed in a stunning contemporary building.
Travelers can also visit the archeological excavation area right beneath the museum!
The museum is open all week from 8 AM during the summer season. Admission costs 10 EUR per person. Purchase your tickets online to skip the queue.
UPDATE: As of April 2021, the Acropolis Museum remains closed until further notice. Refer to the official website for more details.
Monastiraki Flea Market
Feel the authentic city vibe as you wander around the streets of the Monastiraki district, one of the oldest parts of Athens. Begin your journey at the picturesque main square, right next to the Monastiraki metro station.
Make sure to step inside the vibrant Monastiraki Flea Market. Shopping freaks will be happy to hear that you can find pretty much anything here! Vendors are selling a variety of goods ranging from clothes to regional delicacies, jewelry, or souvenirs.
An outdoor market in Athens. Photo by Kirkandmimi.
Exploring the narrow streets of Monastiraki will surely wear you out, head up to one of the iconic rooftop bars!
Couleur Locale Athens
Couleur Locale is one of the best rooftop bars/restaurants in Monastiraki, perhaps even in all of Athens. Located just by the main square, the bar offers unbeatable views of Athens and the Acropolis. It's a perfect backdrop for photos, remember to post your best photos online #Rentalmoose for a chance to win a free rental car!
Guests can enjoy a tasty lunch, an aromatic cocktail once dusk falls, or a refreshing coffee in the afternoon. Click here for the menu.
What are the best hotels in Athens?
Four Seasons Astir Palace
Luxury travelers should consider checking in at the Four Seasons Astir Palace, a serene beachside getaway just half an hour away from the heart of Athens. The prestigious property features three private beaches, eight onsite restaurants, a world-class spa as well as upscale shopping, bars, and lounges. Greece's first Four Seasons hotel really is a fabulous one.
Plaka Hotel
If you want to stay in the lively heart of Monastiraki, spend the night at the Plaka Hotel. This 3-star property features 67 modern rooms and suites. After a busy day of exploration, guests can sip on a drink at the rooftop terrace while admiring panoramic views of the Acropolis.
Next on your road trip in Greece: Delphi, 2 hours 20 minutes 7.15 EUR highway toll
Delphi
Ancient sites in Delphi photographed by Konstantin Arzumanidis
Depart Athens and head northwest for a little over 2 hours until you reach Delphi. As this is not an overnight stop, it's best to leave Athens early in the morning to explore all of what Delphi has to offer.
Is Delphi worth visiting?
Most certainly! The stunning ancient ruins are worth a quick peek at the very least. If you have the extra time, drop by the museum and visit the modern town of Delphi. Spend a few hours in Delphi before continuing on to Volos.
The ancient ruins & the museum
Unarguably, the main highlights of Delphi are the fascinating ruins and archeological sites. Hike around the mountains and explore the Temple of Apollo, the monumental Ancient Theatre, the Stadium, or the Gymnasium where athletes would prepare for the Pythian Games. The sites are open all week from 8 AM to 8 PM.
Rentalmoose insider tip: Get a grasp of the region's history whilst exploring the ruins of Delphi and download the EasyGuideApp Delphi as your virtual guide. Alternatively, consider booking a traditional guided tour to learn all about these fascinating sites.
Learn even more about the sites and their history at the Delphi Archeological Museum, one of Greece's most important museums! Open Wednesday-Monday from 8 AM to 8 PM, and between 10 AM and 5 PM on Tuesdays.
Admission tickets cost 12 EUR per adult and 6 EUR per child. The ticket includes entry to the museum as well as the archeological sites. Current prices can be found here.
Taverna Dion
Walking around the sites will surely make you hungry. Before you set off further, follow the main road into the town of Delphi until you reach Taverna Dion, the go-to restaurant in Delphi. The Taverna uses a variety of locally-sourced products to create delicious, regional dishes.
Next on your road trip in Greece: Volos, 2 hours 30 minutes 7.2 EUR Highway Toll
Volos
Landscape of Volos photographed from Mount Pelion by Dimitris Vetsikas.
Follow the spectacular mountain roads, and then make your way to the coastal city of Volos.
What should you see in Volos?
Portaria
Make your way north of Volos and explore the lovely village of Portaria, situated on the steep slopes of Mount Pelion. The village is full of scenic mansions, spectacular viewpoints, and cozy restaurants perfect for dinner.
You can stretch your legs as you hike around the Centaurs' Path, or wander around the Spring of Manas. Alternatively, you can visit one of the other 20 villages scattered around Mount Pelion.
Mylopotamos Beach
After exploring the villages around Mount Pelion, head further east until you reach the dreamy Mylopotamos Beach. The white-pebble beach features crystal-clear water, absolutely perfect for a dip, and pristine views of the surrounding cliffs. It is regarded as one of the best beaches in all of mainland Greece, yet remains unspoiled by over-tourism.
Athanasakio Archeological Museum of Volos
History freaks can visit the Athanasakio Archeological Museum of Volos. Apart from various fascinating exhibits from the Neolithic period, guests can also find entire burials that have been incorporated in the exhibition, making for an unforgettable experience.
Open all week except Tuesdays from 8:30 AM to 3:30 PM. Tickets are priced at 4 Euros per adult and 2 Euros for a reduced ticket.
Isalos Beach Club
Admire the sunset while enjoying tasty dinner at the Isalos Beach Club, Volos' best beach club, and overall trendy hangout. It certainly isn't the cheapest place to eat or drink in Volos, but the cool experience is well worth it.
Isalos Beach Club is open all week from 9 AM till 3 AM, and nonstop on weekends.
What are the best places to stay in Volos?
Domotel Xenia Volos
Luxury seekers should most definitely consider checking in at the 5-star Domotel Xenia Volos. This beachfront property features modern rooms with sea views, a spa and wellness center, a beach, and a lively rooftop bar. Not to mention the location near the heart of Volos.
Despotiko
Would you rather stay a bit further from the busy city? Book a room at the stylish Despotiko up in Portaria. This 4-star property located in a chic mansion features stylish decor and an outdoor pool.
A private car park is available at no extra charge.
Next on your road trip in Greece: Meteora, 1 hour 50 minutes 11.8 EUR Highway toll
Meteora
Meteora's out-of-this-world scenery photographed by Ioannis Ioannidis
After a day in the coastal town of Volos, it is time to head back inland. A 2-hour drive will take you to Meteora, one of the highlights of mainland Greece.
Is Meteora worth a visit?
Meteora is, without a doubt, worth visiting! Six monasteries situated atop spectacular natural pillars make an impressive sight to say the least. It is no surprise that the monasteries are listed as a UNESCO World Heritage Site.
The hanging monasteries of Meteora
An absolute must when in Meteora is visiting the clifftop monasteries. Back in the day, they were nearly impossible to access as the monks who spent their time here hardly had any visitors. Today, bridges and stairs have been constructed to make it easier for tourists.
Spectacular views in Meteora photographed by Ioannis Ioannidis
The Great Meteoron Monastery
Great Meteoron Monastery is the most popular one, its history dates back to the 14th century making it the oldest and largest of the six. The Great Meteoron Monastery began the monasticism in the area, it is worth at least a quick peek.
The hike up the hill takes around 40 minutes one way. The monastery is open between 9 AM and 3 PM. Closed on Tuesdays.
Rentalmoose insider tip: The monasteries tend to get crowded during peak season. It's best to visit them in the morning or right before the closing time.
Varlaam Monastery
Varlaam Monastery is the second biggest monastery in Meteora, located near the Great Meteoron Monastery. It was founded around 1350 by a monk named Varlaam, who managed to climb the cliff.
Varlaam monastery is open between 9 AM and 4 PM and remains closed on Tuesdays.
St. Stephen's Monastery
St. Stephen's Monastery is perfect for the slightly lazier travelers, as it is the easiest one to access. Forget long hikes and steps, all you have to do is cross one single bridge. Nonetheless, this monastery is just as impressive as the other five.
St. Stephen's Monastery is open between 9 AM and 1:30 PM, then 3:30 PM until 5:30 PM. Closed on Mondays. You can check the opening hours and closures of all six monasteries here.
If you have the extra time, be sure to visit the other three monasteries. In that case, consider staying the night in Meteora before departing further.
Next on your road trip in Greece: Litochoro, 2 hours 5.7 EUR Toll
Mount Olympus
Mount Olympus photographed by Ioannis Ioannidis.
A visit to mainland Greece couldn't possibly be complete without stopping by the monumental Mount Olympus, the tallest mountain in Greece, and one of the country's national treasures. The mountain is often portrayed in Greek mythology, and now it's your chance to visit it!
Can you hike Mount Olympus?
Mount Olympus is a well-known destination among trekkers and mountaineers, it is clear to see why. The trailhead begins in the town of Litochoro, the entire trek to the summit is difficult and takes multiple days to complete. There are easier trails for less-experienced tourists, too.
Check out Olympus Paths for a complete guide to trekking in Mount Olympus, or book a guided tour with them.
Litochoro
Litochoro is a small town at the foot of Mount Olympus, it serves as a base for mountaineers and tourists who are planning to hike to the summit of the mountain. There is a variety of restaurants, shops, accommodation options, and car parks around the town.
St. Dionysios Monastery
When in Litochoro, be sure to visit the St. Dionysios Monastery. Its history dates back to the 1500s. The original monastery was destroyed during WW2 and is currently being restored to bring the monument back to its former glory. It is well worth a visit when in Litochoro, the monastery makes a perfect backdrop for photography.
The monastery can be accessed free of charge. Remember to dress and act appropriately when visiting places of worship.
Check the directions here.
Erato Wine Restaurant
What better way to end a day of hiking than with a delicious Greek dinner? In the evening, make your way to Erato Wine Restaurant, one of the favorite eateries among locals and tourists in Litochoro. The terrific mountain view is worth mentioning, too.
Rentalmoose insider tip: You can't go wrong with Gyros or locally-sourced grilled meats. The restaurant can get crowded on weekends, be sure to book your table prior to your visit.
The restaurant is open from noon until midnight on weekdays and from 9 AM until midnight on weekends.
Where to stay near Mount Olympus?
Cavo Olympo
Sophisticated travelers will enjoy spending the night at the 5-star Cavo Olympo. The prestigious seafront hotel features chic rooms and suites situated in a beautiful resort, a spa and wellness center, and an outdoor pool.
Cavo Olympo is only for adults, children are not permitted within the hotel.
Mythic Valley
Traveling on a slightly tighter budget? Consider booking a room at the 3-star Mythic Valley, right in the heart of Litochoro. This property offers stylish rooms with free wi-fi and a complimentary breakfast buffet, all at a price that doesn't break the bank.
Next on your road trip in Greece: Vergina, 1 hour
Vergina
The Royal Tombs in Vergina photographed by DocWoKav/Wikimedia Commons.
This optional leg of the journey requires a small detour on your way to Thessaloniki. The detour adds around 40 minutes extra to the total driving time, it is well worth it for history freaks.
What can you do in Vergina?
Vergina is a small village around an hour away from the center of Thessaloniki. At first, it may not look particularly interesting. The village, however, is home to one of the most important archeological sites in Greece.
Museum of The Royal Tombs of Aigai
The Royal Tombs of Aigai are an absolute must-see for any history buff visiting mainland Greece. The somewhat remote location of Vergina makes it often overlooked by international tourists, don't make the same mistake! The museum is situated atop underground tombs. Royal tombs, to be precise. What makes the tombs of Aigai royal?
The Royal Tombs of Aigai are home to Phillip II or the Phillip of Macedon. Primarily known as the father of Alexander the Great, one of the most famous figures of the ancient world. Guests can also see the (apparent) tomb of Alexander's child, Alexander IV, as well as a collection of precious artifacts found during the excavation. The experience is truly unforgettable.
Admission tickets to the museum and archeological sites cost 12 EUR per adult and 6 EUR per child. If you want to explore the local museums further, purchase a combined ticket for 15 EUR. Guided tours are available, it's best to book one ahead of your visit.
The museum is open all week until 8 PM.
Next on your road trip in Greece: Thessaloniki, 55 minutes 1.2 EUR Toll
Thessaloniki
Photography by Emilia Babalau-Maghiar.
The final leg of the journey is a 70-km drive east towards Thessaloniki, the second-largest city in Greece and the vibrant heart of this part of the country.
Is Thessaloniki worth visiting?
Most definitely! Thessaloniki is a diverse, fascinating city. Deep-rooted in history, full of waterfront bars, and a trendy, coastal vibe, Thessaloniki is the perfect place to visit during your road trip around mainland Greece.
White Tower of Thessaloniki
No visit to Thessaloniki could be complete without a photo by the White Tower of Thessaloniki.
The waterfront landmark is located within walking distance of other attractions (Ladadika District and Tsimiski Street), that's why Rentalmoose recommends parking your rental car at a car park near the White Tower for the day. Finding an on-street parking spot is nearly impossible during peak season, a private car park costs around 2 EUR per hour.
After you get your photo with the famous White Tower (remember to post it online using #Rentalmoose for a chance to win a free rental car!), you can enter the museum that spans across 6 floors of the tower. Then, make your way to the viewing terrace and enjoy panoramic views of the city.
The tower is open all week from 8 AM to 8 PM. Admission costs 8 EUR per adult and 4 EUR per reduced ticket.
Ladadika District
Be sure to go for a stroll around the vibrant Ladadika District in the very heart of Thessaloniki. Ladadika is the go-to spot for nightlife, entertainment, and dining near the sea. Back when Thessaloniki was ruled by the Ottomans, Ladadika was a large market. Today, the market is gone and the traditional buildings have been turned into charming bars and restaurants.
Ouzou Melathron
Out of all the delicious eateries and taverns around Ladadika, Ouzou Melathron has got to be one of the best ones. Try some of the best Greek cuisine accompanied by a glass of aromatic Ouzou (if you're not the driver, of course) while dining outdoors on the vivid street.
Open all week between 1 PM and 1 AM.
Tsimiski Street
Tsimiski Street is Thessaloniki's main shopping avenue. The 1.2 kilometer-long street is lined with high-end boutiques, making it perfect for shopping freaks. You can also catch a movie at the multiplex cinema located in the Plateia shopping mall or go for a coffee at a waterfront cafe nearby.
Rentalmoose insider tip: If you can't find a parking spot near Tsimiski Avenue, head to Plateia's shopping mall car park and leave your rental car there.
Where are the best beaches near Thessaloniki?
Halkidiki Peninsula
Explore some of the best sandy beaches in mainland Greece when you visit the Halkidiki Peninsula just a drive away from the city. There are over 50 pristine beaches waiting for you! Halkidiki Peninsula is perfect for a day trip from the city.
Armenistis Beach
Armenistis Beach is perfect for active beachgoers and well worth the 3-hour drive from Thessaloniki. Crystal-clear waters, soft sands, and beautiful surrounding areas are guaranteed. There are lots of amenities, including sunbeds and umbrellas and watersport activities at your disposal.
Continue reading if you'd rather visit a beach near Thessaloniki.
Agia Triada Beach
Agia Triada Beach is a long beach just 20km away from the center of Thessaloniki. The beach features crystal waters and lots of activities, bars and waterfront restaurants. Despite its attractiveness, the beach remains calm for the majority of the season.
What are the best hotels in Thessaloniki?
The Met Hotel
Luxury seekers should check-in at the 5-star Met Hotel. The property is conveniently located in Thessaloniki's New Port and offers modern decor, a spa, and a magnificent rooftop pool that overlooks the city.
Plaza Hotel
Are you traveling on a tighter budget? Consider spending the night at the Plaza Hotel, a stylish 3-star hotel located near the heart of Thessaloniki. The property features modern, chic rooms, suites with a sea view, delicious breakfast, and a great location, all at a reasonable price.
Drop-off
For maximum convenience, drop off your rental car directly at Thessaloniki Airport "Makedonia" when leaving Greece. Browse through car rental options that support airport drop-off and drop-off at another location via Rentalmoose.
Don't forget to book your rental car via Rentalmoose for your next road trip in Greece. On our platform, you can find the top rental companies at the best price, along with tens of curated travel guides around the globe. Get your car from Rentalmoose!
We plant a tree for every booking made with our platform.
Post your pictures from your next road trip in Greece online using #Rentalmoose! Our favorite ones will be featured in the upcoming blog posts.