The North Italian weekend getaway (with a little bit of Switzerland). Check out this Northern Italy road trip itinerary!
Tags: Travel guide, road trip, drop-off at another location, Italy, Switzerland, travel by car
I know that sometimes you wonder where to travel for a weekend getaway and you don't come up with something amazing that excites you enough to open your laptop immediately to purchase your flight tickets.
Click here for detailed directions
Summary (Click the red pins for directions):
Milan to Lake Como- 50 kilometers (30 miles) 1.7 EUR (highway tolls) 📍
Lake Como to Saint Moritz- 145 kilometers (90 miles) 📍
Saint Moritz to Limone Sul Garda- 280 kilometers (175 miles) 📍
Limone Sul Garda to Verona- 100 kilometers (60 miles) 4 EUR📍
Verona to Venice- 115 kilometers (70 miles) 8.8 EUR 📍
690 kilometers/430 miles in total
I am a travel freak and always looking for something that excites me and could possibly give me memorable experiences for a lifetime. We all work hard to pay our pills but there really should be more joyful times when we enjoy our lives to the fullest.
As nature is in my heart, I thought about seeing different landscapes and views where my eyes could rest and where I can get inspiration to continue working hard to achieve my goals. So this post is for travel enthusiasts who are into active traveling.
For my weekend motivation road trip, I visited classical lake Como which has beautiful Italian architecture and an old town on the riverside of the lake. After that, the road trip took me to Switzerland to visit the historical village of Saint Moritz, which is one of the most popular winter ski resorts in the World. Those views towards alps are stunning there.
The next stop was at the breathtakingly beautiful lake Garda, back in Italy. And then I was off to my last destination – Venice – with a little stopover in Verona.
Planning- Before You Go
Before you set off on your road trip in Italy, take a look at the basic information below.
How long does it take to complete this road trip?
The driving duration of this Italian road trip is around 14 hours so the minimum program should be 3-4 days, ideal for a weekend getaway.
When is the best time to visit the North of Italy?
The best time for this Italian road trip is from May to October (with summer months being the high season – meaning more crowds, higher prices, and longer waiting time everywhere).
Depending on the season, please be aware that it can be cold and even some snow on the mountains when traveling off-season.
Keep that in mind when choosing a car. You'll find the perfect options for every season on Rentalmoose.
Trip extensions to Switzerland and other parts of Italy
Extend your road trip further with two road trip extensions recommended by Rentalmoose.
Swiss Alps
When you're in Lake Como, you can head north to Lugano and then continue exploring the scenic Swiss Alps. Spend a night in Andermatt, see the top of Europe near Interlaken and wander the streets of Geneva. Click here for the guide.
Tuscany
If you'd rather see more of Italy, head south to the magical city of Florence. Drive around the vineyards, visit forgotten medieval castles and see "The Medieval Manhattan of Italy". Check out this guide to help you plan your next Italian road trip.
Alternative Route
On top of road trip extensions, Rentalmoose suggests an alternative route for this road trip. Whether you've already been to this part of Italy or would rather not go to Switzerland during this trip, check out this travel guide for an alternative road trip route between Milan and Venice.
Can tourists drive in Italy?
Absolutely! However, you will need an international driving permit to drive in Italy unless you are an EU-citizen. These can easily be obtained in your local country and are mandatory for non-EU driver licenses when driving in Italy. For more information on International Driving Permits, click here.
Driving in Italy for the first time might be quite a hectic experience. Getting around large cities is chaotic and driving around tight cobblestone streets can be a nightmare. On top of all this, the locals don't really seem to be following the speed limits.

Speeding is common among drivers in Italy. Once you get caught, you will probably realize it was not worth it. Tourists in Italy have to pay the fine on the spot to the police and can additionally be charged by the car rental company.
Going up to 21km/h over the limit on the highway will cost you around 150 Euros, while breaking a "no-parking" rule will cost you around 80 Euros.
Traffic in Italy is on the right-hand side.
To avoid any future misunderstandings, don't forget to use the Rentalmoose app to take photos of the condition of the car when receiving it and before starting your journey to qualify for a 50% rebate from the excess coverage fee.
What are you waiting for? Let's dive into this fascinating Italian road trip.
Milan
The Galleria next to Milan Duomo
The starting point of this Italy road trip is the city of Milan
Flying to Milan
Milan has 3 big airports – Malpensa, Linate and Bergamo. All of the airports are more or less about a 1-hour drive from the next location on your North Italian road trip – lake Como.
During high season in Summer there might be a lot of traffic around the city center and parking can be hard to find.
How to find a rental car in Milan?
For rental car options, have a look at Rentalmoose.com which offers you the best prices for car rentals from the most well-known car rental companies.
Keep in mind that when you are seeing that car rental companies are offering really low prices online then there might be some risk for you – either high deposit or hidden fees. There is no such issue when booking through Rentalmoose.
With the Rentalmoose app, you can take pictures of your car's visual condition (scratches) and when returning you have proof of your car condition which means lower risk for you and a better car renting experience.
To avoid any misunderstandings, use the Rentalmoose app to take photos before starting your journey and to qualify for a 50% rebate from excess coverage.
Pick a suitable car that you feel like driving with. When you want to enjoy the summer breeze then opt for a convertible or when you are going with more than two people then a sedan or an SUV is a better choice.
Add your criteria at Rentalmoose and you'll see the most suitable car options for your Italy road trip.
Parking your rental car in Milan
When visiting Milan, Rentalmoose suggests parking the car outside the center and using public transport to go and see the Milan Duomo and the beautiful Galleria next to it, and if you are not the one driving – enjoy an Aperol Spritz at one of the cafes around here.
Milan is in the other direction from lake Como so your driving time will be longer.
Are you looking for the best attractions in Milan?
Looking for the best things to do in Milan? Wondering where you can eat the best pizza in town? Check out this travel guide to see Rentalmoose's favorite spots in Milan!
Next: Lake Como, 40 minutes
Lake Como
Hotel Villa d'Este in lake Como
The first leg of your Italy road trip is a casual 1-hour drive north towards the border with Switzerland.
What should you see in Lake Como?
When arriving to lake Como, enjoy the stunning view and take a walk in the old town and riverside.
Villa d'Este
A very nice place to visit in the area is Villa d'Este. Maybe treat yourself to a drink and a dessert in their lovely restaurant with the most amazing view to the lake and mountains. And if you have more time – take a ferry to Bellagio. A true fairytale city.
Looking for more attractions in Lake Como? Check out this travel guide!
Fox Town Factory Stores
Now, if you want to go shopping then Como is not the best spot as it's a small town and it doesn't have too many boutiques around. But close-by is an outlet called Fox Town Factory Stores where you can purchase designer goods and save some euros.
They have the most well-known brands and it's good to check out their discounts when going there. Fox Town is located in Switzerland, just across the Italian border, about half an hour's drive from the center of Como
Detour- visit Lake Lugano
Before you set off to Saint Moritz, consider heading up north for around 30 minutes until you reach the picturesque Lake Lugano in Switzerland. Click here to discover the best things to do in Lugano.
Next: Saint Moritz, 3 hours
Saint Moritz
Badrutt's Palace in Saint Moritz
Are you ready to visit one of the oldest and most iconic ski resort areas in the whole world? When driving from Como to Saint Moritz you will see amazing views on the way.
Feel free to stop to breathe the fresh air and take a few photos of mind-blowing views. Remember to post your photos online using #Rentalmoose for a chance to win a free rental car!
Also, be very careful when driving the curvy mountain roads.
Saint Moritz is a popular Winter destination but there is plenty to do during the summer season as well. But keep in mind that the climate is a bit cool, even during the summer.
What can you do in St. Moritz during the summer?
Mountain Biking
For those who like biking or want to have an adrenaline rush, mountain bikers can use the cable car to reach the Piz Nair mountain station at 3,056 meters above sea level. The views are breathtaking and the trails are as varied as the wonderful natural environment itself. Read more here about why you should experience mountain biking.
Relax in a spa
After getting dirty on the bike, there is nothing better to do than going to the sauna and relaxing in the spa. This is another thing that St Moritz is famous for.
Most of the hotels have spas here. Most legendary hotels here are Badrutt's Palace, Kulm hotel, and Grand Hotel des Bains Kempinski. Good thing is that summer is the low season in the resort so you can get better hotel deals this time!
La Restaurant
Badrutt's Palace is in the heart of the village. It's dating back to 1898, being one of the first hotels which had electricity and in 1913 they built the first indoor tennis court in Europe.
Instead of an indoor tennis court, it is now home to the Le Restaurant dining room. So if you want to experience something extraordinary then book a table in Le Restaurant in advance.
They do have an outdoor tennis court within the hotel though so you don't have to miss the game.
Chesa Veglia
A bit of a more casual place to eat in Saint Moritz is Chesa Veglia – located in a gorgeous and authentic Engadine farmhouse, converted almost a century ago into the Badrutt's Palace Hotel. The hotel is situated just 350 meters from the lake.
Kempinski, on the other hand, is just in front of the lake where during the wintertime the famous St Moritz Snow Polo takes place.
Rentalmoose insider tip: When in search of cheaper hotels for your budget, look for the ones out of the center – the prices are cheaper yet they are still a short drive away from the village.
Next: Limone Sul Garda, 5 hours through Paseo Stelvio
Limone Sul Garda
Photography by Tommy Rau
Stelvio Pass
Before continuing the Italian road trip, make sure you choose a route that goes to Limone via the Stelvio Pass. It will be a longer route but – this road has been rated as one of the world's greatest driving roads by Top Gear.
In fact, Stelvio Pass has landed on our list of the top 10 best driving roads in Europe. Check out the rest of them!
Check out this Top Gear video where they are driving through it and let them give you a taste of the feeling what you are about to get from this road trip.
And our road trip has brought us back to Italy, on the way to another great lakeside destination – Lago di Garda – the biggest lake in Italy which is known for its crystal clear water. Our stop here is in Limone Sul Garda.
Limone Sul Garda
Limone is a very tiny but gorgeous village. It's the perfect place for a little stop, walk around in the village and in the promenade to enjoy the cute old houses and all the flowers – there are so many vibrant, colorful flowers everywhere! Walk until the harbor and then treat yourself to a delicious gelato – famous Italian ice cream.
Lunch recommendations
A good feast awaits you at the Vecchia Malcesine restaurant. And for a simpler lunch go to Ristorante Gemma.
See more of Lago di Garda
Have you fallen in love with this beautiful crystal-clear lake? Check out this travel guide and add a slight detour to your Italy road trip. Visit the southern tip of the lake, stay in the town of Sirmione, or ride one of the thrilling rollercoasters in Gardaland.
Where to stay in Limone Sul Garda?
For the real Italian vibe, stay at the Splendid Palace hotel or Hotel Castell – both of them have marvelous views of the lake.
If you prefer more modern accommodation, look no further than Park Hotel Imperial.
Once you've spent enough time at the crystal-clear Garda Lake, the next leg of your Italy road trip is a 90-minute drive to Verona!
Next: Verona, 1 hour 30 minutes
Verona
Arena di Verona
Let's continue to drive towards the final stop on your road trip in Italy – Venice.
Grand Hotel a Villa Feltrinelli
But first: about a half an hour drive to the South on the lakeshore there is one of the best restaurants and hotels in the Garda area (if not in the World…) – Grand Hotel a Villa Feltrinelli.
It is very private and as a tourist almost impossible to find – there are even no signs on the streets. If not planning to spend the night there you can go to their restaurant also. This place comes with a price tag, it is expensive. But the food is oh so divine!
Villa Feltrinelli appears unchanged since 1892, yet it's always different. This will be a once in a lifetime experience!
Sirmione
If Villa Feltrinelli doesn't suit your travel budget then drive until Sirmione. This is another beautiful location on Garda lake. And it's literally in Lake Garda as Sirmione is on the top of a peninsula. Don't forget to see their amazing castle, Scaliger.
Lunch recommendations
Go to restaurant La Rucola 2.0 or La Speranzina if you are ready to pay more for your fabulous meal or go to Trattoria Clementina where you can find great food for a reasonable price.
After you have discovered Sirmione, hop in the car and drive to Verona. Name sounds familiar?
Probably because this is the city where the world's best-known love story came from. Oh yes, the place of Romeo and Juliet!
What should you see in Verona?
Casa di Giulietta
Go visit the Casa di Giulietta – a 14th-century residence with a small Juliet's balcony and if you are together with your loved one then write your names on the wall as thousands of loved ones have done before you.
Arena di Verona
Another must-see place is Arena di Verona. The Verona Arena is a huge 1st-century Roman amphitheater, which currently hosts concerts and large-scale opera performances. So check their program, maybe you can see some event there. I was lucky to witness Andrea Bocelli himself singing there.
After an afternoon in Verona, a pleasant 90-minute drive will take you to the final stop on your Italy road trip!
Next: Venice, 1 hour 30 minutes
Venice
View from the Gritti Palace Terrace in Venice
You've reached beautiful Venice, a really unique city that is built on the islands and belongs to the UNESCO World Heritage Site. It is built on more than 100 small islands in a lagoon in the Adriatic Sea. It has no roads, just canals.
What can't you miss in Venice?
The places to see in Venice are its Grand Canal and Piazza San Marco. Of course, you have to go on a gondola ride while there! You can also go shopping as most fashion brands are represented in Venice and many Italian ones make special collections that are only possible to buy in this city!
Where to stay in Venice?
The most famous hotels in Venice are Hotel Danieli (Legendary The Tourist with Angelina Jolie and Johnny Depp was filmed there), The Gritti Palace, Aman hotel and Belmond Hotel Cipriani.
Of course, all of those come at a price (possible to get a better price when traveling off-season!). A good hotel recommendation with a reasonable price would be Hotel Ai Due Principi.
Lunch recommendations
For the best pasta go to The Gritti Palace Terrace – the view from there is jaw-dropping! Be sure to visit Harry's Table, a soon-to-be-open restaurant that belongs to Cipriani.
Looking for more fun things to do in Venice? Check out this travel guide!
Drop-off
Rentalmoose insider tip: drop off your rental car in Venice because the traffic in Venice is by gondolas anyway and this way you'd skip high parking fees. Catch Italia Rail fast train that takes you directly to Malpensa airport in 4h 5 mins from Venice.
If you still choose to park your car at the port for the time you enjoy Venice and drive back to Milan, then a pit stop recommendation would be Bergamo (or maybe your flight departs from Bergamo airport anyway?). If you happen to be foodie then Michelin 3* restaurant Da Vittorio in Bergamo is a must. In this case, drop off your rental car at Milan Bergamo airport.
Don't have a car you can take on a road trip? No problem!
Don't forget to book your rental car via Rentalmoose for your next adventure. On our platform, you can find the top rental companies at the best price, along with tens of curated travel guides around the globe. Get your car from Rentalmoose!
We plant a tree for every booking made with our platform.
Post your pictures from your next road trip online using #Rentalmoose! Our favorite ones will be featured in the upcoming blog posts.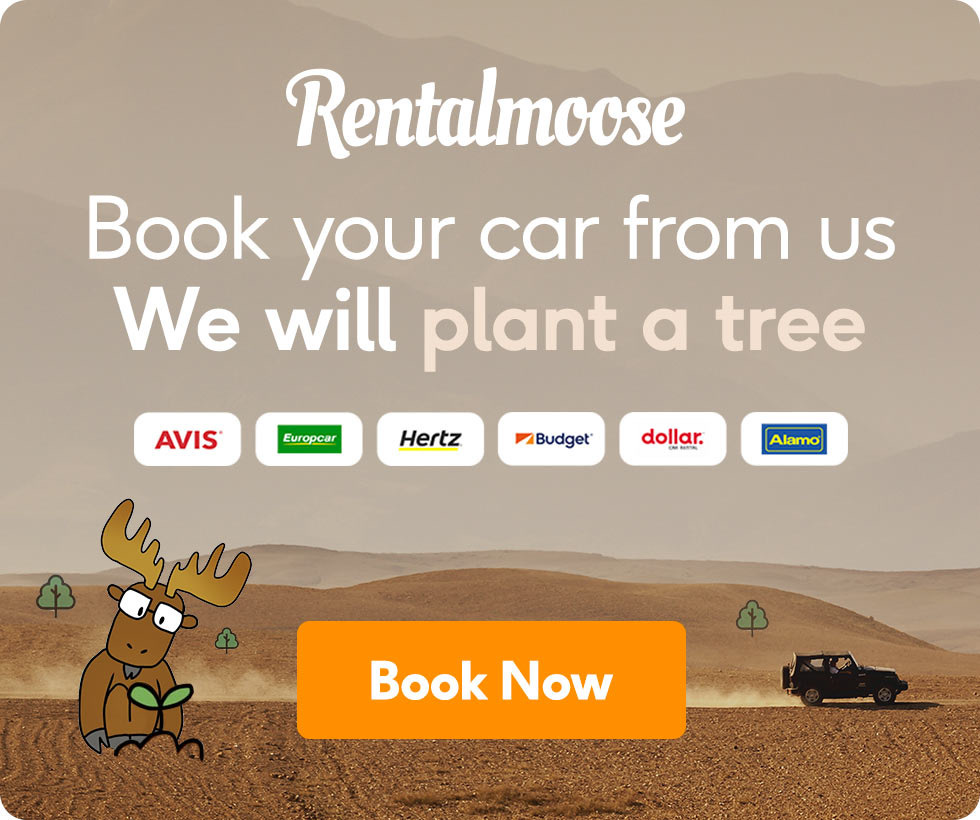 See the detailed Venice parking information here.