Looking for the best beaches in Croatia? We're here to help! Check out 20+ of our favorite destinations for beachgoers in Croatia.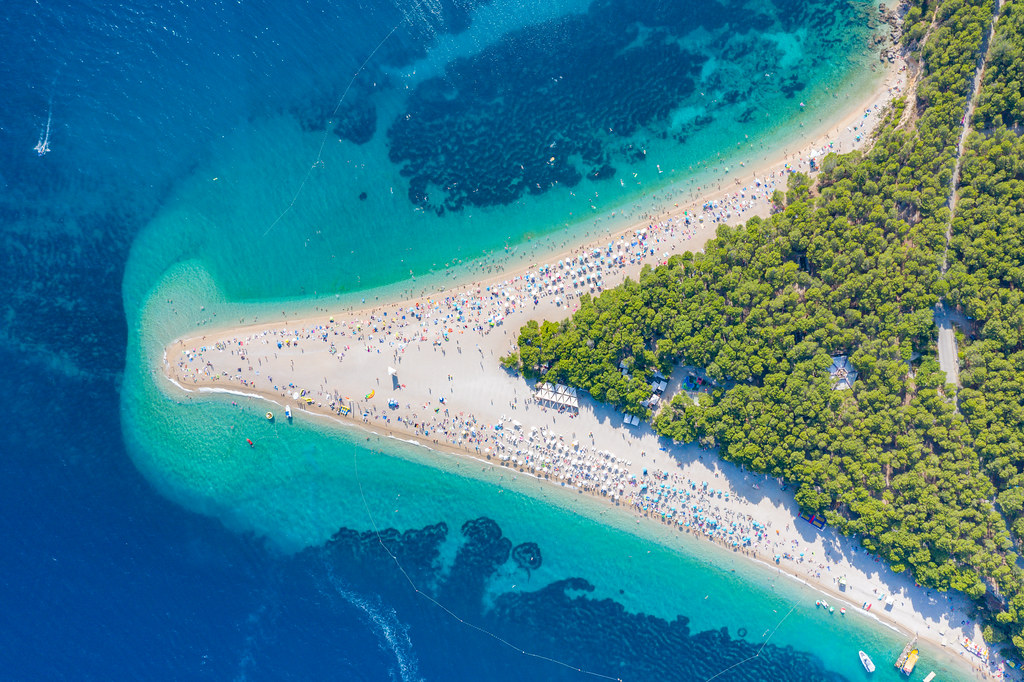 We've grouped these beaches based on their locations. This travel guide is divided into the following sections (you can click the links below to quickly jump to each one)
Note that while most of the beaches along the Adriatic Sea are either pebble or fine gravel, we've also hand-picked some of our favorite sandy beaches in Croatia. These are a lot harder to come by, though. The beach type is written in bold letters for every beach on our list.
You can also check out all of the best beaches in Croatia using the interactive map below.
Without further ado, let's dive into some of the best beaches in this part of Europe!

Best Beaches In North Croatia
Brioni Beach, Pula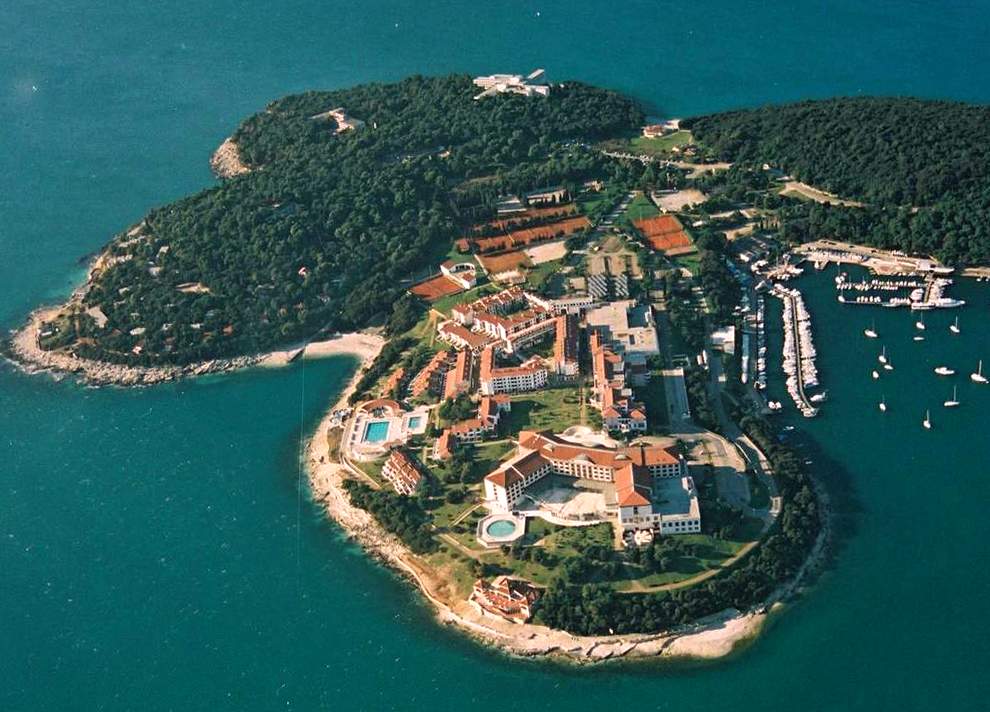 We kick off our list with a hidden gem near the resort town of Pula, at the Northern tip of Croatia. Like most beaches in the country, Brioni is a rocky beach. Some parts are paved for easier access, however.
The proximity to touristic resorts makes Brioni Beach the perfect spot for watersports and activities for the entire family. You can also go for a dip in the crystal-clear waters, all under daily lifeguard supervision. This is the ideal alternative when the nearby Hawaii Beach gets too busy.
Hawaiian Cove Beach, Pula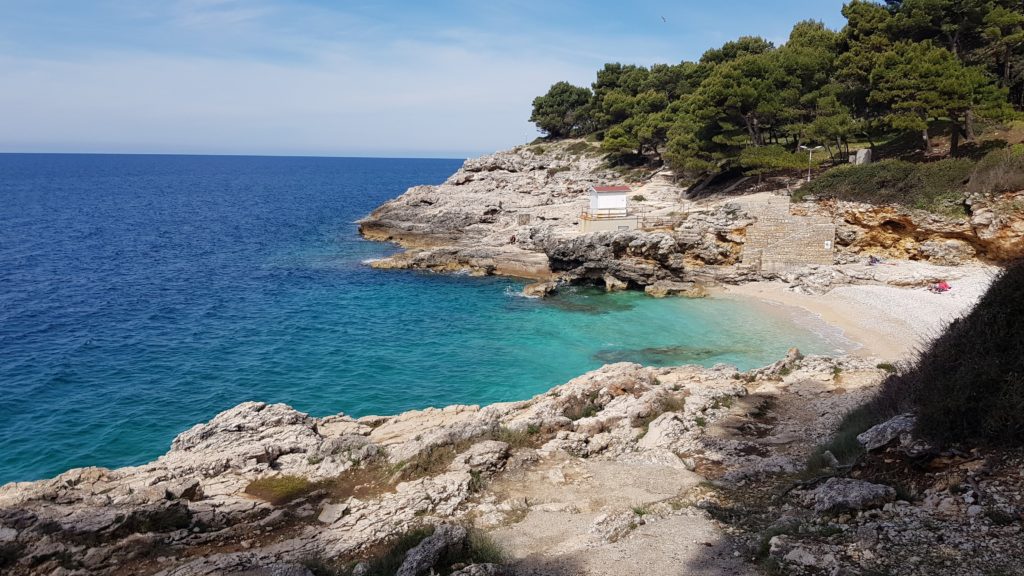 Hawaiian Cove Beach, often simply called the Hawaiian Beach, is perhaps the most popular one near the resort town of Pula. This pebble beach is surrounded by rocks from both sides, making for a very pretty and cozy setting.
Nearby facilities are plentiful. After all, Pula is a resort town full of hotels, restaurants, bars, and shops. You can easily spend the entire day here!
Don't miss the nearby Verudela Canyon, too.
Pinizule Beach, Premantura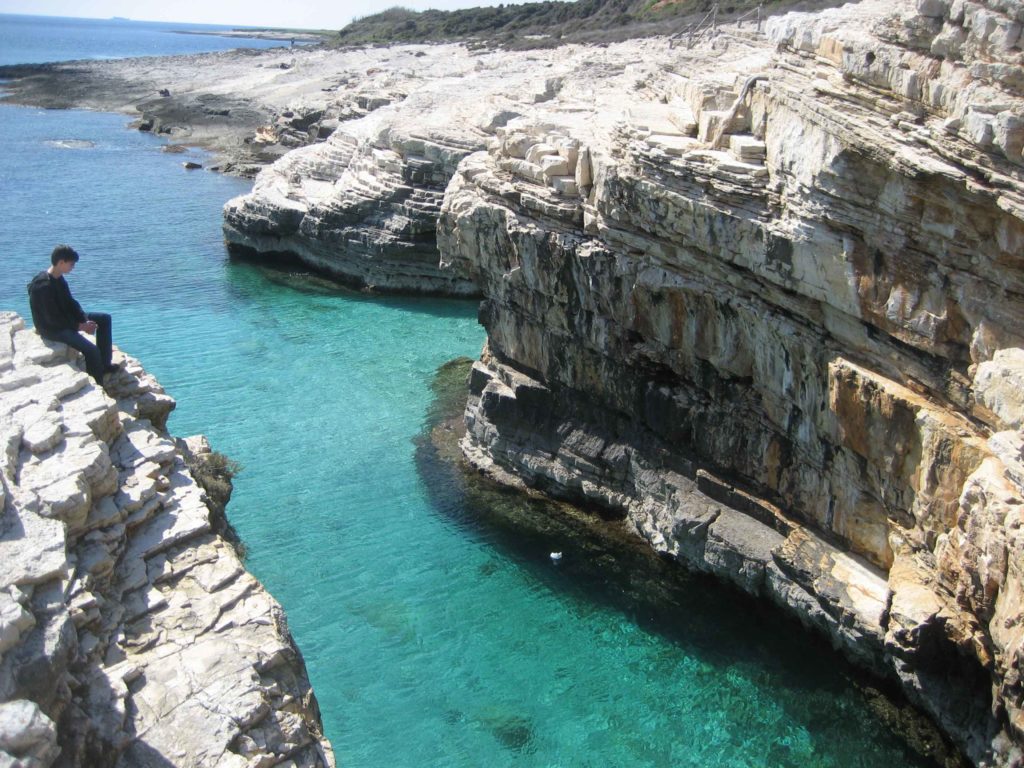 This gorgeous beach is an absolute must when visiting the Kamenjak National Park. It lies just a short drive south of Pula. This is another gorgeous pebble beach that tends to get crowded, especially during peak tourist season.
This beach is rather cozy and there isn't too much space. It's best to come here early in the morning to get the best spot and beat the crowds. The local snack bar is the perfect spot to recharge your batteries, cool down in the shade, or grab a quick bite.
Klancac Beach
This gorgeous pebble beach is located roughly an hour out of Rijeka. Visiting Klancac Beach is well worth it, even for the drive itself. The coastal road from Rijeka is one of the best drives in this part of Croatia.
Klancac Beach is a little pebble cove, surrounded by rocks and wonderful scenery. There aren't any amenities here, so make sure to bring your own snacks and water. Despite not having any facilities, this beach can still get pretty crowded during peak season.
Sveti Ivan Beach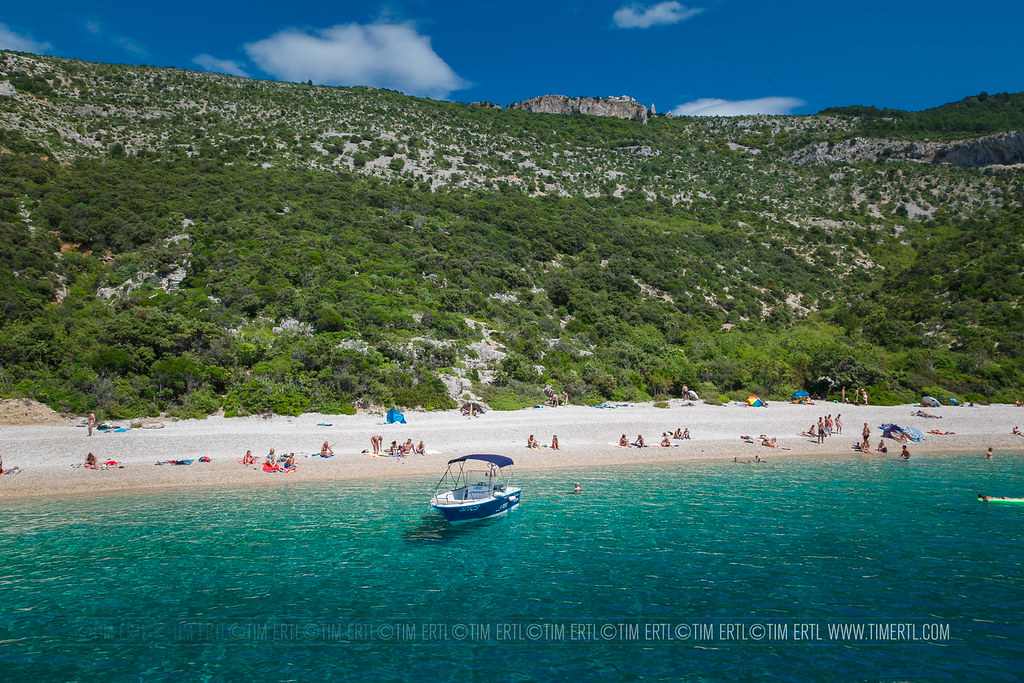 Let's get one thing straight- this gorgeous beach is not easy to access. You'll have to drop your rental car off at the hilltop car park and then make your way to the coast on foot. It may not sound too appealing to most tourists, making Sveti Ivan rather calm and not overcrowded.
The hike is well worth it, though. This pebble beach is renowned for its gorgeous natural setting and turquoise waters, ideal for a dip or snorkeling. There are no amenities here whatsoever. It's just you and nature, enjoy!
Mali Bok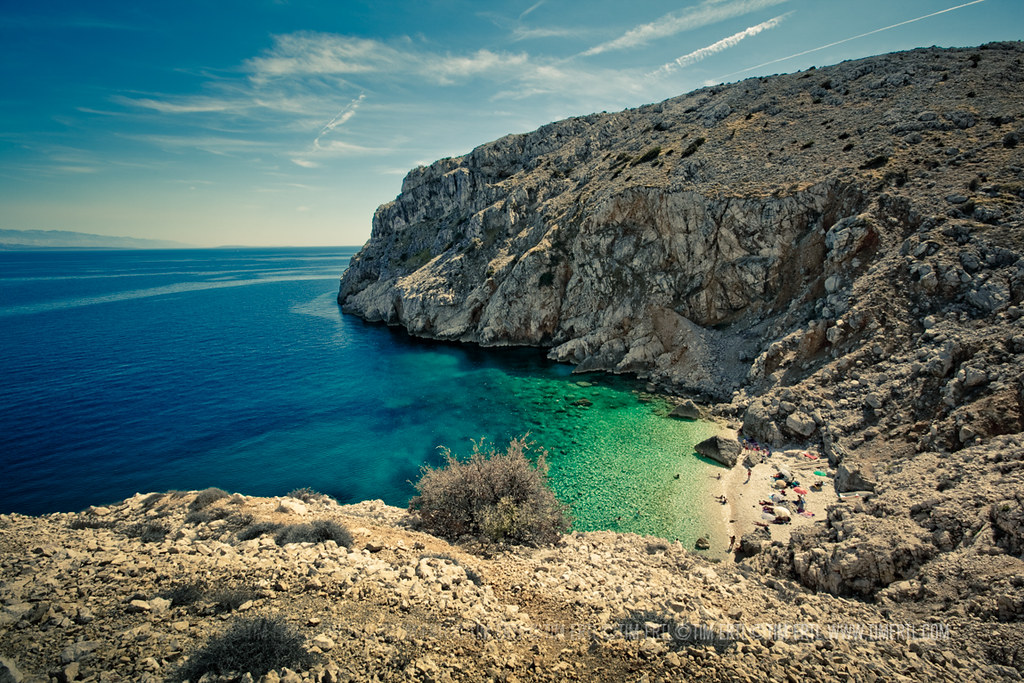 When it comes to accessibility, Mali Bok Beach is similar to the Sveti Ivan Beach mentioned above. Both beaches require a bit of a walk to reach. In fact, the two beaches lay directly opposite each other!
Once again, those who decide to take the hike will be rewarded with a gorgeous, secluded pebble beach. Mali Bok is a popular tourist spot despite its remote location, so it's best to arrive early and get the best spot.
You can drop your car off at the hilltop car park and then make your way down to the coast. The walk should take under half an hour each way. Mali Bok does not have any amenities onsite.
Kacjak Beach
This pebble beach is one of the top picks among locals and tourists alike. Kacjak Beach lies just a few kilometers up north from Dramalj.
This spot features affordable sunbeds, a waterfront snack bar, a shop, and plenty of space for everyone. Kids can spend time at the floating water park, or play a round of mini-golf. Kacjak Beach is the perfect spot for a fun-filled day with the entire family.
Oprna Bay- Stara Baska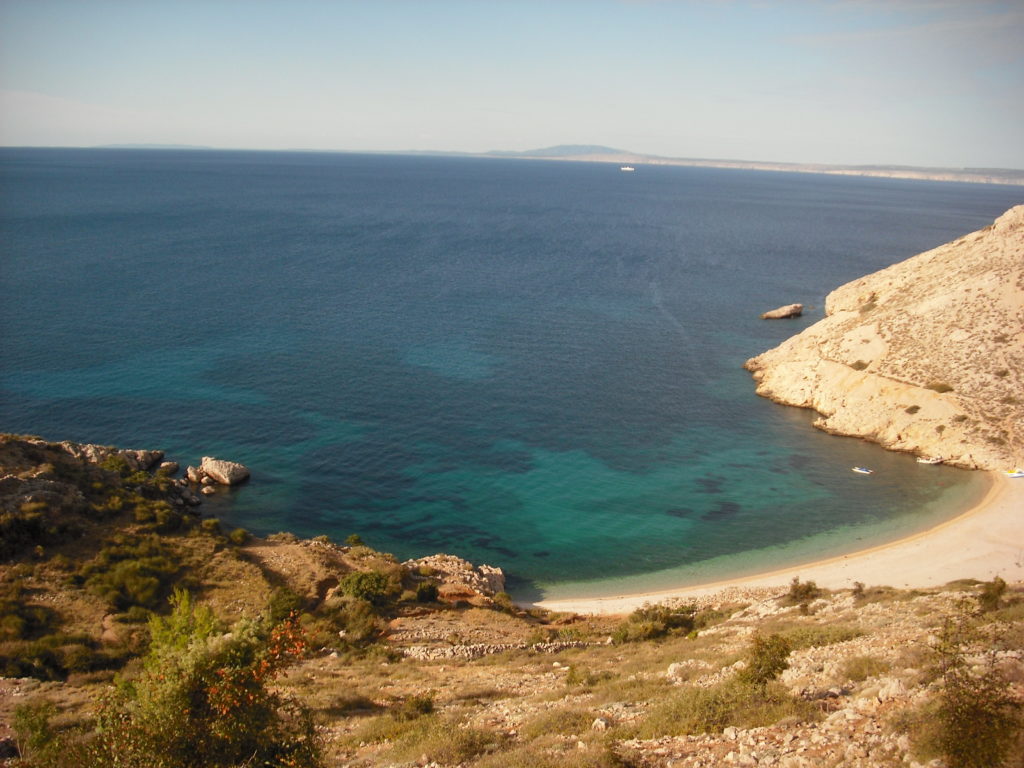 This is by far the nicest beach on Krk, a Croatian island in the Northern part of the country. Oprna Bay, also referred to as Stara Baska, is a quiet pebble cove which is the epitome of a dreamy beach on the Adriatic Sea.
Despite the remote setting of the beach, you can still rent sunbeds and umbrellas from the local bar to enjoy some shade. Note that there isn't any car park here. You'll need to drop your car off at the side of the road, as mentioned by Hitched to Travel, and walk on down to the coast.
Paradise Beach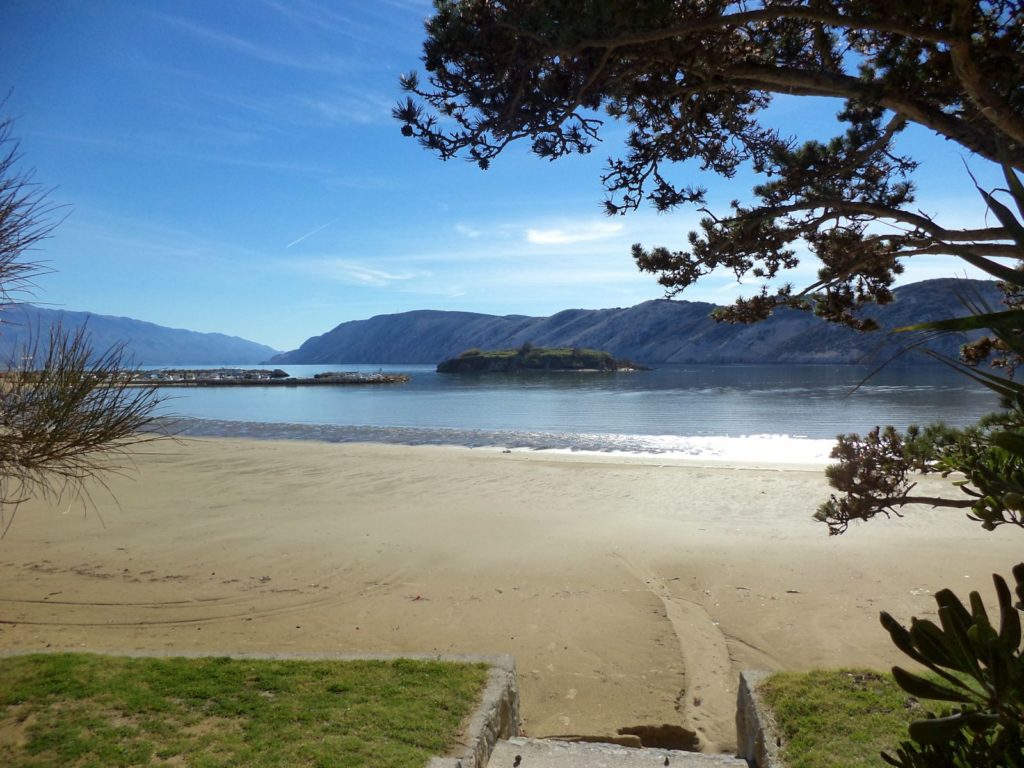 Paradise is easily the most appropriate word to describe this gorgeous beach. This is a relatively wide sandy beach, which is quite rare in Croatia. If you're looking for soft sand rather than pebbles somewhere in the Northern Adriatic Sea, this is the spot!
The beach stretches for 2 kilometers, there's enough space for everyone. It's also packed with fun things to do and amenities of all kinds, including beach volleyball, parasailing, and even parties once dusk falls.
Reaching Paradise Beach is a bit of an adventure in itself, as the beach is located on a small island. You can drive down the coast, south from Rijeka, and hop on the ferry in Stinica. Alternatively, you can hop on a ferry from Krk Island and drive across Rab Island till you reach Paradise Beach.
Beautiful Beaches Near Zadar
Zrce Beach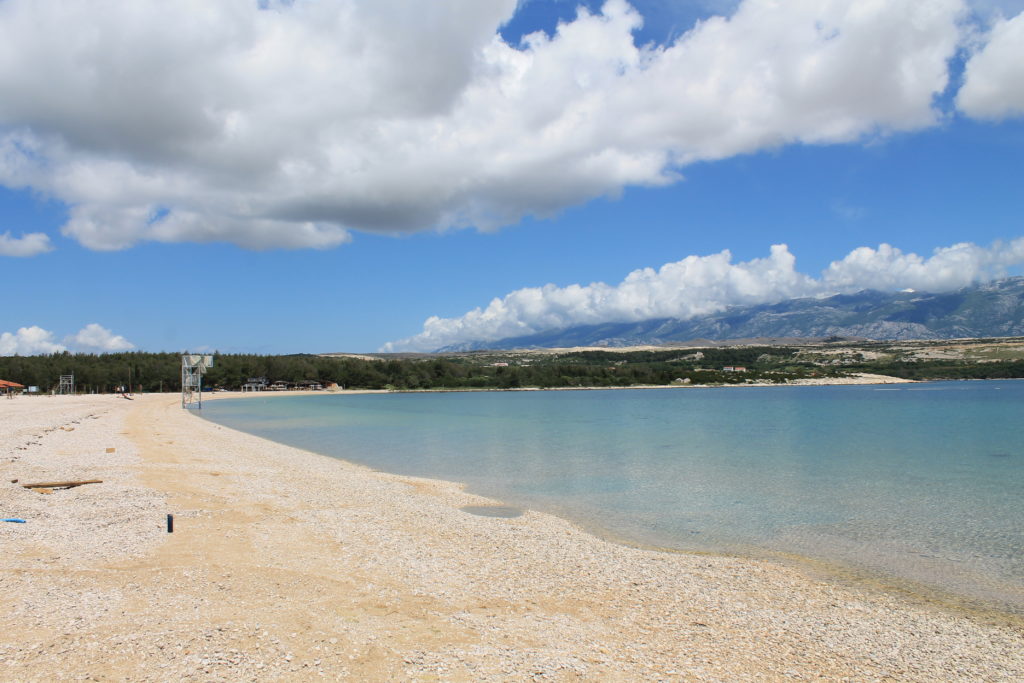 Party animals take notes, Zrce Beach is known for its clubs. Lots of different festivals take place here throughout the year. Partygoers can enjoy the music, and then cool off in the crystal-clear waters of this gorgeous pebble beach.
You can check the list of upcoming festivals and events on the Zrce Beach website. This party hotspot lies around halfway between Rijeka and Split, and just an hour drive away from Zadar.
Kraljicina Beach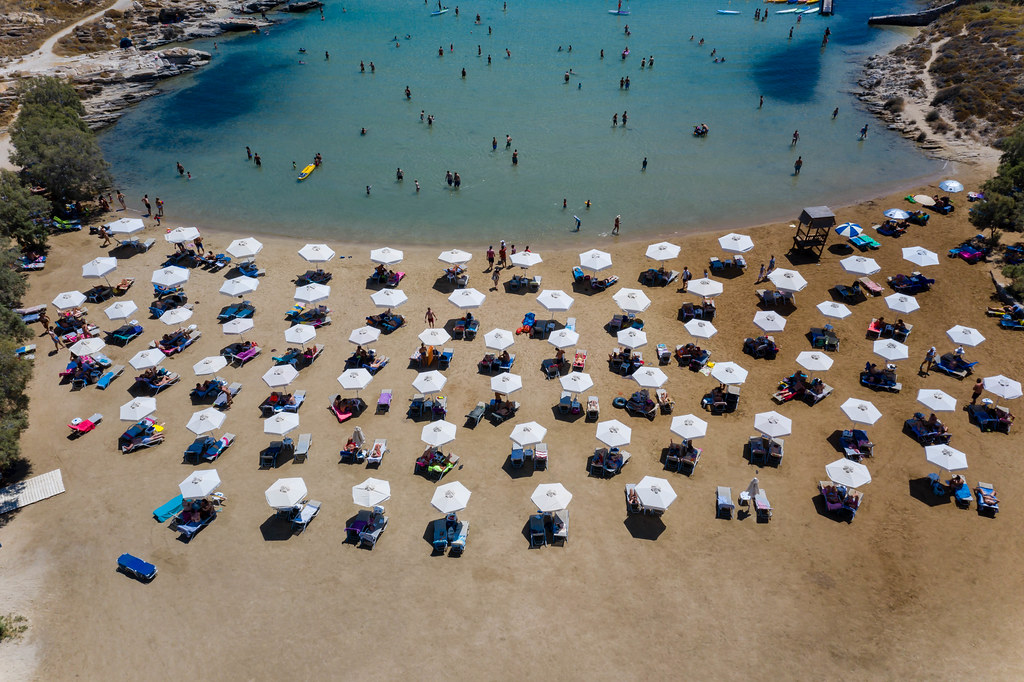 Kraljicina Beach, which translates to Queen's Beach, is one of the best sandy beaches in all of the Adriatic Sea. This dreamy destination stretches for around 8 kilometers, full of soft golden sand and plenty of activities.
What makes Kraljicina Beach so special, apart from its jaw-dropping natural setting and soft sand, is the proximity to the largest mud springs in the country. You can go for a mud treatment first, and then cool off in the turquoise waters of the sea. As this is a gorgeous lagoon, the waters are calm and free from strong currents.
Sakarun Beach
Once you arrive at Sakarun Beach, you'll feel as if you've traveled somewhere to the Caribbean. Make no mistake, this spot is truly special. This sandy beach looks like something out of a fantasy. Soft sand, crystal-clear waters and a gorgeous natural setting all make this one of the most beautiful beaches in all of Croatia.
The beachline of this gorgeous lagoon stretches for about a kilometer. You can grab a meal at one of the two waterfront restaurants and make use of other amenities, such as showers and locker rooms to store your belongings. Expect this spot to get crowded during peak season.
Podvrske Beach
Podvrske Beach is a dream-like pebble beach near Zadar, roughly an hour's drive south of the city. It's renowned for its unique oval shape. There's a sandy beach directly on the other side of the cove, too. That way, you get the best of both worlds.
You can grab a quick bite to eat at the local snack bar, too. Those who love this area so much can spend the night at the nearby campground.
Best Beaches Near Split
Mala Raduca Beach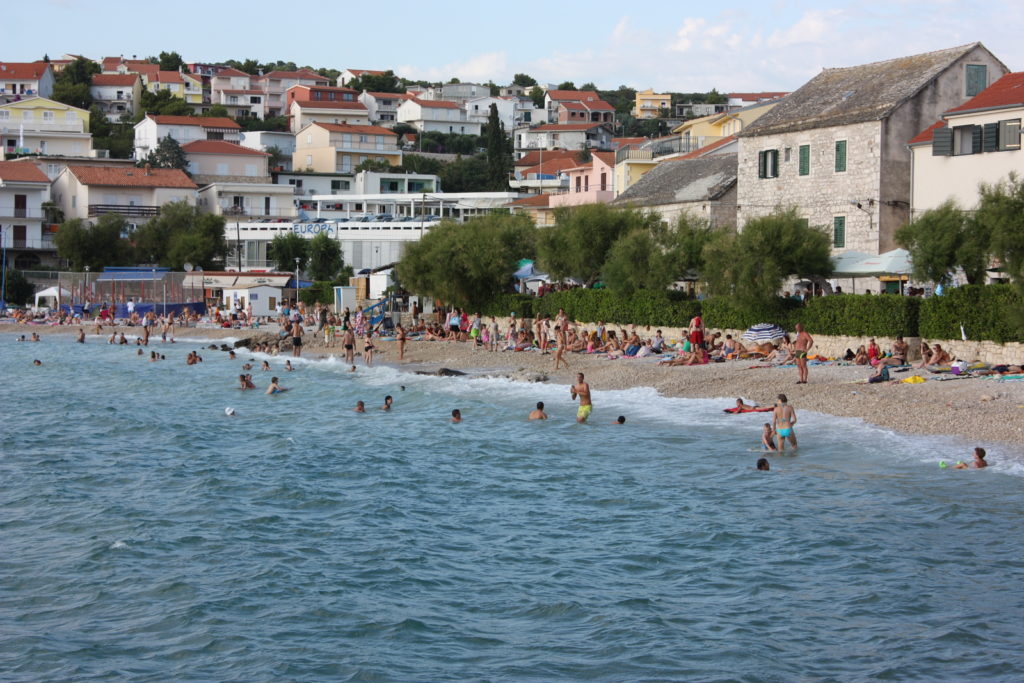 Travelers who enjoy combining a beachday with city life need to visit Mala Raduca Beach. This pebble beach is located in the heart of Primosten, a colorful town on the Croatian coast. It may not be the biggest, though it surely is one of the most vibrant beaches ideal for people watching.
Mala Raduca Beach is favored among locals, especially those who live in Primosten. The town itself is home to various local eateries, bars, and other cool places to hang out.
Stiniva Beach
This is it- one of the most beautiful beaches in the world. Stiniva Beach is an absolute must-visit. It's located on Vis Island, and the best way to access it is by boat, for example on a boat tour from Split.
This pebble cove is surrounded by dramatic cliffs. As a result, you won't need any umbrellas as there's natural shade here. The opening between the two cliffs is just a few meters wide, making the waters calm and free from rapid tides and large waves. After a day at the beach, you can enjoy a meal at the local tavern right off the coast.
Velika Beach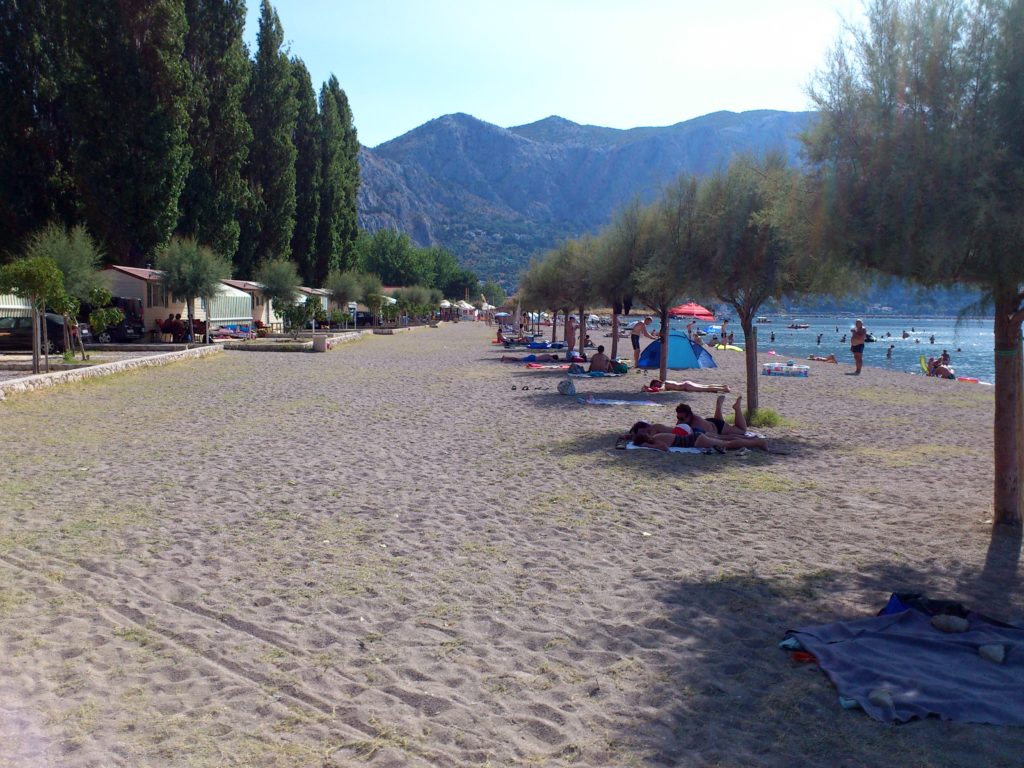 Yet another sandy beach in this part of Croatia. Travelers who come to Velika Beach can expect lots of space, umbrellas, sunbeds, and plenty of attractions and amenities. Once dusk falls, you can cross the street and pop by one of the waterfront bars and eateries. This is also one of the best spots for watersports near Split.
Note that the sand here is fine, and not exactly the soft kind you would expect at the Caribbean. Nonetheless, it can be a good break from all the pebble beaches in the area.
Golden Horn Beach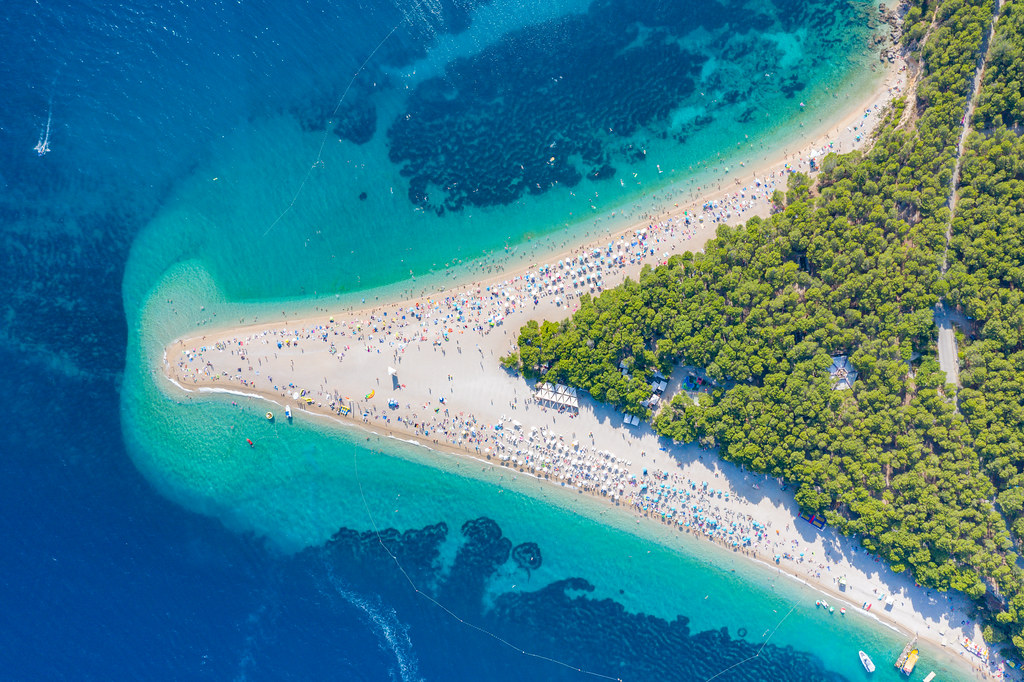 If you were to only visit one beach during your time in Croatia, it should be this one. Golden Horn Beach is one of the most legendary beaches in all of the Adriatic, and our personal favorite beach in Croatia.
Contrary to popular belief, this beach is not sandy. Instead, the coast is covered in very fine gravel. The texture is quite similar to sand, and it is easy to confuse at first sight. Golden Horn Beach lies just two kilometers away from the port in Bol, where restaurants and shops are plentiful.
Punta Rata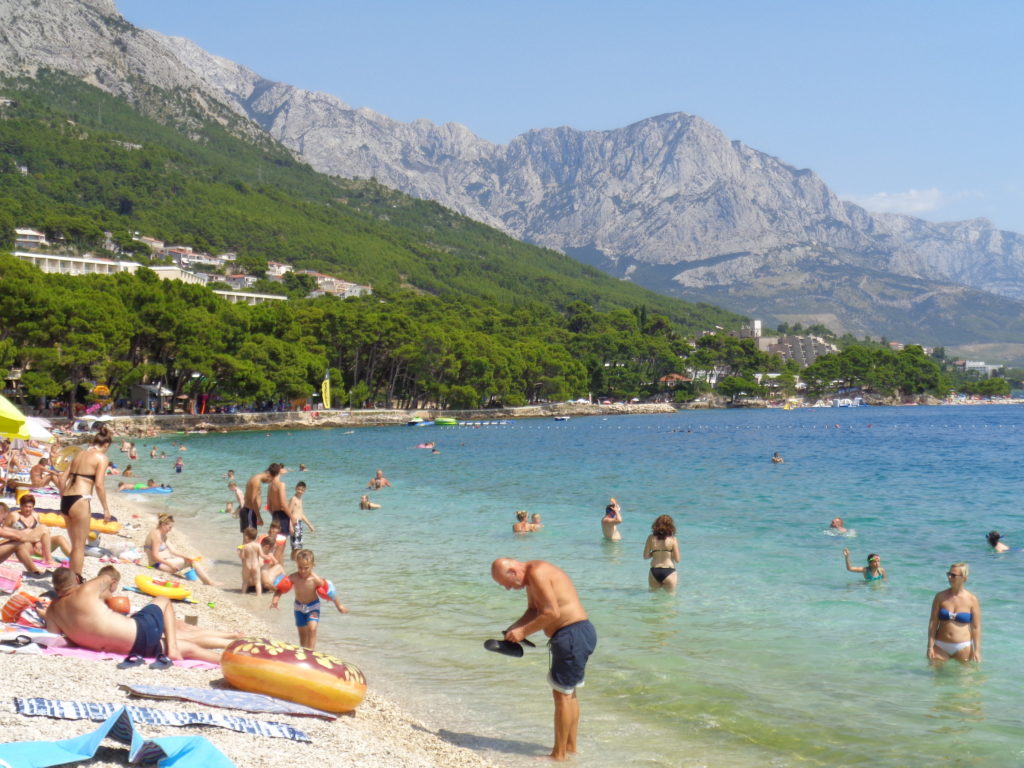 Punta Rata is quite a unique beach. The shore is pebble, though once you enter the water you'll notice that the seafloor becomes sandy.
This award-winning beach has received the Blue Flag for its clear waters. The local beach bar serves quick bites and drinks, as well as ice cream. Activities available here include a selection of watersports, tennis, volleyball, and even indoor football.
Makarska Beach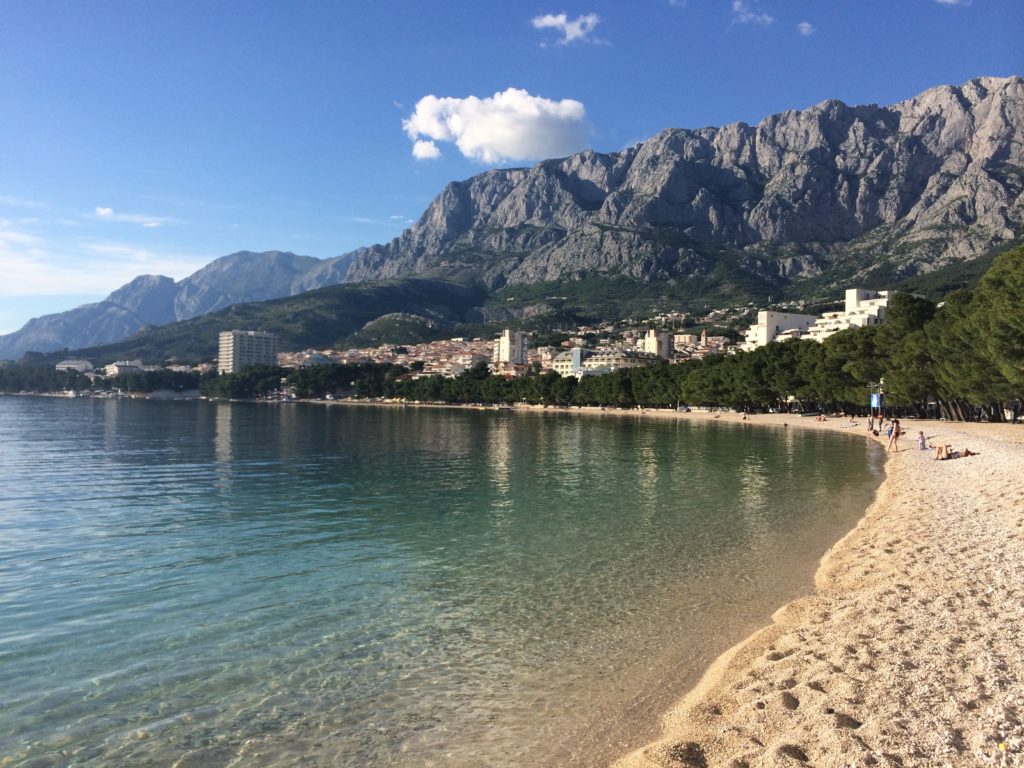 The Makarska Riviera is one of the most famous destinations among beachgoers in all of Croatia. This part of the Adriatic coast is famous for its gorgeous natural setting and quiet pebble coves surrounded by dramatic coastline. The beach with the same name is arguably the best one here. Note that it is also one of the most popular ones in the area, so expect plenty of people enjoying Makarska Beach during the summer.
The Makarska Beach is a vibrant city beach that's bound to be full of life whenever you go. The pebble shore stretches for kilometers, and the seemingly endless beach is full of activities and amenities. After a day at the beach, you can stroll over into the city and enjoy the best of what this region has to offer.
Most Beautiful Beaches Near Dubrovnik
Betina Cave Beach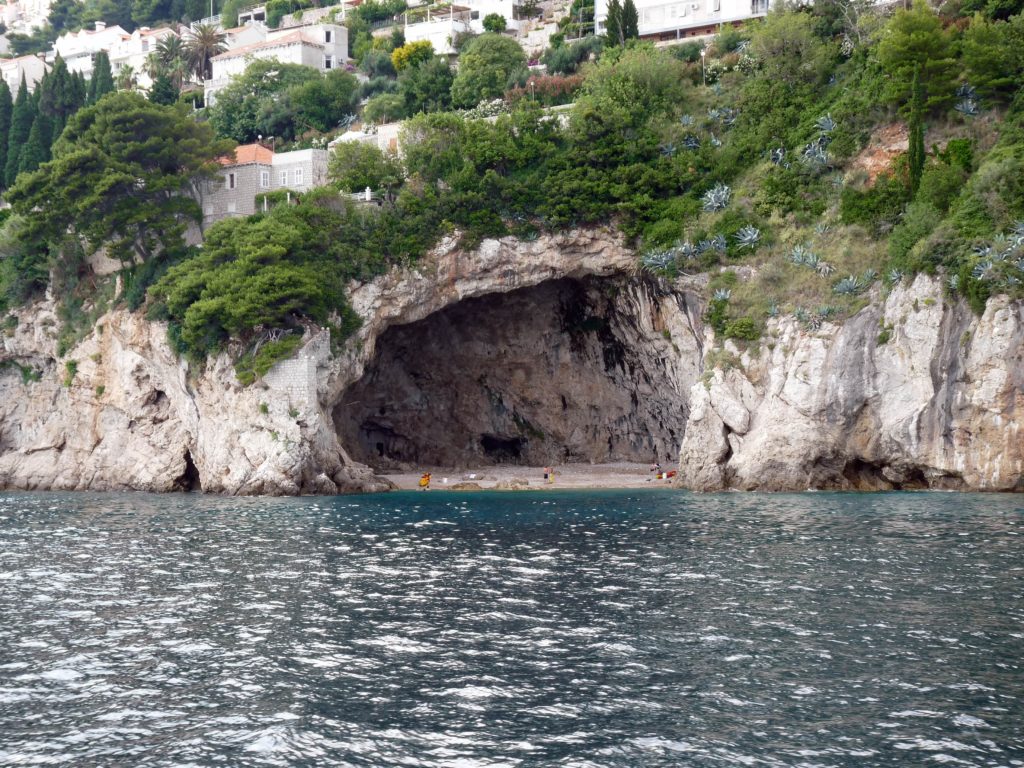 Dubrovnik is often called the city of caves for a reason. Tourists who come here can enjoy a drink at a cave bar, sleep in a cave hotel, and even spend a day at the magical pebble Betina Cave Beach. This may not be the biggest beach in the country, but it sure is one of the most unique and best beaches in Croatia!
Betina Cave Beach is by far one of the most difficult ones to reach, despite being situated near the heat of Dubrovnik. It can only be accessed by water- you'll need a boat to get here. The magical setting inside of a cave, as well as the unbeatable privacy makes this very worthwhile, though.
Banje Beach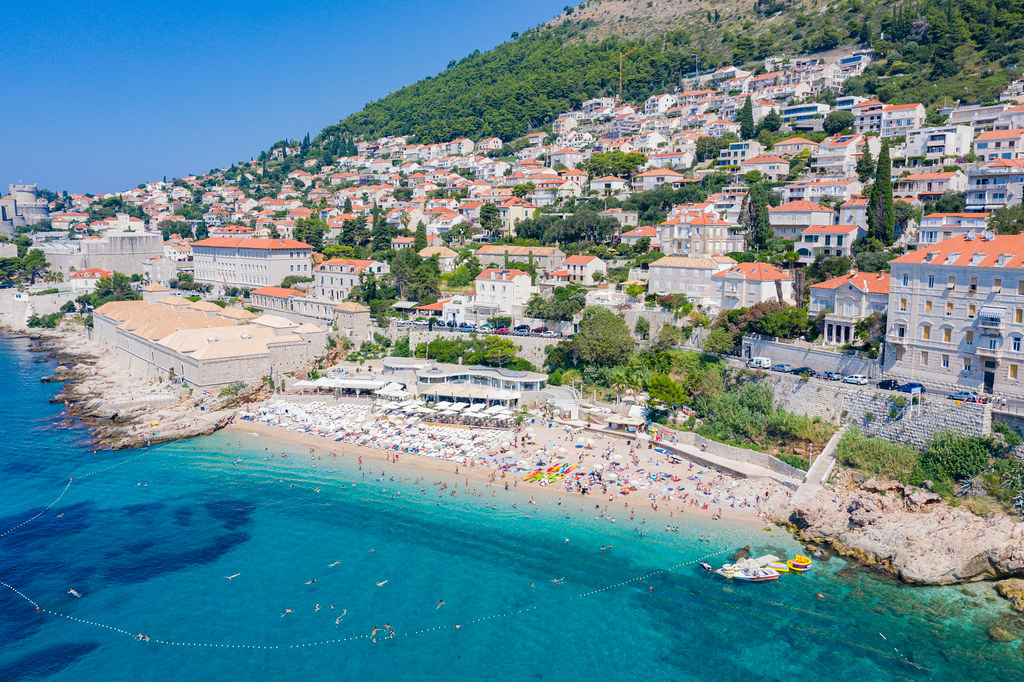 Looking for the best beach club in Croatia? Or perhaps a beachside restaurant, as opposed to a pretty basic snackbar that can be found at most public beaches? Either way, Banje Beach in Dubrovnik is worth at least a short visit!
The upscale restaurant and beach club is what makes Banje Beach stand out from the crowd. Come here after dusk falls and enjoy one of the wildest parties in Dubrovnik, or unwind during the day and go for a swim in the gorgeous waters of the Adriatic. This is the place to party in town, both day and night.
Divna Beach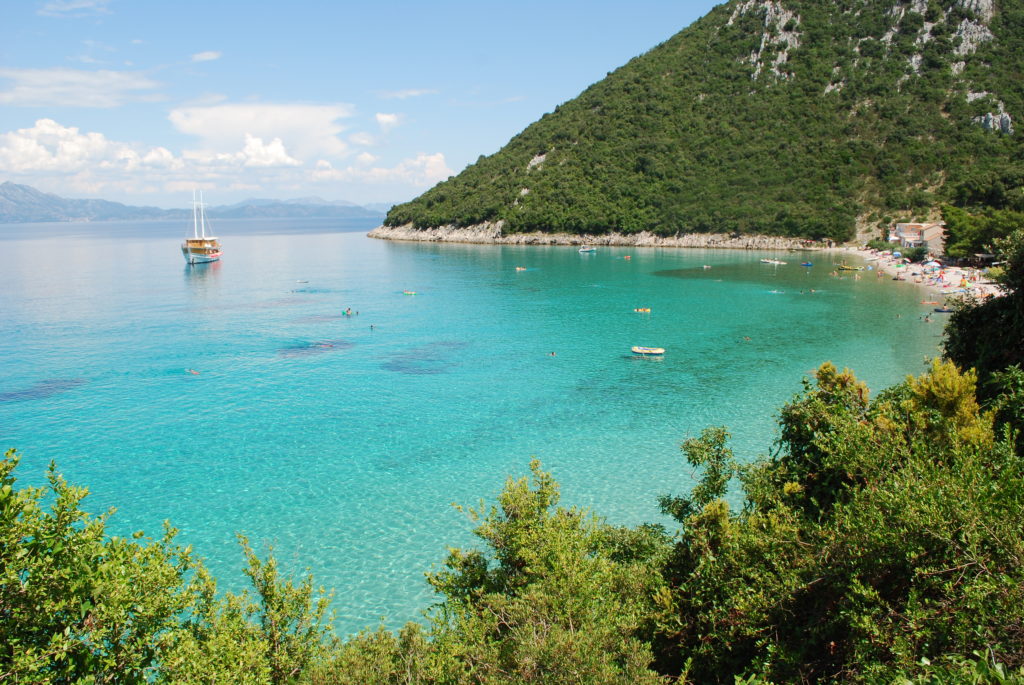 Divna Beach is one of those postcard-like, perfect beaches in all of Croatia. The color of the water is simply unbelievable and it will surely amaze you every single time you come to this beach.
The pebble shore stretches for a few hundred meters, there's plenty of space to sunbathe. Don't let the nearby trees fool you, there isn't any natural shade here nor sunbeds available for rent- you'll have to bring your own. You can purchase basic foods and drinks at the local snack bar.
Sunj Beach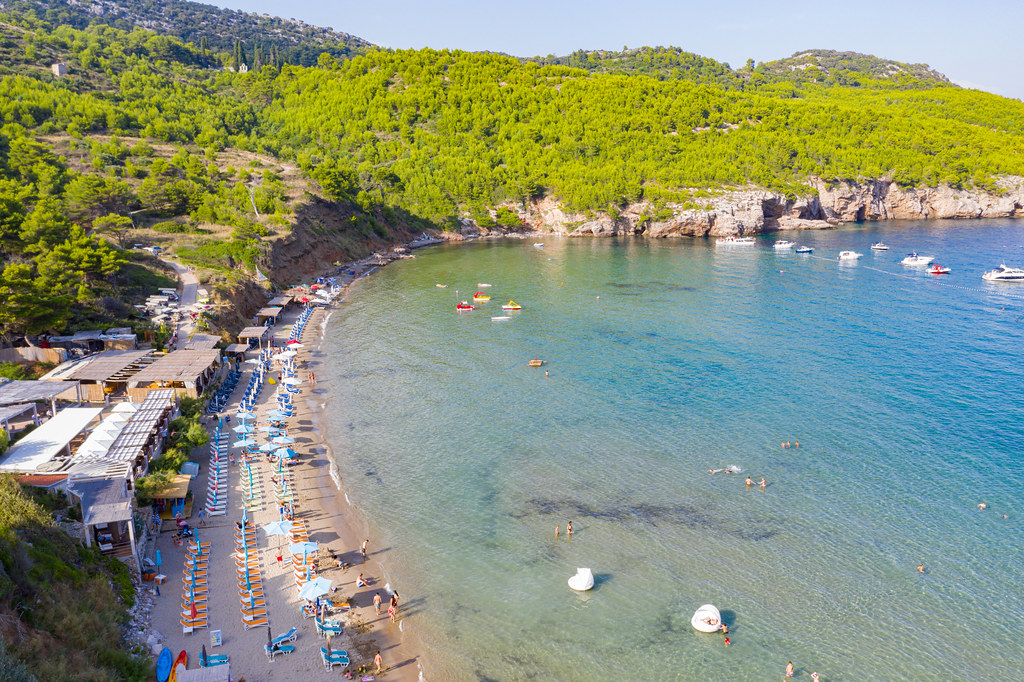 It really doesn't get much better than this. Many travelers would argue that Sunj Beach is one of the best beaches in Croatia. After all, this gorgeous spot seems to be the perfect balance between a secluded spot and a vibrant one. Sunj offers a little bit of both!
You'll need to hop on a boat from Dubrovnik to reach Sunj Beach, as it's situated on Lopud Island. A sandy shore, calm tides and plenty of amenities draw in hundreds of tourists every day. There's also a naturist section of the beach up on the left-hand side of the cove, if that's your thing.
Bonus- Rent A Car In Croatia
Getting a rental car is hands-down the best way of getting around all of the best beaches in Croatia. You could even extend your holiday and go on a grand road trip across the Balkans all the way down to Montenegro.
Be sure to rent a car for this trip via Rentalmoose. Choose from over 15 000 locations worldwide, we only offer rental cars from trusted and verified suppliers.
Rentalmoose cares about the environment and contributes towards a better future of our planet. We plant a tree for every booking made with our platform.