New stars of the road trips: Croatia and Montenegro. Check out this curated Balkan road trip itinerary!
Tags: road trip, travel by car, drop off at another location, Croatia, Montenegro, long trip, beaches
For years and years, people have been going to their summer vacations to the Mediterranean countries but always the preferred ones have been Spain, France, Italy, and Greece. Now, there are new, trendy hotspots – Croatia and Montenegro. See the best places in Croatia and Montenegro during this insightful Balkan road trip itinerary.
Click here for detailed directions
Summary (click the red pins for directions) :
Rovinj to Plitvice Lakes- 240 kilometers (150 miles)📍
Plitvice Lakes to Zadar- 120 kilometers (75 miles)📍
Zadar to Krka- 75 kilometers (45 miles)📍
Krka to Split- 85 kilometers (50 miles)📍
Split to Ston- 190 kilometers (120 miles)📍
Ston to Dubrovnik- 55 kilometers (35 miles)📍
Dubrovnik to Kotor- 90 kilometers (55 miles)📍
Kotor to Tivat- 10 kilometers (6 miles)📍
910 kilometers (565 miles) in total
Planning- Before You Leave
Before you set off on your Balkan road trip, take a look at some essential information below.
Why should you visit Croatia and Montenegro?
There is no surprise that Croatia and Montenegro have gotten popular among international tourists- they have the same natural beauty, crystal waters, lovely islands, and cheaper prices! Well, to be totally honest the prices have increased in the latest years when tourists have become more interested in the area.
Croatia became well known when its city Dubrovnik was the shooting location for a scene in the Game of Thrones.
Your road trip can start either from Rovinj, Croatia or Tivat, Montenegro. Whichever way you prefer.
The closest airports to Rovinj are Pula Airport (40-minute drive) and Trieste in Italy (2-hour drive).
Road Trip Extension to Northern Italy
As Rovinj is very close to Venice, Italy, you can extend the road trip and visit Northern Italy as well. Experience very different sides of Mediterranean countries and indulge in Italy's delicious cuisine.
Click here for the travel guide.
Ferries from 2 different companies sail between Venice and Rovinj 7 days a week and the duration of the journey is about 3-4 hours, depending on the ferry. Find more ferry information HERE.
How long does it take to complete this road trip?
The duration of this road trip is 13 hours, with a total driving distance equal to 908km (564mi). Rentalmoose suggests spending between 4-5 days and a week on the road, in order to really experience each attraction to the fullest.

What is the best time to visit Croatia and Montenegro?
The best time to visit Croatia and Montenegro would be the high season – from May until the end of September. If you love cabriolet cars then a road trip around the Balkans is a great opportunity to rent one, you could enjoy the magnificent views.
If you're traveling in a larger group, then a normal car or a minibus would be the best choice. You can find different car options at Rentalmoose, just type your criteria and you'll get the perfect car for this trip.
For your peace of mind, don't forget to use the Rentalmoose app to take photos of the car when receiving it to qualify for a 50% rebate from the excess coverage fee.

Now that you're all set, let's dive into your Balkan road trip!
Rovinj
This Balkan road trip starts from the fishing port town of Rovinj, in Croatia, on the Western coast of the Istria peninsula.
An interesting fact is that originally the peninsula on which Rovinj lies was an island, separated from the mainland by a channel. The latter was filled in 1763.
Being so close to Italy makes this city bilingual, people speak both Croatian and Italian here. It also has the Italian feel to it, many people say Rovinj more like Italy rather than Croatia.
The main economic activity in Rovinj is tourism. During peak season (May–September), its bars, restaurants, and art galleries are open 'till late hours, while operating limited hours off-season.
What should you see in Rovinj?
The heart of the city
The busiest place is the center – fully pedestrian Carrera Street, with many independent shops and art galleries. There is also a farmer's market located at the edge of the historic part of town, near Valdibora Square – the best place to fuel yourself with healthy and cheap snacks! In addition to the old town, you should definitely have a stroll along the harbor.
What is the best place to eat in Rovinj?
Monte Restaurant
For a delicious meal, book yourself a spot at the Monte restaurant. People say not only is it one of the best in Rovinj but one of the best in all of Croatia – so it's not to be missed!
But as the world moves fast, this place is already extremely popular. You have to make a reservation far in advance.
Where to stay in Rovinj?
To sleep off your travel exhaustion, opt for spending a night at the ultra-modern Lone Hotel, just about a 15-minute stroll away from the center. The hotel is set within the Golden Cape Natural Park.
There are various attractions onsite including a sushi bar, a nightclub, and several restaurants within the building.
Another excellent 5* hotel is Hotel Monte Mulini. This place is also a short walk away from the old town but you can feel like in a resort here and leave the city bustle behind. Let the relaxation begin!
Next on your Balkan road trip: Plitvice, 3 hours 30 minutes
Plitvice Lakes National Park
Croatia is well known for its amazing natural beauty and waterfalls. One of the most famous ones is Plitvice Lakes National Park, one of the oldest and largest national parks in Croatia.
Plitvice Lakes National Park is listed on the UNESCO List of World Heritage sites. It is a popular visiting destination all year round, and a must-see for every visitor to Croatia. So yes – it's about a 3-and-a-half-hour-drive, but I am sure you won't regret going there.
Is Plitvice Lakes National Park worth visiting?
Most definitely! The national park has sixteen lovely emerald green lakes that are interconnected by cascades and waterfalls. Not only do humans love this natural wonder – animals do, too! This place is a home for many bears, wolves, otters, wild boars, skunks, squirrels, rabbits, foxes, and numerous bird species.
You probably won't want to miss this exceptional natural beauty. Check the park's official website for seasonal information and ticket prices.
After a serene afternoon in the park, the next leg of your Balkan road trip will take you to Zadar!
Next: Zadar, 1 hour 30 minutes
Zadar
Zadar – home to a historic old town of Roman ruins – is the urban center of northern Dalmatia as the administrative, economic, cultural, and political center of the region with 75,000 inhabitants.
In this intriguing city the old and the new live together – medieval museums next to cosmopolitan cafes.
Zadar is a city of exceptional history and rich cultural heritage. The area of present-day Zadar traces its earliest evidence of human life from the late Stone Age, while numerous settlements date as early as the Neolithic times.
Zadar has good road infrastructure – the main road along the Adriatic passes through the city. And the natural beauty of the landscape will not leave you untouched.
I'm sure you will enjoy this Balkan road trip to the max!
What to see in Zadar?
Sea Organ
A must-see in Zadar is its "Sea Organ" – the first of its kind in the world. It is an architectural sound art object, an experimental musical instrument – a set of large marble steps, the pipes are located beneath it.
At the end of each pipe is a whistle, tuned to play seven chords of five different tones, creating sighs when the sea waves pushes air in them. This really needs to be seen and heard by yourself.
The Greeting to the Sun
Next to the "Sea Organ", at the end of the Zadar peninsula, there is another masterpiece created by the same architect – Nikola Bašić. "The Greeting to the Sun" communicates with light, just like the "Sea Organ" does with sound.
"The Greeting to the Sun" consists of three hundred multi-layered glass plates placed on the same level with the stone-paved waterfront in the shape of a 22-meter diameter circle. Under the glass conduction plates, there are photo-voltage solar modules through which symbolic communication with nature is made.
Both are really cool experiences!
By the way, the film legend Alfred Hitchcock himself said that the prettiest sunsets in the world are in Zadar! Another must-see in town!
What are the best hotels in Zadar?
After walking through the Plitvice and discovering Zadar you are probably really tired and need a good night's rest. Book your room at the 4* Bastion Heritage Hotel in the Old Town. This is great for a car traveler as the hotel is very close to the only area you can reach with the car. So you wouldn't need to carry your suitcases too long.
In addition, there is a very famous fine dining restaurant "Kaštel" within the hotel. The restaurant serves Mediterranean cuisine in elegant interiors and on a spacious terrace overlooking the garden.
After a good night's sleep, you can start your journey in the morning. Rested and ready for a new great day ahead!
Next on your Balkan road trip: Krka, 1 hour
Krka National Park
Loved hiking yesterday at the Plitvice National Park? Well, this is not it – you can enjoy another day in beautiful nature again as there is another gorgeous national park on the way. Make a stop at the Krka National Park.
This park has a gorgeous swimming area, roped off at a bend in the river below the crescent of waterfalls. Before stripping off, take the shaded one-mile walk past a chain of tumbling pools to spot fish and sapphire dragonflies. And yes – now go freshen yourself up with a swim under the waterfalls. Need I even say more?
Boat tour to Visovac
By the way, inside the National Park there is a small island called Visovac. There is a Roman Catholic Visovac Monastery founded by the Franciscans in 1445. The monastery was founded during the reign of Louis I of Hungary. The island can be visited by a boat tour from Skradinski Buk.
Rentalmoose tip: A boat trip through the national park is included in the entrance ticket and it is a great way of seeing much more of the park!
Next on your Balkan road trip: Split, 1 hour
Split
The restaurant next to the walls of Diocletian's Palace
Welcome to Split! The largest city on the Dalmatian coast and the second-largest in the whole of Croatia. Split is an important transport center for Dalmatia and the wider region.
In addition to the Zagreb-Split freeway (A1), all the road traffic along the Adriatic coast on the route Rijeka–Dubrovnik (Adriatic Highway) flows through the city. Split is always buzzing, the old city walls are filled with many trendy hotspots.
What can you see in Split?
Go see the Diocletian's Palace – a Unesco World Heritage site that is one of the world's most impressive Roman monuments, built in 305 AD.
It was built for the Roman Emperor Diocletian as his retirement residence – not a bad place to retire, right? By the way, the palace is another shooting location for the Game of Thrones. If you are a fan, go and try to find the exact spots from the series!
Within the huge Diocletian Palace, there are many sites to see, for example, the St Domnius Cathedral and its Bell Tower. This is said to be the oldest Catholic Cathedral in the world that still works in its original structure. When climbing to the Bell Tower, you can see the breathtaking views of Split and the city's red rooftops.
The Diocletian Palace is actually forming half of the old town, so if you go there, you're already wondering around in the Split's oldest parts of the city.
There are also many restaurants and bars where you could have some snacks and a cold drink – for example, Zinfandel Food & Wine Bar.
Another spot you should see in Split is its harbor, where hundreds of sailing boats take off to the gorgeous islands of Croatia. If you have more time on hand, I definitely suggest visiting an island or two (the biggest and most famous being Hvar).
Next to the harbor, there is a promenade called The Riva. It makes a lovely place for an evening walk after dinner.
Where can you find the best food in Split?
A great restaurant recommendation would be Dvor. The location of this restaurant is so beautiful and the food is delicious, it's totally worth having the 20-minute walk from the old town!
Which hotel in Split is the best?
When you call it a day then go and have a good rest in Hotel Park Split. You will feel very special once entering the hotel as there is live piano music. The staff will offer you a glass of champagne when checking in as a welcoming drink. A truly luxurious experience!
Another great option is Villa Split Heritage Hotel in the old town – an authentic Roman house from the 3rd century AC. The house used to be a home for the most prominent Croatian writer Marko Marulić. For this reason, the place is still sometimes called "Marulić house". It's located in the Diocletian Palace.
Next on your Balkan road trip: Ston, 2 and a half hours
Ston
The wall of Ston
Rise and shine! This morning let's start the journey towards another great Croatian city – Dubrovnik. But with a little stopover at the small town called Ston which will be on the way. The reason for visiting this place is food! The best oysters in Croatia come from the Bay of Mali Ston!
What is Ston known for?
Always dreamed of visiting the Wall of China but haven't made it there? Don't worry, in Ston, there is a Croatian version of it – one of the longest defense walls in Europe.
The Ston Walls are 1200 m long and were built to ensure protection from neighboring regions. The chronicles state that the construction of the wall lasted 18 months.
It is possible to visit oyster beds by boat from Mali Ston. Shellfish cultivation in Mali Ston Bay is currently based on only two species: The European Flat Oyster (Ostrea edulis) and the mussels called Mytilus galloprovinicialis.
The oysters are the most flavourful in March, when St Joseph's Day is celebrated. Gastro expert's claim that oysters are best served freshly opened with some lemon juice.
You will have the opportunity to taste the freshly opened oysters smelling of the sea around St Joseph's Day (19 March) at the restaurants in Ston and Mali Ston.
Where to eat in Ston?
Of course, it's possible to eat oysters in Ston during other times of the year as well. Visit the famous Kapetanova kuća or Konoba Bakus restaurants to try some regional delicacies.
Rentalmoose order tip: Order oysters and try their mussels and black seafood risotto as well! Delicious! There is also a dessert called "Ston cake" which should be tried, it will give some mixed feelings as its a dessert with macaroni. But it actually tastes surprisingly good, give it a shot.
Next on your Balkans road trip: Dubrovnik, 1 hour
Dubrovnik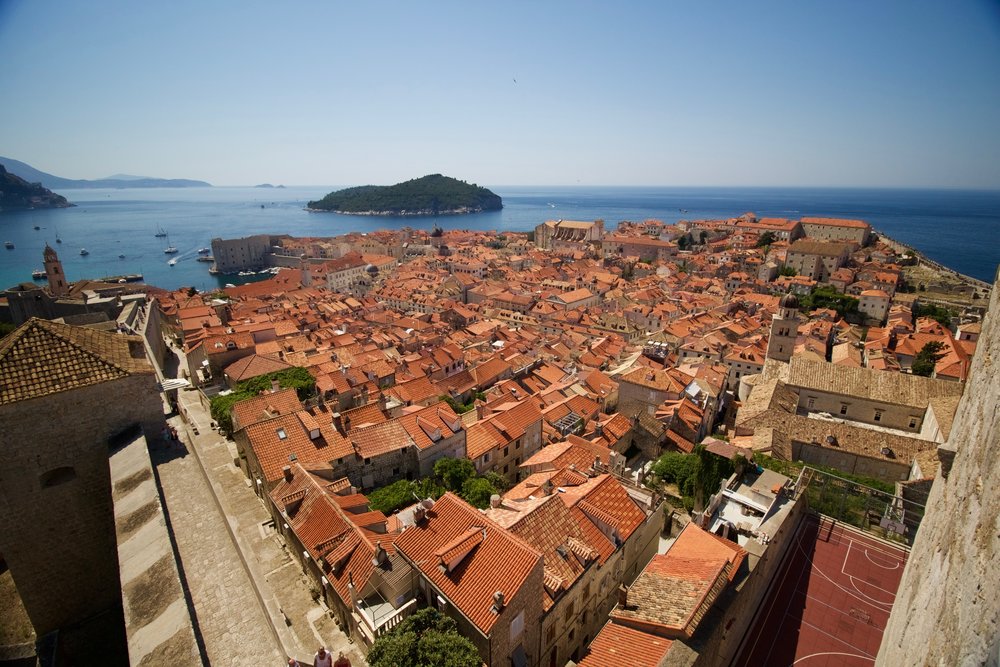 Bernard Shaw once said: "Those who seek paradise on Earth should come to Dubrovnik." So yes – you have reached another amazing walled city on the Adriatic! It's probably the most beautiful one!
This will be your last stop in Croatia during this Balkans road trip. Dubrovnik is really a magnificent historical city, no wonder it has also been used as a filming location in Game of Thrones as King's Landing.
Can you drive in Dubrovnik's Old Town?
I must warn you that the Old Town in Dubrovnik is pedestrian-only – no cars allowed. And the parking around the city is very expensive. I am talking Monaco kind of expensive.
I strongly suggest finding a hotel which offers a private car park. Alternatively, park your car a bit further from the center and take a short walk, or use the public transport instead.
What is there to see in Dubrovnik?
Definitely don't skip going to the Old Town – its aristocratic Baroque palazzos and medieval churches stand together with lively wine bars, classy seafood restaurants, and elegant hotels.
A must thing to do in Dubrovnik is taking a walk on the Dubrovnik Walls – the medieval walls surround the whole Old Town so you basically get to see it all during your stroll.
It's recommended to keep a hat on and keeping a water bottle with you. It's not that the walk would need extra climbing or hiking skills, but just to protect you from the sun and heat (especially in July and August when the temperatures reach their peak).
The views from the walls are amazing, so don't forget to take your camera with you! Post your best photos online using #Rentalmoose for a chance to win a Rentalmoose discount or even a rental car free of charge!
After you've seen the Old Town from above, it's time to see it from the ground as well. Get lost on these tiny cobbled streets – there are many small roads that lead to great bars with amazing sea views. So don't make a plan and go with the flow! Dubrovnik is full of such small gems!
Also, visit what's said to be the oldest pharmacy in Europe! Set inside the 14th-century Franciscan Monastery, the pharmacy is called Ljekarna Male Braće (meaning Little Brother's Pharmacy).
Rentalmoose tip: Buy their legendary rose face cream – krema od ruža – which is made of a secret medieval recipe!
Another attraction worth trying is the cable car ride – enjoy great views of Dubrovnik and the small islet Lokrum just close-by. I suggest going there during the sunset. It's extra lovely at that time but it can get very crowded, though.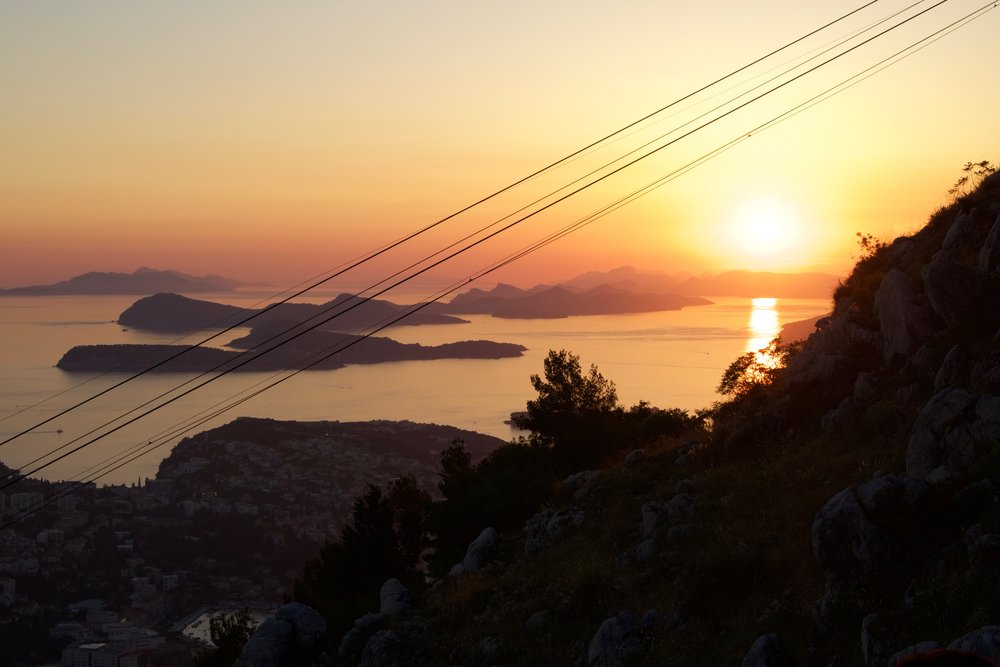 For a bit more of a private visit, book a table at the Panorama restaurant and dine above the city.
During the high season, the beaches can be extremely crowded. But if you're traveling off-season, go check the Banje beach just nearby. You can pay for a sunbed or go with your own towel to lay on. Alternatively, visit the beachside restaurant and club.
After a day of exploration, recharge at Barba, a place that serves you fresh seafood street food. For example, try the octopus burger. I bet you've never had anything like that before!
Another great experience would be fusion restaurant Azur – Croatian fresh ingredients done with Thai spices and herbs.
Where should you stay in Dubrovnik?
After a fulfilling meal, go to have a good night's rest at the Hilton Imperial Hotel – just next to the Old Town. The hotel also offers a paid parking garage.
Another great option would be the Hotel Excelsior which offers free private parking!
Next on your Balkans road trip: Kotor, 2 hours
Kotor
This morning, you are heading to the border of Croatia and Montenegro. Let's hope that there won't be much traffic on the border as it sometimes may happen. The first stop in Montenegro is the spectacular Bay of Kotor, a must on any Balkans road trip.
The old Mediterranean port of Kotor is surrounded by fortifications built during the Venetian period. The bay of Kotor is a ria (a submerged river canyon) though people often call it the most southern fjord in Europe.
Together with the nearly overhanging limestone cliffs of Orjen and Lovćen, Kotor and its surrounding area form an impressive landscape.
What are the best places to visit in Kotor?
Kotor, like Dubrovnik, has a beautiful old town which is said to be the best-preserved medieval old town in the Adriatic area. The old town is a medieval maze where you can wander around and find different museums, churches, Venetian palaces, and lovely cafes.
Although Kotor now is a tourist attraction, it still hasn't lost its authentic charm. By the way: in 2016, Lonely Planet named it the number one city in the world to visit. So let's dive into it!
For a spectacular view you are again challenged for a little climb (nothing too much though!).
Go climb the Castle of San Giovanni from where you'll be able to see stunning Kotor from a different perspective.
The view of the Old Town and the Boca Bay will take your breath away, if climbing the 1355 steps hasn't already. The stunning views are worth every single step!
If you want to see more magical places, then head to Perast. Perast is a tiny village on the edge of Kotor Bay. The village is said to be one of the most beautiful places in Montenegro! It is situated just a few kilometers northwest of Kotor.
Another must-see on any Balkans road trip in Montenegro would be Our Lady Of The Rocks, or Gospa od Skrpjela.
It is one of the two gorgeous islands in the bay of Boka Kotorska, which are situated in the sea across Perast. It is actually an artificial island, which was created using a bulwark of rocks and by sinking old and seized ships loaded with rocks.
After a day spent in Kotor, it's time to continue to journey to your final destination on this route.
Next: Tivat, 20 minutes
Tivat
Tivat is not far from Kotor, it's also located in the Bay of Kotor. It's one of the smallest municipalities in Montenegro with its population being just around 14 000.
Tivat is probably the most glamorous city on this road trip – it has a fancy marina with expensive superyachts, classy restaurants, and glitzy boutiques. So how did a modest and ordinary town end up like that?
Canadian businessman Peter Munk bought a naval shipyard in Tivat, intending to transform it into a luxury vacation resort and a marina for luxury yachts called Porto Montenegro. Tivat went through a major multimillion-dollar remodeling of its marina and the surroundings.
Today, it is a place where the world's jet-set resides and rests during their summer holidays.
As most of this Balkan road trip is in historic cities, it's nice to see something different that Tivat offers. Although there are traces of history in this place as well. For example, the Renaissance Summer House Buca in the center of the city.
Where can you find the best food in Tivat?
A great meal is found at restaurant One which can also boast with unbeatable views of the yacht marina, a million-dollar view indeed!
Another option would be to buy yourself some green and healthy organic food from Bonella – a "supermarket" where you can only find the good stuff. Jet setters approved!
Where to stay in Tivat?
I suggest to book a room at Regent Porto Montenegro in Porto Montenegro. This way you'll be inside the new and fancy area, or maybe even see the fabulous promenade and marina from your room window.
The hotel is located in the UNESCO-listed Boka Bay within a luxury Porto Montenegro Village in the town of Tivat. The luxury hotel is built in a Renaissance-Venetian style.
Another great 5* hotel is The Chedi Luštica Bay. Set on the waterfront and boasting a private beach area and an outdoor pool, The Chedi Luštica Bay Hotel is located in Trašte Bay, 14 km from the center of Tivat.
Drop off
The good news is that Tivat airport is just 3km away from the centre. By the way, this small town's airport happens to be the biggest airport in all of Montenegro! Browse through rental cars that support airport drop-off via Rentalmoose.
DON'T HAVE A CAR YOU CAN TAKE ON A BALKAN ROAD TRIP? NO PROBLEM!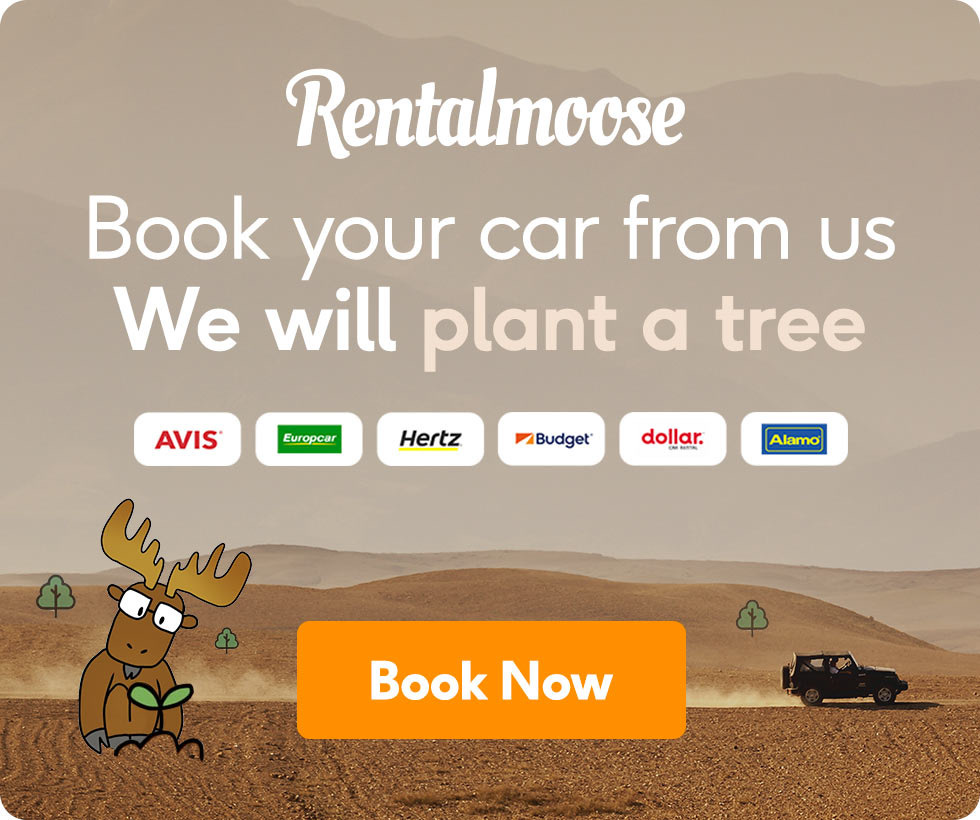 Don't forget to book your rental car via Rentalmoose for your next adventure.
On our platform, you can find the top rental companies at the best price, along with tens of curated travel guides around the globe. Get your car from Rentalmoose!
We plant a tree for every booking made with our platform.
Post your pictures from your next road trip online using #Rentalmoose! Our favorite ones will be featured in the upcoming blog posts.