A road trip during the winter is absolutely magical. No matter if you're renting a car to visit your family for the winter holidays, or to drive between some of the best ski resorts in the Alps, it's crucial to come prepared.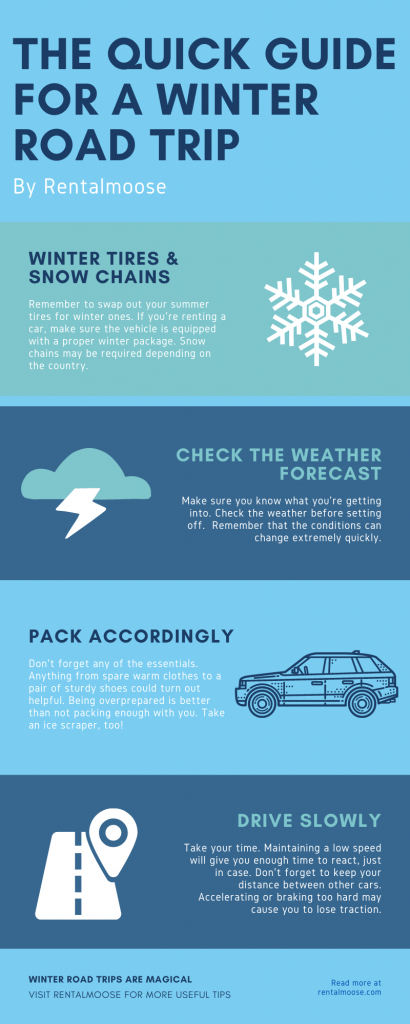 Use this guide as a handy checklist before you set off on your adventure this winter. This blog post will cover:
Before the trip
Begin planning before you set off on your trip. Otherwise, you might face some unpleasant surprises during your winter holiday.

Car type
When going on a road trip during the winter, you'd want a vehicle that's capable of getting you through the snow. Consider booking a rental car class that offers vehicles with an all-wheel-drive drivetrain.
Note that some parts of the rental fleet may not be available during the winter season. You might want to lay off that sweet convertible until the summer.
Winter tires & snow chains
If you're renting a car during the winter, the supplier should have a part of the fleet that's equipped with winter tires as standard. Double-check with the rental company before booking your vehicle. Snow chains for the wheels are generally part of the same winter package as the winter tires.
A winter package is compulsory for some regions. In that case, it will be added to your rental automatically.
European countries where a winterized rental car is compulsory during the winter season (early November to the end of March) include:
Austria
Czech Republic
Finland
Luxembourg
Norway
Romania
Slovenia
Sweden
Driving without winter tires in a country where they are legally required can result in a hefty ticket. What's more, your insurance may be void if you happen to have a collision.
If you're unsure whether or not you need a winter package, don't hesitate to get in touch with your rental company. The staff at the rental desk will be glad to help, too.
Don't forget that winterization packages are subject to availability, booking one in advance is highly recommended.
Check the weather forecast
Make sure to check the weather forecast for the region you'll be visiting, so that you can plan your route accordingly. Keep in mind that the weather can change dramatically at high altitudes (i.e. in the Alps).
If you're planning a cross-border trip, don't forget to check the forecast for every country you'll be visiting. How can you check if your rental company permits cross-border trips? Check out this blog post to find out.
Pack accordingly
When packing for your trip, be sure to take extra warm clothing for the cold weather. Anything from spare warm clothes to a pair of sturdy shoes could turn out helpful. It's always better to come overprepared rather than not packing enough with you.
A pair of gloves and some hot packs will surely come in handy, too.
When picking up the rental car, ensure that you have taken all of the additional equipment that you'd booked. Check the car for an ice-scraper.
Ensure that you have the phone number for local emergency services at hand, just in case. Know who to contact in case of a breakdown, the roadside assistance contact details are in your rental agreement.
During your trip
Once you've picked up the rental car, follow these tips to ensure that you get to your destination safely.
Slow down
It's crucial to know when to keep your foot off the gas pedal in snowy weather. Don't forget that the braking distance is increased compared to a dry surface. What's more, the visibility can be very poor during a snowstorm. Maintain a low speed to give yourself enough time to react.
Keep your distance
Tailgating is even more dangerous during the winter. If the driver in front of you sees danger and slams the brakes, make sure you have enough time to slow down as well. Otherwise, you might end up rear-ending the car in front.
The braking distance in snowy conditions is up to 12 times greater than on a dry surface.
What's more, some countries strictly follow the minimum required distance. Failing to comply can result in an expensive penalty.
Don't brake (or accelerate) too hard
If you push the brake or acceleration pedal too quickly, you can end up losing control of your rental car. Make sure to accelerate and brake gently.
Rentalmoose tip: Even modern rental cars equipped with high-tech traction control systems can fail during extreme weather conditions. Press the pedals gently, no matter what rental car you're in.
Avoid stopping on hills
If possible, don't stop on hills during your journey. An icy snow-covered road at a steep angle can make it difficult to continue driving after stopping half-way up. Apply the gas gently to ensure that you don't lose traction. If your car is equipped with traction control, turning it off can make it easier to get going once again.
In case of a breakdown
If you do happen to have a technical breakdown during your winter road trip, here's what you should do.
Ensure you are visible
Limited visibility during the winter paired with an extended braking distance could be the recipe for a disaster. If you're stranded at the side of the road, make sure that other drivers can see you. Here are some tips to help you get started.
Turn on your rental car's hazard lights
Put on a reflective vest (it should be in the boot of your car, together with a warning triangle). Remember to check for oncoming traffic before exiting your vehicle.
Set up a warning triangle around 50m (150ft) behind your rental car.
Contact roadside assistance
The contact details for roadside assistance are listed in your rental agreement. If you've added an optional roadside assistance package when booking your rental car, the service will be free of charge. Otherwise, an additional fee will be added at drop-off.
In case of an accident
If you've been in accident, making sure that everyone involved is safe is your first priority. Contact emergency services first, before calling the car rental company.
Make sure everyone is safe
The first priority is to ensure that everyone involved in the collision is safe. If anyone is in great pain, refrain from moving them and wait for the emergency services. You could cause more damage.
Call the emergency services
When you're sure everyone is safe, dial the local emergency services. You can find a comprehensive list of emergency phone numbers in every country in the world right here. Be sure to describe to the operator where you are and whether anyone is injured. Be informative, brief, and clear.
If you're renting a car in the European Union, you can call 112 for emergency services. It is free of charge.
Document the collision and exchange details
If you've been in a minor accident with no injuries, photograph the collision and exchange details with the other drivers. Don't pay for any damage, as the rental company will only reimburse you for the charges that they have previously agreed on.
Properly documenting the scene will help when solving the matter with your rental company.
Contact the car rental company
Lastly, make sure to let the rental company know that you've been involved in a collision. The company should then handle the recovery of the car, repairs, and a replacement for you if applicable.
Although a technical breakdown or an accident are both unlikely during your winter road trip, it's important to be prepared for the worst case scenario. Having covered all of the key points during your next trip, it's time for you to enjoy your adventure!
Don't forget to book your next rental car through Rentalmoose. Our platform offers thousands of rental cars from trusted suppliers all across the world. Browse from over 15 000 different locations and find your ideal car today.
We plant a tree for every rental car booked with us, as a way of contributing towards a better tomorrow. Find out more about us here.