Cancun has become one of the hottest travel destinations within the last years. It's the ideal spot for bachelors, party animals, as well as families with kids.
These are 14 of our favorite things to do in Cancun with kids. All of the activities listed above are kid-friendly and ideal for days of family fun!
Fun Things To Do In Cancun's Hotel Zone
Discover Mayan Ruins- El Rey and El Meco
Visiting Mayan Ruins should be on the itinerary of every traveler visiting Mexico, no matter how old they are. These ancient sites date back thousands of years and are a crucial part of the local culture.
There are two major Mayan archeological sites in Cancun: El Rey and El Meco. Both of them are worth visiting!
El Rey Ruins
While the sites in Tulum and Chichen-Itza are among the most famous in the entire country, the long drive may not be ideal for families with kids. Don't worry, as the El Rey Mayan ruins are located within Cancun itself!
El Rey ruins are located within the southern part of the Hotel Zone, near the famous Playa Delfines. Admission costs just 50 pesos per person.
El Meco Ruins
El Meco Archeological site is just a few minutes out of Cancun. Like the El Rey Ruins, admission to El Meco costs just 50 pesos per person.
Note: El Meco Archeological Site is temporarily closed.
Beach Day At Playa Delfines
If you need a break from the hustle and bustle of Cancun's busy Hotel Zone, Playa Delfines is the perfect place to go. This sandy beach is truly spectacular, and it lays just a few miles south of all the resorts. It's much quieter and more laid-back as opposed to the beaches at the Hotel Zone itself.
This gorgeous public beach stretches for miles, making it the perfect spot to unwind for a few hours. Go for a dip in the crystal-clear waters, or sunbathe for hours on end. Oh, and the soft sand is ideal for building sandcastles, too!
Keep an eye on the horizon. If you're lucky, you may just spot a dolphin or two.
Go On A Pirate Dinner Cruise
Did you know that your entire family can feel like pirates during a very special themed cruise? Captain Hook offers dinner cruises on an impressive pirate ship. Set sail right from the Hotel Zone, dine on a pirate ship, and enjoy the entertainment.
This unique experience is quite pricey, though. Expect to pay around $US100 per adult. Children tickets are available at discounted rates.
Pirate dinner cruises are available 7 days a week from different operators throughout Cancun.
Hang Out At A Theme Park- Ventura Park
Ventura Park is an adventure-packed theme park ideal for the entire family. From go-karts to waterslides and rollercoasters, this place really has it all.
You can make the most of the park's waterslides, ziplines, or race go-karts right by the ocean. There's an indoor state-of-the-art virtual reality arcade, too.
There are lots of attractions here, so it's best to plan a trip to Ventura Park for the entire day. Tickets start at around US$30 and go up all the way to $70, depending on the attractions you pick.
Check Out The Interactive Aquarium
Not only is a visit to the Interactive Aquarium one of the best things to do in Cancun with kids, but it also doubles as one of the best indoor activities in town. As a result, it's the perfect attraction to drop by on a rainy day!
The Interactive Aquarium Cancun is conveniently located within the La Isla Shopping Village, right in the middle of the Hotel Zone. Inside, you can admire exotic marine life and learn all about the fascinating underwater world.
The fact that the aquarium is super interactive makes it the perfect spot for families with kids.
Expect to spend at least half an hour to tour the Aquarium. Oh, be sure to drop by the gift shop afterward.
The Cancun Interactive Aquarium is open daily between 9AM and 8PM.
Things To Do In Cancun With Kids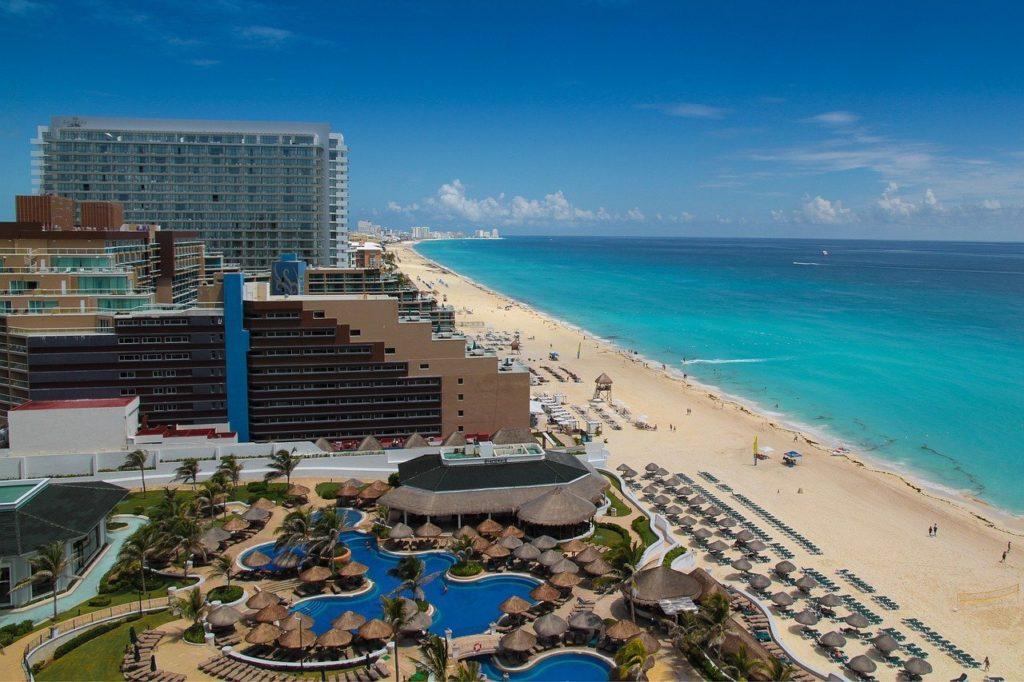 Explore Cenotes
Cenotes are one of the most popular attractions among tourists who visit Mexico. A cenote is a natural sinkhole filled with water. They're scattered all over the Yucatan Peninsula, and a couple breathtaking ones are within a short drive from Cancun.
Cenote Azul- The Best Cenote Near Cancun
This attraction is a little over an hour out of Cancun. However, it is most certainly well worth the drive!
Cenote Azul is perhaps the most impressive cenote in this part of the Yucatan Peninsula. Guests can swim in the crystal-clear, turquoise waters of two different swimming areas. Thrill-seekers can plunge into the cenote from the cliff diving site, too.
Expect to pay roughly 120 pesos per person for admission.
Extra tip: Consider driving down to Tulum to explore even more spectacular cenotes! And don't forget to check out the best things to do in Tulum while you're there.

Hop On A Ferry To Isla Mujeres
Isla Mujeres is a real oasis located a quick 15-minute ferry ride away from Cancun itself. This island is home to some truly spectacular sandy beaches and trendy eateries waiting to be explored. There are a couple of spots ideal for snorkeling, too.
Once you're on Isla Mujeres, you can rent a golf cart to thoroughly explore all of what the island has got to offer.
You can catch a ferry from the Puerto Juarez pier, located just outside of the heart of Cancun.
Ferries depart every 30 minutes between 5AM and 9PM.
Relax At Parque de Las Palapas
Parque de Las Palapas serves as the booming heart of local life here in Cancun. It's the perfect spot to grasp some of the local life, as opposed to the tourist-oriented Hotel Zone.
Parque de Las Palapas is more than just your average downtown park, though. There's plenty of stalls to try out local specialties and purchase hand-made products. You can play a game of soccer, or simply unwind and enjoy the sunset.
There's always something to do at Parque de Las Palapas, especially on sunny weekend afternoons. You can enjoy live performances and really dive into the local life here. Be sure to drop by!
Day Trip To Xcaret
Xcaret is an adventure park located roughly halfway between Cancun and Tulum, near Playa del Carmen. The drive there will take around an hour each way. At first, you may think that this is yet another Adventure Park. This could not be further from the truth, though.
Unlike most amusement parks in this part of Mexico, Xcaret is an archeological park that celebrates Mexican and Mayan cultures. Guests can choose from tens of different activities, including swimming with dolphins and other marine life, go on a speedboat tour, snorkel, or encounter stingrays.
In the meantime, the adults can unwind at the spa, or go for a romantic wine pairing session at the local wine cellar. The activities are curated for guests of all ages!
Adventure-Packed Day at Selvatica
This is yet another great adventure park located near Cancun. Selvatica is famous for their thrilling Polaris ATV tours through the Mexican wilderness. That's far from the only activity here, though.
A wide array of attractions make Selvatica Adventure Park one of the best things to do in Cancun with kids by a long shot. Visitors can zipline head-first through the jungle, for example. Believe it or not, it's not quite as scary as it sounds!
Let's not forget bungee jumping, ziplining into a cenote, and the famous off-roading tours either. You can check out all of the activities at Selvatica's official website.
Note that children need to be at least 8 years old to participate in one of the tours at Selvatica. Families with younger kids may want to skip this spot.
Pricing starts at $US99 all the way to $199, depending on the tour you select.
Go On A Road Trip
Road trips are one of the best ways to bond as a family. In addition, a road trip around Mexico is the perfect way to see just how diverse this beautiful country is.
Check out our curated travel guide and plan your perfect road trip around the Yucatan Peninsula. Expect to see ancient Mayan ruins, impressive cliffs, and cute towns along the way.
Best Things To Do In Cancun When It Rains
VR Arcade at Ventura Park
We already wrote about Ventura Park, as we consider it to be one of the best spots to visit in Cancun with kids overall. Their high-tech virtual-reality arcade, however, is another great attraction in its own right.
This part of Ventura Park is fully enclosed, making it the perfect destination for a rainy day in Cancun.
Visit Museo Maya de Cancun
The Mayan Museum of Cancun is the go-to spot to find out more about the fascinating Mayan culture. Unlike the nearby Mayan ruins of El Rey and El Meco, this attraction is fully indoors. That's why it's best to save it for a rainy day.
Guests of all ages can discover Mayan culture within Museo Maya de Cancun. There are loads of precious artefacts displayed within the museum, which is already an architectural gem by itself.
Admission will set you back 80 pesos per person.
Shopping Spree At Plaza Las Americas
A shopping mall may not be your first pick when looking for things to do in Cancun. A day at Plaza Las Americas is, however, quite a solid way to spend a rainy day.
Aside from around 200 retail stores, Plaza Las Americas also boasts a food court and a large cinema. Catching a movie followed by a not-so-healthy lunch is indeed a great plan B for a rainy day, just in case.
Plaza Las Americas is open 7 days a week from 10AM to 10PM (8PM on Saturdays).
Bonus- Rent A Car in Cancun
Unsure whether to book your rental car in Mexico? Be sure to check out Rentalmoose. We're a global car rental broker that serves over 15 000 locations worldwide.
We only offer rental cars from trusted and verified suppliers.