There are thousands of amazing things to do in Lake Tahoe all year long. Afterall, there's a great reason why this is one of the most popular tourist destinations in this part of California. The lake is renowned for its jaw-dropping natural beauty, crystal-clear waters, sandy beaches, and all kinds of activities for the entire family.
We have divided this blog post into the following categories:
Without further ado, let's jump into each one!
Fun Things To Do In South Lake Tahoe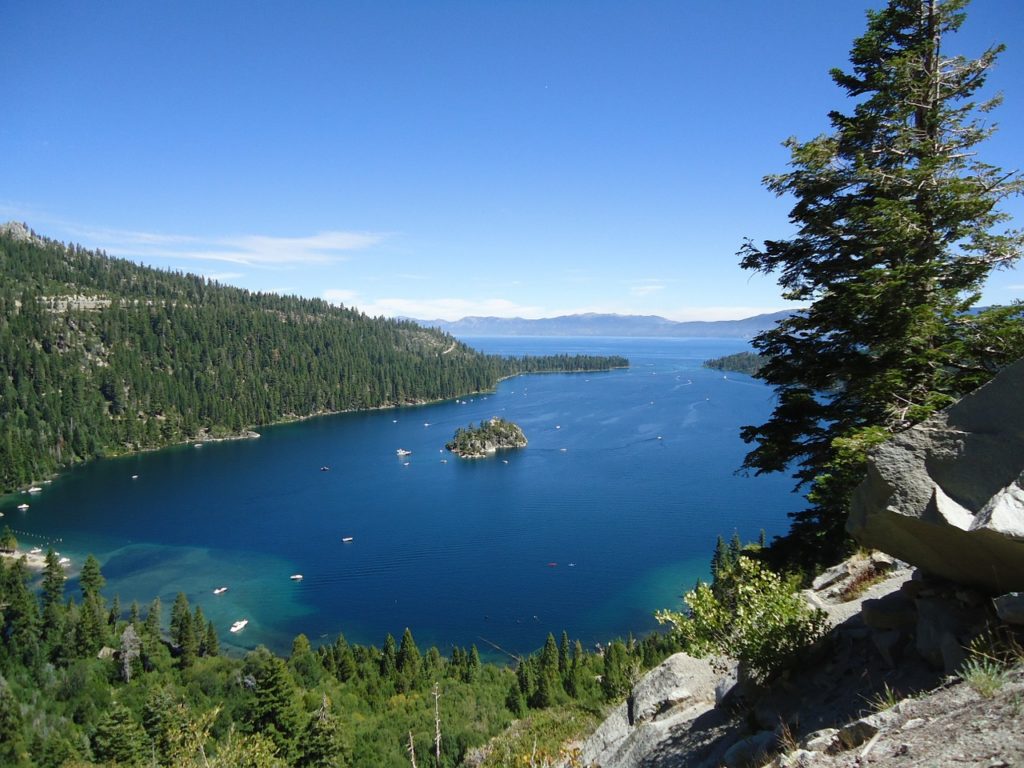 Visit Emerald Bay State Park
A visit to the Emerald Bay State Park should be on any traveler's itinerary visiting Lake Tahoe. This bay is home to some of the most spectacular natural beauty in the area, and it's bound to leave you breathless.
Don't miss the Vikingsholm mansion, which looks like a monumental castle. Note that you'll need to hike for around a mile from the car park to reach this attraction. If you ask me, it's well worth it.
Consider packing some snacks when visiting Emerald Bay. After touring the Vikingsholm mansion, you can unwind at the picnic area nearby. You can also rent a kayak from Kayak Tahoe at their Emerald Bay location.
Don't miss the Eagle Falls waterfalls right off the main road. You can drop your car off at the free car park and hike along the Eagle Falls trailhead that will eventually lead you all the way up to Eagle Lake.
If you're a fan of NPs and State Parks, check out this list of the 7 best National Park road trips in the US.
Hike At D.L. Bliss State Park
The D.L. Bliss State Park is yet another must-visit point in the southern part of Lake Tahoe. This natural wonderland is located directly north of the Emerald Bay State Park, so you can easily visit one after the other.
Some of the best attractions at this wonderful State Park include hiking trails, pristine sandy beaches, landmarks, and remote campsites to spend the night.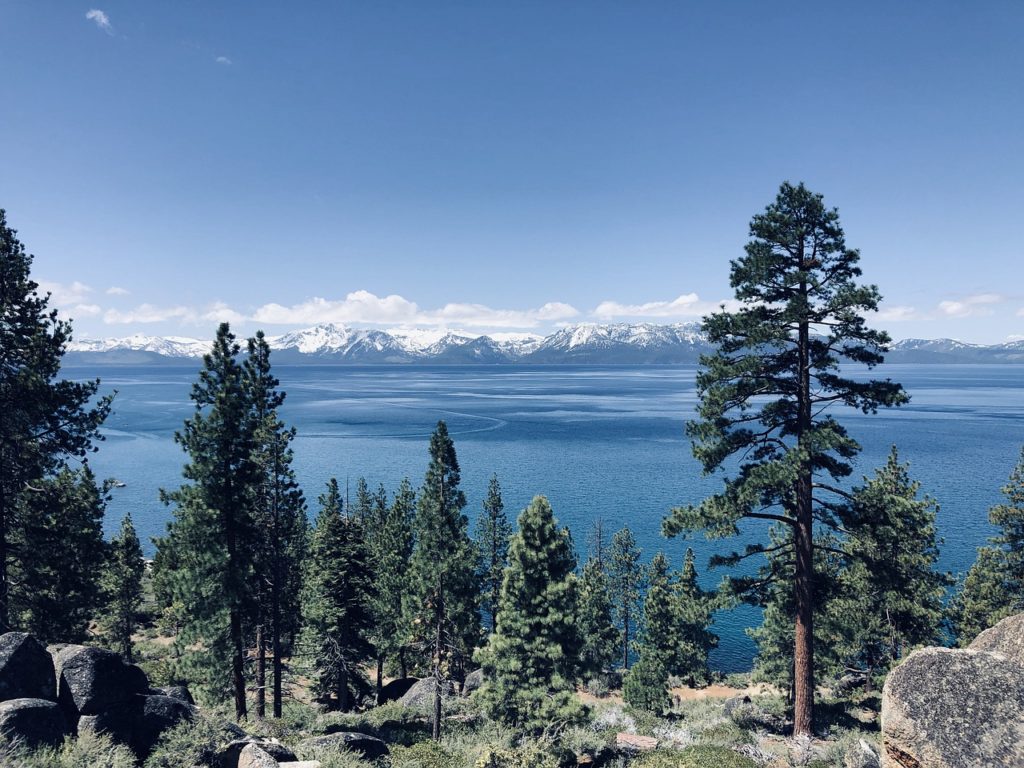 Hiking is one of the best ways to spend the day here. Don't miss the Balancing Rock, Rubicon Point Lighthouse, or the sandy Lester Beach.
You can spend the night at the campsite for as low as $35 per night. Note that it costs extra to stay at the campsite located at the sandy beach, though it is well worth it for the killer views!
Gambling & The Resorts
While Lake Tahoe is all about the peaceful getaway to a natural wonderland, some travelers may want to take a break and spend the evening at a resort.
Gambling is only legal in Nevada, hence all of the best casinos are located in the southeast tip of the lake at Stateline Lake Tahoe. Some of the best resorts here include Harveys, Harrah's, and the Hard Rock Hotel & Casino,

Best Things To Do In North Lake Tahoe
Unwind At Kings Beach
Once you visit Kings Beach in the north part of Lake Tahoe, you are bound to fall in love. This cute beach town has an amazing vibe that will just make you want to stay here forever. Drive along Highway 28 to admire some of the picturesque local hotels and restaurants.

Naturally, the vibrant beach is the main reason most tourists visit this town. Feel the sand between your toes, sunbathe or go for a dip in the crystal-clear waters of the lake. Photographers should bring their cameras along, as the scenery is unforgettable.
You can drop your car off at the beachside car park, right off the main road. Click here for directions.
Go For Breakfast At Spindleshanks Tahoe
Getting hungry? Grab a bite at Spindleshanks Tahoe, a local eatery by the Old Brockway Golf Course. This is probably the best spot for breakfast in North Lake Tahoe. Choose from a variety of dishes, we recommend the breakfast burrito as well as the 3-egg omelet. Complimentary parking is available right in front of the restaurant. Open daily from 9AM to 8PM.
Discover Local History At Donner Memorial State Park
The Donner Memorial State Park is yet another place worth visiting in the Lake Tahoe area. This park is home to lengthy hiking trails, peaceful picnic areas, and a local museum that contains many artifacts from the 19th century.
Travelers who want to learn more about local history should definitely pay the Emigrant Trail Museum a visit. It's located in the town of Truckee, a short 20-minute drive out of Kings Beach.
Don't miss the nearby town of Truckee and its cute Historic Downtown.
Best Things To Do In Lake Tahoe In The Summer
Day trip to Yosemite National Park
Fancy a dramatic change of scenery? Consider going on a day trip to Yosemite National Park.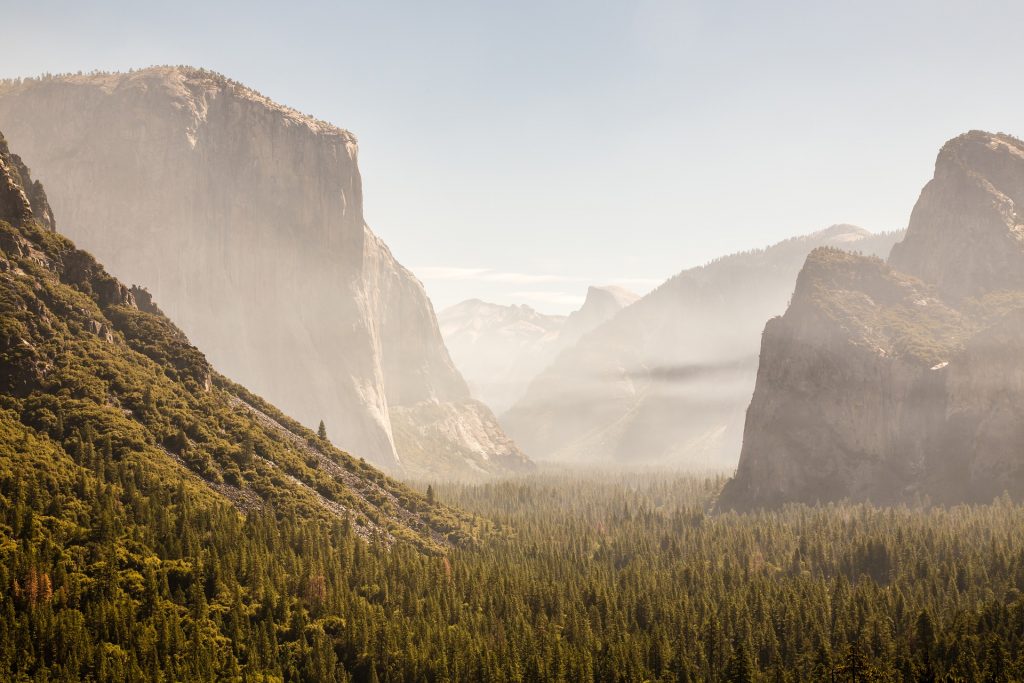 Yosemite is one of the most famous National Parks in the country, and for a very good reason. The scenery here is truly breathtaking. You won't miss the monumental Half Dome, as this peak overlooks the picturesque valley. There are thousands of great things to do in Yosemite, anything from scenic driving to rafting.
Learn more about Yosemite in our Nevada road trip itinerary.
Go On A Road Trip
Yosemite National Park is far from the only amazing destination near Lake Tahoe. If you want to discover more of the local gems, it's best to go on a road trip across California!
You could, for example, drive down along Highway 395 all the way until you end up in Los Angeles. There are lots of amazing spots to visit along the way, including Mammoth Lakes and Yosemite.
Afterward, you could continue further until you reach San Diego, or head back to Lake Tahoe via the Pacific Coast Highway, which is one of the best roads in the whole world!
If you're planning to drive across California in a rental car, be sure to check out this blog post for insightful tips.
Beach Day
Take it slow, pack a towel and a pair of your favorite trunks, and head to one of the best beaches in Lake Tahoe.
There are tons of beautiful beaches dotted along the shore. Listing them all would take forever, these are our favorite picks:
Kiva Beach– a 200-yard long sandy beach in South Lake Tahoe, near Emerald Bay
Zephyr Cove Beach– this mile-long beach is one of the busiest in Lake Tahoe. Expect jet ski and canoe rentals, volleyball courts and a bunch of tourists especially during peak season
Conolley Beach– you can spend the day at the Tahoe Beach Retreat, a local beach club
Emerald Bay– Emerald Bay State Park is home to various pristine beaches, ideal for a refreshing dip after a hike
Kings Beach- one of the most popular beaches in North Lake Tahoe. Easily accessible and full of tourists
Sand Harbor Beach– easily one of the best beaches at Lake Tahoe, located at the east shore over in Nevada. Extremely busy during peak season
Don't forget to take sunscreen!
Go On A Cruise or Rent A Kayak
What better way to make the most out of your time at Lake Tahoe than to spend the day on the surface of the lake (or beneath it).
Boat tours
Consider booking a scenic boat tour to see Lake Tahoe from a whole new perspective. Choose a trusted operator, such as Tahoe Cruises. The company offers an array of different tours to choose from, such as 2-hour long cruises around Emerald Bay, sunset cruises, or sightseeing tours around the southern shore of the lake. All cruises depart from the Ski Run Marina, located roughly halfway between South Lake Tahoe and Stateline.
Rent A Kayak, Canoe, or A Jet Ski
You can head over to one of the sandy beaches and rent a stand-up paddleboard, kayak, canoe, or a bunch of other fun equipment. Sand Harbor Beach is home to a jet ski rental, while kayaks can be rented at various locations such as Emerald Bay.
During peak season, be sure to book your equipment ahead. Visit SUP Tahoe and their official website for information on pricing and availability.
Fun Things To Do In Lake Tahoe In Winter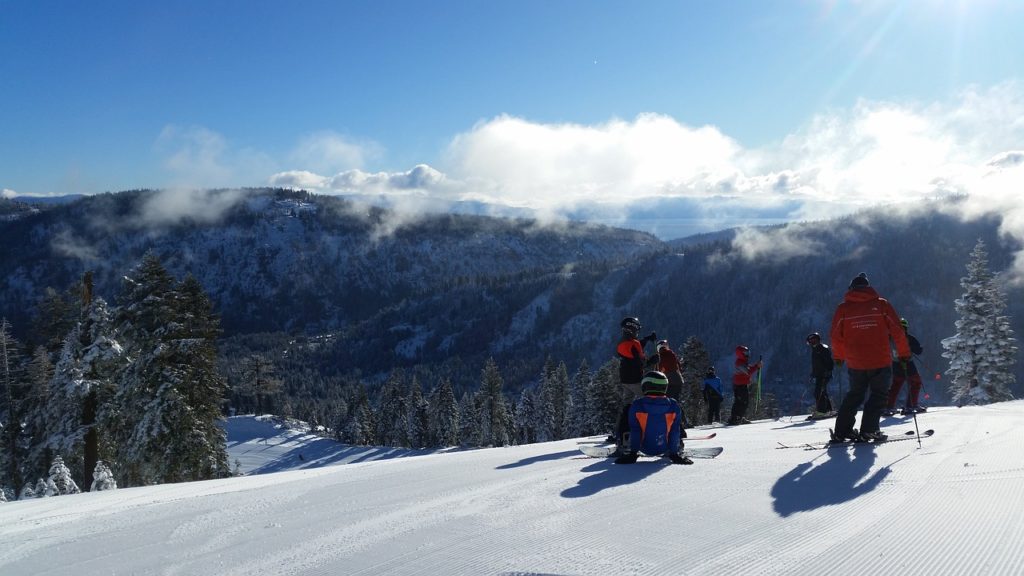 Squaw Valley & Alpine Meadows Ski Resorts
Skiing and snowboarding fans will feel right at home at Lake Tahoe.
You simply have to visit Squaw Valley during your winter trip to Lake Tahoe. This renowned alpine resort is one of the best places to go skiing in all of North America. It even used to host the Olympic games back in 1960!
Although Squaw Valley is a year-round destination, it's unarguably best to come here during the winter season. Afterall, this is when you can make the most of the 4 000 acres of ski terrain.
This resort is ideal for all skiing fans, no matter their skill level. As much as a third of the runs are aimed at beginners and intermediate skiers, while the remaining slopes are perfect for experienced travelers.
Both resorts are located a short 10-minute drive west of Tahoe City.
Northstar California Resort
This is yet another world-class alpine resort located near Lake Tahoe. If you have the time, be sure to visit Northstar California during your winter trip to Lake Tahoe.
Just like Squaw Valley and Alpine Meadows, Northstar California is ideal for all skill levels. Similar to the other alpine resorts at Lake Tahoe, Northstar California is a year-round destination. During the summer, you can come here to try out mountain biking, play a game of golf or hike to take in the views.
This ski resort lays a short 10-minute drive northwest of Agate Bay at the Northern tip of Lake Tahoe.
Diamond Peak Ski Resort
Although not as big as Squaw Valley or Northstar, Diamond Peak is worth visiting too! It's typically less crowded than the more popular resorts. The runs are ideal for beginners and families. Nearly half of the 30 runs here are suitable for intermediate skiers.
Diamon Peak Ski Resort is located off Crystal Bay at the Northeast tip of the lake.
Bonus: What is the best way of getting around Lake Tahoe?
A private car is an ideal way of getting around Lake Tahoe. That way, you can visit all of the attractions throughout the lake, as well as the surrounding area.
If you plan to rent a car for this trip, be sure to check out Rentalmoose for the best deals. We plant a tree for every booking made with our platform!
Unsure about renting a car or taking your own vehicle? This blog post may help.