The scenic Highway 395 makes for one of the best road trips you could take in SoCal. Afterall, who wouldn't want to drive across diverse landscapes and endless natural beauty, with two of the area's most spectacular National Parks just a small detour away? Check out our road trip guide from Los Angeles to Lake Tahoe along Highway 395.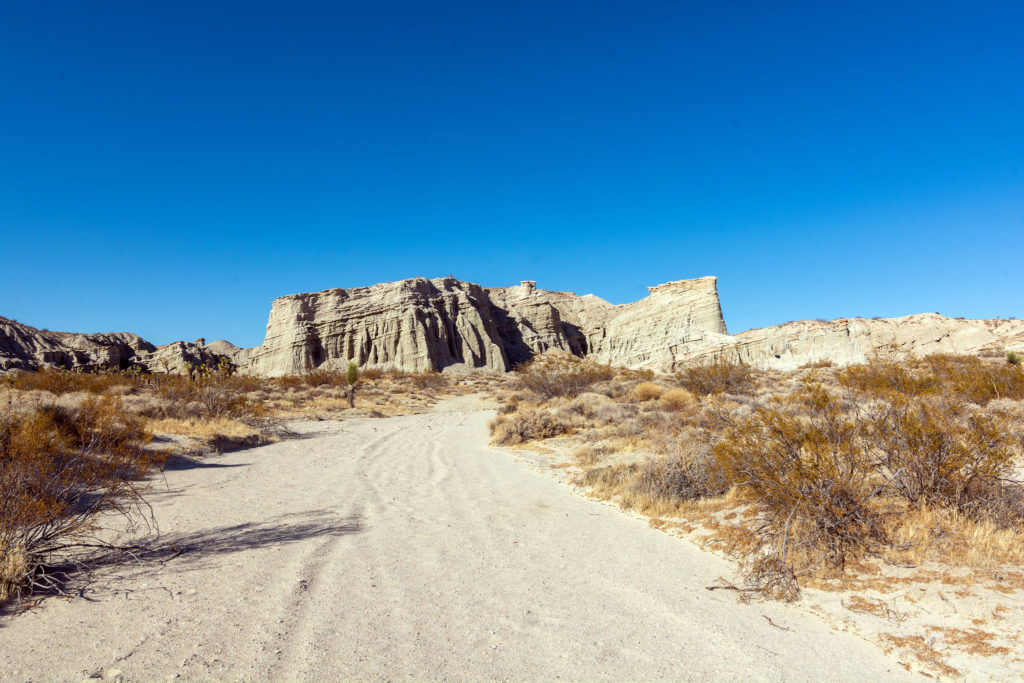 Must-See Spots When Driving From LA To Lake Tahoe
Some of the best attractions along this Highway 395 road trip include:
There are also optional detours to Death Valley National Park and Yosemite National Park!
Don't forget to check out our guide to renting a car in California before setting off.
Without further ado, let's dive into this LA to Lake Tahoe road trip guide!
Los Angeles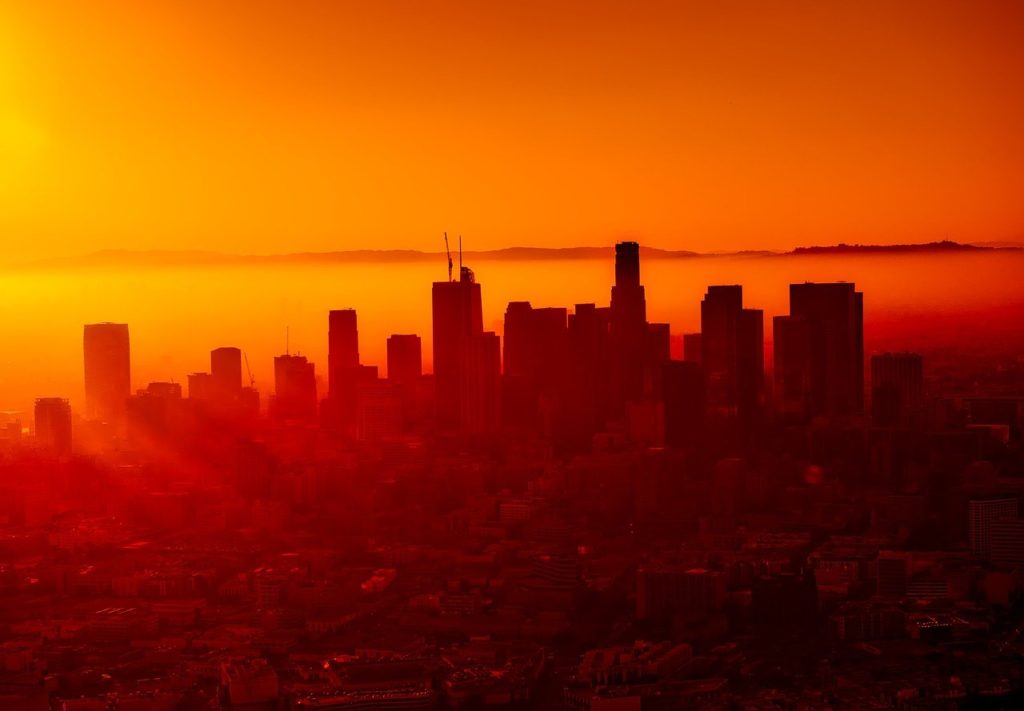 This Highway 395 road trip begins in the legendary City of Angels.
For your maximum convenience, Rentalmoose recommends picking up your rental car directly from LAX. Note that airport pickup is usually subject to an extra fee added on top of your rental bill. If you want to avoid a premium location surcharge, it's best to pick up your rental car somewhere in the city.
Also, most rental companies have their LAX offices outside of the terminal itself. After you've collected your luggage, head over and take a complimentary shuttle bus to the rental company. It should be a 5-minute ride.
What are the best things to do in Los Angeles?
Despite what some first-timers may think, there is a lot more to Los Angeles than just Hollywood or the Walk of Fame. Mulholland Drive, for example, is easily one of the best driving roads in this part of California. You can spot hundreds of bikers and petrolheads enjoying this chicane-filled drive each day.
Rentalmoose insider tip: Don't forget to stop at the Mulholland Scenic Overlook for those classic views of the skyline! Check the map for the exact location.
The two LA attractions listed below are simply ideal for fans of the outdoors. We all need a break from the hustle and bustle of the busy city every now and again.

Runyon Canyon Park
Runyon Canyon Park is the perfect getaway located in the Hills above the city. You can enjoy an early morning jog, or simply hike up to admire unbeatable views of the Los Angeles skyline.
The North Entrance of the park can be accessed directly off Mulholland Drive. That way, you can stop for a hike while driving down LA's favorite scenic drive. What a fun way to spend the day!
The park is open from sunrise to sunset, 7 days a week. Entrance is free of charge. Your vehicle can be parked at the North Entrance off Mulholland Drive.
Griffith Observatory & Griffith Park
Griffith Park isn't exactly a hidden gem. In fact, you have probably already seen it plenty of times in various Hollywood blockbusters and TV shows. Nonetheless, the iconic Griffith Observatory is the place to admire those picture-perfect views overlooking the LA skyline.
You can find more great things to do in Los Angeles in this travel guide.
After a memorable night in one of the best hotels in Los Angeles (these are our favorite picks in town), it's time to hit the road and begin your Highway 395 road trip to Lake Tahoe.
Red Rock Canyon State Park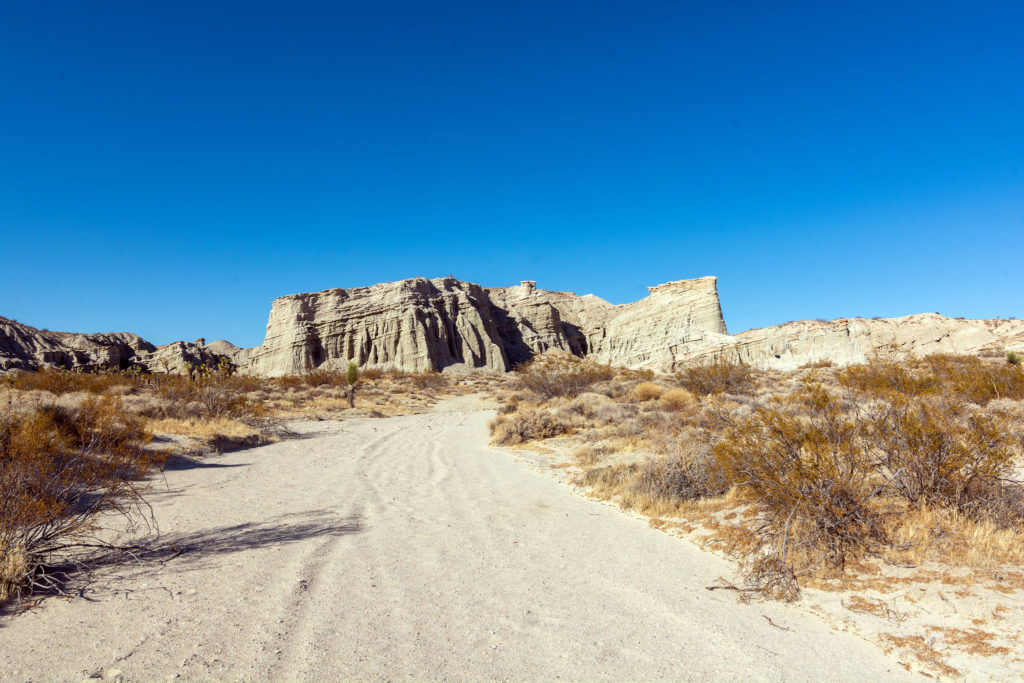 To be completely honest, the Southernmost tip of Highway 395 is a little underwhelming. The route starts in the town of Victorville and the first stretch isn't exactly picture-perfect. That's why we recommend taking the chicane-filled Angeles Crest Highway via the Angeles National Forest. You will then reach Red Rock Canyon State Park via Lancaster instead. It is a much more exciting drive.
The scenic Red Rock Canyon State Park is located roughly 2 hours north of Los Angeles. Once you're here, you can admire jaw-dropping natural beauty. The park borders the southern tip of the Sierra Nevada, it's filled with scenic canyons and hiking trails that overlook it all.
You can access the hiking trails via the park's dirt road network. It's open to any street-legal car, so you can safely drive around in your rental car!
Camping at Red Rock Canyon State Park
Moreover, travelers who wish to spend the night here can set camp at one of the 50 campsites situated at the Ricardo Campground. Up to 8 friends can share one campsite at $25 per site, no campgrounds for larger groups are available.
Lone Pine & Mount Whitney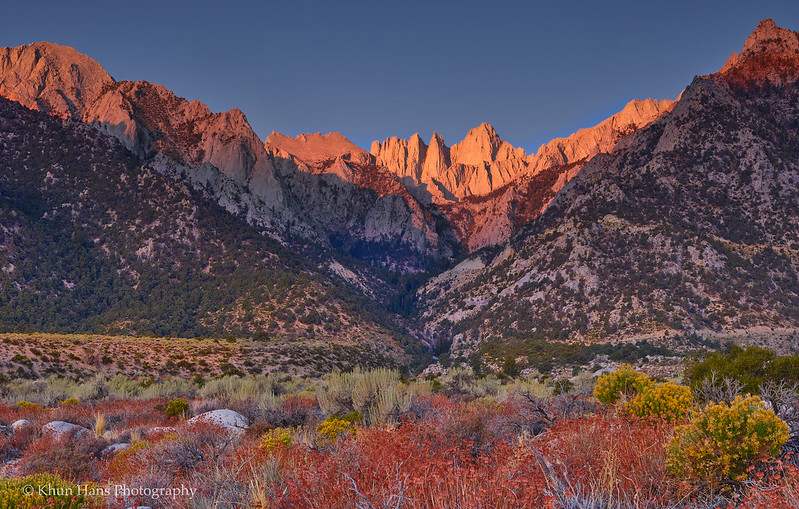 After spending some time at the Red Rock Canyon SP, it's time to head north into the beautiful landscapes of Sierra Nevada. A short 20-mile drive up will take you to the iconic Highway 395. Follow it for around an hour, until you reach the cute town of Lone Pine.
A slight detour to Death Valley National Park is an absolute must, especially if you haven't been to this park before. You could even extend the trip further to see the Grand Canyon over in Arizona, too!
The village is a well-known spot for fishing. It's also surrounded by some more spectacular natural beauty, complete with winding hiking trails to take it all in. These are some of the must-do attractions in Lone Pine.
Museum of Western Film History
Movie buffs have to drop by the Museum of Western Film History. The museum gallery is full of Western memorabilia that any enthusiast will love. Visitors can get an insightful look at how some of the most iconic Western movies were made.
You can watch a Western movie at what is perhaps the world's best Western cinema, located within the premises. The cozy theatre can sit up to 85 guests.
The museum is open 10AM to 4PM Thursday to Monday.
Fishing in Lone Pine
Like we mentioned previously, the Lone Pine area is a popular spot among fishing fans who visit Sierra Nevada. There are plenty of fishing spots to choose from in and around Lone Pine, such as:
Independence Creek
George Creek
Diaz Lake
Check out this blog post by the Lone Pine Chamber of Commerce for a guide on fishing in the Lone Pine area.
Hiking & Enjoying The Outdoors
Without a doubt, the best thing you can do in Lone Pine is simply enjoying the outdoors. There are lots of hiking trails, such as the Mobius Arch Loop Trailhead that will take you to the iconic Mobius Arch rock formation.
The Mt. Whitney Trailhead is worth paying a visit, too. From there, you could hike over to the Lone Pine Lake, which is around 6 miles (10km).
Whitney Portal Road Scenic Drive
Don't let the short length of Whitney Portal Road fool you, this scenic drive is an absolute must-visit! The 13-mile (19km) scenic drive will take you through the heights of Alabama Hills. Movie buffs will instantly recognize this scenery from hundreds of Western films that were shot here. This area was also featured in High Sierra, an absolute classic from 1941 starring Humphrey Bogart.
Stay The Night
Before continuing further, Rentalmoose recommends spending the night in Lone Pine. Consider checking in at the cozy Dow Villa Motel. This family owned business has been welcoming guests ever since its opening in the 50s! Make the most out of the outdoor pool while you're here.
Ancient Bristlecone Pine Forest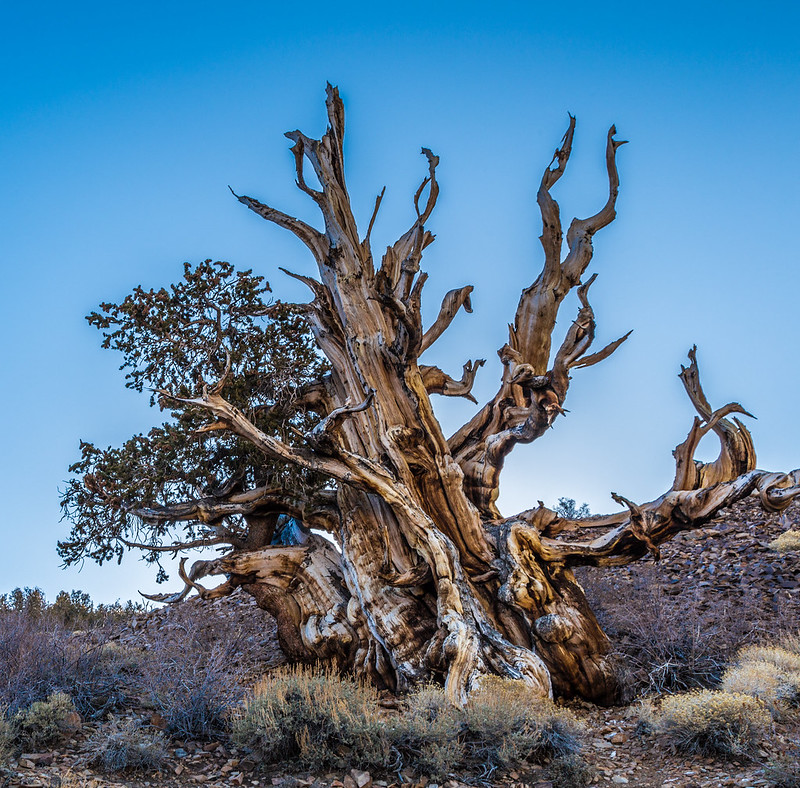 Technically, the Ancient Bristlecone Pine Forest does require a small detour off of Highway 395. However, much like the Death Valley NP, it is highly recommended to visit it during a drive from LA to Lake Tahoe. You will not regret adding merely an hour of driving, that's for sure!
If, somehow, you're still not convinced about adding Bristlecone Pine Forest to your road trip itinerary, you'll definitely want to keep reading.
This precious spot is home to some of the oldest trees found on our planet.
Many of the trees found in the Bristlecone Pine Forest are more than 4000 years old!
You can get more information about the area at the visitor center located at Schulman Grove. It's open throughout the summer between 10AM and 5PM Thursday to Sunday.
After a hike through the Ancient Bristlecone Pine Forest, it's time to continue along Highway 395 until you reach Bishop, another stop worth making during a road trip from LA to Lake Tahoe.
Bishop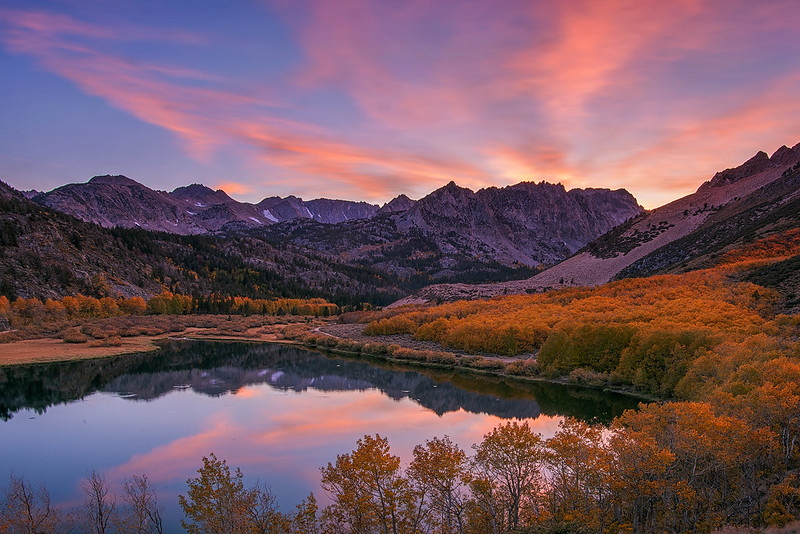 Bishop is yet another cute town that's situated along Highway 395. It makes for one of the favorite local getaways from the hustle and bustle of Los Angeles. Its beautiful surrounding area makes for a great destination to visit on your drive up to Lake Tahoe.
Climbing the Buttermilks
Those who are into climbing are probably well aware of what Bishop has to offer. The nearby Buttermilks feature some of the region's most accessible and diverse climbing areas. Every climber can have a great time enjoying these impressive boulders, no matter the skill level.
The climbs here range from beginner-friendly ones, all the way to some of the country's most challenging routes. The Buttermilks are located only a short drive west out of Bishop. Simply follow the appropriately-named Buttermilk Road along the McGee Creek.
Nature in Bishop
As Bishop is famous for its scenic natural setting, it is an absolute must to visit at least a few of the best sites in the area. Hike up and down the challenging trailheads, go on a thrilling mountain biking adventure, or simply take in the views from the comfort of your vehicle.
Either way,you simply have to enjoy the outdoors when in Bishop.
The Four Lakes in the Bishop Creek Basin
The scenic Bishop Creek Basin is home to four spectacular lakes. Ideally, you'd want to visit all of them as each one offers a different landscape. If you only have the time to see one of them, we recommend going to the South Lake.
North Lake
Lake Sabrina
Intake II
South Lake
Mammoth Lakes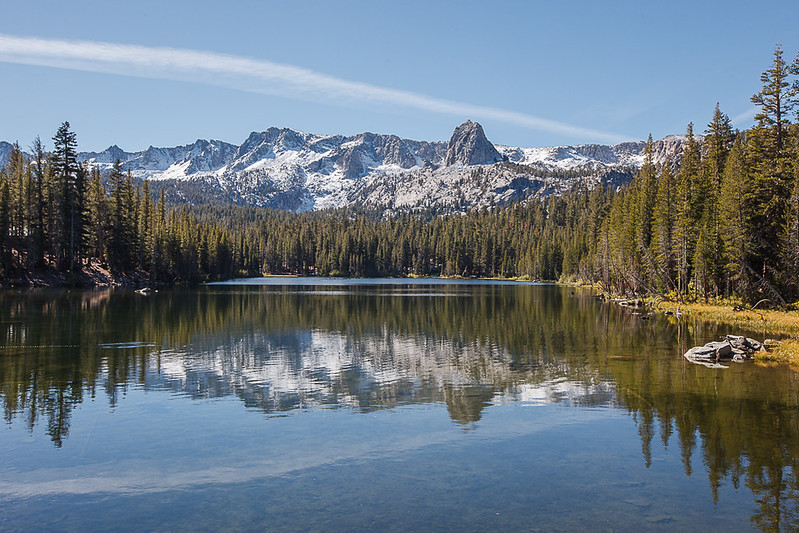 A short 45-minute drive along Highway 395 will take you to the scenic town of Mammoth Lakes. Without a doubt, this may just be the most exciting stopover during this road trip. If you only had the time for one break between Lake Tahoe and Los Angeles, I'd strongly recommend to make it here.
Mammoth Mountain
Mammoth Lakes is full of attractions, no matter the time of the year. During the magical winter, you should definitely head up to the Mammoth Mountain Ski Area. This resort is often considered to be the best of its kind in all of California!
Mammoth Mountain is easily the best place to go skiing in California. First-timers, as well as experienced skiers and snowboarders are all bound to have a good time here. If you're not particularly into skiing, you can simply take the scenic gondola ride up to the summit. The views from there are magnificent.
Mammoth Mountain is a year-long destination. During the summer, travelers can play a game of golf or try out mountain biking. You can find more details about Mammoth Mountain on its official website.
Detour to Yosemite National Park
Did you know that one of the US' best National Parks is just a small detour away? If you haven't been to Yosemite NP before, it is strongly recommended to add a few days to your itinerary and visit it. You will not regret it, that's for sure.
You can check out a guide around Yosemite National Park right here. Note that reservations are no longer required to enter the park!
Play Golf High Above Sea Level
Golf enthusiasts will surely have a good time when in Mammoth Lakes, as the town is home to two spectacular alpine golf courses:
Snowcreek Golf Course
Sierra Star Golf Course
You cannot go wrong with the Snowcreek golf resort. It was the first golf course in Mammoth Lakes, and is often considered to be the best one around. However, its elevation isn't as high above sea level as the Sierra Star course.
Travelers can enjoy a game of golf accompanied by dramatic backdrops at each of the resorts. In addition, the Sierra Star golf course is also the highest-elevation 18-hole course in the entire state. You can see a driving increase of up to 10% when playing at this altitude, according to some experts.
Lake Tahoe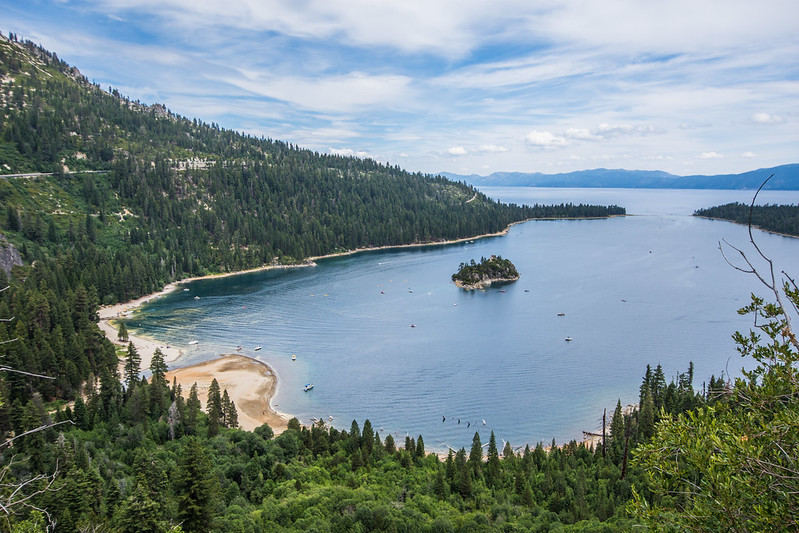 This is it, the longest driving segment of the drive from LA to Lake Tahoe. Follow the road up north for a little over 2 and a half hours, all the way until you reach the spectacular Lake Tahoe. The equally-amazing drive is perhaps the prettiest part of California's stretch of Highway 395, too.
Welcome to one of the most beautiful lakes in the West part of the US! There are so many great attractions and fantastic things to do in this part of Lake Tahoe, it'd be impossible to list them all. Nonetheless, these are our top picks.
Vikingsholm Castle
Did you know that Lake Tahoe has its very own castle? The magical Vikingsholm is tucked away in the Emerald Bay, down at the southern tip of the lake.
Emerald Bay was the first destination where wealthy Californians would build their holiday homes in the late 1800s. The land where Vikingsholm is has seen summer cabins for over two centuries, though the beautiful castle erected in the late 1920s. It still remains here today, making for a truly magnificent spot.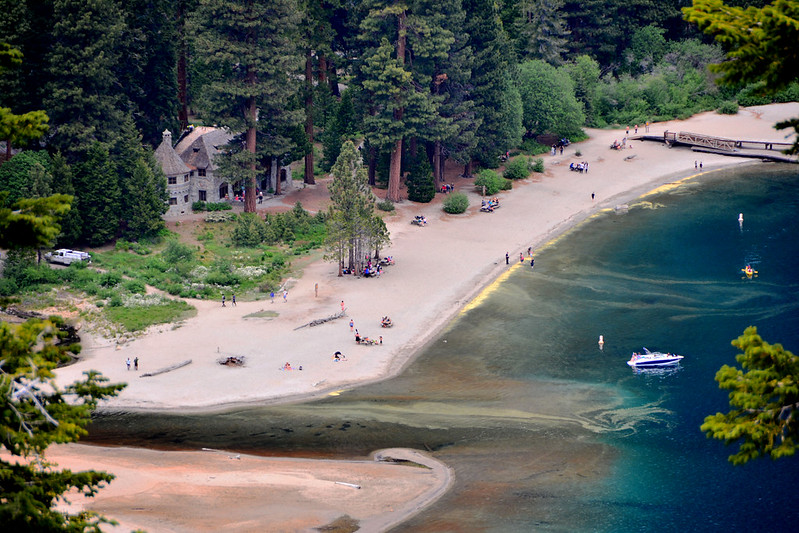 You'll probably quickly realize that Vikingsholm doesn't exactly look like your typical North American building. The unique name is another giveaway of the property's Scandinavian descent. In fact, Vikingsholm was commissioned by Mrs Lora Josephine Knight who had been in love with Scandinavian fjords. The natural setting of Lake Tahoe reminded her of Northern Europe.
Today, Vikingsholm welcomes tourists from across the planet. You can learn more about the property and all of its secrets during a guided tour.
Note that the property is 1-mile away from the car park, it is only accessible on foot or by boat.
Swimming & Sunbathing
Unwinding at a sandy beach does sound like the ideal way to spend the day. A well-deserved afternoon of relaxation isn't exactly a road trip essential, though it certainly wouldn't hurt. You should make the most out of the fact that swimming is permitted in Lake Tahoe. Enjoy the crystal-clear waters and impressive alpine backdrops!
These are some of the best beaches at South Lake Tahoe.
Kiva Beach
Zephyr Cove Beach
Conolley Beach
Emerald Bay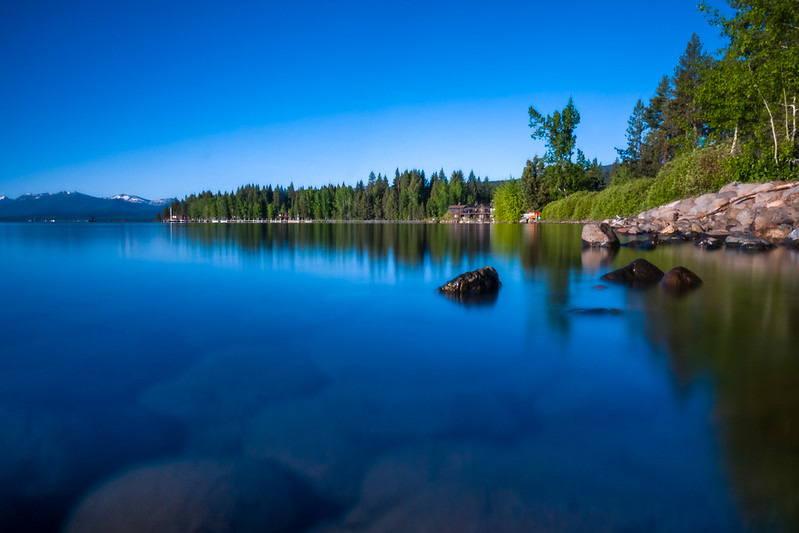 South Lake Tahoe- Where To Stay
Travelers who wish to stay at a fun-packed resort should certainly consider booking a room or suite at the Hard Rock Hotel & Casino Resort. The 3-star property features spacious and modern rooms, though those who stay here will probably hang around the casino downstairs. Moreover, you can expect tons of live shows, cool bars to spend the evening at, and much more!
Alternatively, you could opt for the waterfront Beach Retreat & Lodge. The 3-star property boasts modern rooms that overlook the lake, three waterfront restaurants, and a marina with kayaks and boat rentals.
Drop-off
After you're done with your Highway 395 road trip, you could drive over to San Francisco and drop your rental car off there. Alternatively, you could drive back from Lake Tahoe to Los Angeles via the scenic Pacific Coast Highway, one of the best driving roads on the planet.
Bonus- Rent A Car To Drive From LA To Lake Tahoe
Like any other road trip, the answer is largely subjective. If you're a fan of sports cars, you'll surely enjoy a lavish roadster or a classic American muscle car. No matter what car you're after, Rentalmoose has got you covered. Browse through options from the industry leaders and ensure you get the best deal with Rentalmoose.
If you're hesitant about renting a car for the Highway 395 road trip and would rather use your own vehicle, check out this blog post. It may just change your mind.
Don't forget to use Rentalmoose to find the best rental car deal for this road trip!
Get your car from Rentalmoose, we plant a tree for every booking made with our platform.