A trip through the sunny Turkish Riviera with Rentalmoose. Explore the best of it with our curated Turkey itinerary.
Click here for detailed directions

Summary (click the red pins for directions) :
Antalya to Goynuk Canyon– 40km (25 miles) 📍
Goynuk Canyon to Phaselis and Olympus– 60km (40 miles) 📍
Olympus to Adrasan– 10km (6 miles) 📍
Adrasan to Fethiye– 200km (125 miles) 📍
Fethiye to Marmaris– 140km (85 miles) 📍
Marmaris to Bodrum– 170km (105 miles) 📍

620km (385 miles) in total

Tags: Travel guide, Drop-off at another location, Turkey, Beaches, Summer, Short Trip

This travel itinerary takes you on a road trip across the Turkish Riviera, starting in Antalya going to Bodrum through beautiful beaches, scenic driving roads, and authentic Turkish towns.

The road trip is roughly 600km in total and is divided into various sectors ranging anywhere from 30 minutes to 4 and a half hours.
Rentalmoose recommends dedicating at least three days for this adventure, with two overnight stops along the way in Adrasan and Marmaris. Add more overnight stops to make the most out of this Turkey itinerary.
What is the Turkish Riviera?
The Turkish Riviera, also called the Turquoise Coast, is a beautiful region in the southwestern part of the country. This part of Turkey is famous for its beautiful beaches and crystal-clear water, exclusive hotels, delicious cuisine, and ancient history. It is vastly underrated among international tourists!

Why is the Turkish Riviera worth visiting?
This part of Turkey is perfect for travelers who adore the sun, wonderful beaches with crystal clear water, and monumental views. The Riviera has a lot of various attractions for families, couples, groups of friends, and solo travelers.

No matter if you choose to stay in a chic hotel or a budget hostel, there are plenty of options to choose from at different price points.

Business Insider has referred to Bodrum (the finishing point of this journey) as the perfect under-the-radar luxury tourist destination for 2020, surpassing hotspots such as Bali or the Greek island of Mykonos. Explore the beautiful Turkish Riviera with our Turkey itinerary!

Is Turkey safe for tourists?
The US Department of State has ranked Turkey the second-lowest level of risk for tourists, except for regions near the Syrian and Iraqi borders, which have gotten higher risk ratings. The western part of Turkey remains safe for tourists.
Turkey is, however, one of the most seismically active countries in the world. It is recommended to be familiar with the safety procedures if an earthquake does occur.
Road Trip Extensions
Extend your road trip and discover the region even further! When you're done exploring the Turkish Riviera, fly over to Athens and choose to drive across mainland Greece, or visit Santorini.
Alternatively, you can take a ferry from Turkey to Rhodes! Click here for the Rentalmoose road trip guide to Rhodes.

Why should you get a rental car in Turkey?
A rental car is definitely the go-to type of transportation for this road trip. The points of interest along the way are located within driving distance of each other, and getting a car will be a lot more convenient than traveling by bus.

The freedom to roam around, change courses, or extend your road trip is only available when you travel by car. There are also beautiful views along the coastal roads and the traffic isn't as heavy as in major cities, such as Istanbul or Adana. Lastly, car rentals are relatively cheap in Turkey.

When booking your rental car, do not forget to add excess coverage provided by Rentalmoose for extra protection. After picking up the car, be sure to take check-in photos of the vehicle and qualify for a 50% discount from the excess cover fee.

Can tourists drive in Turkey?
Yes! As long as your driving license is in English, you can drive in Turkey with a foreign license for up to three months. If your license isn't in English, you will have to get an International Driving Permit before heading off for holiday. Drivers younger than 18 are not permitted to drive in Turkey at all.

Check out this blog post to learn all you need to know about International Driving Permits.

The driving limits in Turkey are 50km/h in urban zones, 90km/h outside cities, and 120km/h on highways.
Speeding is a common occurrence in Turkey, police pay a lot more attention to drink-driving rather than excessive speed.

If you do happen to get caught for speeding or a different minor offense, you might have to pay your fine on the spot.

The fines for exceeding the limit by less than 30% are around 170TL (23 Euros). Getting caught driving at more than 30% above the limit will result in a 350TL (47 EUR) penalty.

Driving under the influence is not tolerated in Turkey. Police often carry out routine checks to check if drivers are sober, especially during the weekends. Do not drink and drive.

Traffic in Turkey is on the right side of the road.
HGS- The Highway Toll System in Turkey

There are no paid sectors along this road trip. However, your rental car will most likely come equipped with an electronic HGS device that will automatically be billed when passing paid highway sections. Most rental companies will sum up this fee when returning your car, the cost will depend on the amount of paid sections you have driven through.
There are no paid HGS sectors along this route.

When is the best time to visit Turkey?
Rentalmoose recommends visiting the Turkish Riviera between May and June or September and October. The weather is hot and sunny this time of the year, perfect for a swim in the Mediterranean or wandering around the streets of Bodrum. It is also the peak of the tourist season, so expect some destinations to get crowded.

Antalya can get so hot during the summer that it can become unbearable for tourists who are not used to this type of harsh climate.

Now that you're all set, let's dive into this Turkey itinerary!
Antalya
Altinkum beach in Antalya.

Welcome to the sunny city of Antalya! Rentalmoose recommends picking up your rental car directly at the airport and heading down into this fascinating city.

What to do in Antalya?
Kaleiçi
Begin by exploring the coastal Old Town, the true heart of this city. Don't hesitate to get lost among the historical Ottoman mansions, as the cobblestone streets are lined with cafes, restaurants and boutiques. The Kaleiçi district is the perfect place to discover a traditional part of Antalya.

Turkish Breakfast
Trying the world-renowned Turkish breakfast is a must during your stay in the Turquoise Coast. Head to Vista Restaurant, located steps away from the sea, for delicious breakfast and aromatic tea, all while enjoying panoramic views of the Mediterranean.

Konyaalti Beach
For a bit of relaxation, pay a visit to one of the city's dreamy beaches. Rentalmoose recommends heading to Konyaalti Beach in the western part of town.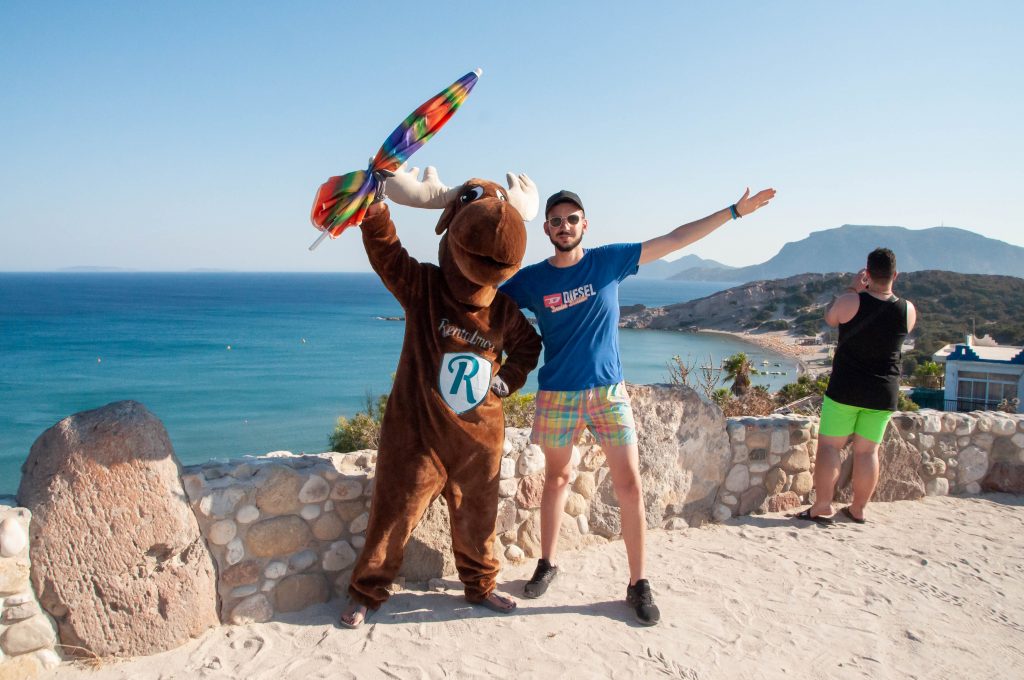 This pebble beach stretches for around 5 kilometers and is known for its clean water and lots of cafes and restaurants in the area.

It is popular among both tourists and locals, so it may not be perfect for travelers who are looking for a quiet and secluded spot.
This public beach can be accessed for free. You can also rent a sunbed for just a few Turkish Lira (between 1 and 2 Euros).

Next on your Turkey itinerary: Goynuk Canyon, 40 minutes

Goynuk Canyon Adventure Park
Goynuk Canyon near the resort town of Kemer.
After leaving Antalya, take the D400 highway south towards the resort city of Kemer. This coastal highway will take you to destinations within the Kemer region.
Adventure junkies can stop at the Goynuk Canyon near Kemer, a local adventure park with zip lines and a canyoning safari. Thrilling zip lines combined with the park's natural beauty make the Goynuk Canyon an unmissable spot.

The attraction owners recommend staying in the park for at least 2 hours in order to fully enjoy it. Tickets can be purchased here or upon entrance.

Next on your Turkey itinerary: The ruins of Phaselis and Olympus, 1 hour

The historic ruins of Phaselis and Olympus
The remains of the northern harbor of Phaselis. Wikimedia Commons

Phaselis
Phaselis was an ancient Greek and Roman city, its history dates back as far as 700 BC. The remaining ruins lie just 16 kilometers south of Kemer.

Once there, you can discover the ruins of three ancient ports, aqueducts and many more. You can also go for a swim on the beach located within the ancient city. Admission costs less than 40 Turkish Lira (6 EUR) per person, tickets can be purchased directly upon entrance.

Next: Olympos, 40 minutes

Olympus
The Ruins of Olympus are older and more popular among tourists. Located just minutes from Adrasan, this ancient city cannot be missed.

Its history dates back to the second century BC and has been abandoned since the 15th century. These ruins are not preserved as well as Turkey's most popular ones, such as Ephesus or Göbekli Tepe, though they are definitely worth at least a short visit.

You can also enjoy the local beach. Admission costs less than 30 Turkish Lira (4.5 EUR) per person and can be bought directly at the entrance, just like in Phaselis.

Next on your Turkey itinerary: Adrasan, 15 minutes

Adrasan
A beautiful beach in Adrasan surrounded by monumental mountains.
Adrasan Sahil
Continue along the D400 from the Phaselis until you reach the small village of Adrasan. Drive down to Adrasan Sahil, an absolutely breathtaking pebble beach surrounded by the mountains.

Go for a swim in the crystal-clear water, or sunbathe on one of many sunbeds, available for just a couple Turkish Lira (below 2 Euros).
Admission is free of charge, you can leave your car directly next to the beach for just a few Turkish Lira (less than 2 Euros) per day.
Where to stay in Adrasan?
ADA Boutique Hotel
Rentalmoose recommends staying at the ADA Boutique Hotel, a boutique hotel just a minute away from the beach. The hotel features a pool and restaurant, as well as free parking for guests.

Arikanda River Garden Hotel
Another hotel worth considering in Adrasan is the Arikanda River Garden Hotel. This cozy hotel consists of just 10 rooms. The location is perfect, just steps away from the private hotel beach.
There is a beautiful restaurant atop the river that serves breakfast as well as traditional Turkish dishes, along with plenty of options for vegetarians.

Next on your Turkey itinerary: Fethiye, 4 hours

Fethiye
This is the longest non-stop driving segment of this trip. Leave Adrasan and head west on the D400 for around 4 hours, until you reach the picturesque Butterly Valley.

If you wish to make a stop along the way, Rentalmoose recommends going to Kaş. Head into the heart of this village and step inside Natur-El, the best restaurant in town. Have a sip of Turkish coffee or a round of delicious Turkish breakfast.
Kelebekler Vadisi- a dreamy beach in Fethiye
The Butterfly Valley is a stunning valley near Fethiye. Don't get confused by the name, as the butterflies have become a rare sight.
Pay a visit to the Kelebekler Vadisi beach, where you will find turquoise water just like in the Maledives. Visit the beachside bar for a refreshing beverage or snack.

This small spot can get crowded during peak season, it is definitely not the most secluded beach in Turkey. As Kelebekler Vadisi is a public beach, entry is free of charge. Sunbeds are available during the season for under 10 Turkish Lira.

Next on your Turkey itinerary: Blue Lagoon, 15 minutes

Blue Lagoon- The Mediterranean Maldives
Aerial view of the Oludeniz Blue Lagoon.

The Blue Lagoon is perhaps the most popular tourist hotspot in the Fethiye region and one of the most valuable gems in all of Turkey.

The lagoon is famous for its sandy beaches and clear, turquoise waters. Rent a canoe and travel across the lagoon, or stay on dry land and sunbathe.

Head into the inner side of the lagoon, where you will find authentic Turkish restaurants, cafes, and bars. The water is full of wildlife and available attractions include snorkeling and paragliding.

The Blue Lagoon is in a protected National Park, entrance costs below 10 Turkish Lira (less than 1.5 EUR) and can be paid in cash upon entrance. Parking costs around 30 Lira (4.5 EUR).

Next on your Turkey itinerary: Marmaris, 2 hours 10 minutes
Marmaris
The city of Marmaris on the shore of the Mediterranean. Shot by Alpcem/Pixabay.com

Drive along the D400 for about two hours until you reach the city of Marmaris.

What to do in Marmaris?
Marmaris Castle
Begin by exploring the center of the city. Park your car next to the Marmaris Castle and stroll around the area on foot. This castle is one of just a few in Turkey that has been turned into a fascinating museum.
History lovers can enjoy the interior daily from 8:30 AM to 7 PM, with admission tickets priced at 14TL that can be purchased upon entrance.

Grand Bazaar
Shopping fans can walk across the center to the Grand Bazaar. This market is filled with shops where you can purchase all sorts of souvenirs, jewelry, leather goods, and clothing.

Cleopatra Island
Tourists can also take a day trip to the popular Cleopatra Island. Day trips by boats are operated by various carriers directly from the city, you can purchase tickets directly when boarding the boat. There are different durations of the trip, depending on which operator you choose. Pricing starts at 100TL per person.

What are the best hotels in Marmaris?
If you are planning to stay the night in Marmaris, which Rentalmoose highly recommends, consider staying in one of the hotels listed below.

Casa De Maris
Casa De Maris is a luxury 5-star resort hotel meters away from the beach. It offers chic rooms, a big pool, unique architecture, and a complimentary carpark. Book your room here.

Uysal Beach Motel
Uysal Beach Motel is a cheaper alternative within the city. This hotel is directly on the seashore and includes air-conditioned rooms, free parking and a bar on the ground floor. Book your room here.

Next on your Turkey itinerary: Bodrum, 1 hour 20 minutes

Bodrum
The final leg of this journey goes from Marmaris to Bodrum. Take the D550 up north and then continue via the D330 until you reach the city.

What to see in Bodrum?
Bodrum is the go-to tourist hotspot in the Turkish Riviera. Luxury hotels, incredibly fresh seafood, all-around shopping, and a vivid nightlife scene, you name it. Bodrum has it all.

Bodrum Castle
Begin by strolling around the Bodrum Castle and port. This part of town is full of life, packed with cafes, shops, and restaurants.
You can take various day trips by boat straight from the port, going to secluded bays and islands. There are many operators to choose from, Rentalmoose recommends going with My Way Boat Trip.

Karafaki Restaurant
For lunch or dinner, head down to the Karafaki Restaurant, just 30 minutes away from the heart of Bodrum. Dining with a panoramic view of the Aegean Sea is a truly mesmerizing experience.

Huqqa
If you fancy trying out Hookah, there are many shisha bars to choose from. Rentalmoose recommends Huqqa Bodrum, one of the best hookah cafe chains in the world.
There are tons of different flavors to choose from, along with colorful drinks and food.

Bodrum is filled with attractions and spots worth visiting, so Rentalmoose highly advises staying in town for a couple of days to experience what it has to offer.

Drop-off
Your rental car can be dropped off directly at the Milas-Bodrum Airport for maximum comfort. Rental companies that support drop-off in a different location can be found via Rentalmoose.