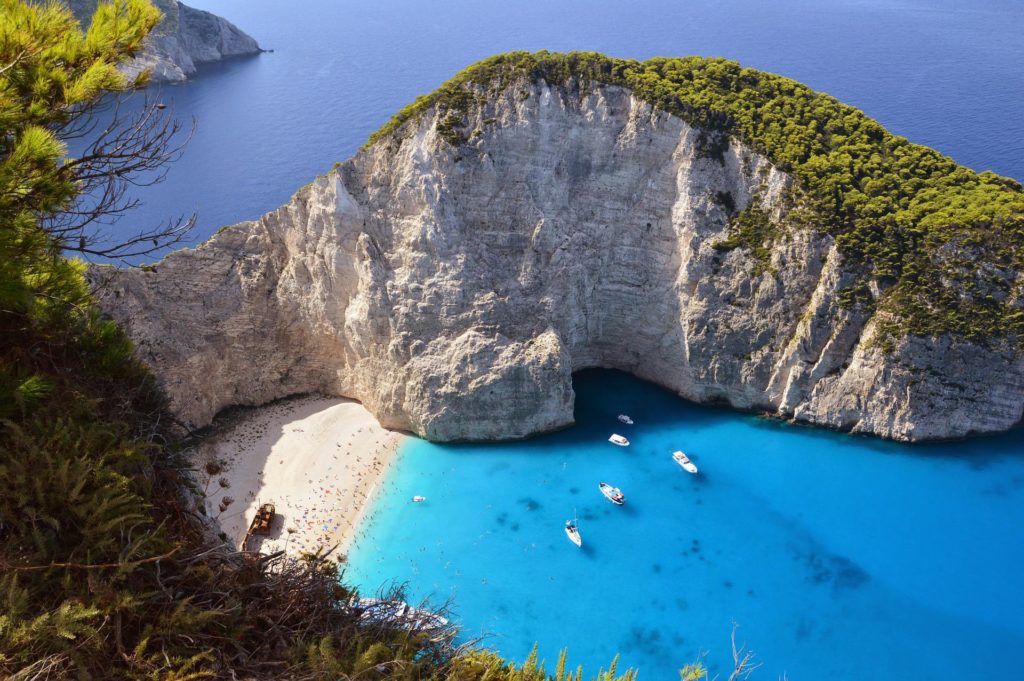 Driving in Greece for the first time can seem a little overwhelming, even for tourists visiting from neighboring countries. Some of the local traffic laws and regulations aren't as common as you may think. That's why it's best to come prepared. We're here to help! Check out all you need to know about driving as a tourist in Greece.
For maximum convenience, this blog post is divided into the following parts (click the links to quickly jump to each section)
Looking for more travel inspiration? While you're at it, check out some of our top hand-picked destinations around Greece, perfect for your next holiday.
Tourists Driving in Greece- Legal Requirements
You must be at least 18 years old and hold a valid driving license to drive in Greece. The driver must also have their ID or passport, depending on the country they're coming from.
Always make sure that all the required paperwork is in order before getting behind the wheel. If not, you risk losing all insurance in case of a collision.
Note that an International Driving Permit may be required, depending on where you're coming from. More on that below.
Do You Need An International Driving Permit in Greece?
Yes, you do need an international driving permit to drive in Greece.
Unless your driving license was issued in EU and EEA countries. If not, you will need to get an IDP to legally drive a car in Greece.
An International Driving Permit is essentially a translation of your domestic license. Note that it has to be presented alongside your original state-issued license to be valid.
While many local rental agencies throughout Greece will accept foreign licenses without an IDP, this process is not lawful. Driving in Greece without an International Driving Permit (except for those issued in EU and EEA countries) can land you in quite a bit of trouble.

Speed Limits in Greece
Below you'll find the standard speed limits. Follow them, unless signs state otherwise.
Urban Areas- 50km/h (30mph)
Outside Urban Areas- 90-110km/h (55-70mph)
Motorways- 120km/h (75mph)
Think twice before speeding in Greece! Violations up to 20km/h over the limit are subject to a fine between 40 and 100 euros. If you're caught going 50km/h and above over the limit, your license can be suspended for 60 days. Serious speeding can be punished by as much as 350 euros, as well as court for the most serious offenses.
Regulations and Traffic Laws in Greece
Traffic in Greece is on the right-hand side of the road. Check out some more useful regulations that you should be aware of before driving in Greece.
Seatbelts
All occupants in a car must have their seatbelts on at all times. Those who fail to comply risk getting a 350 EUR penalty.
Overtaking and Lane Changes
It is illegal to overtake at junctions, pedestrian crossings, bottlenecks, speed bumps, bends, and whenever the visibility is too poor to execute the maneuver safely. Crossing solid line markings on the road is forbidden, too.
Changing lanes at junctions and pedestrian crossings is illegal, much like overtaking.
Drivers should remain on the right-most lane of multi-lane roads unless overtaking slower vehicles. The left lane is strictly for overtaking only.
Right Of Way
Cars on your right-hand side have the right of way at an intersection unless signs state otherwise.
This also applies to roundabouts- cars that are already on the roundabout must yield to those entering. However, most of them have signs that state otherwise and force the entering cars to yield instead.
Turning Right On Red
Turning right at a red light is strictly forbidden in Greece. Some traffic lights have a separate light for right-turning cars- either a green arrow or a flashing yellow one.
Children, Child Seats & Restraints
It is forbidden for kids under the age of 10 to ride in the front seat of an automobile.
All children until the age of 12 must be placed in a child restraint that fits their size. Furthermore, kids aged 4 and under must have a child seat.
Children that are either older than 12 or over 1.35m tall don't need a child restraint anymore.
Headlight Use Regulations
If the visibility is poor during the daytime, drivers are required to switch on dipped headlights.
Full beam headlights cannot be used in urban areas.
Drink & Driving
The maximum permitted level of alcohol in the bloodstream is 0.05%. Anything above the said limit is considered driving under the influence.
Naturally, this is very illegal and strictly enforced. Drink driving is not only incredibly dangerous but also a serious crime. Never drink and drive.
Toll Roads in Greece
There are only two toll roads in Greece, both located on the mainland. One of them is the route from Athens to the Peloponnesus, while the other is a highway from Athens to Thessaloniki.
All other roads in Greece can be driven on for free.
Local Tips For Driving In Greece
Don't use your horn unless it is crucial to do so. Unnecessary use of the horn can be punished with a ticket
Most drivers won't stop to let pedestrians cross at zebra crossings. If you do so, prepare to get honked at, or even rear-ended in the worst-case scenario
Locals use hazard lights when preparing to park, especially in large cities like Athens or Thessaloniki
Look out for motorbikes, as many riders tend to not follow the laws very carefully. Steer clear!
Potholes are plentiful, especially in remote parts of the country. Look out!
Driving in Athens is very chaotic. If you're only going to visit Greece's capital, consider using public transport and taxis instead
BONUS- Rent A Car in Greece
Looking for a rental car in Greece? We have got you covered!
Go to Rentalmoose now and choose from over 15 000 locations worldwide. We only work with verified suppliers, such as Hertz or Europcar.
Rentalmoose plants a tree for every single booking made with our platform. Click the banner below to get started!