Curated Switzerland road trip. Check out our ultimate Switzerland itinerary by car!

Click here for detailed directions

Summary (click the red pins for directions) :
Geneva to Chillon Castle- 100km (60 miles) 📍
Chillon Castle to Interlaken- 160km (100 miles) 📍
Interlaken to Andermatt- 120km (75 miles) 📍
Andermatt to Lugano- 110km (70 miles) 📍
Lugano to St Moritz- 120km (75 miles) 📍
St Moritz to Zurich- 200km (120 miles) 📍

810km (500 miles) total

Tags: Travel guide, Drop-off at another location, Switzerland, Alps, Winter

This Switzerland itinerary takes you on a road trip through the Swiss Alps, one of the most scenic regions in Europe. The road trip begins in the city of Geneva and continues across the Geneva lake and Interlaken with an overnight stop in Andermatt. On day two, head to Lake Lugano before arriving in St. Moritz. The Swiss road trip finishes in Zurich.

The Switzerland road trip is a little over 800 kilometers in total and is divided into segments ranging from 30 minutes to 2 hours 30 minutes each.
In order to discover the most of each destination, Rentalmoose recommends adding at least one overnight stop along the way, plus a night at Geneva and Zurich.
If you have the time, add extra overnight stops in Interlaken and St. Moritz.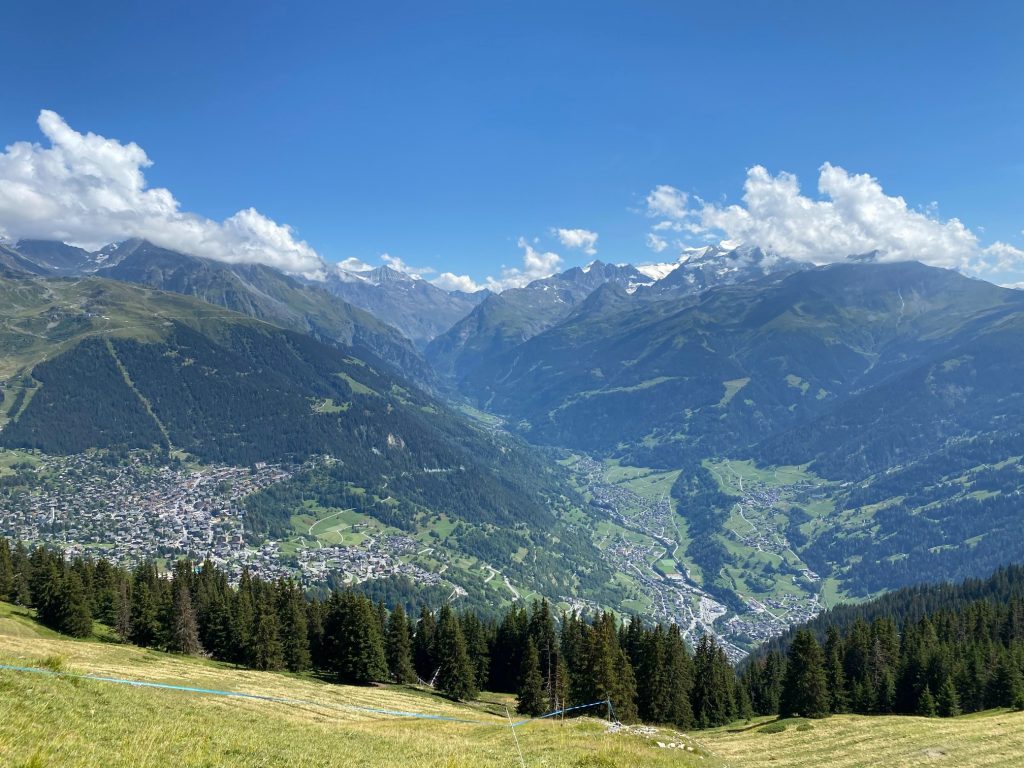 Road Trip Extensions to Germany
The Black Forest
Do you want to explore the region even further? This road trip can be merged with our Black Forest Road Trip. Once you arrive in Zurich, continue to Basel and cross into Germany to discover the beautiful region of Schwarzwald.

Munich and its surroundings
Alternatively, you can head up to Munich and explore the best of Bavaria and Austria, including the fairytale-like Neuschwanstein Castle. Click here for the guide.
Is Switzerland expensive to visit?
Switzerland is the continuous leader as the world's most expensive country to visit. Zurich and Geneva are also among the most expensive cities to live in on the entire planet.
It's best to budget your Switzerland trip carefully.

Check out this short video we shot in the beautiful town of Verbier.
What is the best month to visit Switzerland?
Winter and summer are both good parts of the year to visit Switzerland.
Between May and September, most of the snow has melted away and the hiking trails are open to the public, cable cars are in service and the weather is more moderate.
The peak of the winter season is around January and February. Check out this beautiful video to see why you should visit Switzerland in winter!
Why should you get a rental car in Switzerland?
Despite high petrol prices and strict traffic laws, a rental car is the best way of getting around during this road trip. There are lots of scenic driving roads along the way, and the freedom of modifying the route can only be achieved by traveling in a car.
Switzerland can be best explored by car.
Various rental companies support drop-off at a different location, browse through available options on Rentalmoose.


When booking your rental car, do not forget to add excess coverage provided by Rentalmoose for extra protection.
After picking up the car, be sure to take check-in photos of the vehicle and qualify for a 50% discount from the excess cover fee.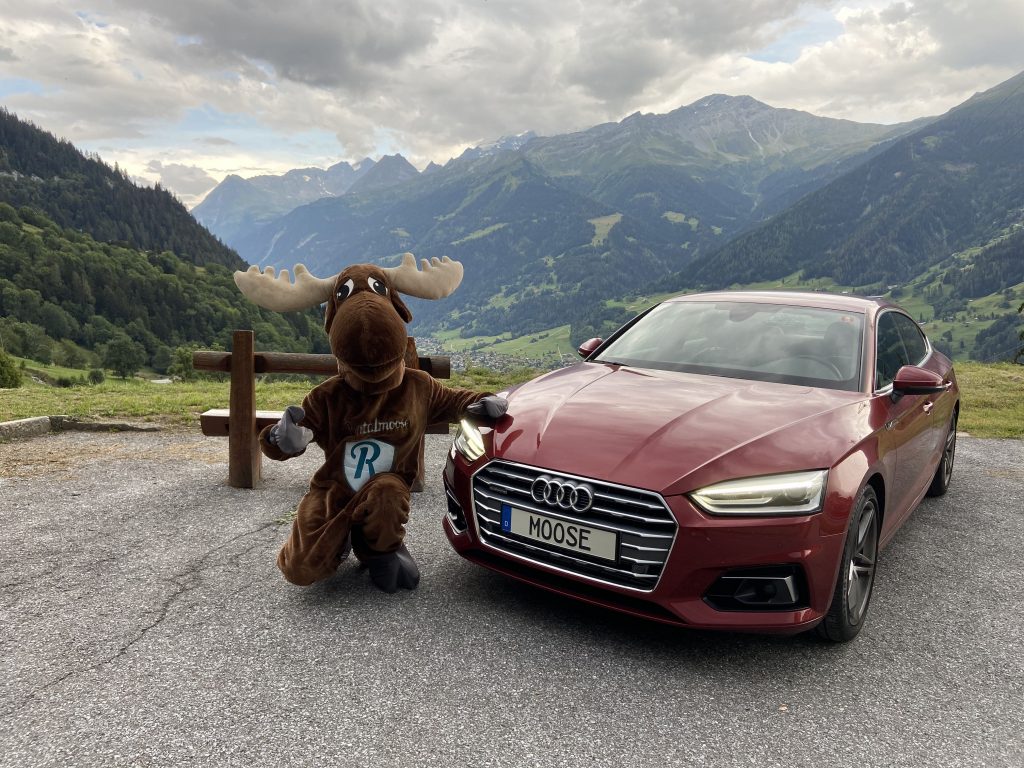 Can tourists drive in Switzerland?
Absolutely! Switzerland is a part of the open-border Schengen Zone, this means crossing countries is quick and hassle-free. However, if your license isn't in English, German, French or Italian you are required to have an International Driving Permit when driving in Switzerland.

Check out this Rentalmoose blog post to learn all you need to know about International Driving Permits.

Swiss motorway vignette system
In order to drive on Swiss highways, cars, as well as motorcycles, are required to have a vignette. Rental cars available in the country have a vignette already, so you do not need to purchase one. For extra safety, it is best to double-check with the rental company before setting off.

Are traffic laws strict in Switzerland?
Switzerland is generally regarded as a strict country, and the nation's traffic laws are no exception. Driving even just a few kilometers over the speed limit can land you a speeding ticket, and the roads are filled with speed cameras. When driving in Switzerland, be sure to follow all of the traffic rules carefully.

Real-life example: a student who drove around 20km/h over the speed limit got a minimum ticket of 2500€. Speeding ticket penalties depend on your income. The higher the salary, the bigger the ticket.
Once you're ready, it's time to dive into this Switzerland itinerary by car!

Geneva
Luis Francisco Pizarro Ruiz/Pixabay.com

Welcome to the picturesque city of Geneva, situated at the western tip of the country. The city is a hotspot for luxury shopping and fine dining, and it is the starting point of your Switzerland itinerary.

What is there to do in Geneva?
Patek Philippe Museum
Fans of prestigious watches should be familiar with Geneva, as some of the world's most expensive timepieces are manufactured around the city. Pay a visit to the Patek Philippe Museum, where visitors can learn about five centuries of watchmaking.
The museum is located within the heart of Geneva, you can stroll around the area or go for a coffee in one of the nearby cafes.
As of 2020, the Patek Philippe Museum admission tickets cost below 11 euros.

Geneva International Motor Show
If you're visiting during the beginning of March, Rentalmoose highly recommends going to see the Geneva International Motor Show. The GIMS is among the most important automotive events in the entire world, guests from across the planet come to admire hundreds of cars that are showcased during the show.
Parking is available around Palexpo, where the show takes place. The annual expo can get quite full, it is best to buy your admission tickets in advance. The motor show is a must on any Switzerland itinerary!

Parc des Eaux-Vives
Go for a relaxing walk in Parc des Eaux-Vives, a lakeshore park on the east side of the city. Inside the park, there is a monumental residence that was built in the mid-1700s that has been turned into a hotel and a prestigious restaurant.
The upper side of the park is home to the Geneva Tennis Club.

Where can you find the best food in Geneva?
Gusto
Once you get hungry, go for lunch at Gusto, a fine-dining Italian restaurant in the Metropole Hotel. The upscale venue is the perfect spot for a romantic dinner or a meeting. Open Monday to Friday till 10 PM.

Where should you stay in Geneva?
La Reserve Geneva
Sophisticated travelers should consider staying the night at La Reserve Geneva. The luxurious 5-star hotel offers a seaside villa rental, chic rooms and suites as well as a pool, and a wellness center. Free parking is available for hotel guests.

Hotel Des Tourelles
Guests on a tighter budget can choose the Hotel Des Tourelles, a 2-star hotel with an amazing location right in the vibrant heart of Geneva. The hotel may not have luxury amenities, but it is valued for excellent service and its perfect location. Parking is available at an extra charge.

Next on your Switzerland itinerary: Geneva to Chillon Castle, 1 hour 20 minutes

Chillon Castle
Pemaze/Pixabay.com

Set off from Geneva early in the morning. Then, head east along Lake Geneva until you reach a historic structure on the edge of the lake. The castle may look familiar to Disney fans, as Prince Eric's castle from Little Mermaid was inspired by the Chillon Castle.

The Castle
This magical structure dates back to the medieval times, it was designed by James of Saint George. Inside the castle, there are thousands of historic items on display.
The castle is open to visitors every day of the week between 9:30 AM and 5 PM, admission tickets are priced at below 15 CHF (14 EUR) and can be purchased either online or at the entrance.
Complimentary parking is available by the castle.

Clos de Chilon- local wine
The Chillon Castle is home to local red and white stored in the castle's cellars, made from grapes grown at the local vineyards. Clos de Chilon can be purchased within the castle, guests can also book a guided wine tour that includes wine-tasting.

Bella Vista
Bella Vista is a delicious Italian restaurant situated practically across the street from the castle. Head inside for a fresh pizza or dessert while enjoying panoramic views of Lake Geneva.
Rentalmoose order tip: Give Bella Vista's pizzas a shot, you will not be disappointed!

Next on your Switzerland itinerary by car: Interlaken, 1 hour 40 minutes

Interlaken
Enrique Lopez Garre/Pixabay.com

Why is Interlaken famous?
Interlaken is regarded as Switzerland's capital for adventure junkies, as there are lots of action sports opportunities available throughout the small town. Its picturesque surroundings make Interlaken heaven for photographers, make sure to bring your camera along!
Outdoor Interlaken

Thrill-seekers should have a look at Outdoor Interlaken before heading to town. The company offers various adventure-packed activities for both summer and winter, ranging from canyoning and skydiving to skiing and winter sports. Take a look at their official website for more information on available activities.
Unterseen

Visit the picturesque village of Unterseen for an authentic, historic feel of Switzerland. Some of the beautiful historic buildings are dating back to the middle ages.
Pay a visit to the Stadtkeller, where you might just run into a live musical or theatrical performance.

Jungfraujoch Summit
Head up the mountains to Jungfraujoch- The Top of Europe. The highlight of the Alps is surrounded by glaciers and snow, making for a truly unforgettable view. Head into one of the shops or admire the spectacular views from the observation deck.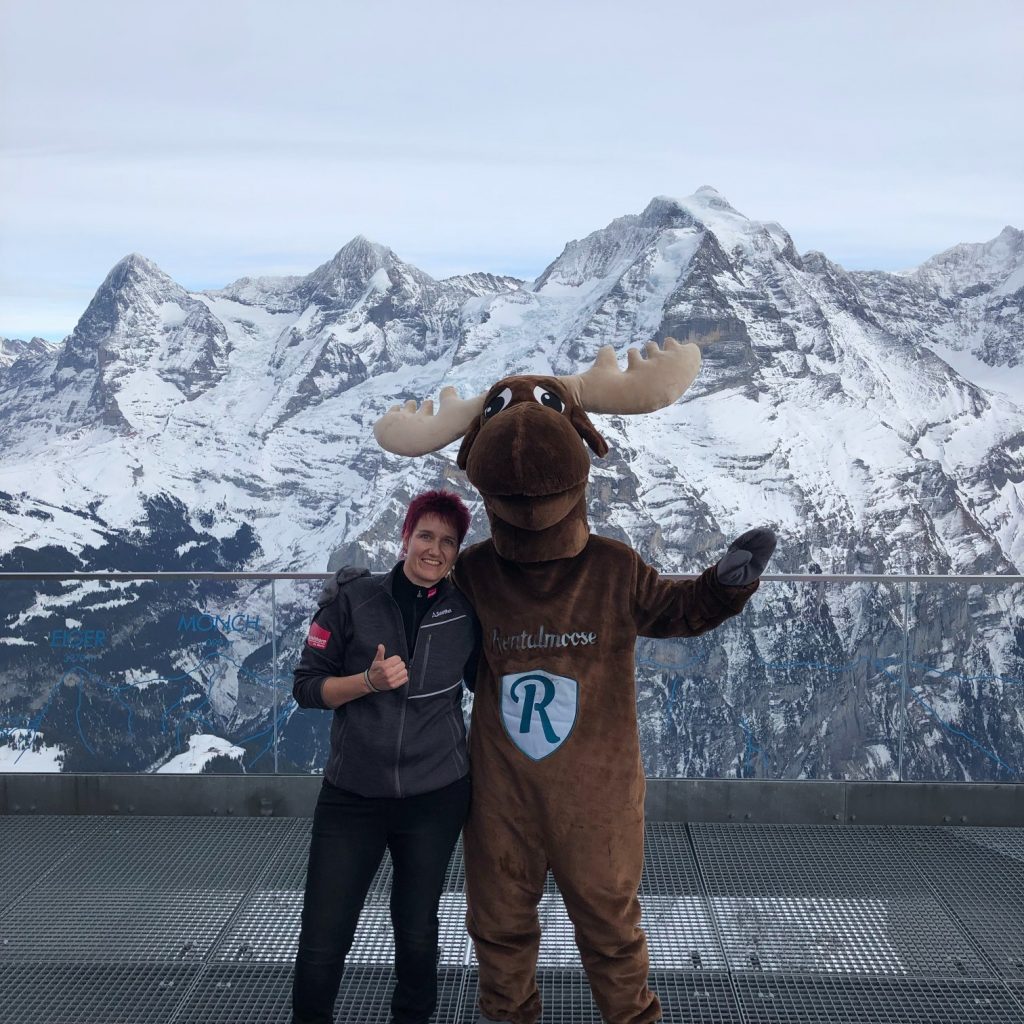 Schilthorn Summit
James Bond fans should also visit the summit at Schilthorn. The unbeatable panoramic views can be observed from the viewing deck atop the mountain.
Schilthorn was one of the filming locations for the 1969 "On Her Majesty's Secret Service", making it a must-see for James Bond fans.

Rentalmoose pro tip: The Jungfraujoch, as well as Schlithorn, can only be accessed by rail, park your car near the Lauterbrunnen railway station and take a train up the mountains.

La Terrasse
If you're craving a tasty meal, go to La Terrasse located within the Victoria-Jungfrau Grand Hotel. The upscale restaurant offers a wide selection of regional dishes that changes every season, along with a separate menu for desserts.

Next on your Switzerland itinerary: Andermatt, 1 hour 40 minutes
Andermatt
The driving time from Interlaken to Andermatt highly depends on the season, the fastest route goes along the A11, though the pass is only open around the summer.
During the colder months, taking the A8 is the fastest.

The mountain village situated nearly 1500 meters above sea level is home to central Switzerland's largest ski resort. The town's narrow streets are lined with traditional buildings, local eateries, and shops. Andermatt is truly the perfect mountain getaway.

Where can you ski in Andermatt?
Ski Arena Andermatt-Sedrun
Start at the Ski Arena Andermatt-Sedrun. Andermatt is a famous ski destination in the Swiss Alps and there are various resorts to choose from.
The two ski areas have over 50 different slopes, along with facilities such as numerous sun terraces and restaurants. Skiing and snowboarding equipment can be rented by the slopes.
Passes can be purchased online.

Gotthard Pass
Drive up the scenic Gotthard Pass, an absolutely breathtaking driving road outside of the village. The road is favored by petrolheads, bikers, cyclists, and hikers from around the world.
Drive across the Tremola and pass the Devil's Bridge and admire the out-of-this-world scenery. Post photos from the Pass with #rentalmoose, the best ones will be rewarded with a Rentalmoose discount or even a rental car free of charge!

Andermatt Golf Course
If you're visiting during the Summer, play a round of golf at the local Andermatt Golf Course. The 18-hole course is beautifully designed between the mountains and offers a picturesque setting during your game, with slight winds as an additional challenge.
Experienced players can participate in one of the tournaments.

Where to stay in Andermatt?
Andermatt is perfect for luxury hotel fans, as one of the best hotels in the country is located near the center of the village.
The Chedi Andermatt
The Chedi Andermatt is a prestigious 5-star hotel that offers beautiful rooms with panoramic views, as well as complimentary amenities such as spa and pool access, a fireplace in each room, 7 bars and restaurants and "a ski butler service".

Schweizerhof Hotel
A relatively affordable, at least for Swiss standards, alternative is the Schweizerhof Hotel. The hotel consists of 28 cozy rooms, as well as an atmospheric restaurant that serves delicious regional dishes.
Next on your Switzerland itinerary: Lugano, 1 hour 30 minutes

Lake Lugano
Nicola Giordano/Pixabay.com

Lugano is a beautiful lake in southern Switzerland surrounded by monumental mountains, often regarded as one of the most beautiful destinations in the country. A visit to this part of Switzerland wouldn't be complete without a stop here!

What to see in Lugano?
Piazza Riforma
Begin by exploring the cute town of Lugano. Leave your car at Autosilo Motta, a large multi-story car park close to the heart of the city (the cost is around 25CHF for a day).
Stroll around the narrow streets, visit some of the local shops or cafes placed along the Piazza Riforma.

Trattoria Galleria
Head to Trattoria Galleria for a delicious Italian lunch, a short walk away from Riforma. Afterall, Lugano is a mix of Swiss and Italian cultures and it is reflected in the local cuisine.
The Lakeside Promenade
After lunch, continue walking south until you reach the shore. The clear view of the lake and the mountains surrounding it is truly unreal.
Admire the scenery while walking along Lugano's beautiful promenade.
Then, turn away from the lake and into Via Nassa, the town's go-to shopping destination. Some of the stores here date beyond the 17th century.

FoxTown
Shopping freaks should consider paying FoxTown a visit. The luxury outlet is filled with high-quality clothing and accessories at discounted prices. A visit to FoxTown requires a minor, 20-minute detour south towards Italy.
The outlet is open daily between 11 AM to 7 PM.

Gandria
Leave the town and drive a couple of minutes west until you reach Gandria, a beautiful untouched lakeside village. The beautiful facades of well-preserved historic buildings make Gandria a beautiful backdrop for photography, located at the foot of Monte Brè.
Next on your Switzerland itinerary: Saint Moritz, 2 hours 40 minutes
Saint Moritz
Pitsch/Pixabay.com

The next stop on your journey is Saint Moritz, a prestigious alpine resort town favored by the rich and famous. The town's elegance does come at a high price, as Saint Moritz is repeatedly rated as one of the most expensive holiday destinations in the world.

What can you do in Saint Moritz?
Ski Resorts
If you're visiting St. Moritz in the winter season, you should definitely experience what the town is famous for: ski resorts.
It doesn't matter whether you're a pro, a beginner or anywhere in between, St. Moritz is the place to go. 58 ski lifts and 350 kilometers of slopes make the town absolute heaven for winter thrill-seekers.
Detailed information about ski resorts can be found here.
Some tourists believe that a ski resort town doesn't offer much other than slopes. While this may be true for some towns, it is certainly not the case with Saint Moritz.

What can you do in St. Moritz except skiing?
Ice Skating
Every winter, the frozen lake by the town is transformed into a natural ice rink. Skating on a frozen lake while admiring the magnificent glaciers is another unforgettable experience during this road trip.
What's more, the natural ice rink is very affordable. Admission costs below 15 CHF per day, children can enter for half the price.
Skates can be rented directly at the rink for around 5 CHF. Visiting in the summer? Head to Eisarena Ludains by the lake for an artificial rink open all year long.

Mountain Biking
Mountain biking fans will find themselves in paradise upon arriving in Saint Moritz, as the resort town is home to thrilling world-class mountain biking trails. Choose from hundreds of kilometers of trails, you can find the best ones in Red Bull's MTB Destination Guide.

Mountain Biking Equipment Rental
Do you want to try out mountain biking? You can visit the St Moritz Bike Center, where visitors can rent different types of bicycles and necessary equipment. Pick up your bike and head up to the mountains!

Mountain Restaurants
If you're looking for a more relaxing way to enjoy the panoramic views, visit one of the Mountain Restaurants by Suvretta House Hotel. Restaurants Chasellas and Trutz both offer breathtaking views of the Swiss Alps as well as delicious cuisine.
Which restaurant to pick?
Trutz features a variety of traditional Swiss dishes, while Chasellas has more of a Mediterranean cuisine.

Where to stay in St. Moritz?
Badrutt's Palace
Luxury seekers can spend the night at the prestigious Badrutt's Palace. This extraordinary 5-star hotel has been welcoming guests since 1896, making it one of the oldest hotels in Europe!
Its impressive history is present throughout the property. The hotel's restaurant (Le Restaurant), for example, was once home to Europe's first indoor tennis court.

The legendary property features classy rooms overlooking the mountains, 6 restaurants, an indoor pool, a spa and fitness center and more.
As expected, all this luxury comes at a hefty price tag, it most certainly isn't the top pick among budget travelers.

Next on your Switzerland itinerary: Zurich, 2 hours 50 minutes

Zurich
Jorg Vieli/Pixabay.com

The last segment of this trip is a drive to Zurich, the global capital for banks and financial institutions. The city, however, has a lot more in stock for you.

What is Zurich famous for?
Zurich is known around the world as the go-to Swiss city for luxury shopping and fine dining, banking and consuming as much Swiss chocolate as possible. The city is also very historical, with tens of museums and art galleries scattered around the streets.

Seebad Enge
Are you in town during the summer? If so, go to Seebad Enge, one of the city's best spots where you can go for a swim in Lake Zurich. The water in the lake is very clean, and the surroundings make for extraordinary views.
There is also a sauna available during the winter, as well as a restaurant and bar.
Admission costs below 10 CHF per person as of 2020.

Bahnhofstrasse
Don't forget to visit Bahnhofstrasse, Zurich's vivid hotspot for shopping. Walk down the busy streets, get some of the local delicacies at numerous cafes and bakeries or shop for a luxury Swiss timepiece.
If you happen to be in Zurich during the Christmas season, you can admire the magical Christmas decorations that are lighting up the street or visit one of the seasonal Christmas markets.

Are you looking for more attractions in Zurich? Click here to read more about the city, including the best restaurant in town. You don't want to miss it during your visit!
What are the best hotels in Zurich?
Widder Hotel
For your night in Zurich, consider staying at the prestigious Widder Hotel in the heart of Zurich's Old Town. The 5-star hotel is situated in a 15th-century townhouse and is home to one of the best bars in town. Unique decor in each room, fine dining, and a beautiful library are also parts of the unique experience.
A private car park is available for hotel guests.

Kameha Grand
A more affordable alternative is the Kameha Grand. This 4-star boutique hotel is a part of Marriott's Autograph Collection and features a stylish, Middle-eastern inspired decor and a good location near the airport, as well as very good service.
A private car park is available.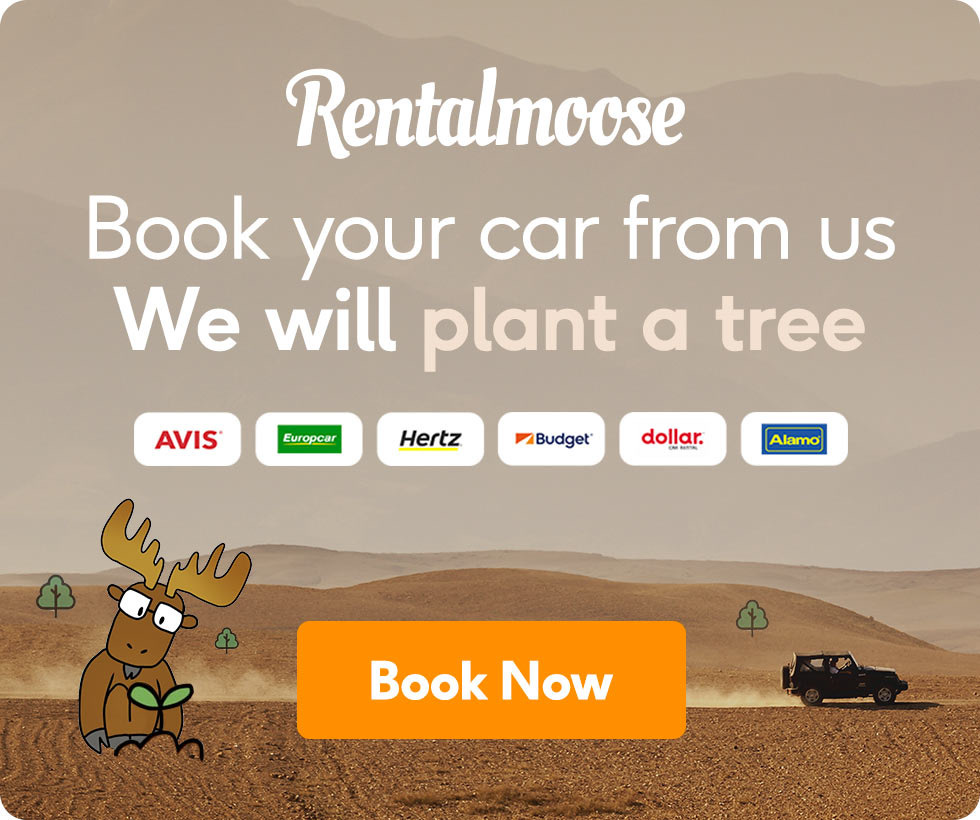 Drop-off
Your rental car can be dropped off directly at the Zurich Airport for maximum comfort. Rental companies that support drop-off in a different location can be found via Rentalmoose.

Don't forget to book your rental car via Rentalmoose for your next adventure.
On our platform, you can find the top rental companies at the best price, along with tens of curated travel guides around the globe. Our Switzerland itinerary is just one of them!
Get your car from Rentalmoose!
We plant a tree for every booking made with our platform.
Post your pictures from your Switzerland itinerary and tag #Rentalmoose! Our favorite ones will be featured in the upcoming blog posts.