At the beginning of sunny August, the Rentalmoose team visited Berlin to celebrate the launch of rentalmoose.com. Naturally, The Moose came with us.
Whilst the team was working hard and applying final tweaks to the online platform, The Moose enjoyed a sightseeing trip around the fascinating city. He visited some of the city's well-known tourist hotspots, as well as the under-the-radar locations mentioned in this Rentalmoose travel guide.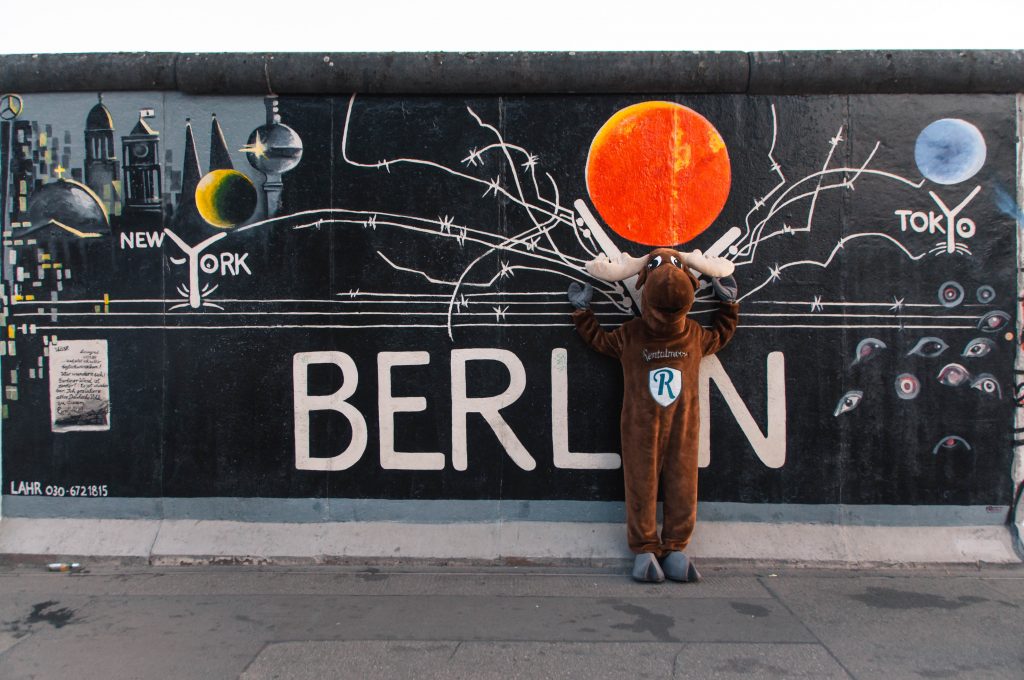 The Moose posing with street art on the Berlin Wall, located at the East Side Gallery.
Getting around the city by car was extremely convenient, especially considering Berlin's size. We would go as far as to say that Berlin is one of the best cities to explore by car in this part of Europe. Parking is widely available practically anywhere, and we haven't been stuck in a traffic jam during the entire weekend.
We've had no trouble finding on-street parking right by the famous Berlin Wall at East Side Gallery, empty spots practically in front of the Brandenburg Gate, as well as spaces right next to busy restaurants and bars along Kurfuerstendamm.
In addition, The Moose used an electric scooter to cover short distances.
The Moose at Victory Column.
Rentalmoose visited some of the spots mentioned in the Discover Central Europe travel guide. He tried what could be the world's best Gemüsekebap at Mustafa's, attempted to enter the legendary Berghain nightclub, and admired the world's finest automobiles at Classic Remise.
On top of all this, he also spent time strolling the streets of Kreuzberg and photographing some of the city's best murals and street art. Berlin is a truly diverse city with an exciting underground culture waiting to be discovered. The mild heat in the middle of the summer made exploring the city even more pleasant.
Rentalmoose's charming style and magnetic appeal attracted both tourists and locals. The Moose ended up making new friends all over the city. As photo opportunities kept popping up across town, Rentalmoose was busy interacting with the joyful people of Berlin.
After two days out exploring Berlin, the Rentalmoose reunited with the rest of the team to celebrate as the website went live. Months of prepping and hard work paid off, though there is still a lot of exciting stuff about to be unveiled in the coming months.
The Moose's Berlin adventure is available on his TikTok account, as well as the Rentalmoose profiles on Instagram and Facebook. Check it out!