Anyone should visit Mexico at least once in their lifetime. Afterall, this fascinating country truly has it all. Attractions range from postcard-like sandy beaches to Mayan ruins hiding deep in the jungle. Mexico will amaze any kind of traveler no matter if you're going with your family, a group of friends, or by yourself.
If you're planning the ultimate Mexico road trip itinerary, you have come to the right place!
Road Trip Overview
total driving distance: 2350km (1460 miles)
Cancun to Tulum- 130 kilometers (80 miles)
Tulum to Lake Bacalar- 200 kilometers (120 miles)
Lake Bacalar to Palenque- 650 kilometers (400 miles)
Palenque to San Cristobal de las Casas- 220 kilometers (140 miles)
San Cristobal de las Casas to Campeche- 570 kilometers (350 miles)
Campeche to Merida- 270 kilometers (170 miles)
Merida to Valladolid- 160 kilometers (100 miles)
Valladolid to Cancun- 160 kilometers (100 miles)
This curated travel guide will take you on a 2300-kilometer long (1460 miles) loop starting in the paradise resort town of Cancun. For the best experience, we strongly recommend renting a car for this road trip.
Hesitant about renting a car for a road trip? This blog post will change your mind!
These are some of the beautiful spots you will visit during this Mexico road trip:
What is the best way of getting around Mexico?
Unless you're planning to stick to just one city, the best way of getting around Mexico is by car. Click here to find the best rental car deals for your Mexico road trip.
That way, you'll get to see scenic drives and see areas that you'd never get to visit otherwise. Not to mention the irreplaceable freedom of altering your itinerary on the go, whenever you please.
Rental Car Insurance in Mexico
Check out this informative blog post to learn all you need to know about rental car insurance in Mexico. It's not as complicated as it may seem!

Contrary to popular belief, driving around Mexico is safe for tourists. Nonetheless, it's best to come prepared and read through our rental car tips before the journey.
Book your car via Rentalmoose, a worldwide car rental platform with over 15 000 locations around the globe. Check out our website to compare rental car deals in Mexico.
Cancun- Your Mexico Road Trip Begins Here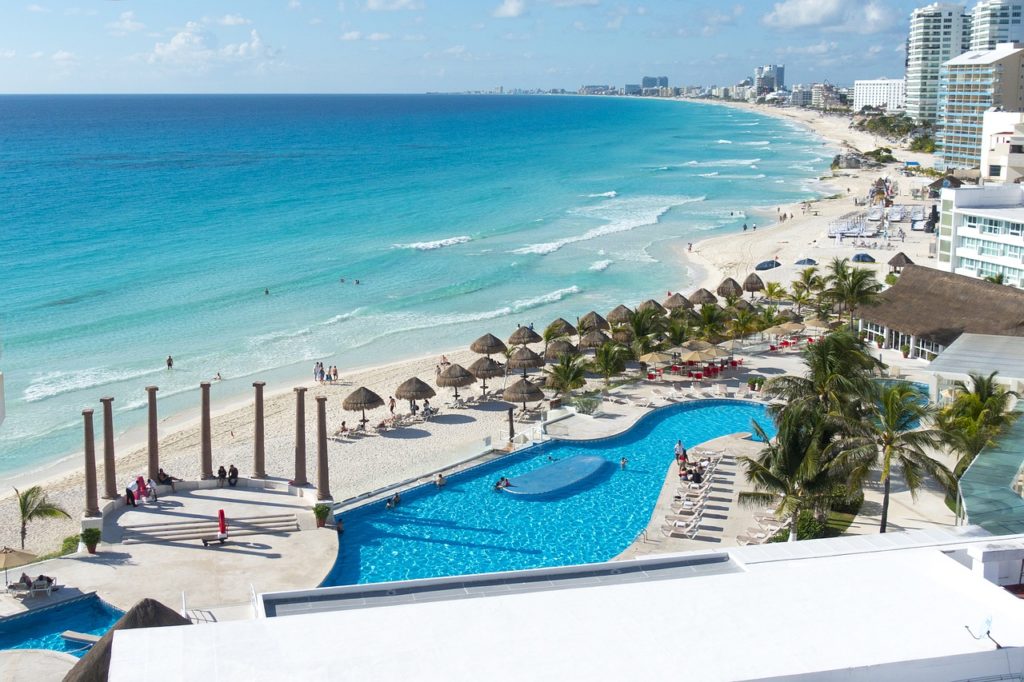 Your Mexican road trip begins in the spectacular coastal city of Cancun! For maximum convenience, we recommend picking up your rental car directly from the Cancun International Airport as you arrive.
Remember to check Rentalmoose for the best deals on rental cars in Mexico.
Cancun is home to some of Mexico's best beaches, make sure to spend some time in town before setting off on your Mexico road trip.
What to do in Cancun
Cancun is most famous for its pristine sandy beaches, don't forget to soak in the sun before leaving town. You should definitely visit Playa Delfines, Playa Tortugas, or the Cancun Underwater Museum of Art.
Playa Delfines
The wide, sandy shore seems to stretch endlessly at the Playa Delfines. This quiet beach is favored among locals, and it's a great escape from some of the town's busier spots.
Soft sand, turquoise water, free umbrellas, and plenty of amenities, what more could you ask for?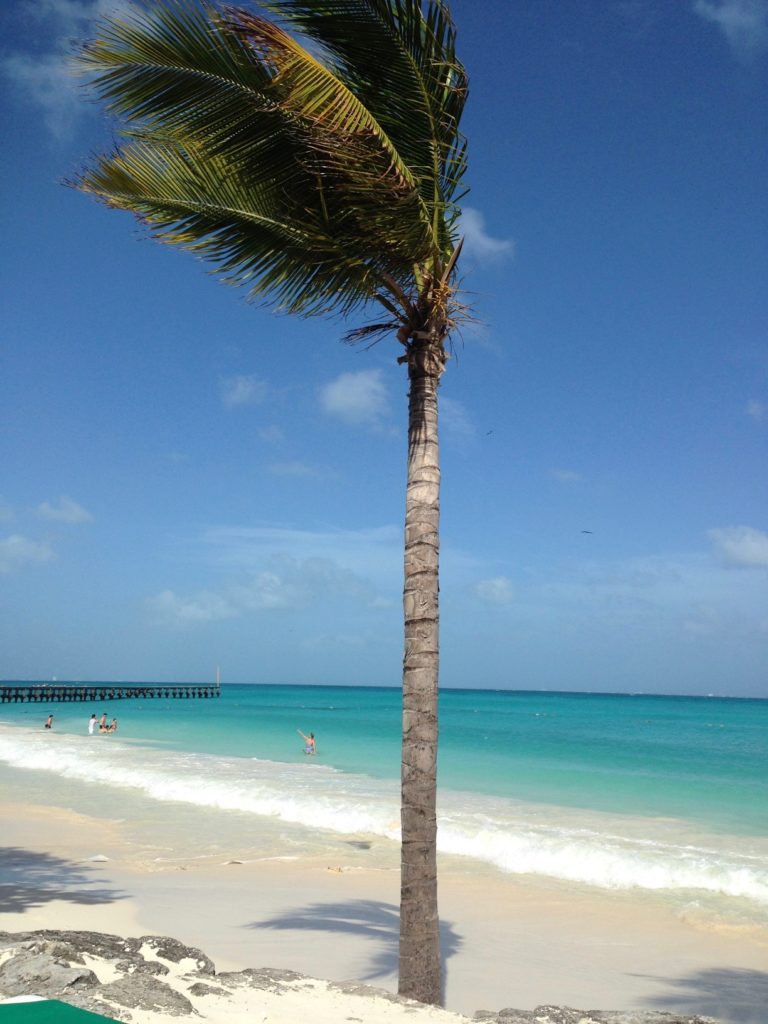 Playa Tortugas
Playa Tortugas could very well be the best beach in Cancun. Apart from a wide, sandy shore as well as crystal-clear water that's perfect for swimming, Playa Tortugas offers spectacular restaurants that serve guests practically right on the waterfront.
Don't miss the wooden pier to enjoy the best views. Adrenaline junkies can bungee-jump from the tower at the pier, too.
Cancun Underwater Museum of Art
The MUSA is a museum unlike any other. Sure, you will find sculptures here. However, that's as far as MUSA's similarities to other museums go.
The sculptures found at MUSA are all, as the name may suggest, at the bottom of the ocean. In fact, the only way to see them is to take part in a scuba diving tour or snorkel beneath the surface.
Visiting MUSA is an unforgettable experience.
Cancun to Tulum by Car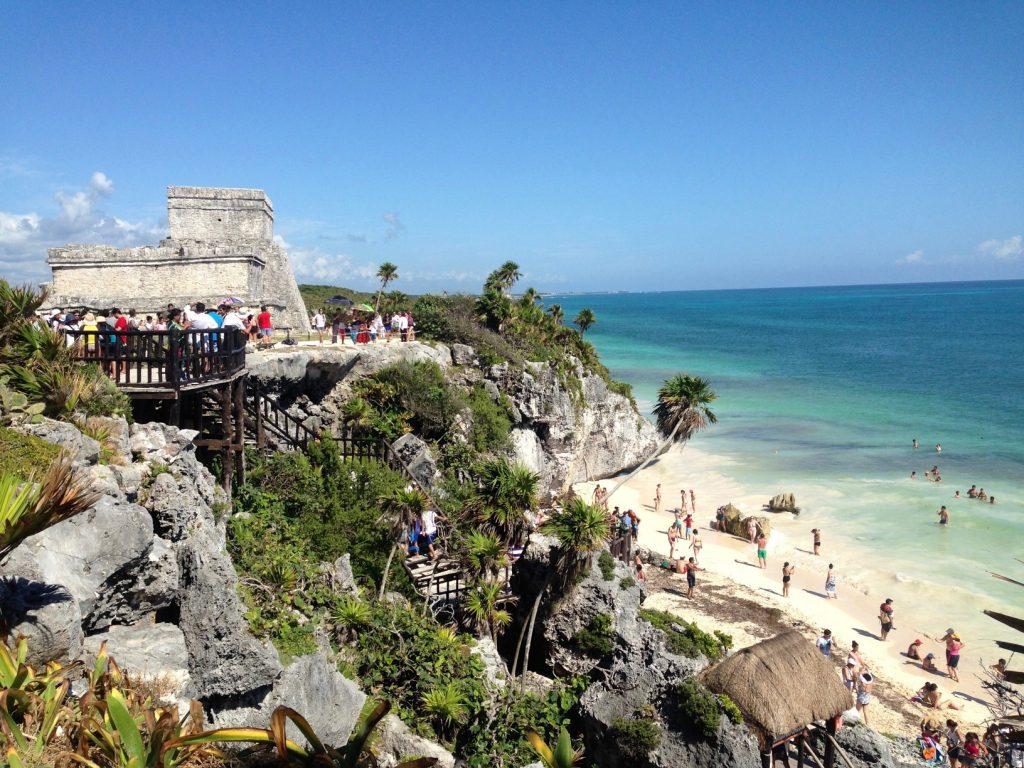 Once you've spent enough time in Cancun, it's time to get in your rental car and drive along the coast down to Tulum! The drive from Cancun to Tulum will take you roughly 2 hours.
What can you see on a drive from Cancun to Tulum?
Before you reach Tulum itself, check out the following hotspots along the way.
Puerto Morelos
Puerto Morelos is a picturesque port town only around half an hour from downtown Cancun. The town is home to even more spectacular, sandy beaches that are worth at least a short visit.
What's more, the waters off of Puerto Morelos host a great treasure, the best-preserved section of the second largest barrier reef in the world is located right here!
Playa del Carmen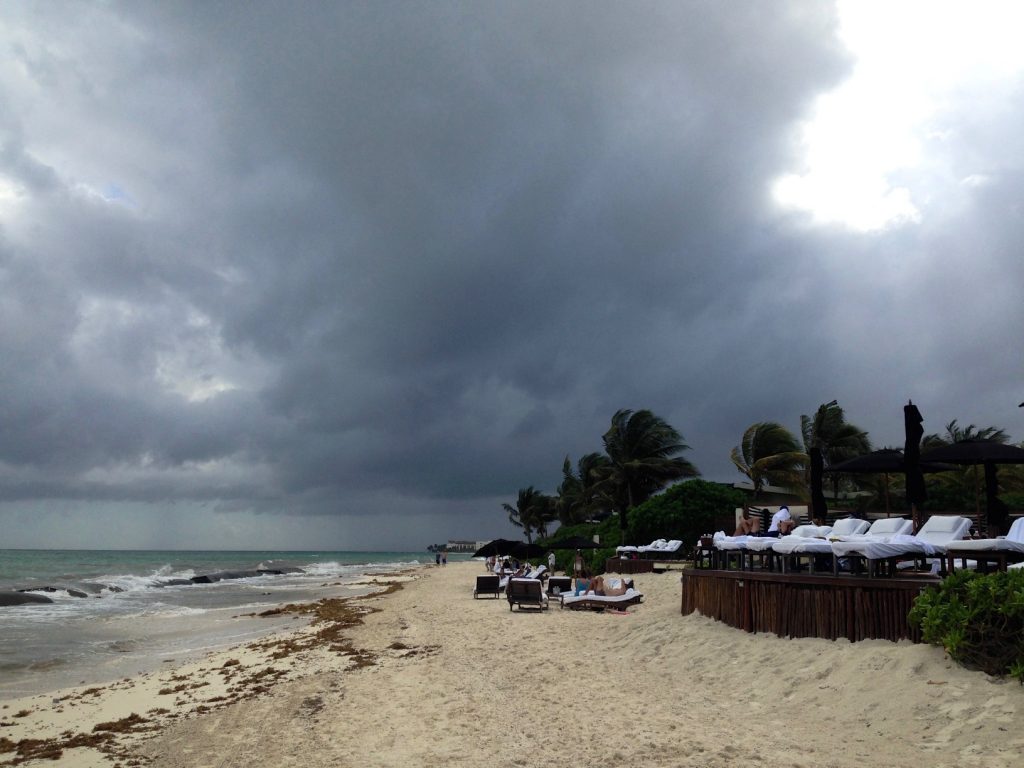 Just a stone's throw away from Puerto Morelos is Playa del Carmen, yet another picturesque coastal town that's home to spectacular sandy beaches, just look at the photo above!
What's more, you can take the ferry from Playa del Carmen to the nearby Cozumel island. If you have the extra time, it can make for a great addition to your Mexico road trip!
Adrenaline junkies should definitely drop by the adventure-packed Xcaret park. Some of the attractions inside include swimming in underground rivers, raft tours, visiting a wine cellar, or a children's waterpark filled with slides and activities.
Akumal
Akumal is yet another coastal resort that you'll pass on a drive from Cancun to Tulum. Keep your eyes wide open, turtles can often be spotted around here!
What are the best things to do in Tulum
Cenotes
Swimming in cenotes is likely an activity that's worth marking down on any great Mexico road trip itinerary.
Cenotes are natural water-filled pits that are created after limestone bedrock collapses. They can be found scattered all across the region, and they make for exceptional spots for a swim.
The Cenotes Casa Tortuga can be enjoyed either on your own or during a guided tour. Either way, you will have to pay an admission fee to enter.
Note that a lifejacket and snorkeling equipment is included in your admission fee.
A great alternative is the Gran Cenote, which is perhaps even more breathtaking.
Rentalmoose insider tip: You will be asked to rinse off any makeup products and oils from your skin. Please do so carefully, in order to keep the water in the cenotes clean and crystal-clear.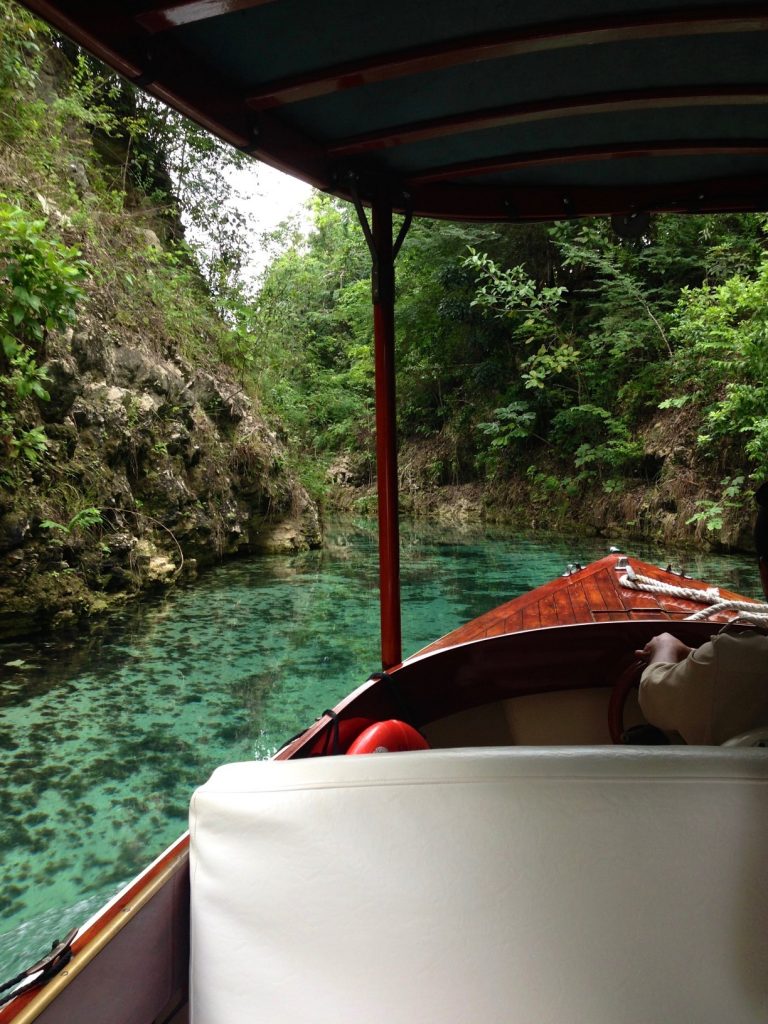 Mayan Port Ruins
It is no secret that Mexico is home to spectacular archeological sites. You've probably heard of the Teotihuacan near Mexico City or the Chichen Itza (which you'll see later on this road trip). The site in Tulum may not be as monumental, yet it is still most definitely worth visiting when in town.
What makes this archeological site spectacular is its setting, the ruins are right next to the sandy beach. That means you can reward yourself with a swim in the crystal-clear water after touring the Mayan Port.
Open daily between 8AM and 5PM, admission costs 70 pesos per person.
Where to stay in Tulum?
Sophisticated travelers should consider renting a villa at The Strabon. This elegant property features luxurious villas and rooms, as well as an outdoor pool, a great restaurant, and a bar.
If you're after a cheaper place to stay in Tulum, consider checking in at the LiveTulum. This aparthotel features air-conditioned rooms, a buffet breakfast, and a great location.
Lake Bacalar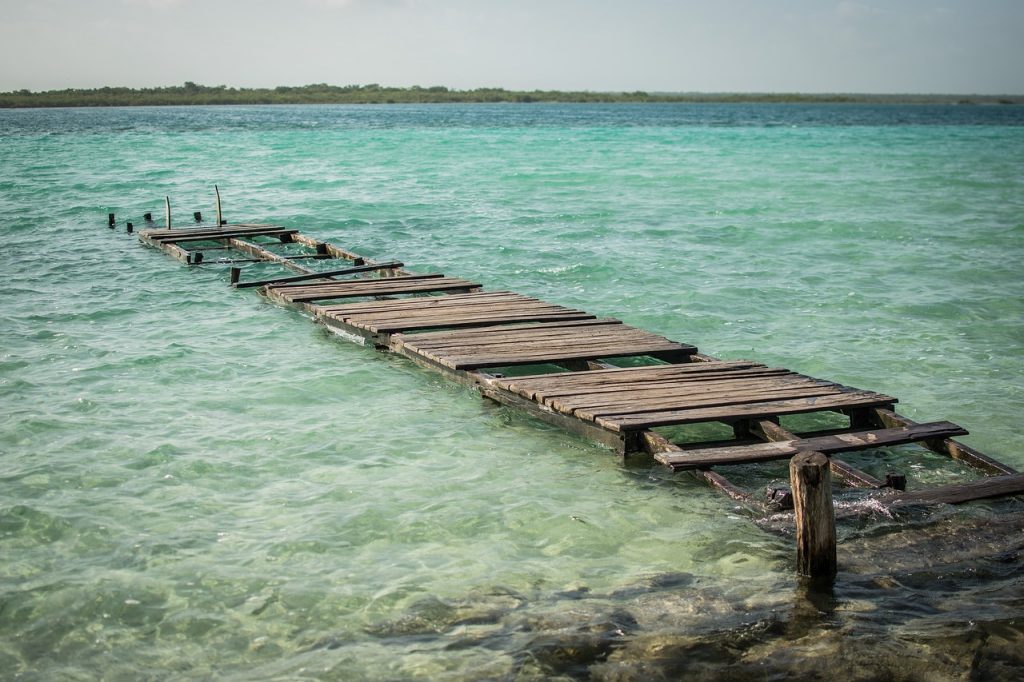 After a night in Tulum, it's time to hit the road for your most intense day, driving-wise of course. We recommend setting off early in the morning, as the first milestone of the day is 2 hours away.
Is Lake Bacalar worth visiting
Most certainly! Lake Bacalar is a great under-the-radar destination that you'll pass on your drive to Calakmul anyway, it's definitely worth dropping by at least for a short visit.
Fuerte de San Felipe de Bacalar
Head to the center of this small town, park your rental car, and explore the stunning stone fort. Fuerte de San Felipe de Bacalar dates back to 1729. Inside, guests will find a museum full of precious, local artifacts, as well as decorative murals.
The fort also has a moat built around the structure, making for a great photo opportunity.
Open all week except Mondays between 9AM and 7PM.
Afterward, why not head into the town and explore some of the local eateries?
Cenote Azul
Don't miss the opportunity to swim at the Cenote Azul, you're on a Mexico road trip after all. After a dip in the cenote, you can enjoy lunch at the restaurant right by the water.
As the next point of interest is a 4-hour drive away, you may want to add an overnight stop here in Lake Bacalar. Luxury seekers should check-in at the lavish Mia Bacalar resort, while a great alternative would be the Hotel Urban Bacalar with an outdoor pool and a budget-friendly price per night.
Calakmul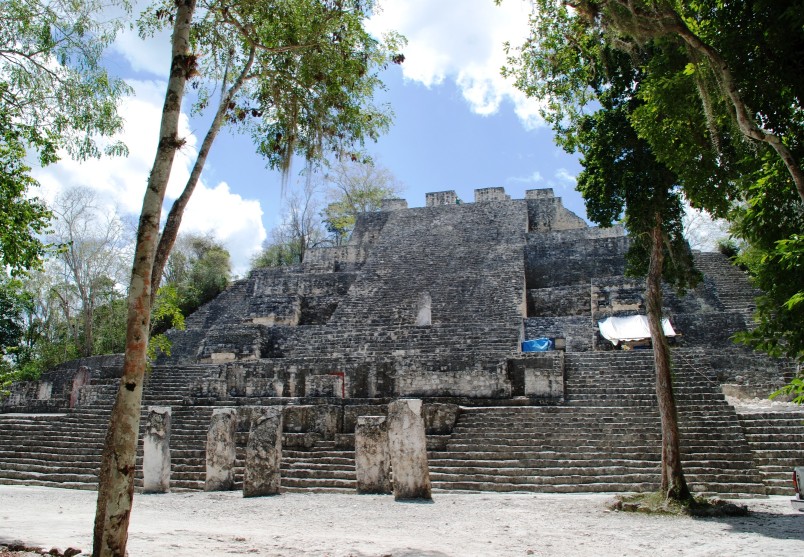 The next stop on your Mexico road trip is the spectacular archeological site of Calakmul.
The Mayan ruins of Calakmul are set deep inside the jungle. Not only does the remote location make exploring the ruins an unforgettable experience, it also lowers the amount of tourists!
Is Calakmul Worth Visiting
Yes! As getting to Calakmul requires a lengthy hike, many tourists decide to skip these ruins. What's more, guided tours aren't too frequent here, Calakmul is a real gem hidden in the jungle.
Expect to walk around 1.5 miles (2.4km) to get to the Calakmul ruins.
As visiting Calakmul will likely be an all-day adventure, it's best to set off from your hotel early in the morning for the next stop on your Mexico road trip.
Admission costs 80 pesos ($4) per person.
Palenque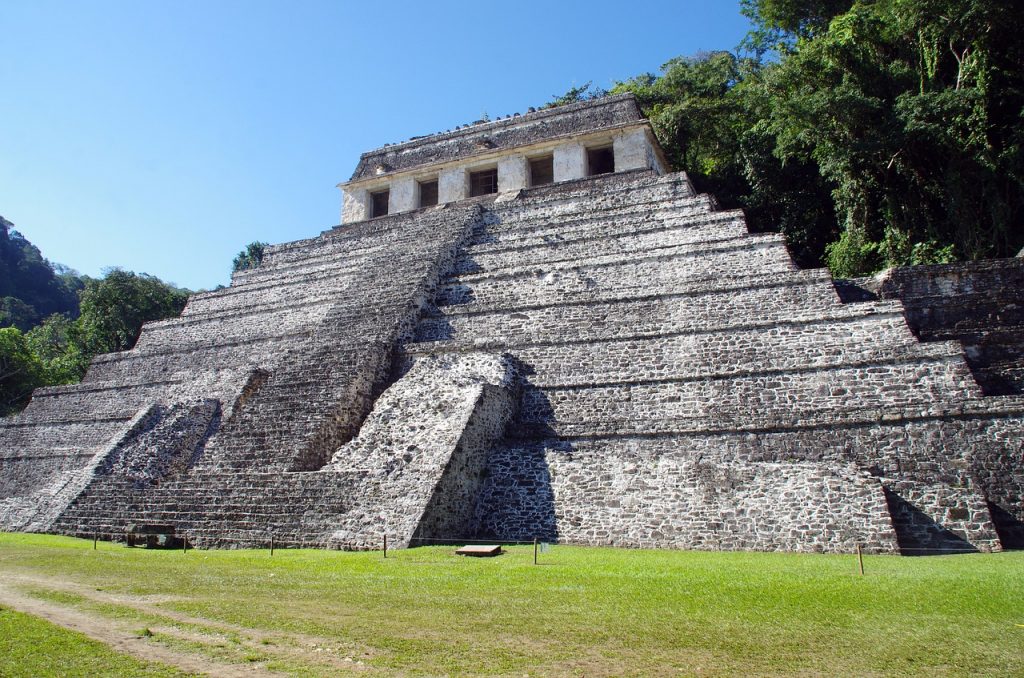 It's time to leave behind the Yucatan peninsula (for now!) and head over to Palenque. As the town is almost 6 hours away from Calakmul, you may want to add an overnight stop somewhere along the way. You can spend the night at the 2-star Tutul-Ha in Escarcega, no detour required.
Unlike the Calakmul ruins, the Palanque Archeological Site is very easily accessible.
The ancient city of Palenque, together with Calakmul and Tikal, formed the three most significant cities of the Classic Maya period. The city was at its peak between 500 and 700 AD.
Due to its historical significance, the remains of the city are a UNESCO World Heritage Site.
Admission to the Palenque archeological site costs 80 pesos ($4) per person.
Open daily between 10 AM and 3 PM.
Where can you stay in Palenque?
Luxury seekers should spend the night at the 5-star Piedra de Agua Boutique Hotel. The property features a secluded jungle feel, spacious rooms and suites, an outdoor pool, and great staff.
Looking for a more budget-friendly stay? Spend the night at the affordable Axkan Palenque. The hotel features modern rooms, an outdoor pool, and a restaurant.
San Cristobal de las Casas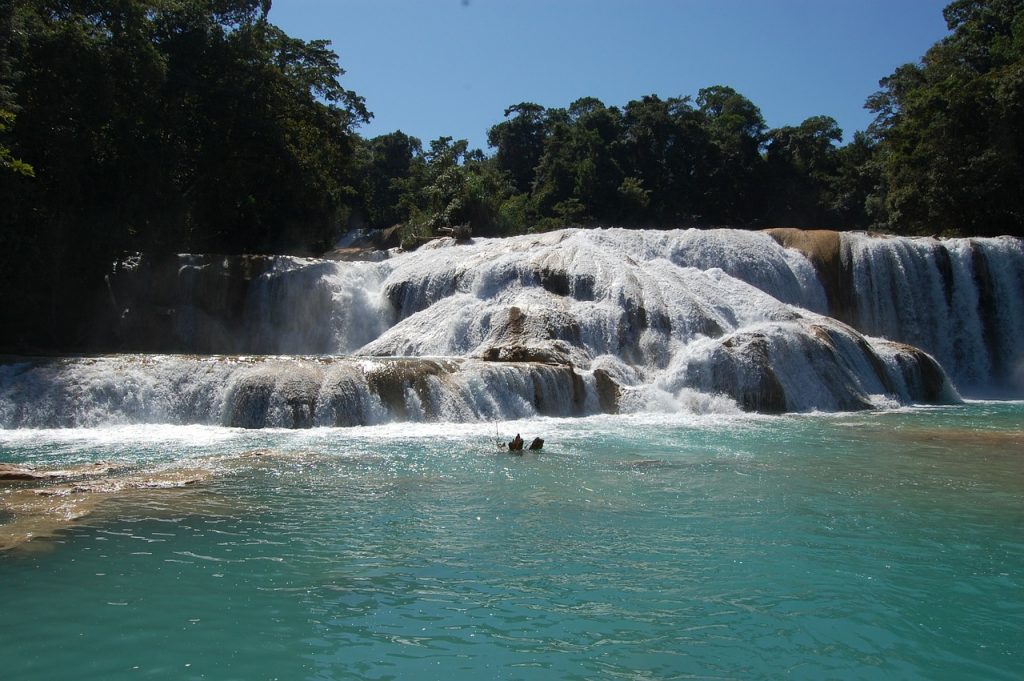 The journey from Palenque to San Cristobal de las Casas will take you 5 hours in total. However, do consider adding stops at these attractions along the way:
Misol-Ha Waterfall
You can drop by the spectacular Misol-Ha Waterfalls on your way to San Cristobal.
Some of the activities here include tours to the viewing deck where you can get the best view of the area, touring the grotto or visiting the tilapia (fish) farm.
Afterward, you can grab freshly-prepared fish for lunch at the Misol-Ha restaurant.
Movie fanatics might recognize this waterfall. Misol-Ha was a filming location for the Predator movie.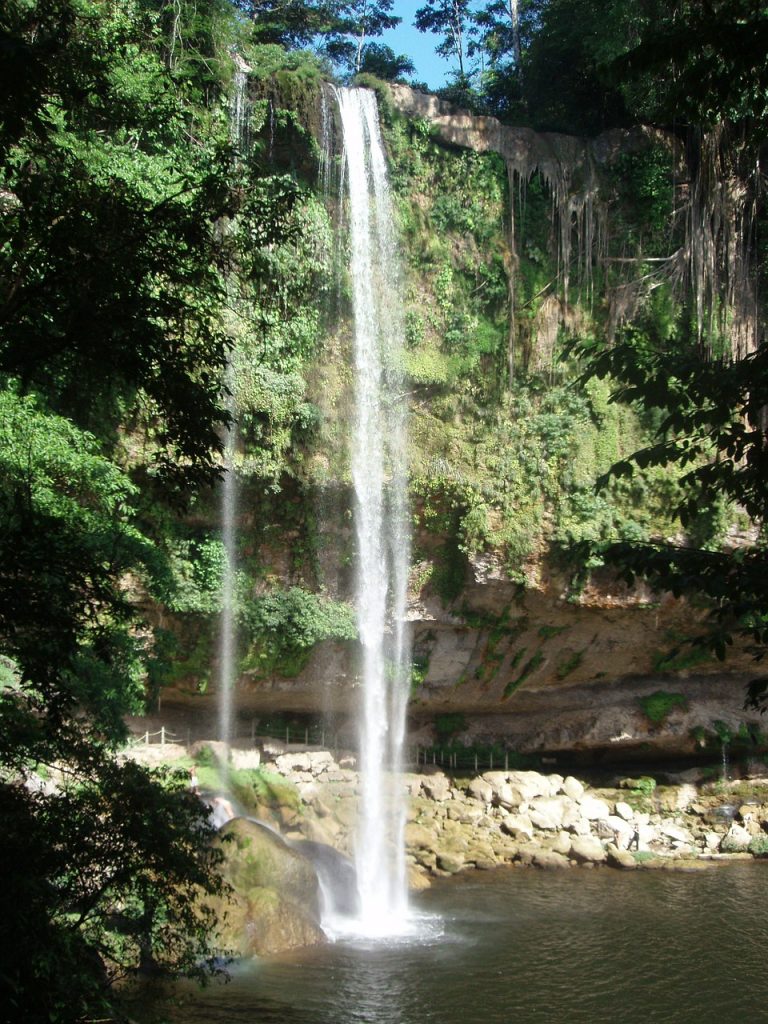 Agua Azul Waterfalls
The Agua Azul Waterfalls simply cannot be skipped when visiting Chiapas. The picturesque waterfalls are famous for the blue-colored water, hence the name which translates to Blue Water.
Admire the picturesque waterfalls or the washed-up banks of the river shaped by mother nature herself. The scenery here is an absolute paradise for photographers!
Note that the color of the water is the best during the dry season between November and May.
What to do in San Cristobal de las Casas
Sumidero Canyon
Don't miss the Sumidero Canyon, a monumental canyon around 90 minutes east of San Cristobal. The grand scenery is best observed from the surface of the water, hop on a guided boat tour and take in the views!
The body of water is surrounded by limerock walls that are 900 meters tall! These unbeatable views are perfect for photography.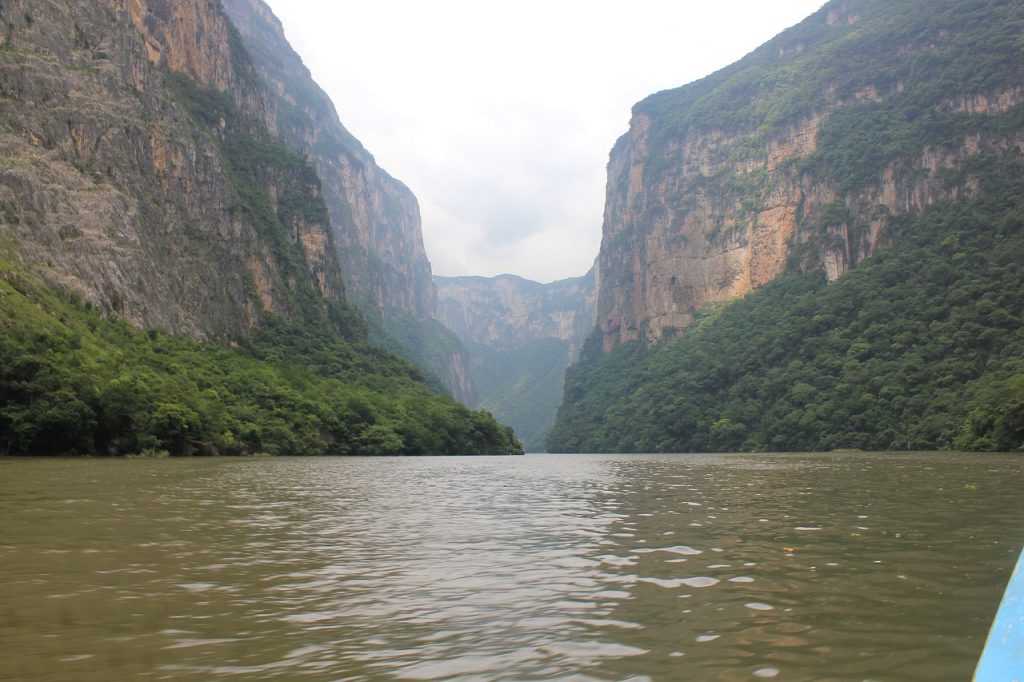 Guadalupe Church
The Guadalupe Church is perhaps the most photographed landmark in town. Once you get here, you'll likely find yourself taking lots of pictures as well!
This picturesque church is set atop a hill, providing a great overlook of the city after you climb up the stairs.
Later, step inside the church and admire the decorative interior. The best time to visit the Guadalupe Church is undoubtedly on Guadalupe Day (December 12th of every year).
La Maldita Restaurante
After spending a day in town, unwind at the La Maldita Restaurante. Enjoy dinner at the rooftop terrace, whilst watching the sunset.
La Maldita also offers budget-friendly accommodation where you can spend the night.
Alternatively, you can spend the night at Casa Santa Lucia. This traditional hotel offers stylish, classic rooms with free wi-fi set in a building from the 1700s. Add in the great location by the heart of town, and you have one of the best stays in San Cristobal de las Casas.
Campeche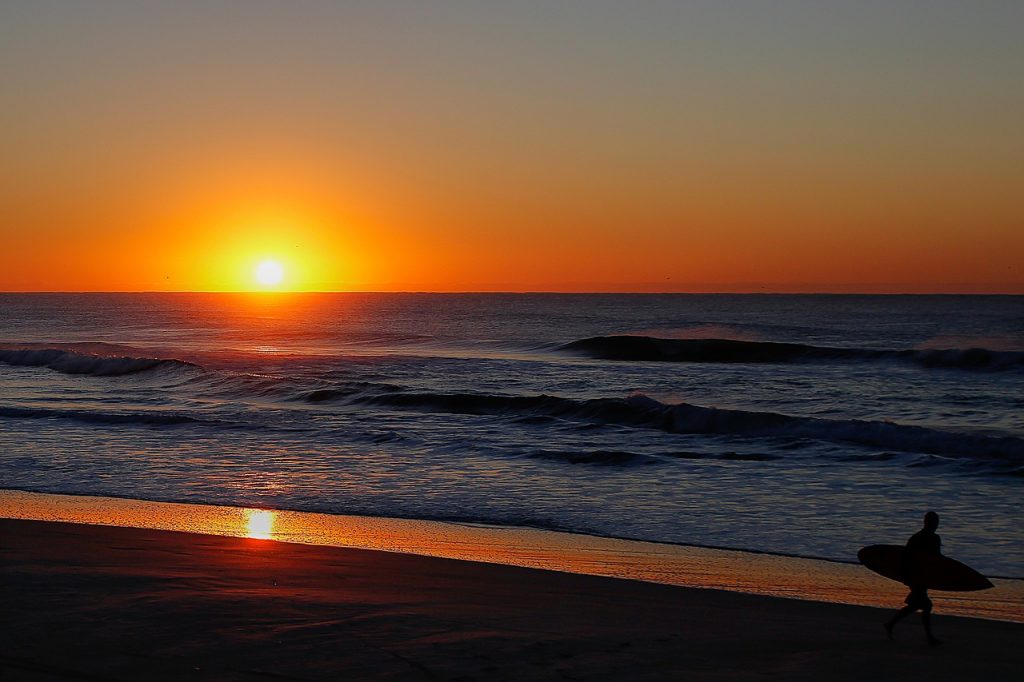 After you've spent time at San Cristobal de las Casas, drive back into the Yucatan Peninsula. After a lengthy 10-hour drive, you will arrive in the scenic city of Campeche!
What can you do in Campeche
Don't miss these spots on your next visit to Campeche.
Fuerte de san Miguel
Malecon
Restaurant El Langostino
Fuerte de San Miguel
At first, this fort was used during local conflicts throughout the 19th century. Fuerte de San Miguel is a great example of military architecture in Campeche.
Today, however, the fortification is home to Mayan relicts found in nearby archeological sites, including the ones found in Calakmul. The precious items are stored in 10 rooms within the old fort.
The museum can be accessed for just 55 pesos ($2.7) per person.
Open Tuesday to Saturday between 9 AM and 3 PM.
Malecón
After a day of driving, stretch your legs as you stroll down the Malecón waterfront promenade. The path is favored among both tourists and locals looking to get exercise or to enjoy a peaceful stroll.
The path stretches for 7 kilometers (4.4 miles) and is a great spot for a jog, or a bike ride.
At the northern tip of the Malecón, you can reward yourself with fresh seafood for dinner. Opposite of the car park, you will find a row of cozy restaurants that serve some of the best food in town.
Don't know which eatery to pick? You can't go wrong with Restaurant El Langostino, of the favorites in Campeche!
What are the best hotels in Campeche?
Luxury seekers should most certainly check out the Hacienda Puerta Campeche, a lavish 5-star property right in the heart of the city. The hotel is set in a restored 17th-century Hacienda and features upscale rooms and suites, great decor, two swimming pools, and a spa.
Looking for a hotel that won't break the bank? Spend the night at the Hotel Plaza Campeche. This property features well-equipped rooms, an outdoor pool, and a great location near the heart of Campeche.
Mérida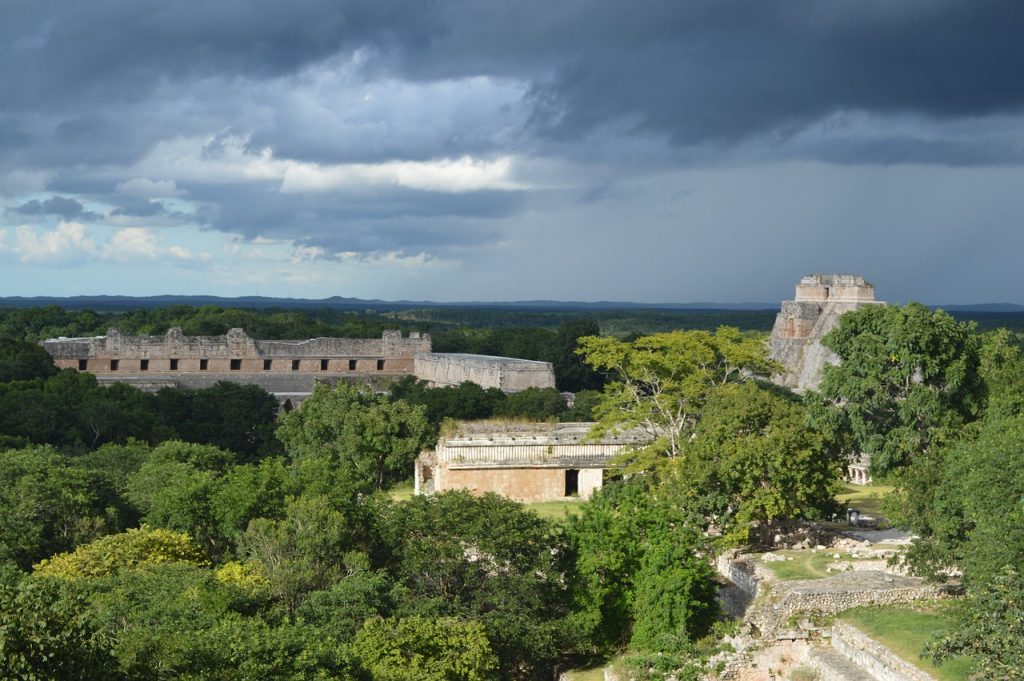 On your way to Mérida, don't miss the breathtaking Uxmal Archeological Site. It's a must on any road trip in this part of Mexico.
Uxmal Archeological Site
The Uxmal Archeological Site could very well be the best Mayan site in all of the Yucatan Peninsula. For this reason, we believe it's crucial to include it in your Mexico road trip itinerary.
Visitors can admire the famous pyramids, or pay attention to the details such as the decorative facades.
In order to get the most out of your visit here, consider hiring a guide to show you around. A licensed guide will cost you around 700 pesos ($35).
The site is open all week from 8AM to 5PM, though the entrance is closed from 4PM onwards.
Admission costs 418 pesos ($17) per person.
Progreso
If you're looking to spend some time at a sandy beach, drive up to the coastal town of Progreso.
The wide, sandy shore stretches for miles and makes for a great spot for sunbathing or swimming in the ocean.
What's more, Progreso is full of affordable, waterfront hotels where you can unwind for a day or two. Alternatively, you can hit one of the town's beach clubs, too.
Izamal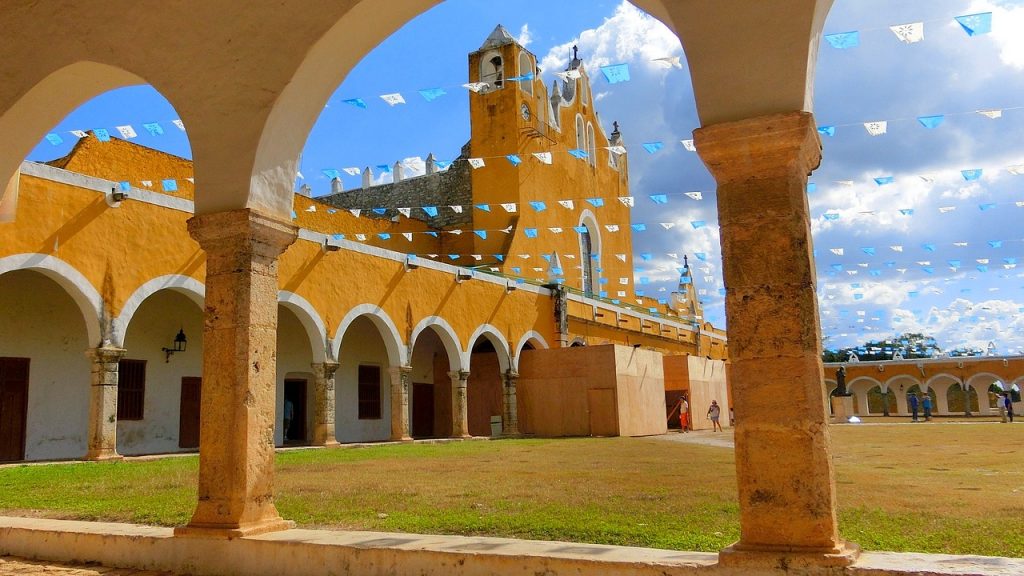 Izamal is a scenic town, largely undiscovered by tourists, a little over an hour east of Merida.
In fact, we suggest stopping here on the way to Chichen Itza to take a few pictures of the bright yellow-colored buildings, stroll down and take in the atmosphere.
Nevertheless, the scenic architecture and an authentic vibe make Izamal a great addition to your Mexico road trip itinerary.
Valladolid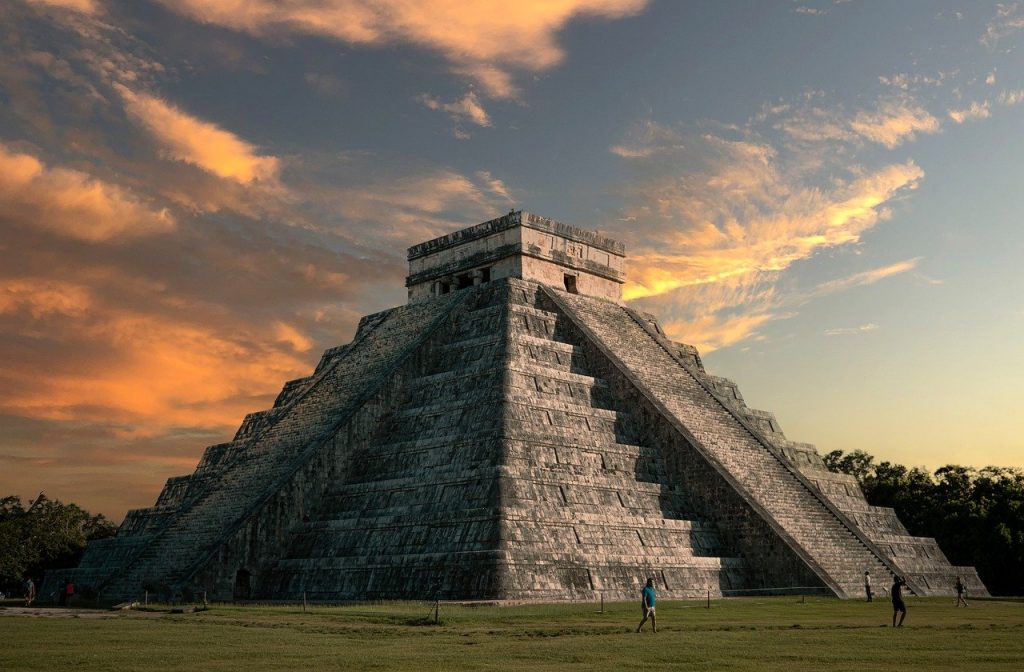 Depart Mérida and begin the final leg of your journey before returning back to sunny Cancun. On your way to Valladolid, be sure to drop by the Chichen-Itza Archeological Site. You cannot miss it on your road trip!
Chichen-Itza Archeological Zone
The ancient city of Chichen-Itza is definitely the most famous archeological site in this part of Mexico. While the site is, without a doubt, breathtaking, keep in mind that it is usually packed with tourists.
Chichen-Itza was the capital of the region back between 987 and 1200 AD, the same period saw the peak times of the gigantic city.
The ancient city is dominated by the El Castillo Temple pictured above. Unlike some of the other sites in the Yucatan, guests are not permitted to climb the pyramid.
The site is open all week from 8 AM to 4 PM.
Admission costs 417 pesos ($20.7) for tourists.
Swimming in Cenotes
The are around Valladolid is home to some more colorful cenotes where you can go for a dip in the crystal-clear waters.
Cenote Samaal is one of the best cenotes in Valladolid. After paying an admission fee of 150 pesos ($7.5), you can swim in the crystal-clear water, while accompanied by the soothing sound of the waterfall. Adrenaline junkies can drop down into the water from the jumping area.
Cenote Samula cannot be missed on a road trip around the Yucatan Peninsula. Nearly all of this cenote is enclosed in a cave, resulting in otherworldly scenery as you swim across the water. In fact, it looks so amazing it is hard to believe that it's not man-made!
Rentalmoose tip: If you only have time to visit one cenote in Valladolid, see Cenote Samula.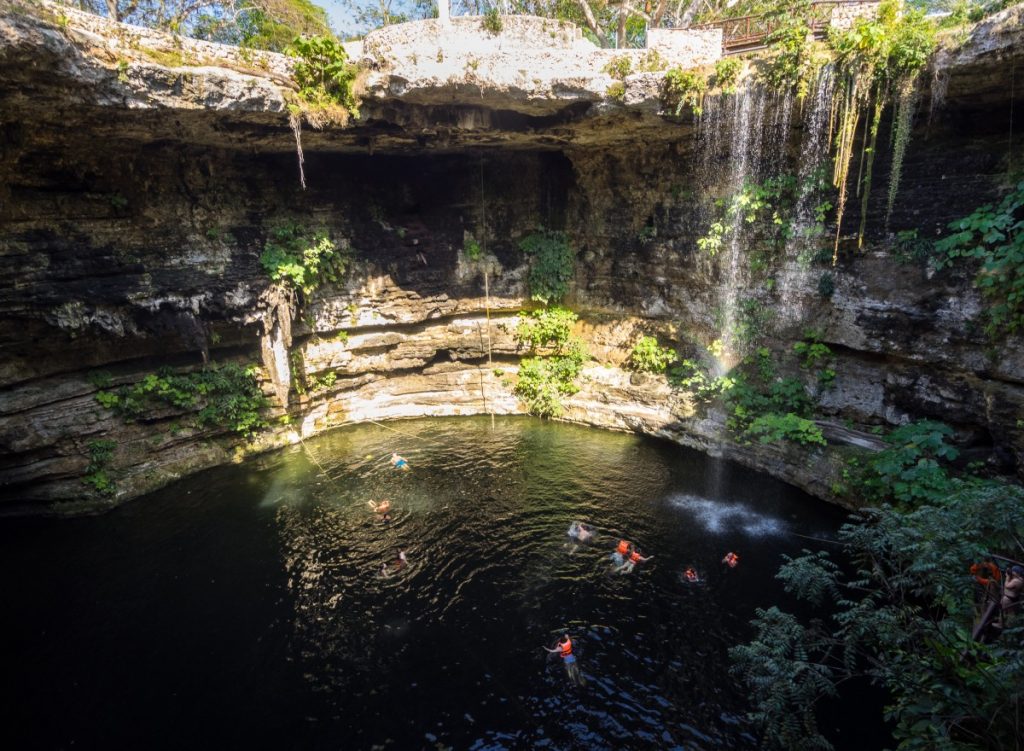 Zona Arqueológica de Ek Balam
Ek Balam is another Mayan archeological site that's worth visiting when in the Yucatan Peninsula, it's located around 25 kilometers outside of Valladolid.
The site features well-preserved structures in a beautiful, jungle setting. It may not be as spectacular as the Chichen-Itza, but it makes a great addition to the itinerary.
Ek Balam is easily accessible by car. The site is open daily between 8 AM and 5 PM, though the ticketing booth closes an hour earlier.
Admission costs 338 pesos ($17) for international tourists.
Rio Lagartos
Before returning to Cancun, make sure you stop by the Parque Natural Ria Lagartos. In this park, you'll be able to spot thousands of flamingos in their natural habitat.
What's more, you can take a boat tour around the area to see the spots that are otherwise inaccessible.
Don't forget to see the beautiful pink lake, which is another highlight in the park!
Don't forget to use Rentalmoose to find the best rental car deal for this road trip!
Post your pictures from this Mexico road trip online using #Rentalmoose! Our favorite ones will be featured in our travel guides.
Get your car from Rentalmoose, we plant a tree for every booking made with our platform.